Today I'm going to show you 17 money making ideas you can start right now.
Thanks to modern technology, you can build a business empire or simply make some extra cash directly from the comfort of your own home.
So if you want to:
Start a side hustle

Make money online

Build a business empire

Make money from home
…You've come to the right blog article. 
Keep reading.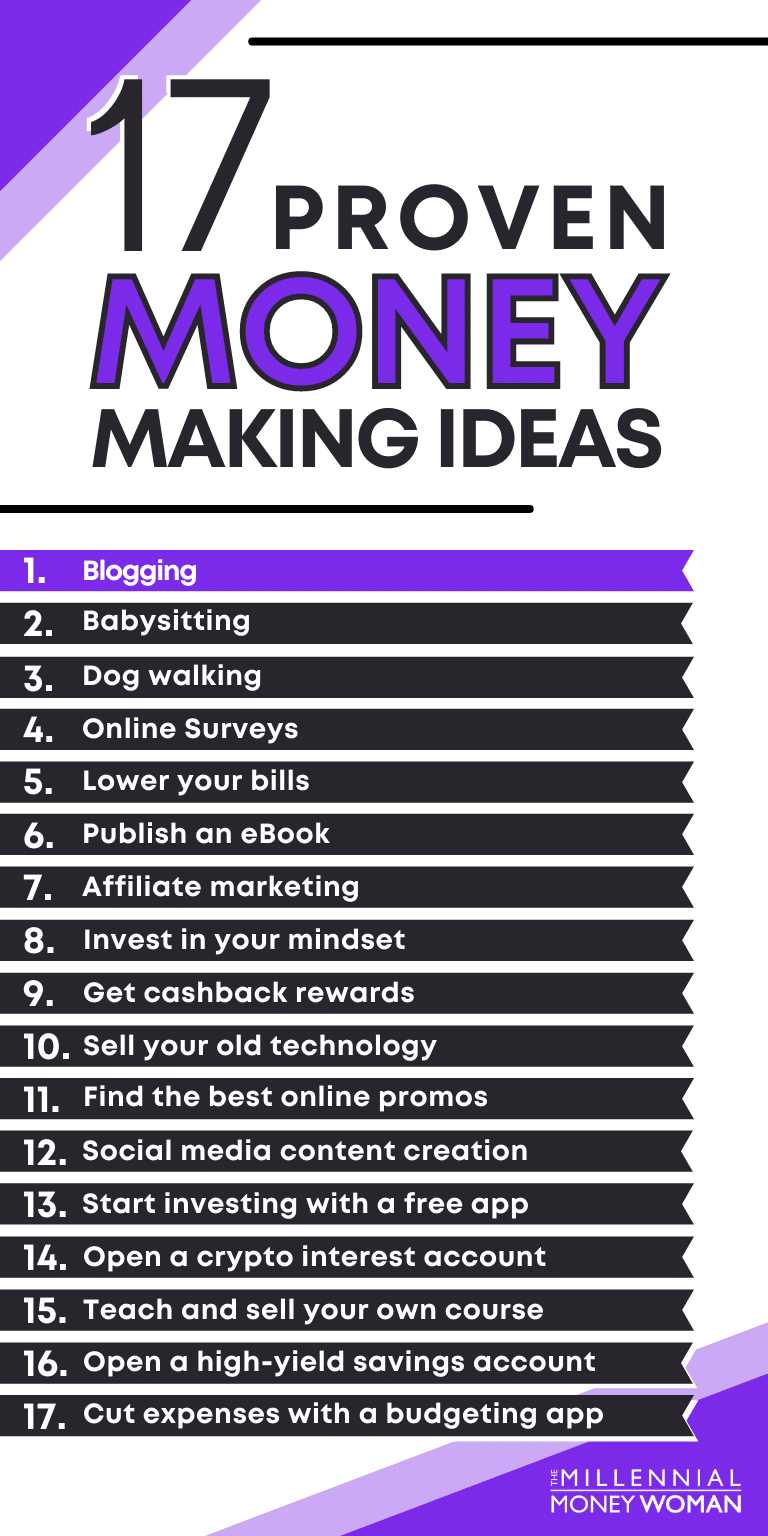 Best Money Making Ideas From Home 2021

In today's modern world, there is so much opportunity.
Take your shot and pursue it, because success may be right around the corner.
Below are the 17 best money making ideas from home.
Money Making Idea #1: Blogging
If you're looking to build a long-term business empire, then you may want to consider starting a blog.
Some bloggers earn $300,000+ per month… it's crazy how much money you can earn in this profession – if you're patient and you put in the work.
To become a successful blogger, you'll need:
Patience

Discipline

Perseverance

Long-term mindset
For the first 12 months of my blogging career, I was probably worth $0.50 for every hour that I worked on my blog relative to what the blog was earning.
Just 15 months later, I started earning a few thousand dollars… and the trend continued upward. And the best blogs have the potential to earn $10,000's per month – if not $100,000's per month. 
If you're interested in starting a blog, then you may want to consider signing up with the web hosting provider, HostGator.
Bonus: Use my discount code TMMW for up to 60% discount.
I use HostGator, and I have not had a bad experience with the service. 
Here's my favorite part about HostGator: They have a 24/7 customer service team – and trust me, you'll need them. After the first 6 months of using HostGator, I think their customer service team knew me very well.
Money Making Idea #2: Babysitting
Now that COVID-19 appears to be under some control, you may find babysitters to be in high demand, as parents can go out again.
I'm going to be very honest here: 
I have no experience babysitting kids or babies, so I really can't add much value to this particular section. 
However, I can say that I have had a lot of my friends recommend Care.com as a reliable platform if you're looking for babysitting gigs.
And there is a lot of money in babysitting – especially if you're a good babysitter. 
Think about it: Parents will likely pay top dollar to find someone qualified and nice to watch over their kids while the parents are away. 
Money Making Idea #3: Pet Sitter
As a pet sitter, you can set your own schedule, select the type of dog (or other pet) you'd like to sit, and set your own price.
If you haven't had the chance to read my bio – I am a dog lover through and through.
My husband and I own a French Bulldog and we absolutely adore him.
So, it shouldn't come as a surprise to you when I say that this is probably the most fun you'll ever have while earning money:
Dog sitting

Dog walking

Dog boarding

Dog transporting
If you felt your heart leap for joy because you just found out you can earn money while sitting dogs (or other pets), then you may want to check out Rover.
I've personally used Rover before as well, and only had the best experience with the application. 
Below are some Rover fast facts:
On-call vet assistance

24/7 customer service

Pet sitter background checks

Complimentary pet insurance
Booking and scheduling appointments can be completed directly through the Rover application, which you can download on your mobile phone.