Today I'm going to show you 17 money making ideas you can start right now.
Thanks to modern technology, you can build a business empire and earn passive income directly from the comfort of your own home.
So if you want to:
Start a side hustle

Make money online

Build a business empire

Make money from home
…You've come to the right blog article. 
Keep reading.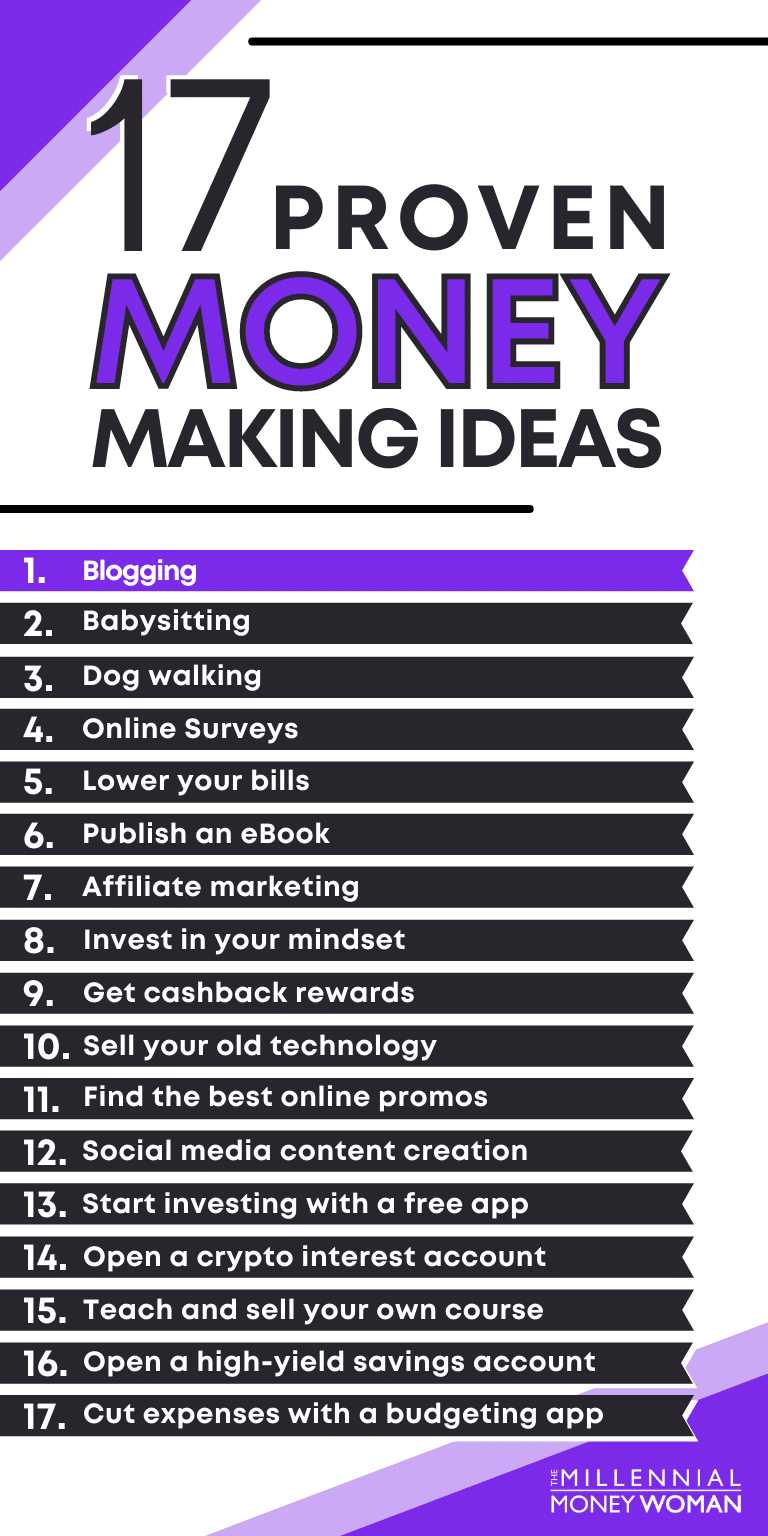 Best Money Making Ideas From Home 2022

In today's modern world, there is so much opportunity. 
Take your shot and pursue it, because success may be right around the corner.
Below are the 17 best money making ideas from home.
Money Making Idea #1: Blogging
If you're looking to build a long-term business empire, then you may want to consider starting a blog.
Some bloggers earn $300,000+ per month… it's crazy how much money you can earn in this profession – if you're patient and you put in the work.
To become a successful blogger, you'll need:
Patience

Discipline

Perseverance

Long-term mindset
For the first 12 months of my blogging career, I was probably worth $0.50 for every hour that I worked on my blog relative to what the blog was earning.
Just 15 months later, I started earning a few thousand dollars… and the trend continued upward. And the best blogs have the potential to earn $10,000's per month – if not $100,000's per month. 
If you're interested in starting a blog, then you may want to consider signing up with the web hosting provider, HostGator.
Bonus: Use my discount code TMMW for up to 60% discount.
I use HostGator, and I have not had a bad experience with the service. 
Here's my favorite part about HostGator: They have a 24/7 customer service team – and trust me, you'll need them. After the first 6 months of using HostGator, I think their customer service team knew me very well.
Money Making Idea #2: Babysitting
Now that COVID-19 appears to be under some control, you may find babysitters to be in high demand, as parents can go out again.
I'm going to be very honest here: 
I have no experience babysitting kids or babies, so I really can't add much value to this particular section. 
However, I can say that I have had a lot of my friends recommend Care.com as a reliable platform if you're looking for babysitting gigs.
And there is a lot of money in babysitting – especially if you're a good babysitter. 
Think about it: Parents will likely pay top dollar to find someone qualified and nice to watch over their kids while the parents are away. 
Money Making Idea #3: Pet Sitter
As a pet sitter, you can set your own schedule, select the type of dog (or other pet) you'd like to sit, and set your own price.
If you haven't had the chance to read my bio – I am a dog lover through and through.
My husband and I own a French Bulldog and we absolutely adore him.
So, it shouldn't come as a surprise to you when I say that this is probably the most fun you'll ever have while earning money:
Dog sitting

Dog walking

Dog boarding

Dog transporting
If you felt your heart leap for joy because you just found out you can earn money while sitting dogs (or other pets), then you may want to check out Rover.
I've personally used Rover before as well, and only had the best experience with the application. 
Below are some Rover fast facts:
On-call vet assistance

24/7 customer service

Pet sitter background checks

Complimentary pet insurance
Booking and scheduling appointments can be completed directly through the Rover application, which you can download on your mobile phone.
Money Making Idea #4: Online Surveys
Have you ever wanted to make money while watching TV and in your pajamas?
Now you can, by taking online surveys.
I'm not kidding when I say that online websites will pay you for:
Taking surveys

Watching movies

Completing tasks

Answering questions
The most popular online survey website is Survey Junkie.
You make money with Survey Junkie just for signing up!
If you want to learn more about how Survey Junkie works, check out my Survey Junkie review.
The catch, however, is that you must qualify for surveys (based on your demographics), and often the qualification rate is fairly low.
Pro Tip:
You won't become rich by taking online surveys. You can earn between $0.25 to $1+ per survey completed.
Here's how to maximize your income from online surveys: Sign up to multiple online survey websites so that you have a higher chance of qualifying for more surveys. 
Below are some additional online survey websites:
Personally speaking, I love doing online surveys on a Saturday morning, while watching TV in bed and just getting ready for the day.
Money Making Idea #5: Lower your Monthly Bills
Start saving more money by lowering your cable, internet, phone, insurance, and subscription bills.
Lower your Bills

Potential Monthly Savings
Did you know that the average American spends somewhere around $237.33 per month in subscription costs?

That's $237 per month… or $2,844 per year!
Imagine how much money you could save if you were to decrease your subscription services!
That's where Truebill comes into the picture. 
If Truebill isn't successful, you don't pay a penny.
If Truebill does successfully lower your costs, then you pay a percentage of the money you save.
Money Making Idea #6: Publish an eBook
Do you have an area of specialty?
Are you an expert in something?
Do you want to earn money?
If your answers are yes, then you may want to consider creating an eBook.
An eBook (aka electronic book) is a book in digital form, which can be sold through major channels like Amazon or through lesser-known channels like Gumroad. 
In fact, I just wrote my first eBook, How to Get Rich from Nothing, and earned over $1,500 within the first 4 days of selling it!
Pro Tip:
Anyone can publish an eBook (typically, publishing an eBook is free). And virtually anyone can download eBooks from anywhere in the world.
You may need to get graphic design software like Canva (which is what I did) to add some illustrations to your book.
Money Making Idea #7: Affiliate Marketing
Are you a blogger?
Want to monetize your blog?
Then affiliate marketing could be the right option for you.
If you're focusing on the long-term and if you're someone who is patient, then affiliate marketing may be the right monetization method for you.
Affiliate Marketing Definition:
Affiliate marketing is when you partner with a company or a person. In exchange for money (typically offered through a commission payout), you agree to promote that their products or services.
There is, however, a subtle art when it comes to affiliate marketing.
You don't just want to ram products down your audience's throats, without building trust with your followers first.
After you've established trust with your audience, then you can sparsely consider adding affiliate links in either:
Your blog

Your email

Your website

Your podcast

Your social media
To earn substantial amounts of money through affiliate marketing, however, will take a lot of time. 
You can get a jump on the competition by learning some of the tricks to affiliate marketing, however, by signing up for the Making Sense of Affiliate Marketing Course (which I used myself).
The trick is to be patient.
In fact, you should expect to earn $0 in the first 6 to 12 months of starting your journey.
As long as you are consistent with your content, with building trust, and networking with your audience, that's when you'll start seeing money flowing into your bank accounts.
Money Making Idea #8: Earn Cashback Rewards
You can start earning cashback on your purchases by simply installing an app on your phone.
What's better than earning money while you're spending money?
I honestly can't think of many things.
That's why you may want to consider downloading the app known as Slide on your mobile phone.
Slide is a cashback app that lets you earn 4% unlimited cashback instantaneously, daily. Over 200 companies are partnered with Slide.
Money Making Idea #9: Invest in Yourself
If you want to push yourself further – whether be it professionally or personally – then you'll probably want to start by investing in yourself.
Have you ever heard that the highest return on investment (aka ROI) is when you invest in yourself?
I agree with that statement.
One of my favorite resources for investing in myself is MasterClass.
MasterClass is an online program that gives you access to hundreds of classes.
Here are some of the categories:
Art

Food

Sport

Music

Writing

Business

Wellness
…And many more.
If your goal is to transform your mindset, then this is likely the place for you to start the change.
Money Making Idea #10: Sell your Old Technology
If you have old tech lying around then you'll love this money making idea.
I can't even start to explain how much old technology I have laying around in my house. 
The other day, I started a Spring Cleaning project (although it's already the summer), and I found some of the following old technology items:
An old PlayStation

An old mini flat-screen TV

My old laptop, which I used in college

An old iPhone 6 (with a cracked screen)

An old microwave from my college days
Talk about technology junk.
If you're in the same boat as me – with technology junk taking up space and costing you money – then you may want to consider using the app Decluttr.
Decluttr is a direct buyer, so selling your used item using the platform is pretty easy.
Pro Tip:
If you sell your technology items to Decluttr, make sure to delete any sensitive or personal information on your personal devices.
You probably won't make a lot of money from selling your old stuff, but it certainly is worth the money, since you'll free up space, earn money and get rid of old clutter.
Money Making Idea #11: Find the Best Online Promos
If you're an online shopper then you can save money by downloading software that automatically adds promo codes for you.
Best Online Promos

Potential Monthly Savings
The COVID-19 pandemic has arguably dramatized the shift from shopping in-person to online.
During the peak of the pandemic, I'm not going to lie, I probably bought everything online – from toilet paper to dog food.
Are you an online shopper?
If you answered yes, then you may want to consider checking out the free app Honey.
Honey is free to download and only works with the Chrome browser.
After you've downloaded Honey, you simply resume back to your regular computer activities.
Every time you scroll past a promotion, Honey will give you a pop-up notification to let you know that you can save money on a certain product or service.
Money Making Idea #12: Social Media Content Creation
This money making idea is probably one of my favorites (aside from becoming a blogger).
Ask yourself these questions:
Do you like social media?

Do you enjoy creating content?

Do you enjoy connecting with your audience?
If you answered yes, then you may want to think about creating content for social media. 
Social Media Content Creator
As a social media content creator, you'd likely: 
Get paid to write content for others

Work with influencers and popular brands

Develop consistent content for other companies

Use your creativity to contribute to the company's online branding
The key is to be creative, consistent, and connect with your brand's audience. 
One of the best courses that can teach you to develop unlimited content is known as Create 24/7.
I personally used this course and grew my Twitter account from a failing 4,000 followers to an explosive 56,000+ follower account within less than 6 months.
Not only that, but I started earning $1,000's thanks to my follower base.
If you want to pursue the same route, then consider taking this course.
Related: How to Make Money on Twitter
Money Making Idea #13: Create and Sell Online Courses
Do you enjoy creating content?
Are you an expert in a niche area?
Want to share your knowledge with others?
…Then you may want to consider creating and selling your own course online.
You can make $1,000's per month, depending on some of the following factors:
Your industry

Your specialty

Your depth of knowledge

Your ability to communicate
The course that I mentioned previously, Making Sense of Affiliate Marketing, is actually a course that was designed by someone who has a specialty in affiliate marketing, has become successful, and wanted to share her knowledge with the world.
If you want to build your own course online, then you may want to use Teachable.
Teachable is the same software used for Making Sense of Affiliate Marketing (the course earning $50,000+ per month).
Talk about making some extra money!
Money Making Idea #14: Investing
Investing in the stock market isn't that complicated, in fact, it's pretty easy if you stick to your plan. 
Here's an example of my plan:
Open a low-cost investment account

Invest in a low-cost S&P 500 index fund

Set up an automatic periodic investment plan
…And that's it!
The key here is to automate your investments over a long period of time because automation removes your emotions from investing (which is key to winning). 
If you're ready to start investing, then you may want to check out the investing app M1 Finance.
M1 Finance is the best investment app if you are an investor with a long-term mindset (ie, you are not a day trader). 
Fun Fact:
Did you know M1 Finance has over 35,000+ 5-star reviews?
Not only do I LOVE M1 Finance because it's super easy to use, but it's also a fantastic app for the consumer – you: It doesn't charge any fees. 
It doesn't matter if you start investing with $100 or with $1,000. What matters is that you simply start.
Money Making Idea #15: Open a High-Yield Savings Account
High-Yield Savings Account
Typically, high-yield savings accounts are separate from your standard bank checking/savings account.
High-Yield Savings Account Definition:
A high-yield savings account is a savings account that offers a higher interest rate on your cash (meaning more money in your pocket) than most regular savings accounts.
Most bank savings accounts offer low-interest rates. 
Since it's important for you to have an emergency savings fund, you might as well stash your emergency fund in a high-yield online bank account.
In this case, I would recommend you to consider Axos Bank.
Axos Bank offers interest rates up to 6x higher than the national average (as of June 2021).
Money Making Idea #16: Cut your Expenses with a Budgeting App
If you're trying to figure out how much you can save on your spending, then it's probably a good idea to consider creating a budget.
Not everyone likes hearing the "b" word. 
And honestly, I don't even refer to the "b" word as a budget. I call it a millionaire planning tool. 
That's because a budget can really help you accomplish your goals, like:
Becoming a millionaire

Saving for your child's college

Saving for your dream vacation
…You get the point. 
A budget is a tool that can help you accomplish your goals faster, more efficiently, and without stress. 
That's why I would recommend you to consider downloading YNAB (aka You Need A Budget).
YNAB is one of the absolute best budgeting applications out there.
The application offers a free 34-day trial and has helped new YNABers save more than $600 in the first 2 months.
Recommended Reading: YNAB Review
Money Making Idea #17: Open a Crypto Interest Account
If you want to earn interest on your crypto, then you'll love this money making idea.
Do you enjoy investing in cryptocurrency?
If you want to earn money (passively) from your crypto, then you may want to consider opening a crypto interest account with BlockFi.
BlockFi is a crypto platform where you can:
Sell crypto

Buy crypto

Trade crypto

Take loans against crypto

Pay with a BlockFi Bitcoin rewards credit card

Earn income with BlockFi's high yield savings account
As you can see, there are many different things you can do with your cryptocurrency when using BlockFi.
In fact, with BlockFi, you could earn up to 9.3% of interest with a Stablecoin (USDT) versus the national average interest rate of 0.04%.
What a difference.
| | BlockFi | National Average |
| --- | --- | --- |
| | | |
| Interest Earned on $1,000 | | |
With BlockFi, you could earn $89 more dollars than with the national average interest rate (in June 2021).
Note:
BlockFi Interest Accounts do not have FDIC or SIPC insurance.
If you want to learn more about BlockFi and it's many features, check out my in-depth BlockFi Review article here.
FAQs about Money Making Ideas from Home
There is no such thing as a legal get-rich-quick scheme. However, there are some ways you can still make (and save) a lot of money fast from home.
Here are 7 ways to make money fast:
Deliver food

Find a roommate

Take online surveys

Become a dog walker

Pay off credit card debt

Create a budget and reduce spending

Save money online with couponing websites
There are so many ways to make and save a lot of money – fast – and from home. 
You may not see results the same day, but you'll likely see some results in the near future, as long as you are consistently reducing expenses and increasing income.
Here are some ways to make money at home:
Become a blogger

Become a babysitter

Become a dog walker

Sell your old technology

Complete online surveys

Build and sell your own course

Become a social media content creator
For some of these money making ideas, you'll have to be patient and give them (and yourself) some time to build up. 
For example, as a blogger, it took me over 12 months to start earning serious money. 
The trick is not to quit when you don't start seeing results (and it's not easy to stick with it, trust me). You just have to maintain your long-term vision. 
Although there is no such thing as free money, there are some things that fall very closely next to the "free money" category, including:
Saving with online promos

Earning cash with online surveys

Earning cashback on your purchases

Opening up a high-yield savings account
Keep in mind that you'll likely have to spend some time to earn your "free" money with the money making ideas that I've mentioned above. 
Closing Thoughts about Money Making Ideas from Home

Making money from home these days is incredibly easy. 
As the internet evolves, more opportunities will arise – so stay tuned.
Personally, I think there are so many benefits when it comes to making money from home:
It's more comfortable

Often, it's more productive 

You don't deal with the stress of traffic (I get road rage!)

It's a great way to stay connected with pets/kids, if they are at home
Remember this: Once you start making that extra cash, you'll want to be sure to invest your money so that you can let it grow over time.  
And the best news?
Chances are, as you gain experience with these money making ideas from home, you'll probably start earning more money in the future too. 
Stay patient.
Stay persistent. 
Stay consistent. 
Your bank accounts will thank me later.
Do you have any additional money making ideas? Let me know in the comments, below!