I love talking about the best frugal living tips to help you cut back on daily costs and save money. 
But sometimes, it seems like many associate the word "Scrooge" with the words "frugal living."
So, before we go into some of the best frugal tips that I've prepared for you, let's explore the definition of frugal living first.
Frugal Living Definition:
Frugal living is assigning a purpose to every single cent. If done correctly, frugal living can help you prioritize your spending habits, cut back on unnecessary living costs, and move you closer to your financial goals.
Frugal living does not mean:
Living in squalor

Living without electricity

Living on hotdogs and oranges
Anyone can follow my frugal living tips and still put your own twist to living frugally.
Note:
Frugal living is all about flexibility. If you need to have a French Bulldog in your life, do it! Then just cut back on the amount you spend on vacations (for example).
That's the awesome thing about frugal living – you tailor it to your own needs and wants. 
Contrary to popular opinion, frugal living is not living in poverty.
It's living the right life today to make your future financial goals a reality.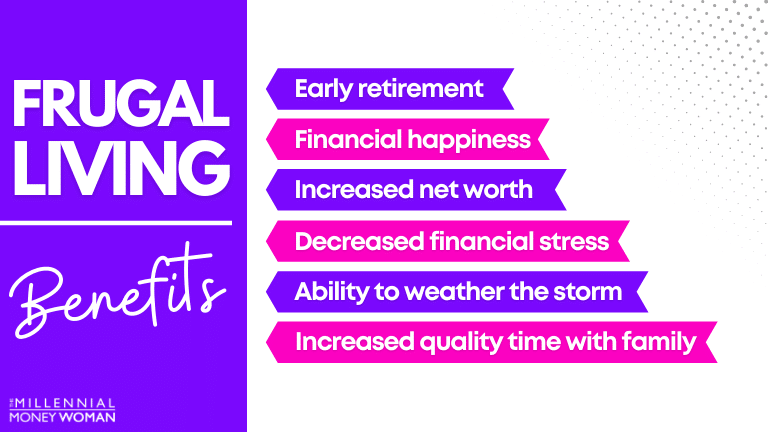 Benefits of Frugal Living

There are so many hidden benefits when it comes to frugal living, some of them include:
Financial happiness

Increased net worth

Decreased financial stress

Ability to weather the storm

Increased quality time with friends and family
In fact, you can even practise frugal living in retirement!
Ultimately, the most important benefit is that the frugal lifestyle will help you achieve your financial goals.
Note:
Frugal living does not mean you are simply saving for early retirement. Frugal living could mean many different things, such as saving for buying a home, saving to buy a French Bulldog or saving for your college or university studies.
That's the beauty of frugal living: You tailor it to your own financial goals.
Keep in mind that every time you decide to:
Invest 

Save money

Cut out unnecessary expenses
…You are moving 1 small [but consistent] step closer to your financial goals.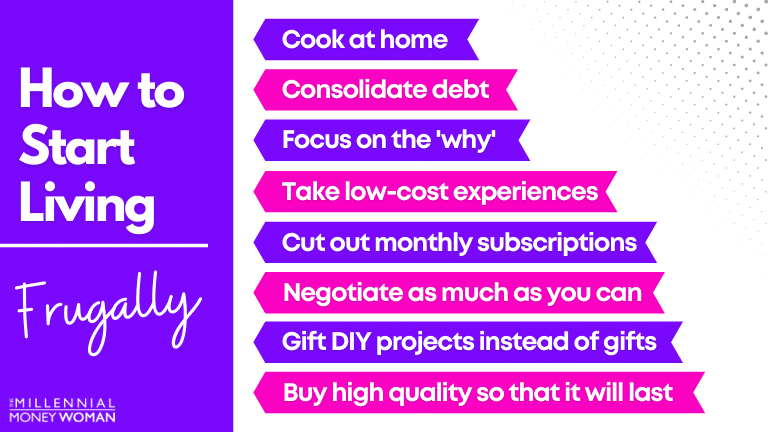 How Do I Live a Frugal Lifestyle?

Anyone can start a frugal lifestyle – but the trick is to continue living frugally, which you do by making only minor adjustments in your frugal lifestyle. 
These small changes will compound and add up to major savings down the road.
Reverting to your old not-so frugal living habits of course would be detrimental to your financial picture. 
Below are some basic tips to start living a frugal lifestyle:
Cook at home

Consolidate debt

Focus on the "why" 

Take low-cost experiences 

Negotiate as much as you can

Cut out monthly subscriptions

Gift DIY projects instead of objects

Buy high quality so that it will last last

Only purchase used items (cars, clothes, etc.)

Shop and buy new, more cost-effective insurance
Just keep in mind: Don't start living in squalor on day 1. Your frugal living plan could backfire drastically.
The Best Frugal Tips for 2022
Anyone can become frugal – it's just a matter of starting out slow and making minor adjustments to your current lifestyle.
Over time, these minor adjustments will compound and you'll see a big (positive) difference in your wallet.
Here are some ways you can become very frugal:
Realize living frugally is not a bad thing

Don't buy the hot, sexy new car

Be content with what you own

Take control of your life

Stop making excuses

Cut the cord
The most important thing to remember is to start considering how you can incorporate my frugal living tips into your life today.
Absolutely! Frugal living helps you move 1 step closer to your financial goals – whatever they may be. 
Frugal living helps you live a satisfied and stress-free life because you'll be accomplishing your goals and dreams.
Frugal living is the stepping stone you need to accomplish your major life goals.
What I love about frugal living is that you gain so much control back over your own life.
Remember, manage your money before it manages you.
Frugal living can help set you up to build your wealth, increase your net worth, and overall practice healthy financial habits that will improve your financial lifestyle in the long run.
Keep in mind that living frugally does not mean sacrificing quality over cost. 
Living frugal means that you are practicing healthy financial habits to set yourself up for future wealth.
Closing Thoughts

Frugal living is a life habit that will help you move 1 step closer to making your financial goals a reality. 
Contrary to popular belief, frugal living does not mean you live in absolute poverty. 
It means:
Moderation

Understanding your "why"

Moving closer to your financial goals
Pro Tip:
You don't win with frugal living if you go from 0 to 100 in a short period of time. Chances are, you'll revert back to your old habits in no time.
Like dieting, You can only win with frugal living if you make small adjustments incrementally and over time.
Start today, because your tomorrow will be set up for success.
As you make these spending adjustments, track them in your budget. If you haven't yet, then check out YNAB, which is an awesome budgeting app that can help you sort through your finances.
Your bank accounts will thank me later!
Which frugal living tips are you going to try? Let me know in the comments section below!