Have you ever wondered what the secret is to financial success?
The answer is investing in passive income generating assets today so that you will have the cash flow tomorrow to live the life you want.
In fact, did you know that most millionaires have built 7 passive income streams to maintain their wealth?

If you'd like to make passive cash streams with income generating assets, this article will be your go-to guide.
Keep reading.
Sneak Peek: Top 3 Income Generating Investments

Fine Art 👇
Crypto Interest Account 👇
What is an Income Generating Asset?

Income generating assets are investments that produce consistent, recurring streams of cash flow over long periods of time.
Basically, income producing assets help you earn money even when you sleep.
Pro Tip:
Look for income producing assets to buy in your 20s so that you can build a healthy financial foundation for your future.
When you maintain a diverse portfolio of income generating assets, you will ensure you're producing consistent income over time.
Income generating assets come in many different forms:
Rental income

Dividends paid

Interest earned 

Royalties received

Appreciation in value
Building a consistent cash flow means you won't be shackled to your 9 to 5 job. 
Especially in today's pandemic-ridden and volatile economy, it's more important than ever to build income producing assets because we can no longer rely on our regular jobs. 
Pro Tip:
It doesn't take a lot of money to get started investing in income generating assets.
I should note, however, that to build passive income assets, you may have to make larger upfront investments with your:
Pro Tip:
Remember to diversify the investments of your passive income portfolio.
Diversifying your portfolio not only means you are hedging your investments (aka protecting your investments) but it also means that you would be receiving passive income across several different income generating assets.
When one passive income asset fails, you can still rely on your other passive income assets to make you money.
21 Assets that Generate Income
There are so many different types of income generating assets.
In this blog post, I will explore some of the best income generating asset ideas, ranging from real estate investments to crypto interest accounts. 
Each income generating asset idea comes with its own set of pros and cons, so make sure you take some time to evaluate whether the investment is the best option for you. 
You'll want to consider:
Risks Involved

Potential Return

Time Commitment

Minimum Investment
…And of course, you'll also want to consider whether these are the best assets to invest in for you and your particular situation (and only you can make that decision). 
Let's dive right in.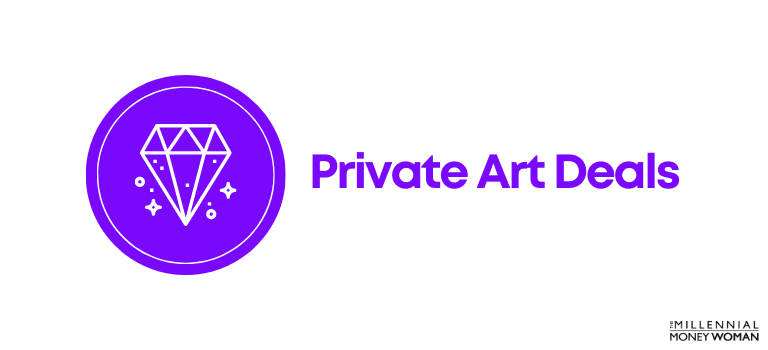 1. Private Art Deals

Are you interested in multi-million dollar paintings?
Do you want to earn profits up to 30%+?
If you answered yes, then investing in blue-chip artwork could be the right option for you. 
Private Art Deals

- Portfolio diversification

- Protect yourself against inflation

- Illiquid

- Higher risk

- Fees are fairly high

Depends on the specific investment offerings available

Accredited Investors Only
Masterworks is a blue-chip (aka high quality) art investing app that allows the average Joe to invest in fine art, worth up to $30 million+.
The reason why I'm not opposed to investing in blue-chip artwork is that art is typically seen as a hedge (aka protection) against:
Inflation

Stock market volatility
Take a look at the chart below, which illustrates the correlation of contemporary art (which is what Masterworks specializes in) versus the ups and downs of the stock market: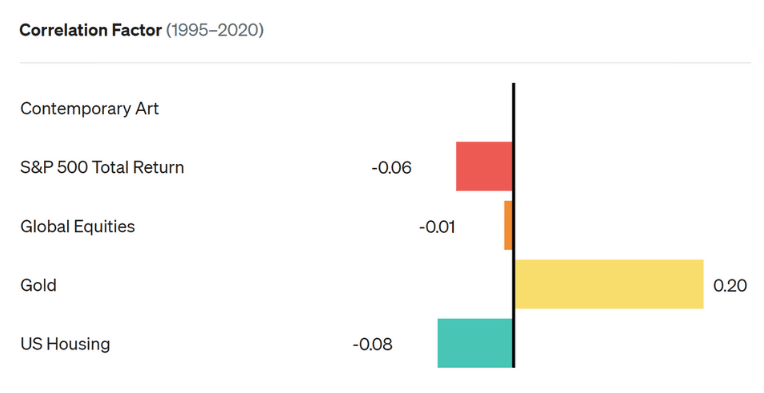 This chart shows that when the stock market goes down (represented by the S&P 500), the contemporary art market does not go down. 
Why is this a good thing?
If you're in the middle of a recession, any investments you own that are in the stock market will go down. 
However, any investments you own that are in fine art, will probably not go down (based on the correlation chart, above). 
Pro Tip:
If you invest in fine art, you're buying yourself a layer of protection against stock market volatility.
I should also note that the performance of fine art has exceeded the performance of the stock market over the past 25 years, from 1995 to 2020, as illustrated in the following chart: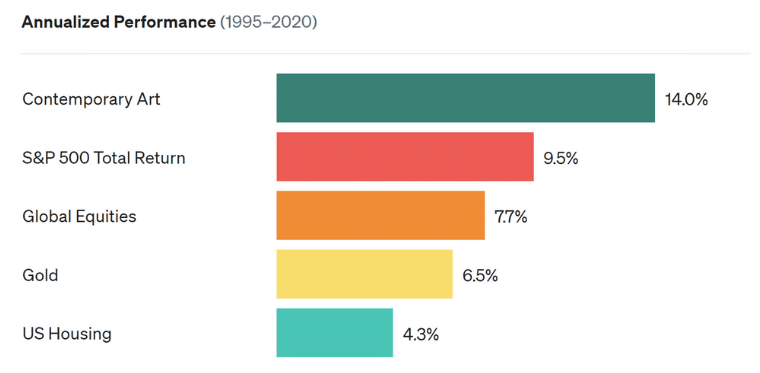 From the 1995 to 2020 time period, contemporary art yielded an average annual return of 14% while the S&P 500 (representing the U.S. stock market) returned only 9.5%. 
To clarify, I'm not saying to go and sell every stock position you own and instead invest everything in Masterworks. That would be a pretty bad idea, especially because investing in the fine art market isn't all rosy.
In fact, there are several cons if you're looking to invest in the art world, including:
The fees are typically high

The art world is unregulated

Your money is locked for 3 to 10 years
I am, however, saying that investing in fine art could be a lucrative idea.
Below are a few more facts and figures you may want to know before signing up with the Masterworks art investment platform.
Masterworks

1.5% per year + 20% of artwork sale

Income Generating Asset Type
Just remember to do your research before you jump head-over-heels into any income generating asset.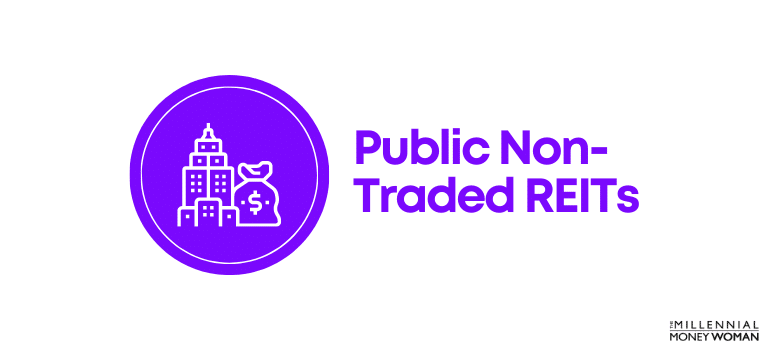 2. Public Non-Traded REITs

Want to invest in income generating assets, specifically real estate?
Do you want to find a way to avoid putting in the hard (and sometimes dirty) work, like dealing with tenants, making repairs, etc.? 
…Then you may want to look into investing in public non-traded REITs (aka real estate investment trusts).
Public Non-Traded REITs

- Low fees

- Anyone can invest

- Portfolio diversification

- Generate passive income

- Illiquid

- High risk

- May be difficult to understand

7% to 12.42% (assuming you reinvest)

Accredited Investors Only
Keep in mind that investing in real estate is one of the top strategies used by the wealthy and famous.
Now you can too, thanks to modern technology.
Specifically, you can invest in what is known as real estate investment trust (aka REIT, pronounced "ree-t") through popular apps like Fundrise 👇
As a REIT investor, you don't really get to physically "see" or visit the investment properties (unless you decide to pay for a plane ticket to explore the properties).
You put your faith in the REIT.
Real Estate Investment Trust Defined:
A real estate investment trust (aka REIT) is a company that owns, manages, operates, maintains, etc. real estate properties. REITs are typically a basket of real estate properties that are managed by the company. The investor (you) receives a passive income stream from the rent that is collected by the REIT.
Here is why Fundrise could be a good passive income asset for you:
You want to diversify your portfolio

You want to earn a passive income stream 

You want to protect your investments during a recession

You want to invest in real estate without putting in the hard work
What I like about Fundrise is that you can start your real estate investment journey with just $10, while most real estate investment deals start with minimums of $5,000+.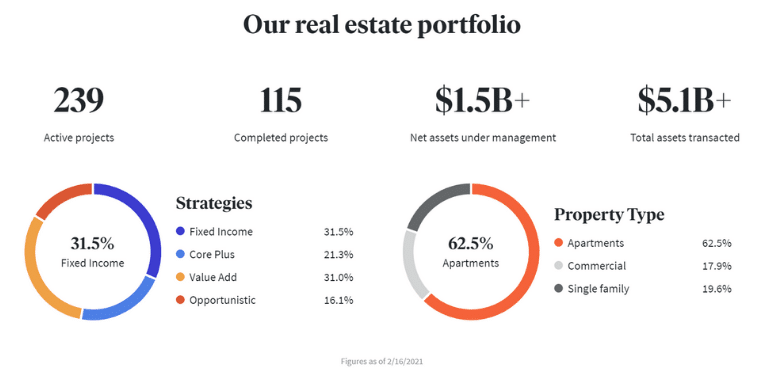 Based on the image above, Fundrise diversifies its REIT investments in 3 particular property types:
Apartments

Commercial

Single-family
Diversification, especially in the real estate sector, is key.
Pro Tip:
The REIT investing app Fundrise differs from the crowdfunding app GROUNDFLOOR mainly in that Fundrise invests in physical assets (real estate). GROUNDFLOOR, on the other hand, invests in debt (you loan out your money).
Over the past 6 years, Fundrise has performed right in line with other real estate portfolios like Vanguard, as you can see below: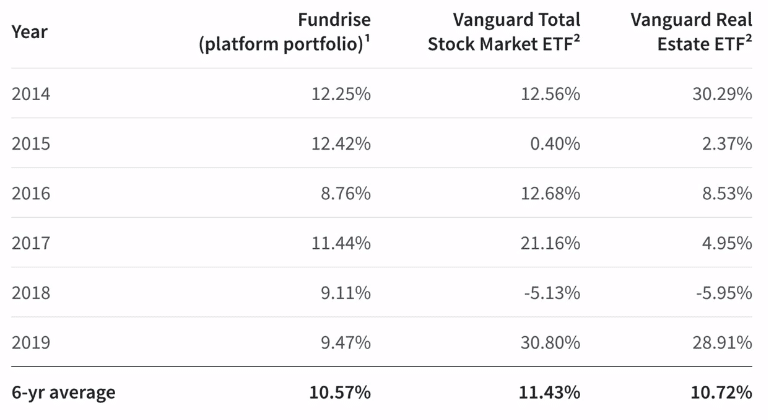 Fundrise claims that its goal is to provide investors with consistent returns over the long term.
Fundrise is actually one of the few real estate investing apps that offers a phone app, so your REIT portfolio becomes a lot more accessible.
Below are a few more facts and figures you may want to know before signing up with Fundrise:
Fundrise

- Apartments

- Commercial

- Single family
Just remember to do your research before you jump head-over-heels into any income generating asset.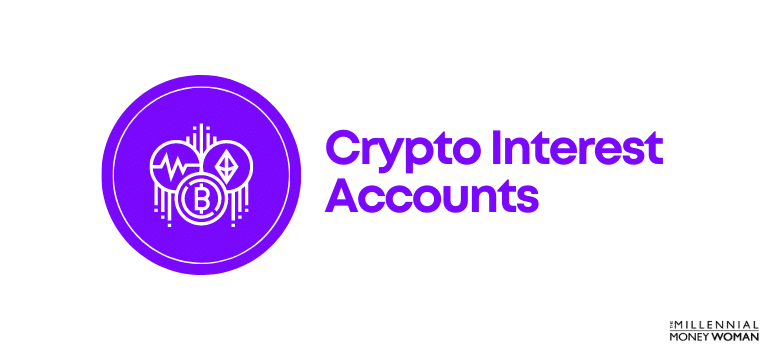 3. Crypto Interest Accounts

Are you into cryptocurrency?
Want to earn passive income?
If that's the case, I might have one of the best income generating assets lined up for you.
Keep reading.
Crypto Interest Accounts

- Earn passive income from your cryptocurrency

- Interest rates are much higher than regular savings accounts

- Risky

- Not FDIC insured

- Fees are typically higher

Depends on how much you invest
Cryptocurrency has become a hot topic over the past year or so – especially with Millennials who have seemed to take a liking to crypto investing. 
In fact, 73% of 20 to 38-year-olds have said they are interested in investing in cryptocurrency. 

Time and time again, I read how millennials are driving the Bitcoin and cryptocurrency economy – and I certainly don't see that stopping at any time soon.
While Bitcoin and cryptocurrency, in general, is fairly risky, you could still stand to earn some money – specifically through passive income – if you consider opening an interest account through the BlockFi investment platform 👇
BlockFi is arguably a leader in the cryptocurrency industry because the platform has pioneered several revolutionary themes when it comes to crypto investing.
Below are some ways BlockFi sets itself apart:
Even if you're a bit hesitant about cryptocurrency, it might be worth opening an account (which is free) and taking a look at what you could be offered. 
There are 3 steps involved when opening a BlockFi account:
Input your personal information

Link and transfer your USD to your crypto account

Start trading
BlockFi offers you the chance to not only trade your cryptocurrency but also to save it and earn very high interest on your crypto. 
I should note that if you convert your USD into stablecoin (which are essentially a cryptocurrency that represents the value of a fiat currency, like the US Dollar), you'll probably get a much higher interest rate.
Let's take the USDC as an example.
USDC Defined:
USDC is the fastest growing digital dollar stablecoin. 1 USDC represents the value of 1 dollar, just in digital format.
Take a look at how much interest you earn on your savings account at your bank.
Now, take a look at how much interest you could earn with BlockFi, if you held a USDC stablecoin (which is the digital, cryptocurrency version of $1 US dollar).

Chances are, at your regular savings account, you're probably earning around 0.01% on your cash, while at BlockFi, you could be earning up to 8% interest on your USDC stablecoin.
Caution:
While BlockFi is an excellent income generating asset, there is no FDIC insurance for you, so if BlockFi fails, you don't get your money back.
I have spoken to a few folks in the past, who have said that they use BlockFi's high-interest savings account as their monthly income stream!
For example, let's say that they park $1,000,000 in USDC in BlockFi, then they would earn 8% each year, which would equate to about an $80,000 annual income stream (pre-tax).
While I wouldn't recommend parking $1 million in BlockFi (unless $1 million is a very small part of your net worth), I still think the basic concept of earning an 8% interest stream on your stablecoin is pretty interesting (no pun intended).
Bonus: New BlockFi clients can get up to a $250 bonus when you deposit $100 or more in crypto! Check out BlockFi here.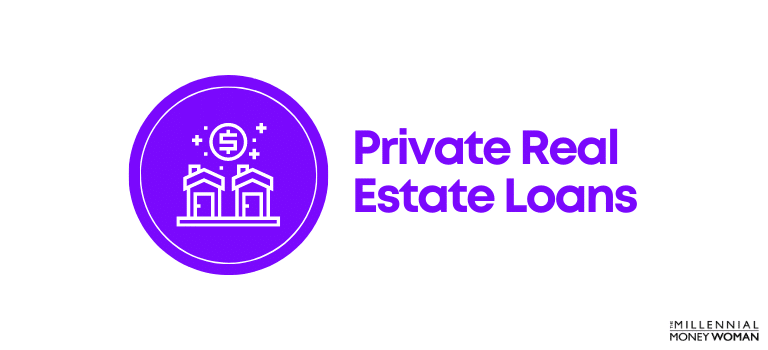 4. Private Real Estate Loans

If you're an accredited investor and want to earn passive income, then you might want to consider investing in private real estate loans.
Private Real Estate Loans

- Transparent website

- Earn passive income

- Portfolio diversification

- Debt only investments

- High minimum investment

- For accredited investors only

Accredited Investors Only
PeerStreet is a debt-only online real estate investing platform for accredited investors to invest in high-quality private real estate loans.
Before you keep reading – I do want to mention that PeerStreet is a real estate investing platform that is strictly meant for accredited investors.
Accredited Investors Defined:
You qualify to be an accredited investor if you 1) Have earned $200,000+ in the last 2 years (or you and your spouse earned $300,000+ in the last 2 years); or 2) You have a net worth of more than $1,000,000 (excluding your primary residence).
If you don't qualify under these 2 definitions, then skip this section and move on to the next income generating asset idea.
If you qualify as an accredited investor, then keep reading.
PeerStreet could be an optimal real estate investing platform for you, if you're:
A real estate investor

A long-term investor

A high-risk investor
Just remember that because you're investing in real estate debt, you are taking a slightly higher risk versus if you just invested in physical real estate assets.
The process to set up your PeerStreet investing account (and ultimately get paid) is actually pretty simple:

PeerStreet's default rate (aka the number of times you won't get your money back) is a bit higher than other real estate investing platforms.
However, in the grand scheme of things, 96% of PeerStreet loans were paid off to investors, so the platform itself is relatively reliable.
I should also note that PeerStreet has paid out over $225 million in interest payments to its investors.

While PeerStreet in general is a little bit more high risk for investors, the platform does offer countless data points for you to analyze, research, and ultimately determine whether a particular real estate investment is, in fact, a good fit for you.
PeerStreet's transparency is something that I, as a potential investor, truly appreciate.
Finally, there are a few additional points you should keep in mind before investing with PeerStreet:
PeerStreet

- Refinancing

- Industrial loans

- Multi-family loans

- Rental investments

- Residential acquisitions

- Commercial real estate loans
Just remember to do your research before you jump head-over-heels into any income generating asset.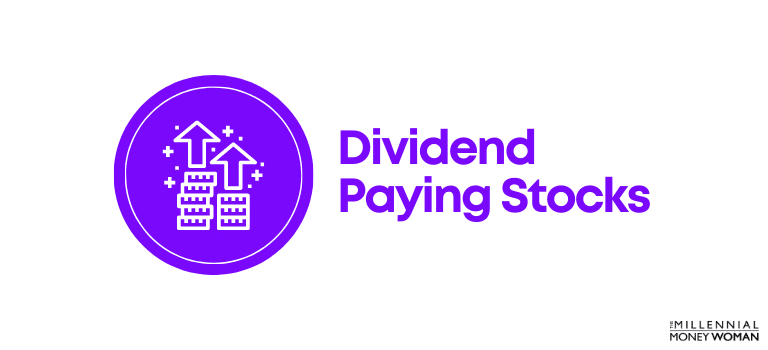 Dividend Paying Stocks

- Form of passive income

- Attracts high-quality investors

- Indicate the company is likely profitable

- Are taxed

- Dividend cuts could decrease stock prices

- Could reduce companies funding sources
It might make sense for you to invest your money into dividend paying stocks that can help build long-term wealth.
In fact, from 1927 to 2014, dividend stocks saw annual growth rates of 10.4%, while growth stocks that did not pay dividends only saw a growth rate of about 8.5%.

This study certainly underlines why it might be advantageous to having dividend paying stocks as a part of your investment portfolio.
Let's back up a little.
What is a dividend?
Dividend Defined:
A dividend is the amount of money (typically expressed in a percent) that a company pays to its shareholders (you) from the company's profits.
Basically, a dividend is the company's way of thanking its investors for owning the company stock and not selling it.
Pro Tip:
Did you know that most dividends are either stable or even grow during periods of great economic volatility?
The dividend paying companies don't want to lose their investors, which they certainly could if they lowered their dividend payout.
So, companies typically increase their dividend payouts when stock prices are falling.
Take a look at the chart below.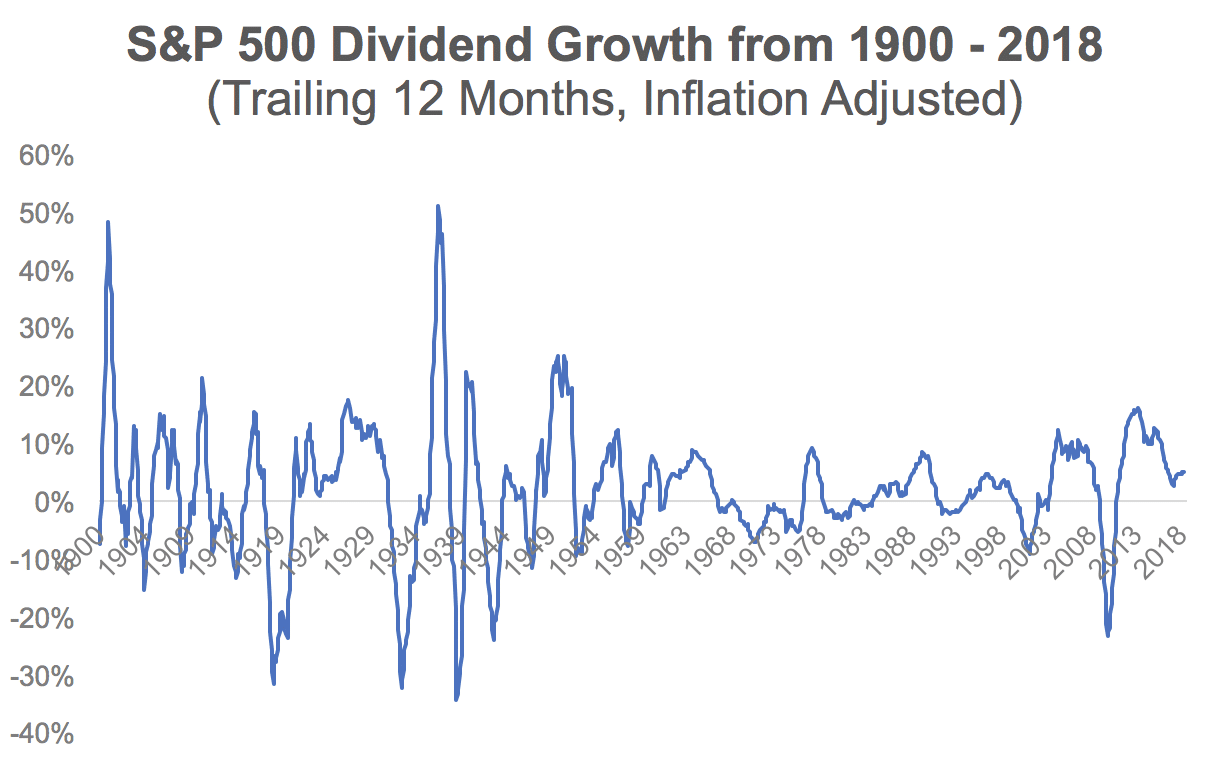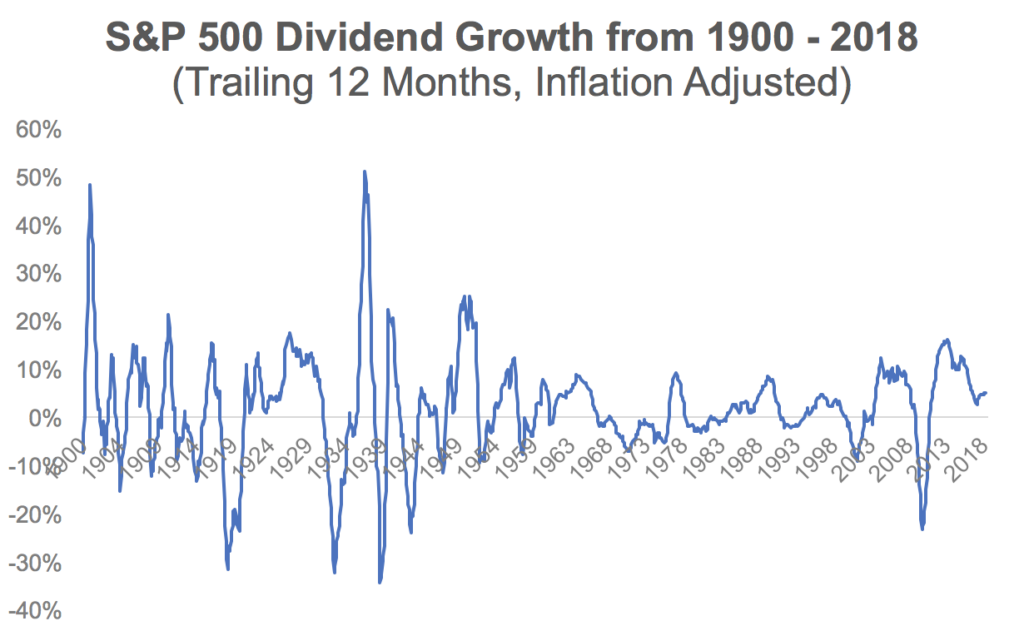 Dividend growth rates are typically more stable than stock market growth.
Cutting a company's dividend is typically a last resort because that means a company is facing financial stress.
And for that reason, I'm a pretty big fan of investing in dividend stocks.
One of the best ways to invest in dividend stocks is by opening an account through one of the most popular investing apps, M1 Finance 👇
M1 is an awesome investing app for those investors who are committed to the long term.
Once you've opened your M1 account and linked it with your bank account, you can start investing in dividend producing stocks – or even dividend focused ETFs (aka exchange traded funds).
With M1, you can either build your own portfolio or you can choose a premade portfolio from the M1 Finance investment team.
Instead of calling it portfolio, however, M1 Finance calls it a "pie."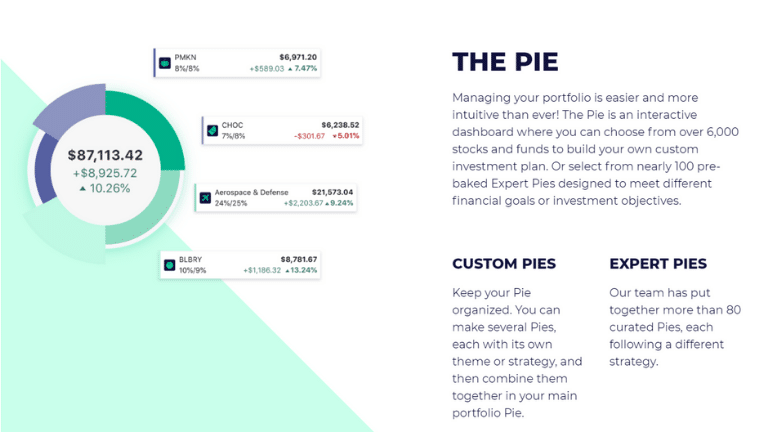 If you're serious about opening an account with M1 Finance, then I would suggest you focus on investing automatically and for the long term. 
Your bank accounts will thank me later.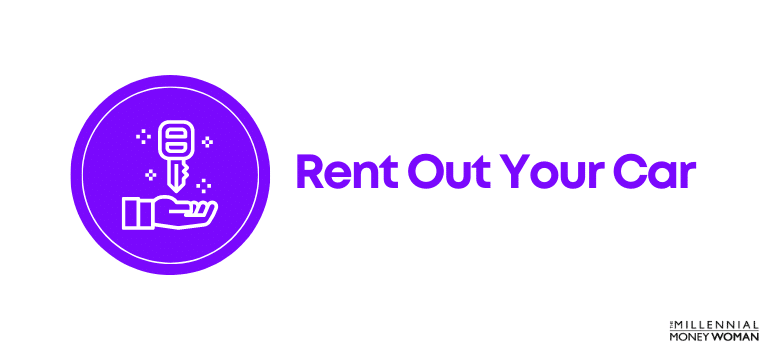 6. Rent Out Your Car

Do you have a spare or unused car?
If you do, then you can earn up to $1,200 per month simply by renting out your car!
Renting Out Your Car

- Earn passive income on your unused car

- You may be liable in the case of a crash

- You don't know how the renter will treat your car

None – assuming you already have a car
HyreCar is a car rental app that allows you to make passive income by renting out your unused car to ride-sharing service drivers like those working for Uber/Lyft.
HyreCar's focus is to help plug the gap for the ridesharing marketplace (think: there are not enough drivers with suitable cars for Uber and/or Lyft, and Hyrecar is looking to rent out cars to Uber/Lyft drivers).
Note:
Not only do you earn money renting out your car through Hyrecar, but the person renting your car could also be earning money by using your car for ride-sharing services like Uber/Lyft.
Talk about side hustling!
The reason why I'm particularly excited about HyreCar is that cars, in general, are depreciating assets – aka, you lose money virtually the second you purchase a new car.
In fact, if you buy a brand new car, by the end of the first year, your car would have likely already depreciated up to 30%.

Below is a chart outlining the gradual depreciation of a car:
So, if you bought a brand new car, then 5 years from now, your car would have lost over an estimated value of $29,167 – or it would have made a negative return of -58.33%.
Clearly, new cars lose value over time.
Note:
Because I am so particular with my car, I would only make a deal with someone that I trust and know would take care of my vehicle if I rented out my car.
I would caution both drivers and people renting out their cars through HyreCar to take a look at your insurance policies.
Pro Tip:
According to HyreCar, drivers are not required to maintain a personal insurance policy to rent vehicles on HyreCar. However, owners need to have up-to-date personal insurance coverage.
Here's how the insurance policies work for HyreCar drivers:
HyreCar Insurance Policy

You're driving the car but not yet working for Uber/Lyft

HyreCar's insurance policy covers you

You're working for Uber/Lyft

Uber/Lyft's insurance policy covers you
While HyreCar doesn't require the driver to maintain a personal auto insurance policy, Uber/Lyft does, so technically speaking, you wouldn't be able to get around the insurance side. 
You can rent cars anywhere from $20 to $50+ per day, depending on the type of car that you're driving.
Here's how you can rent a car on HyreCar and start earning money:
Create a HyreCar account

Submit your application for the car you're looking for – HyreCar suggests to apply between 5 to 10 cars, and you'll only get charged for the car that you're actually driving

Pass a background check

Receive & upload documents – 

You'll receive 3 documents (vehicle registration, 19-point inspection report, HyreCar rideshare insurance) that you'll have to upload to your Uber/Lyft accounts

Pick-up/Drop-off the car
Whether you're the person renting out your car, or whether you're the person renting a HyreCar to drive for Uber/Lyft, this is a great opportunity to earn money and build wealth.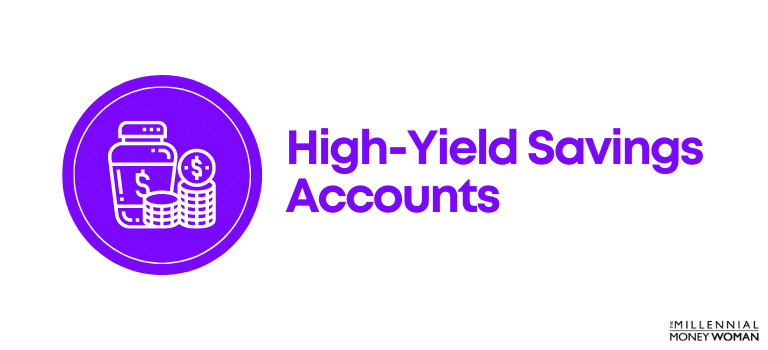 7. High-Yield Savings Accounts

Did you know that one of the easiest income generating assets is opening a high-yield savings account online? 
Here's how you can make passive income without moving a finger:
High-Yield Savings Account

- FDIC protected

- Earn passive income

- Great for emergency savings funds

- Compared to stock market returns, the yield is very low

Based on the yield of the savings account
To build your financial future, it's always a good idea to first prepare an emergency savings fund in case life throws you a curveball and you have to pay unexpected costs. 
Emergency Savings Fund Defined:
An emergency savings fund is when you save 3 to 6 months' worth of your living expenses in a liquid, cash account.
The only time you should be using your emergency cash is… you guessed it… in the case of an emergency!
How much does your bank savings account pay you in interest?
Given the current low-interest-rate environment, I would probably assume you're being paid around 0.01% to 0.10% = at the most.
Pro Tip:
In order to get the biggest bang for your buck, you should consider opening an online high-yield savings account, which typically yields you up to 10x the national average of regular bank savings account yields.
If you're ready to get started and open your own high-yield savings account, I would suggest checking out Axos Bank 👇
Here's why I like Axos Bank:
FDIC insured

No maintenance fees

Interest is 10x the national average

No monthly minimum balance requirements
I should note that you'll need $250 to open an account. 
If you want an income generating asset and are looking to stash $1,000's of dollars in a safe and easily accessible place, then Axos Bank would be one of my top picks.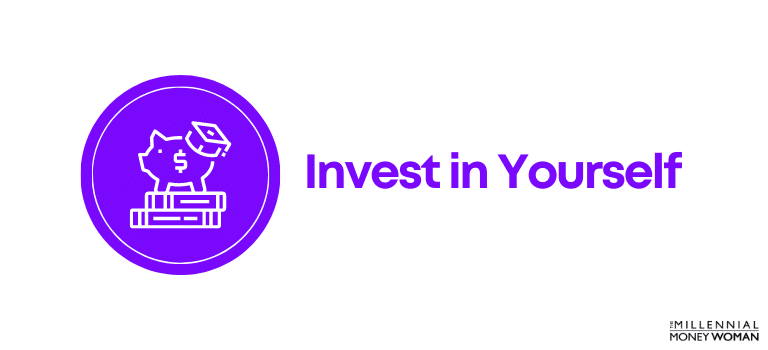 8. Invest in Yourself

Did you know that arguably one of the highest-yielding income generating assets is you? 
It happens when you start investing in yourself.
Investing in Yourself

- Unlimited income

- Work from anywhere

- High upfront time commitment

- Potential high upfront financial cost
I can't say how many times I've heard the saying that you should always invest in yourself first.
You know what? The saying is true.
That's because knowledge is power.
And power means money.
In fact, a general rule of thumb I have both read and heard about is to invest about 3% of your gross income back into yourself.

Remember that success doesn't come with shortcuts – you will have to put in the time, energy, and money to achieve your goals.
When you invest money and time in yourself, you are virtually guaranteeing your own future success. You just have to start.
Note:
I'm not saying that you should drop everything you're doing now and go back to college and potentially go into student debt.
However, I am saying that you should consider some education alternatives, like investing your time and money in programs like Masterclass 👇
Recognize any of the instructors?
Masterclass is a subscription service (as of September 2021, starting costs begin at $15 per month) and offers you access to some of the coolest classes with some of the coolest instructors. 
Take a peek at what classes they offer:
Writing

Entrepreneurship

Economics & Society

Business Leadership

Art of Communication
…And the list just keeps going.
While Masterclass drops some serious celeb names, the classes that are offered may not go into the nitty-gritty details – and they also aren't structured as an online MBA.
If you're looking to learn about something that goes into much more depth – as in, you'd like to complete an online MBA for a fraction of the cost of a college MBA – then you may want to check out Udemy 👇 
Udemy offers in-depth courses including:
JavaScript

Blockchain

Deep Learning

Ethical Hacking

Real Estate Investing

Lots more
The point is this: When you start investing in yourself, your ROI will be unlimited.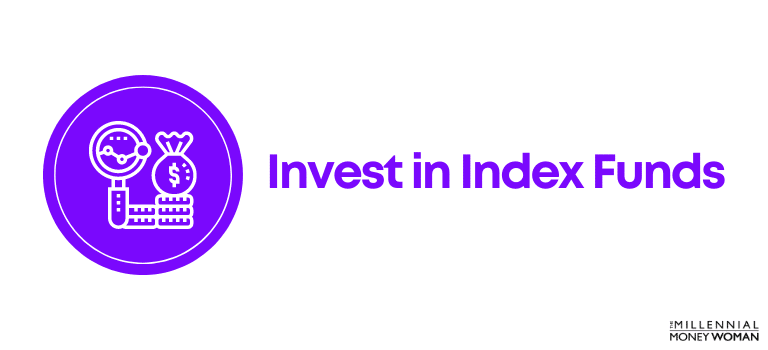 Index Funds

- Very liquid

- Low-cost fees

- Long term growth

- Less flexibility

- May have limited gains

- Very unlikely to outperform the market
Have you ever heard of the Buffett challenge?
Warren Buffett, one of the richest men in the world, is very well known for his stance on investing: Invest in low-cost, unsexy, index funds.
According to Warren, index fund investing is cheaper, better, and more profitable than investing in "sexy" investment products like in hedge funds.
The Buffett Challenge Defined:
On January 1, 2008, Warren made a $1 million bet that the hedge fund industry would be incapable of putting together a portfolio that would outperform the S&P 500 Index fund over a 10-year time frame.
Did the hedge fund industry win?
No!
Here are the results:
| S&P 500 Return | Hedge Fund Return |
| --- | --- |
| | |
Why does it seem like the S&P 500 index fund outperforms the "upper class" and glitzy hedge funds almost every time?
The main reason is due to the astronomically priced fees that come along with hedge funds.
If you want to have the privilege to invest in hedge funds, you need to pay up – and typically that means you're paying the typical "2 and 20" fee structure:
2% per year based on the assets under management 

20% performance fee, charged on the profits generated
Arguably, you're already looking at a -22% return – before you even start investing with hedge funds!
On the other hand, index funds can save you – and make you – a lot of money.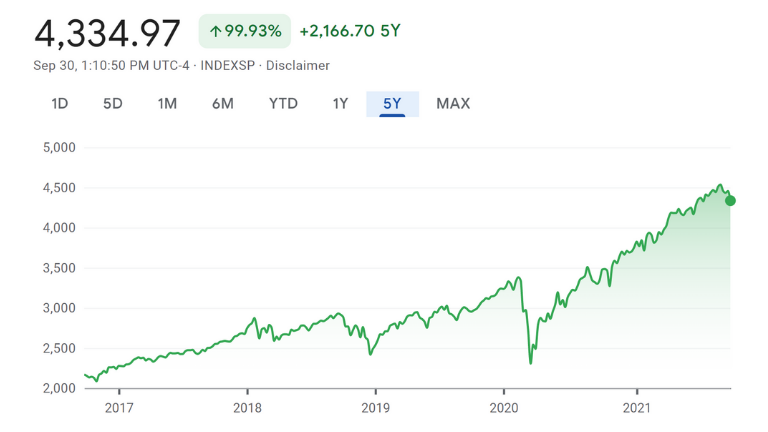 As you can see, over the past 5 years, the S&P 500 index fund has been steadily increasing in value.
While there will always be some sort of volatility when it comes to investing in the stock market, the good news is that if you zoom out and if you look at the bigger picture, chances are, you'll make a positive return in the stock market.
Pro Tip:
When you start looking at short-term returns (aka performance over the last few months), that's when investors typically start making mistakes by selling or buying stocks that don't fit with their overall strategy.
When it comes to successful investing (just as Warren Buffett preaches), you need to zoom out and focus on the long term. 
And that's where investing in income generating assets like index funds could get the job done.
Here is a list of the pros and cons of index fund investing:
| Pros | Cons |
| --- | --- |
| | |
| | Could have tracking errors |
| | Can never outperform the market |
| | May have management differences |
Personally speaking, one of the most important reasons why you would want to invest in index funds like the S&P 500 is because of the:
By low cost, I mean that because index funds are passively managed, you typically won't be charged a high fee (aka expense ratio) for the privilege to invest in an index fund.
The lower the expense ratio, the more money in your pocket. 
M1 Finance is an awesome investment app for those of you who are serious about starting your long-term investing journey. 
Here's a little about M1 Finance:
No trading fees

No management fees

Portfolio is customizable

Fractional share investing
You will need at least $100 to start investing in a regular, taxable account and you'll need at least $500 to start investing in a retirement account (aka an IRA). 
The most important part is that you start investing today.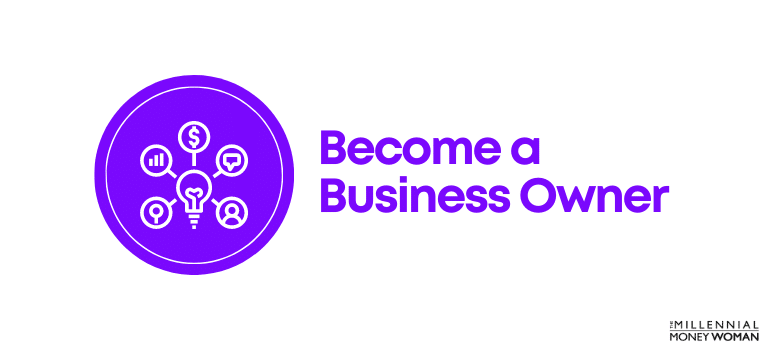 10. Become a Business Owner

Have you ever dreamed of earning income even if you're retired? 
One way is by investing in your own business and becoming your own boss.
Owning a Business

- Satisfaction

- Unlimited income potential

- Ability to become financially free

- Ability to build generational wealth

- Stressful

- Steep learning curve

- High upfront time commitment

- Often a high financial commitment

Depends on the type of business
Do you want to know one of the fastest ways to becoming a millionaire in your lifetime? 
It's called becoming a business owner. 
I'm not kidding: 66% of millionaires are business owners. 

Source: The Millionaire Next Door
In other words, if you start your own business (and if you put in 110% effort), then you have a much, much higher chance of becoming a millionaire versus if you "just" remained an employee for the rest of your life.
Of course, there is nothing wrong with being an employee.
In fact, being employed is often much less stressful than being a business owner, you have less responsibility, less liability, and arguably you also have less financial risk. 
However, running a business is not all rainbows and butterflies. 
Here are some red flags that may indicate you're not cut out to be a business owner (which is totally fine, by the way!):
You procrastinate

You fail to take action

You enjoy the comfort zone

You're not familiar with marketing

You aren't willing to put in the extra work
If your goal is to become a business owner, you cannot let failure hold you back.
In fact, more than 50% of businesses fail after the first 5 years. 

The statistics get even worse, indicating that over 70% of businesses fail after 10 years of starting.

If you're really looking to become a business owner, then you'll have to accept that becoming a millionaire isn't going to be a linear process.
In fact, studies suggest that the average millionaire actually goes bankrupt 3.5 times on average before they become successful.

Source: The Millionaire Next Door
While I'm not trying to discourage you from pursuing your dream of becoming a business owner, I also don't want to make it sound like being a business owner is easy – because it's not.
It's going to take:
Time

Effort

Energy

Failure

Hard work
Instead of working a 9 to 5 job, you'll probably be living, eating, and breathing your business because your business will likely consume almost every minute.
At least that's what my business does to me. 
However, because I love what I do, I don't mind it – in fact, I love working on weekends, holidays, etc. because I feel like I'm getting ahead while everyone else is taking a rest.
Pro Tip:
To excel in business, you need a key ingredient that can't be bought: Passion.
While passion is a key ingredient, it's not everything.
To become a successful business owner, you'll also have to start learning additional things, like:
Sales

Marketing

Advertising

Contract law

Leading teams

Managing your money

Understanding areas of liability
You have to become an expert in virtually every field of your business. 
Since most of us didn't go to business school or received an MBA, understanding certain aspects of a business can become tricky – and demotivating. 
That's why I suggest you take a course on the online teaching platform Udemy 👇
Udemy offers an online MBA course for a very low cost (relative to what most MBA's would actually cost you).
This is where you can learn the ins and outs of running a business and how you can implement the tips to run your business successfully, too.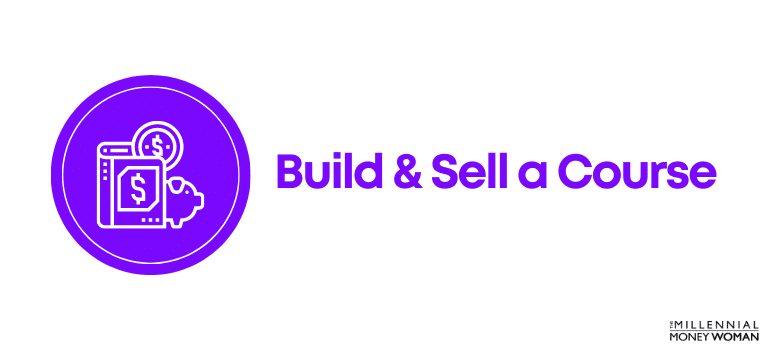 11. Build and Sell a Course

Are you an expert on a specific topic?
Do you enjoy helping people excel in life?
If so, creating and selling a course could be the right next move for you.
Building & Selling Courses

- Income is unlimited

- Earn passive income

- Share your knowledge with others

- High upfront work

- Must provide in-depth value

- High upfront time commitment
The first time that someone told me that they were earning $5,000+ per month just by selling their online course, I couldn't help but grin a little.
They had to be exaggerating, right? 
The truth was, they were not exaggerating – in fact, just today I found out that the same person was earning over $10,000 per month now in passive income just by selling her course. 
You can create a course for just about anything and make money:
How to flip used items for cash

How to become the perfect gardener

How to build a better social media presence
So, how do you create a course and promote it? 
Check out my steps below:
Know what you're good at

Create your course

Promote it

Sell it
Let's take a closer look at what I mean by these steps:
Step #1: Know What You're Good At
Know your strengths, and know your weaknesses. 
To write an epic (and profitable) course, you need to know what you're awesome at, and specifically what it is that people come to you for.
Here's how you can start evaluating your strengths:
When do you people come to you for help?

What's your area of expertise?

What do you enjoy doing?
One thing that I've learned the very hard way is that you won't be successful at creating a course if you're not passionate and excited about the subject. 
Step #2: Create Your Course
Now that you figured out what you're good at, it's time to start creating your own online course. 
You can build and sell courses in many different formats.
Below are some common formats:
Record a video

Write an eBook

Prepare a PowerPoint
Generally speaking, the most profitable courses that I've seen have been built on the online course platform, Teachable 👇
In fact, Teachable is the course platform that is used by the creator of Making Sense of Affiliate Marketing (and she earns over $50,000 per month just from selling this particular course!).
Step #3: Promote Your Course
You could create the most epic and the best course in the world, but without promoting your course, you probably won't be successful in selling it. 
That's why it's critical to promote your course. 
Here are some ways you can promote your course:
Build a social media following

Promote your course on your website

Promote your course in your newsletter

Promote your course using paid advertising

Find others to affiliate for your course and promote it on their media platforms
Pro Tip:
Ask for testimonials. The more testimonials you get, the higher the chances are that other clients will buy your products.
Step #4: Sell Your Course Using an Online Platform
Once you've created and marketed your course, it's time for the fun part – actually selling your course and pocketing the cash!
One of the best platforms is Teachable, but it's not the only platform.
Other course platforms include:
Depending on the type of platform you use, you might have to pay a small fee (typically a percent) of your overall sales, or you might have to pay a monthly subscription fee to use the online course platform.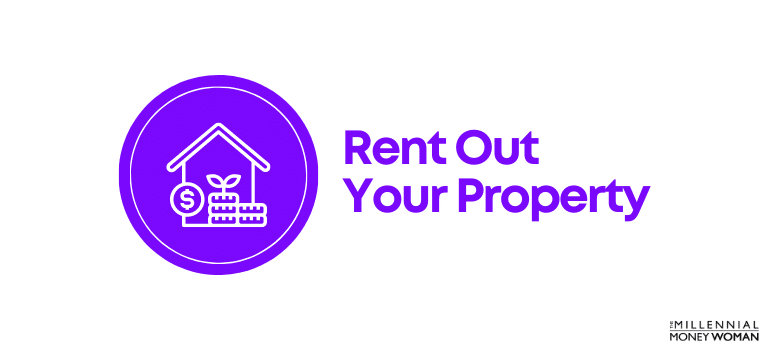 12. Rent Out Your Property

Do you have unused space in your home (aka you have an extra bedroom/guest bathroom)?
Do you want to convert that unused space into an income generating asset? 
If you said "yes", then you might want to consider renting out your property.
Renting Out Property

- Earn passive income from your property

- Someone else pays off your mortgage for you

- Your property continues to appreciate

- Dealing with tenants

- Typically a lot of work

- Maintaining the property is your cost

Depends on local rent rates

Depends on your property & maintenance fees
Unused space in your house can cost you money, time, and potentially energy cleaning the unnecessary space. 
Here's how you can flip the script: Consider renting out the unused space. 
Did you know that 35.9% of US households rent out their homes?

Typically speaking, rental income is also a fairly stable source of income – everyone needs a place to live.
Below is a neat chart to show you how much you could charge for rent, just based on your geographic location: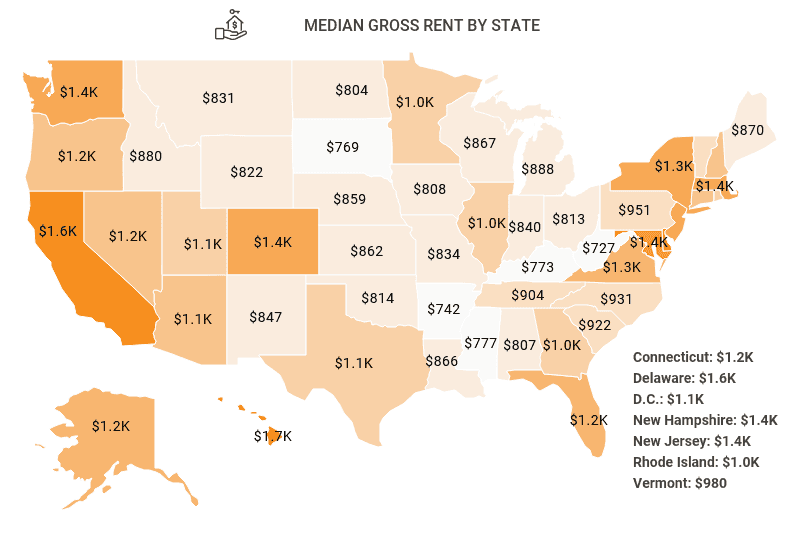 While it might sound like renting out your unused space could be a fun and great income generating asset – I should caution you that there is much more than meets the eye when it comes to renting out property.
Caution:
Before you start renting out your space, make sure to vet your tenants, run background checks, and propose a contract, which should be signed by both you and the tenants.
The worst-case scenario is when your tenant refuses to pay, and you cannot legally force them to leave without jumping through many costly and timely hoops.
If you are confident in your tenant, then I would suggest you consider opening an account with the rental management app RentRedi 👇
RentRedi helps you manage your tenants' requests, collect rent, etc.
RentRedi is basically your virtual assistant that keeps track of all rental-related things to make your life easier.
Pro Tip:
If you still feel a little unsure about potential implications when it comes to long-term rental contracts (aka 1 year or more), you may want to consider offering your property for short-term rental agreements (for a few days or a few weeks).
If you feel like short-term renting is more up your alley, you could also always consider AirBnB as a way to rent out unused space.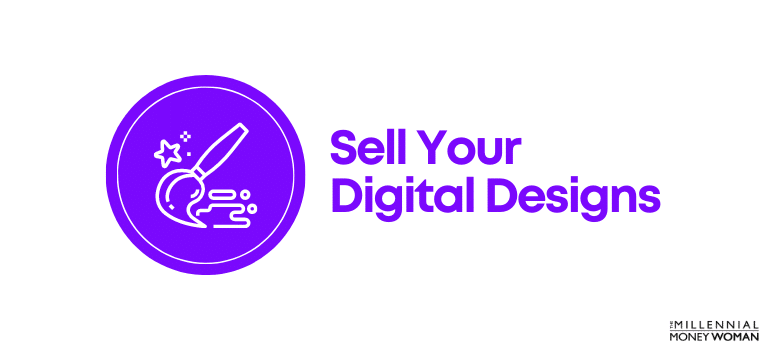 13. Sell Your Digital Designs

Are you the creative type?
Do you want to learn more about one of the best income generating assets for digital design artists?
I might just have your answer.
Selling Digital Designs

- Make money designing and selling your art online

- Could make little profit

- Might be time-consuming
Did you know that you can earn passive income if you create and sell your own digital designs on platforms like Etsy?
Joining and starting a shop on Etsy is free – however, you will be charged listing fees, transactions fees, taxes, etc.
You can also always opt into Etsy Plus for more bells and whistles, at which point you'll have to pay a monthly subscription fee.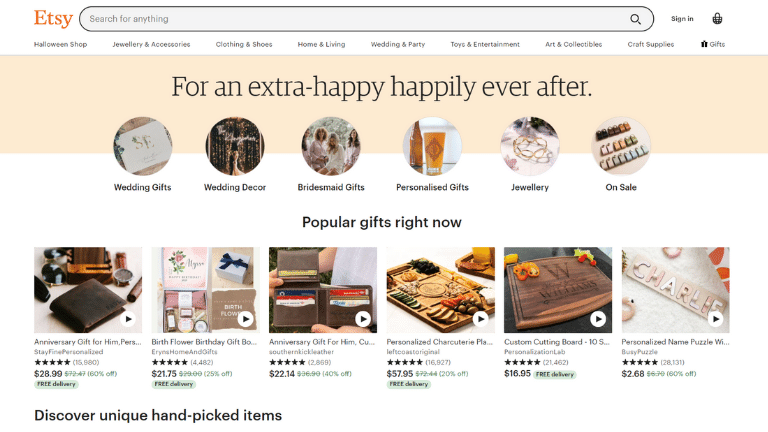 You can search for virtually anything on Etsy, and chances are that you'll probably find what you're looking for – for a relatively low price, too.
Here's when creating your own digital designs might be the best step for you:
You love being creative

You want to diversify your income

You don't want to rely on your 9 to 5 job income
If these points describe you, then consider downloading the digital design app Canva 👇
Did you know that this website (and my Twitter profile) are all created using Canva? 
I virtually live in Canva – and if you want to make a lasting impression with your audience through digital artwork, then I suggest you consider Canva, too. 
Here's how Canva works:
Sign up for the free or paid version

Customize thousands of individual templates

Edit photos even if you don't have extensive editing knowledge
Canva has more than 50,000 custom templates to choose from – and each one you can drag, drop, and edit further on Canva's customizable template. 

Here's an example of how Canva's interface looks.
It's clean, it's intuitive, and you can drag, drop, and edit pictures without needing experience or a lot of knowledge (as you would with Adobe Photoshop).
Coming from a non-design background, Canva is perfect for my skill set and knowledge base – and it really pulls together the look of my website.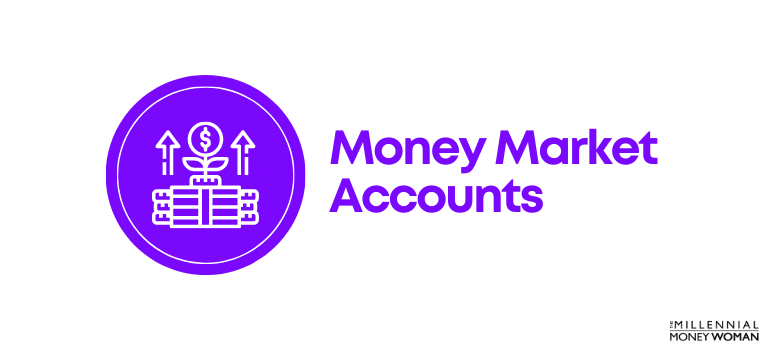 14. Money Market Accounts

Want to know one of the easiest passive assets you can set up today and earn a little money on the side? 
Then setting up a money market account could be the right option for you.
Money Market Accounts

- Liquid

- Easily accessible

- Typically low fees

- Easy passive income stream

- Higher interest rates than savings accounts

- Does not earn high returns like the stock market

- Typically higher minimum balance requirements

- Typically withdrawals are limited

Depends on the interest rate
The average savings account just doesn't seem to cut it anymore.
Interest rates are below average (in the September 2021 interest rate environment, they're hovering around 0.01%) and it's important to get the biggest bang for your buck.
Enter CIT Bank's Money Market fund 👇
Money market funds typically pay a higher interest rate than what your average savings account pays you.
If you're interested to compare how this CIT Bank's interest rate (0.45%) compares to your savings account interest rate, log into your savings account right now or call up your bank rep to check out your interest rate.
There is a very high chance that your savings account interest rate is lower than what a money market account could offer.
Money Market Account Defined:
Money market accounts are basically like online high-yield savings accounts because money markets also offer higher interest rates. They are also FDIC insured and liquid accounts.
By FDIC insured, I mean that money market accounts offer you insurance of up to $250,000 per account owner in the case the bank fails.
Typically speaking, however, money markets often have minimum deposit requirements (in CIT Bank's case, it's $100), so just make sure you know what you're signing up for first.
Pro Tip:
I should also note that money markets typically set limits on how much you can withdraw or how many times you can withdraw. Make sure to read through the fine print first.
For example, in the case of CIT Bank, you are limited to 6 transactions per statement cycle. Anything over 6 transactions would be charged an excess activity fee.
Depending on your goals, a high-yield money market account could help you save for some big milestone goals.
If you're ready to earn some passive income on your cash, while saving for major life milestones, then consider opening a money market account with CIT Bank.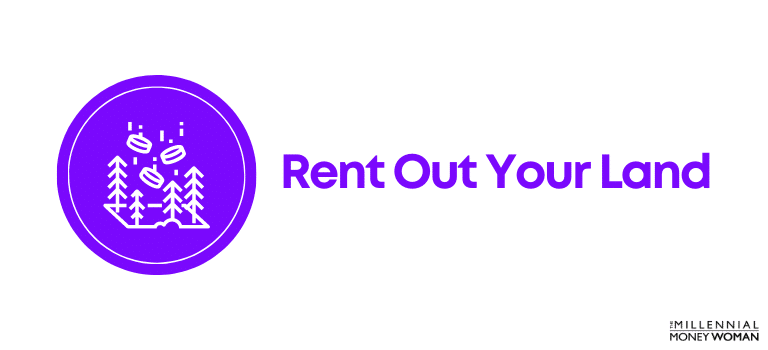 15. Rent Out Your Land

You don't just have to rent out your building space to earn passive income.
In fact, you can also consider renting out your land with little to no maintenance.
Renting Out Your Land

- Little maintenance

- Easy passive income source

- You may have to hire lawyers to write up contracts

- Time-consuming when you're looking for viable renters

Depends on the cost of the land
Renting out land could be a lucrative option for you, especially if you own fertile farmland that could be rented to farmers for crops. 
In reality, the amount of passive income you could generate from a land rental depends on several factors, including:
The use 

The size 

The location 

The soil fertility
While you can certainly rent out your fertile land to farmers who are looking to produce crops, you can also rent out your land for:
Gardening

Storage purposes

Grazing for animals 
There are several websites you can use to rent out your land as one of the fastest (and arguably easiest) income generating assets:
| Rental Purpose | Potential Resource |
| --- | --- |
| Rent your land for storage | |
| Rent out your land for gardening | |
| | |
Things might get a little more complex just before you rent out the land, since you may have to draft up a contract (which I highly recommend), so you may have to hire a contract lawyer just to be safe.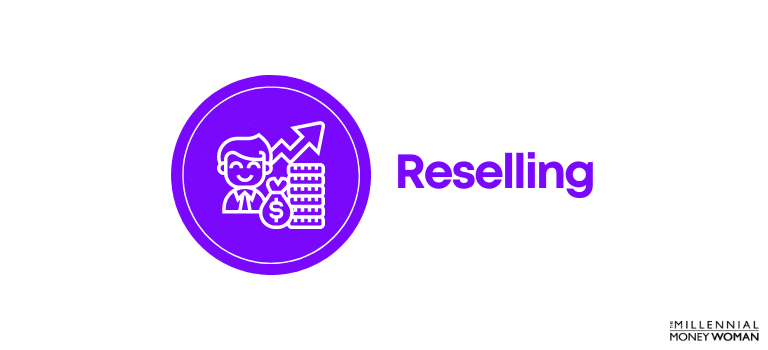 16. Reselling

Do you enjoy buying and selling items for a profit?
Then reselling could be for you.
Reselling

- Anyone can learn it

- Diversifies your income streams

- You'll likely need to make an upfront investment

- The process can be time-consuming

- Part-time 5-30 hours per week

- Full-time 30+ hours per week
Reselling is a great way to make extra money.
Reselling Defined:
Reselling is when you buy a product and then sell it for a profit.
You can resell just about anything – from websites to iPhones. 
The key to becoming a successful reseller, however, is to first learn the art of reselling before you start practicing it. 
I've seen folks just go out there, buy a product, try to flip it (but do it wrong), and then either they don't sell the product at all or they sell it for a loss. 
Don't be that person.
Here's a basic process:
Setup

 – admin work

Source

 – find inventory

Sell

 – resell inventory

Shipping

 – ship products
Here are the 2 main ways to find items to sell:
Retail Arbitrage

 – Finding items to sell from local stores

Online Arbitrage

 – Finding items to sell from online stores
If you want to learn how to master the art of reselling, then consider taking the Trash2Cash Course 👇
Here's what you'll learn:
Where to find items to flip and resell

How to do proper flipping research

What platforms to use

How to avoid scams

How to sell items
The good news is that anyone can learn how to resell.
There are so many items out there that you can buy for a low price – or sometimes people even give them away for free – and then resell for a profit. 
Note:
Reselling doesn't just have to relate to physical products. It can also relate to digital products, like websites.
For example, you can buy an old website domain (just like you would buy an old physical item) and sell it for a profit.
Typically, you can flip websites by either revamping the website, increasing traffic, making more sales through affiliate marketing, etc., and then ultimately selling the website for a profit.
Remember this: Learn first, implement later.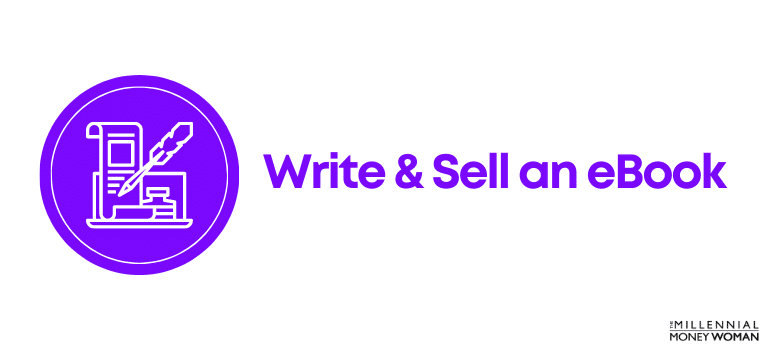 17. Write and Sell an eBook

Did you know that one of the best income generating assets is your brain? 
You can earn $1,000's extra each month if you decide to write your own eBook, for example. 
And if you don't know how – or where – to start, then I have the perfect guide for you, below. 
Writing & Selling eBooks

- Unlimited income

- Low financial investment

- High upfront time commitment
The COVID-19 pandemic has changed our economy and work system likely forever.
One of the most critical lessons we learned from the pandemic was that relying on 1 job just won't cut it anymore. You can be fired or let go at any time.
And that's especially true because about 78% of American workers are living paycheck to paycheck.
I should also note that those living paycheck to paycheck isn't necessarily those people earning "just" 5-figure salaries. 
In fact, close to 10% of Americans with salaries of $100,000 or more are also living paycheck to paycheck.

No wonder that many folks are stressed in the modern world – and money worries are never fun to have.
That's why it's so important to start building a side hustle income, and invest in an income generating asset, like an eBook, that can earn you money for many years into the future.
Now, I'm going to show how you can generate passive income by writing and selling your own eBook.
How to make money writing eBooks:
Think about what you'd like to write about (passion, niche, expert skill, etc.)

Download the course, 

How to Create & Sell eBooks for a Living

Start writing your first draft, even if you don't feel ready

Ask someone else to edit your draft, then rewrite

Promote your eBook on social media
When I wrote my eBook, How to Get Rich from Nothing, I probably committed over 100 hours to the making of my eBook. 
It may sound like a lot of time, but in reality, I loved every minute of it, because I'm passionate about helping people improve their financial picture, and I'm already fairly skilled in writing (since I run a personal finance blog!). 
Now, 3 months later, I am still earning a modest amount of money from my eBook, without having to do anything. 
Talk about an awesome income generating asset!
Here's why I love writing and selling ebooks:
No inventory costs

Low upfront expenses

Freedom to work anywhere

Passive income generation for years to come
If you want to earn extra money, then you should really consider writing an eBook.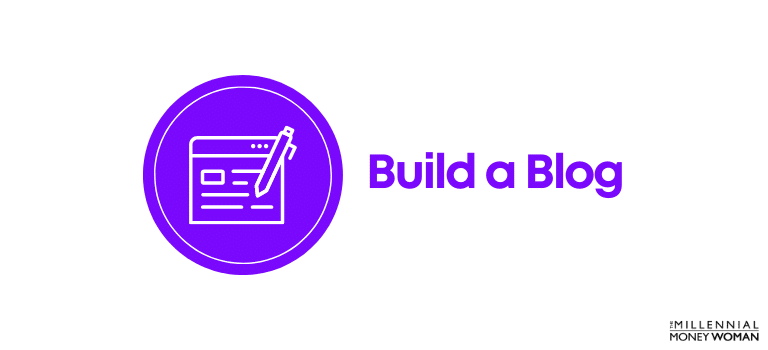 18. Build a Blog

Have you ever dreamed of traveling the world while earning money at the same time?
What about making money while you sleep?
If you like the sound of those ideas, then blogging could be for you.