Arrived Homes is a new platform that allows you to buy shares of rental real estate for as little as $100 without managing the property itself.
With Arrived Homes, you'll have the option to:
Earn passive income
Diversify investments
Protect against inflation
Invest with a minimum of $100
Profit from property appreciation
Access historically consistent returns
Protect yourself against stock market volatility
Benefit from favorable real estate tax deductions
Arrived Homes has identified the gap in real estate investing and is one of the first companies to offer fractional investing in the rental space.
But is it safe and legit?
Let's take a deep dive into this Arrived Homes review and find out if it's the best investment platform for you.
Pros

Cons

Diversification

Low minimum

Open to all investors

Highly illiquid

Relatively high fees

No secondary market
What is Arrived Homes?

Arrived Homes is a real estate investing platform for everyday investors who can invest as little as $100 in rental real estate property.
You don't have to manage the property, collect rent, or deal with tenants – all you do is collect dividend checks and a potential profit once the home itself is sold.
Did you know?
Jeff Bezos is one of the first and primary investors in Arrived Homes.
Thanks to Arrived Homes, based out of Seattle, Washington, virtually anyone can now have access to the exclusive and high-roller world of real estate investing.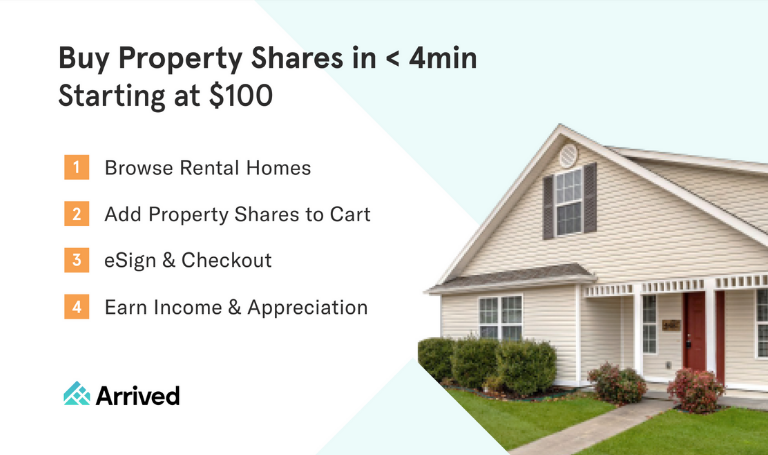 How Does Arrived Homes Work?

The 4 steps in the image above perfectly describe Arrived Homes:
It's simple.
From setting up your account to making your first investment, Arrived Homes transforms the normally long, tedious, and stressful process of real estate investing into 4 steps in less than 4 minutes.
Here is the process of how Arrived Homes actually works:
Analyze – Review the best single-family homes for investments
Vet – Select the best tenants and property managers
Establish an LLC – The LLC will be the official owner 
Buy – Purchase the highest return potential homes 
SEC Approval – Wait for SEC to approve new homes for investing
Invest – Investors are now allowed to invest in the real estate properties
Management – Arrived Homes is responsible for managing the tenants, homes, property maintenance etc. 
Holding Period – Average holding period lasts between 5 to 7 years
Sale – You may have the chance to sell your shares on the secondary market (which is expected in 2022) or wait for Arrived Homes to sell the home
As you can see, there are many steps involved with owning rental real estate, and Arrived Homes really does the grunt work for you.
It's thanks to fractional real estate investing that allows everyday people like you and me to start investing in rental real estate properties.
Fractional Real Estate Investing Defined:
Fractional real estate investing is when investors don't have to buy an entire property to become a homeowner. Instead, investors can buy shares in $100 increments (for example).
Investing in fractional rental real estate shares is revolutionary – it's new, it's disruptive, and it could be pretty profitable especially since you don't have to shell out $100,000's of dollars to become a property owner.
Arrived Homes Pros and Cons

Let's take a big-picture look at the Arrived Homes pros and cons:
| Arrived Homes Pros | Arrived Homes Cons |
| --- | --- |
| Earn passive rental income every quarter | |
| Arrived Homes vets all tenants | Your money is locked up for long periods |
| Arrived Homes manages the rental property | Arrived Homes has a very limited track record |
| Minimum investment starts at $100 | Limited number of properties are available to invest in |
| LLC structure protects investors from liability | Fees can be confusing for new investors |
| Protection against inflation and stock market volatility | Secondary market is not currently guaranteed |
Overall Rating

Before reading further, check out my ratings for each of the following Arrived Homes categories:
Arrived Homes Overall Rating
To give a little more detail on the reason for my ratings, take a look at my breakdown below:
Liquidity – There is no guarantee of a secondary market, and your money is likely tied up between 5 to 7+ years
Usability – Very intuitive website interface and very easy to use
Investment Options – While there are many options, they are often sold out fast, and it takes a long time for the SEC to approve additional investment options
Projected Profits – Depending on the amount of your investment and the type of property, you could see both passive income and capital appreciation
Fees – Fees are complex, there are multiple fees you'll have to pay, and the fees can eat into your profits
Customer Service – Drawing from my own personal experience, I've had nothing but the best interaction with Arrived Homes' customer service team
If you're already invested in the stock market, then you may want to branch out and consider other investment options to diversify your portfolio, like Arrived Homes.
Never invest more than you are willing to lose in alternative investment platforms like Arrived Homes.
Arrived Homes Features

One thing I love about Arrived Homes is that it comes with a lot of user-friendly features.
Here's a breakdown of all their features:
Arrived Homes Features

Minimum Needed to Open Account

Minimum Needed to Start Investing

- LLC

- Trust

- Corporation

- Individual (most common option)

Not yet – but likely in 2022

- Return from dividends: 4.76% to 7.54%+

- Return from property appreciation: N/A (yet)

Current Users (as of December 2021)

- By Email

- By Phone

- By Live chat

- By Social Media
Arrived Homes Fees

Let me be upfront about the Arrived Homes fees:
The fees are a bit high and they may be a little complex.
Here's what you can expect when you invest in Arrived Homes:
Arrived Homes Fees & Investing

Rental Real Estate Property

- 1% (annually) of your assets under management (paid from the property income each year)

- Property management fee = 8% of rental income

- Sourcing fee (already included in the share price and is a one-time fee)

- Renter costs

- Property analysis

- Administrative costs

- Property maintenance

- Property management

- Regulatory (SEC) filings

How the Investor is Paid Back

- Rental income

- Profits from property appreciation upon property sale
Just keep in mind that all fees will likely eat into your profits.
When compared to running your own rental real estate business, and considering the amount of time, work, and stress you would have to pour into that business, I would much rather pay a little more in fees to spare my mental health.  
Arrived Homes Returns

Let's explore the potential returns you could earn with Arrived Homes.
First, it's important to note the 2 benefits of Arrived Homes:
Property appreciation
Passive quarterly income
The image below illustrates this concept the best: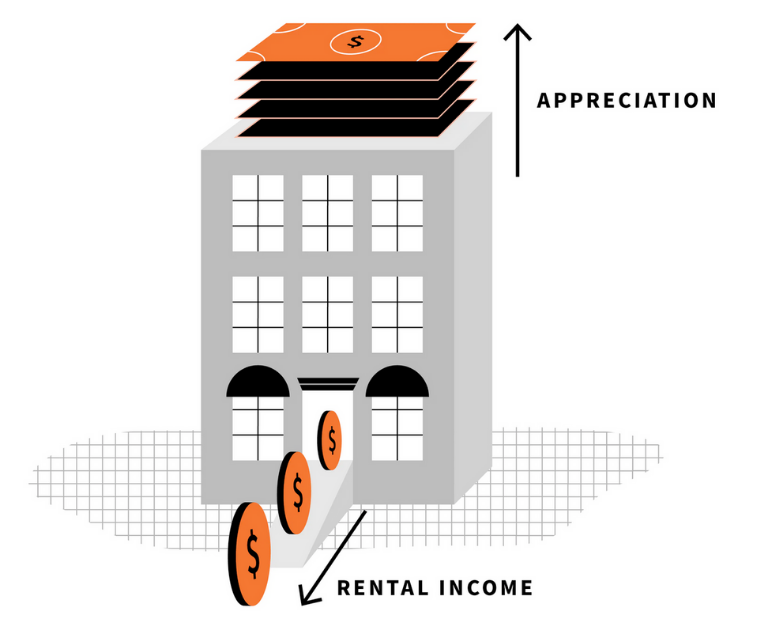 So, how much do you actually earn by investing with Arrived Homes?
Of course, the return can vary, but typically it can be around 5.4% to 7%.
This percentage translates to roughly $0.13 to $0.16 in profit per share that you own.
Remember that with a minimum $100 investment, you would typically own 10 shares at $10 each, at minimum.
Since Arrived Homes was founded back in 2019, there really isn't much historical information to go off when it comes to determining the return for property appreciation, so stay tuned.
However, we can say that most Arrived Homes investors buy into the rental properties at a price that's at or lower than the property's current market value Zillow estimate (aka Zestimate).
Check out the image below: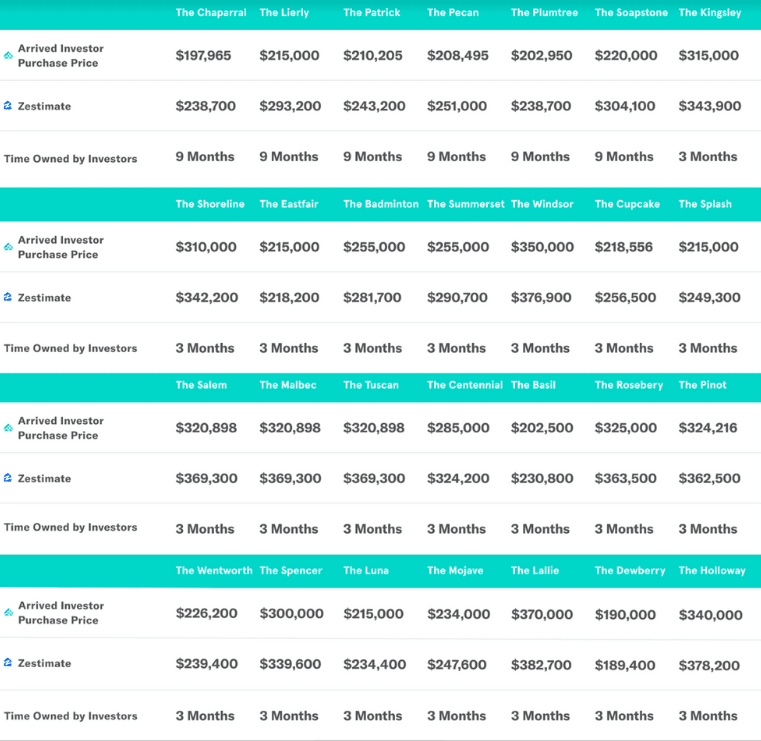 In other words, as an Arrived Homes investor, you probably already have an advantage, since the current market value of your investment property is already higher than what you invested in.
In the near future, Arrived Homes hopes to show investors the percent equity growth of their investment, using the Zestimates or other professional valuation estimates.
So, stay tuned!
Arrived Homes Customer Service Review

There are several ways you can contact Arrived Homes:
By Chat
By Mail
By Email
By Phone
By Social Media
I had a very positive interaction with someone from the Arrived Homes.
In fact, the customer service team replied to me within the same day and with a great answer: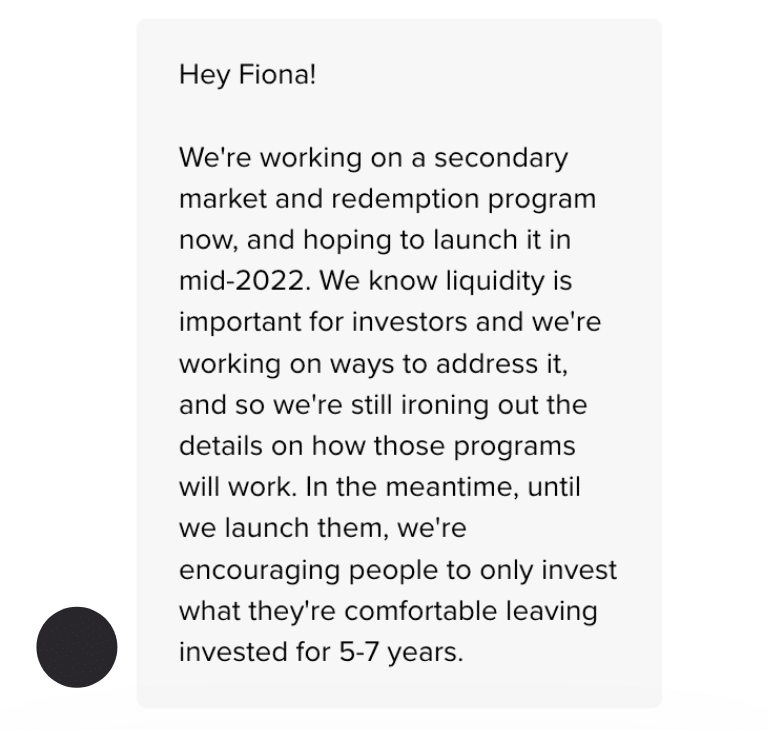 The good news is that you can also speak to someone live via phone.
Pro Tip:
One of the best ways to review a company's customer service (in addition to calling yourself) is to visit forum websites and read both the good and bad reviews.
I suggest checking out the following websites: 
TrustPilot.com 
BBB (Better Business Bureau) 
Let's take a look at the BBB reviews first.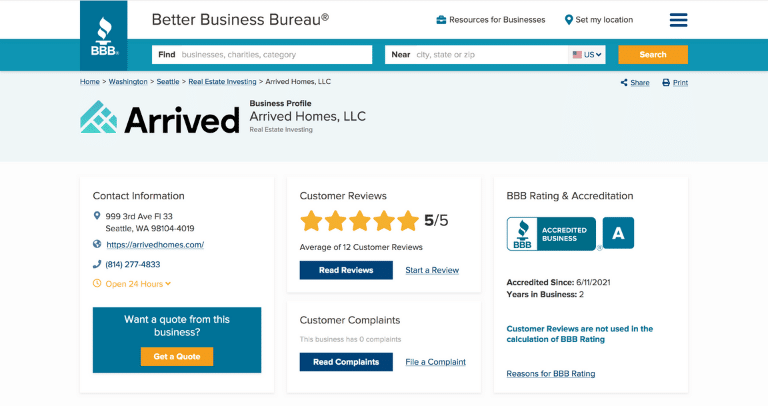 Not only is Arrived Homes rated as an A company (out of a scale from F to A+), but it has also received a 5 out of 5-star rating (from 12 customers) on the BBB.
Not bad.
Now, since there are no reviews on TrustPilot.com as of early 2022, I would probably revisit the website periodically.
Arrived Homes Secondary Market

As of January 2022, Arrived Homes does not have a secondary market, so there is minimal to no liquidity.
However, there is good news:
Arrived Homes is working to build a secondary market and a redemption program, and the company expects to have this rolled out in mid 2022.
Secondary Market Defined:
A secondary market is a "backdoor" way for investors to sell out of typically illiquid investments at a discounted price.
I should note the secondary market is strictly peer-to-peer, which means that you can only buy/sell your shares to other investors using Arrived Homes.
Typically, the only reason you would want to resort to the secondary market is when you're looking for liquidity (aka you need the cash) before the home itself is sold.
Caution:
Selling your shares on the secondary market is also not guaranteed and chances are, you'll probably lose money versus if you had waited for the home to be sold.
So for now, just make sure that whatever you do invest with Arrived Homes, you're comfortable keeping invested for 5 to 7 years.
Arrived Homes Usability & Interface

I'm a very big fan of the Arrived Homes website simplicity and logical usability.
Here are some additional things I appreciate:
Anyone can invest for $100
Easy to link your bank account
The website platform is easy to use
It took me about 4 minutes from start to finish when I signed up to the platform and started browsing rental properties.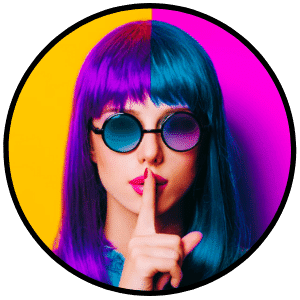 The Bottom Line:
The Arrived Homes platform is a simple design with an interface that's very intuitive.
Arrived Homes Educational Resources

Are you unfamiliar with the real estate world?
Don't worry, you're not alone (I'm right there with you!).
Arrived Homes has found a solution for real estate newbies like me with their abundance of educational resources.
Take the beautiful Lily home in Colorado Springs, Colorado, for example: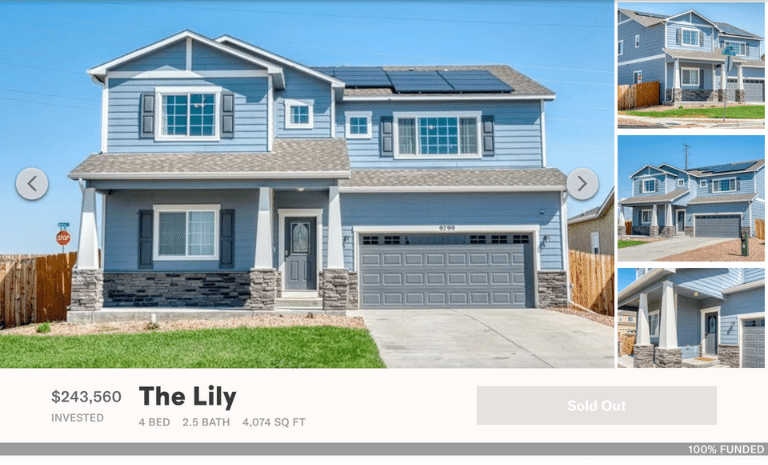 If you're interested to learn more about a particular property, you can see all the facts right under the home icon.
Arrived Homes lists several facts for an investment property, which can include:
Risk factors
Price per share
Use of proceeds
Financing information
Number of shares sold
Historical market return
Zillow home price trends
…And a bunch of other details that serious investors should want to know first, before investing their money.
You can find these facts and figures for the home by accessing your Arrived Homes profile page and clicking on the "Invest" tab at the top, left.

Here's a list of the additional educational resources Arrived Homes offers its investors:
| Educational Resource | Description |
| --- | --- |
| Home Facts & Figures Sheet | Thorough details and descriptions of each home under the "Invest" tab |
| | The official Arrived Homes blog, which posts regular articles about rental real estate property tips and tricks |
| | The glossary is dedicated to helping investors like you and me better understand technical real estate investing terms |
| | You can connect with other investors through the Investor Review section |
| | The FAQ section lays out the pros and cons of investing in rental real estate property |
| Customer Service Representative | You can reach a dedicated customer service team, and you can speak to a human if you are in search of answers |
As you can see, Arrived Homes certainly doesn't keep you in the dark.
Granted, some of the research articles and data can be pretty dry, but if you're wondering how (and where) your hard-earned money is going, I would definitely recommend you do your research first.
How Does Arrived Homes Select its Investment Properties?

Arrived Homes employs analysts to perform deep dives into each proposed property before actually investing in it.
Pro Tip:
What sets Arrived Homes apart is that the platform invests specifically in single family homes.
Arrived Homes does NOT invest in:
Duplexes
Triplexes
Hospitals
Townhomes
Condominiums
This investment style also sets Arrived Homes apart from other real estate investment platforms.
Here's a little more insight:
Arrived Homes Investment Properties

$100,000's to $500,000's+

Typical Property Locations

- Colorado

- Arkansas

- South Carolina

 - North Carolina

Typical Renter Demographics

- Younger minority groups

- Generally, renters that cannot afford a mortgage 
The good news is that you can rely on the Arrived Homes' team of analysts to invest in properties with a high chance of generating long-term profits.
Just remember to never invest more than what you are comfortable losing.
Are the Homes Financed?

Yes, in general almost all homes purchased by Arrived Homes are financed.
You can see how much each home is financed (aka how much of a mortgage each home carries) by accessing your "Invest" tab and then scrolling down to the financing section of the home you are looking at.
Take a look at this example for a home in Colorado: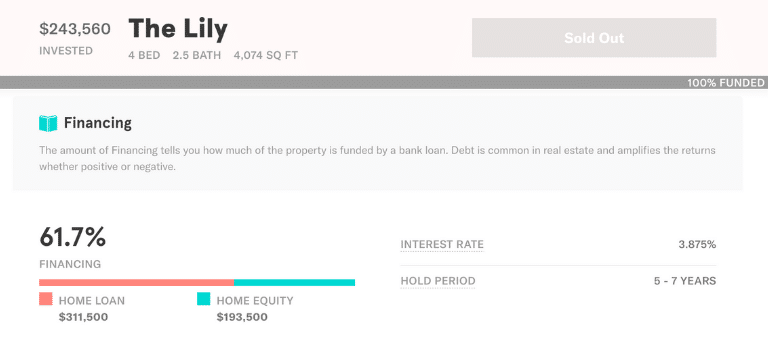 Above, you can see some of the relevant financing facts and figures, including the mortgage interest rate and the debt to equity ratio.
In general, an ideal LTV ratio is about 80% or less, and Arrived Homes typically falls within the "ideal" category.
LTV Ratio Definition:
An LTV ratio (aka loan to value ratio) is a number that estimates the correlation between a loan (like a mortgage) and the current market value of an asset (which you typically buy with the loan).
Most lenders use LTV ratios to assess the amount of risk that they are taking with a secured loan (like a mortgage or a car loan).
And in Arrived Homes' case, the typical LTV ratio ranges between 50% to 70%.
Who Owns the Property?

One question you might be asking yourself is "who owns the property at Arrived Homes?"
While you (and probably 100's of other investors) do own shares of a home, you actually don't own the house.
If you want to know more about which LLC owns your property, then simply head to the "Invest" tab on your profile, click on "Offering Circular".
Then, scroll to the section titled "Interest of Management and Others in Certain Transactions."
You'll see text like the following: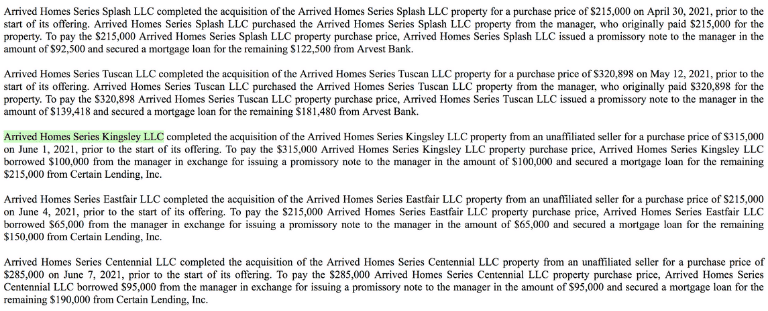 What you can see is that Arrived Homes has multiple, smaller LLC's all in the name of the properties the LLC owns.
In the screenshot above, you'll see the following LLC names:
Splash LLC
Tuscan LLC
Eastfair LLC
Kingsley LLC
Centennial LLC
Note the LLC that I highlighted in the screenshot above (The Kingsley LLC) corresponds to a property that was available to investors.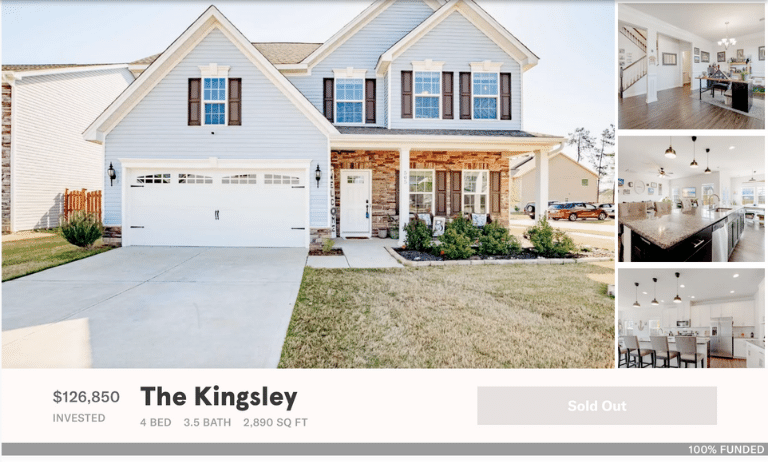 It's actually very advantageous to have an LLC own a property.
Why?
Pro Tip:
If an LLC owns a rental property, your personal liability is limited (typically to the amount of money you invested).
In most cases (and I'm not an attorney!), if you invest $100, your liability is limited to that $100. That's it.
And personal liability protection offered by LLC's is a reason why I'd be very inclined to consider investing in an Arrived Homes property.
What Happens if All Homes are Sold Out?

While Arrived Homes does list multiple properties for investment (typically 50+ homes), the homes sell out fast.
As an example, as of January 2022, I could only invest in 2 homes…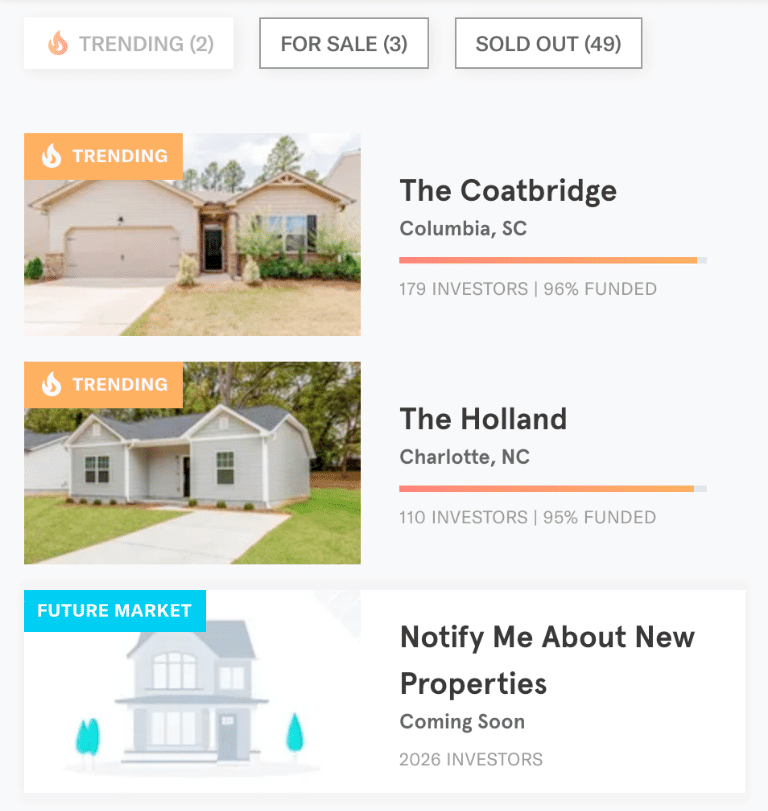 The "trending" homes are the homes that are available for investors right now, so there really isn't a lot of diversity because these homes are so popular with investors.
How do you combat this problem?
Notice in the screenshot above, the bottom house (in blue) is titled "Future Market."
This will give you the option to reserve future shares of homes that will be brought onto the Arrived Homes marketplace.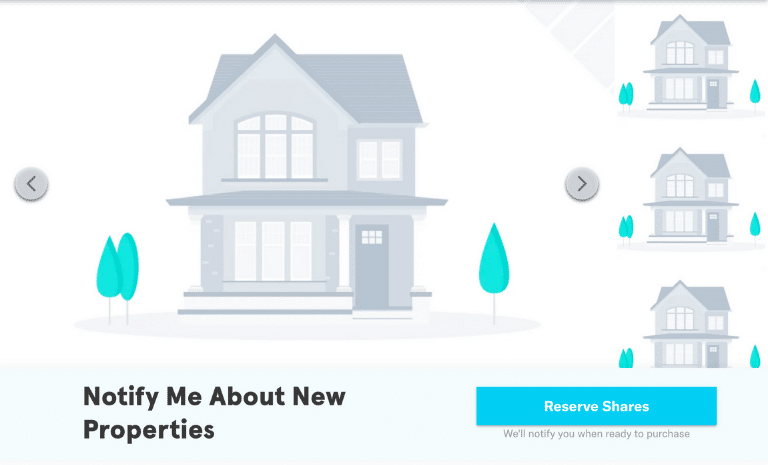 Here is what Arrived Homes investors are saying about the "Reserve Shares" option (which is fairly new).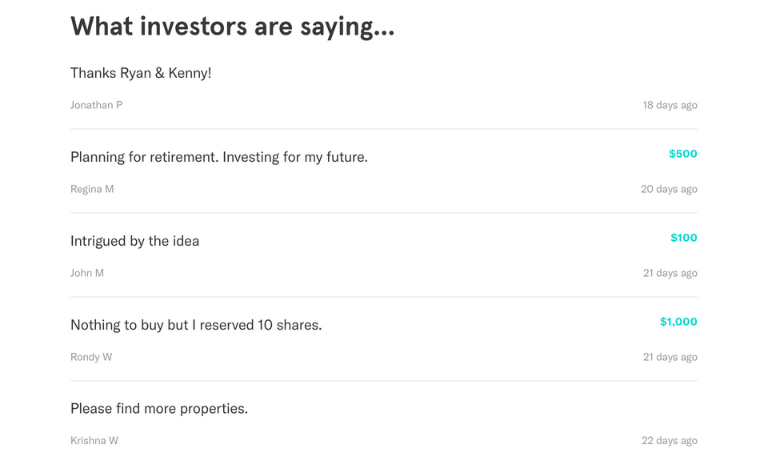 Arrived Homes is working very hard to add new homes to their list for investing, but unfortunately, that process typically takes time.
Why?
Because Arrived Homes is waiting for SEC approval.
Without SEC approval, Arrived Homes cannot offer properties for investment.
Pro Tip:
You can sign up to receive notifications of new property listings and you can purchase (in advance) shares of future property listings.
According to Arrived Homes, "Your payment method will not be charged until you select shares in the final property and you sign the purchase agreement."
You can tailor the number of shares you purchase in a future property, just like purchasing shares of a current property.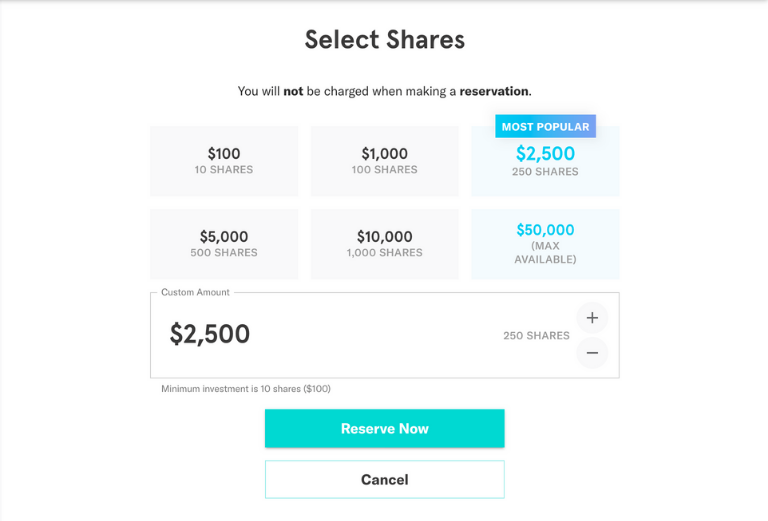 This screenshot also clearly illustrates that you will not be charged when making the reservation.
So, if you're really interested in reserving future rental property shares, this Arrived Homes feature might be a good idea for you.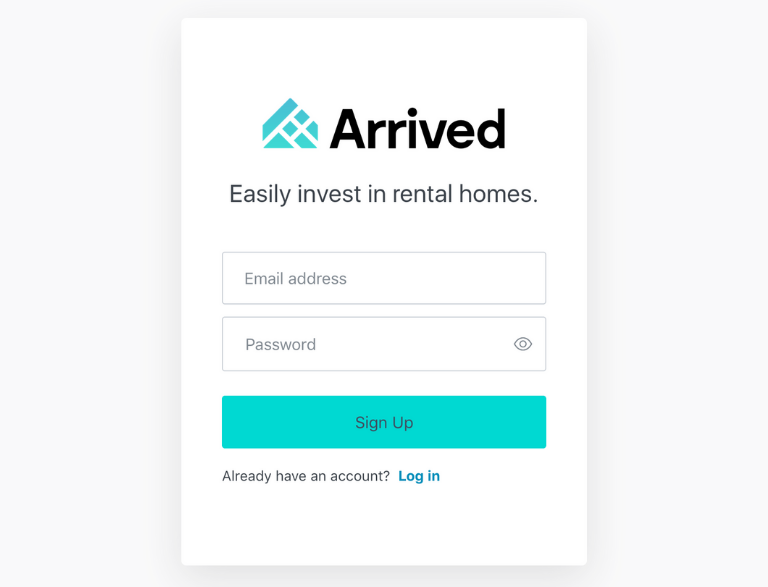 Next, include your email address and password, and then hit the "sign up" button again.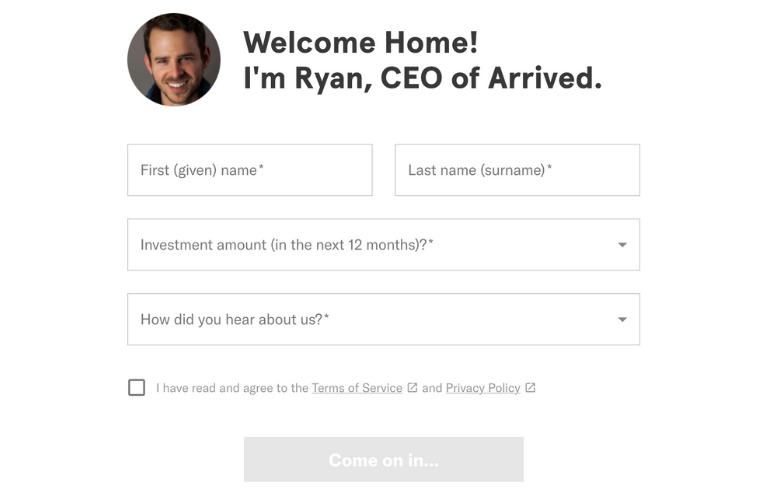 Next, you'll want to include your:
Name
How much you're able to invest
How you heard about Arrived Homes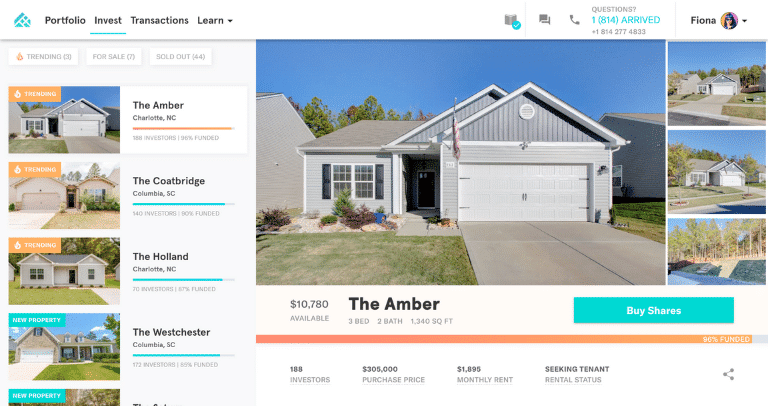 And boom!
You are forwarded to your investment portfolio.
The entire sign-up process took me about 2 minutes before I was given access to my Arrived Homes account.
Now, you can start browsing which rental real estate properties are offered by Arrived Homes.
Note:
The inventory that's available to invest in, is typically limited and runs out fairly fast. So, if you want to invest in a home, act sooner than later.
To start browsing rental real estate properties, click on the tab at the top, labeled "Invest," and you can scroll through the available rental properties for investing.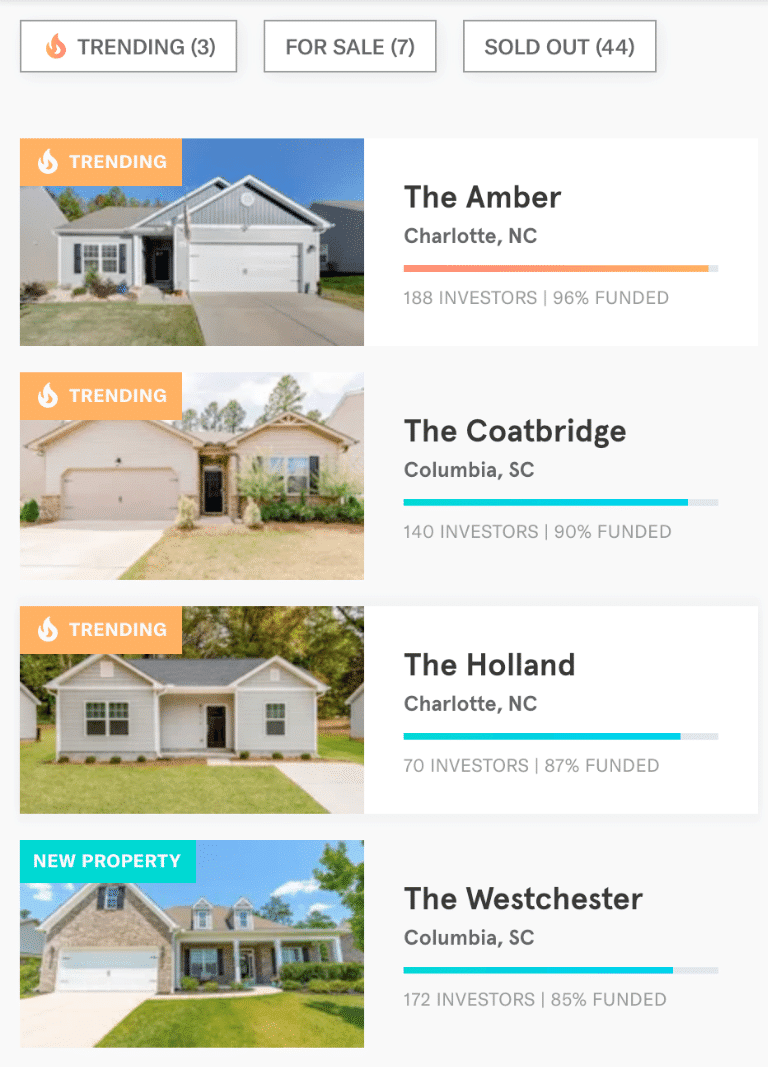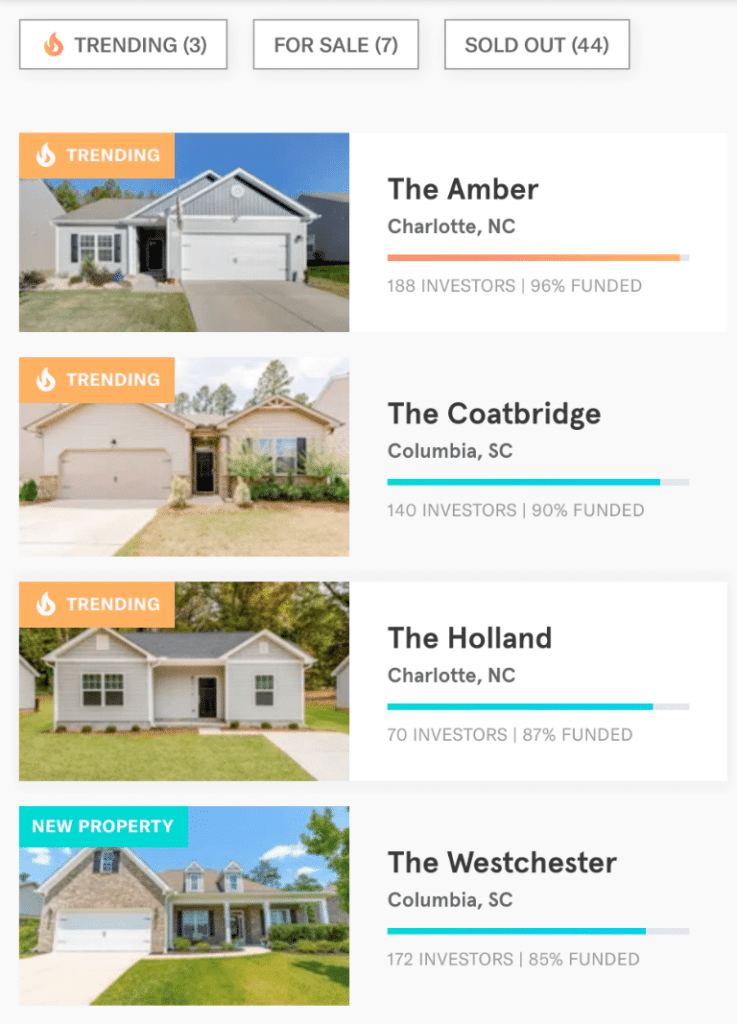 If you want to learn more about the rental properties offered, click on the individual home listing.
Let's take a look at The Westchester in Columbia, SC.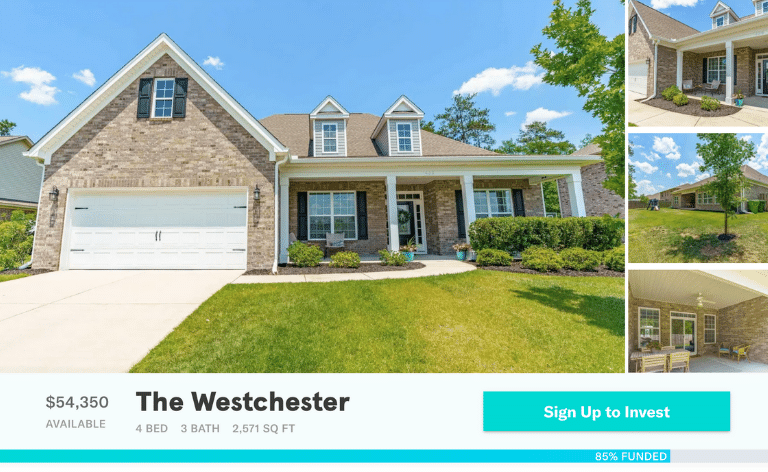 As you can see, there is plenty of information about this particular home listed on the Arrived Homes website.
Now, let's take a look at the actual Westchester home fact sheet.

The fact sheet reviews some of the following information:
FAQs
Risk factors
The local market
The funding status
The property value growth
The rental income potential 
With this particular home, already 97% of the rental property is funded, so you really should act fast if you're looking to invest.
Let's scroll down a little further.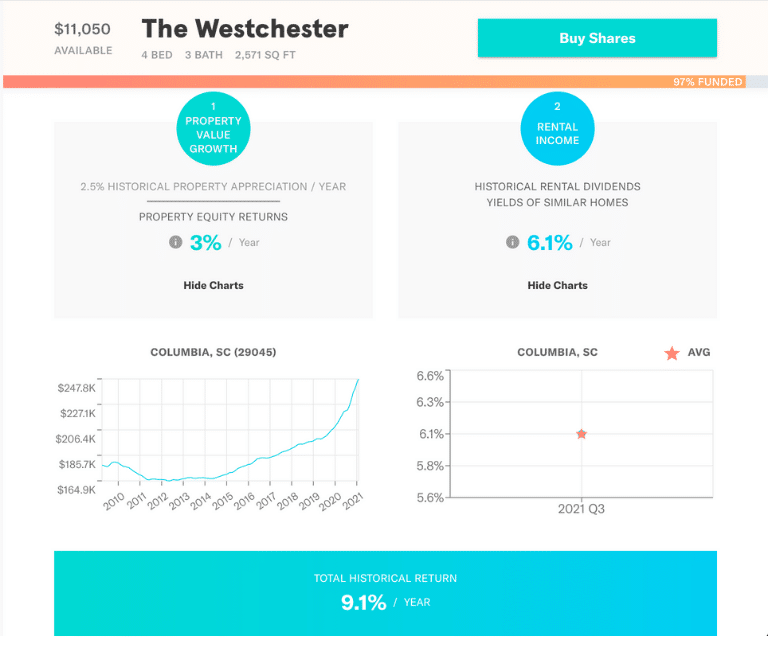 This section discusses:
Projected rental income 
Historical market returns
Projected property growth rates 
Make sure to take a look at the rental income projections as well, to give you a better idea of how much passive income you could earn from a property investment.
Here's an example to better understand dividends from rental income:
How much money you earn in passive income depends on how much you invest with Arrived Homes (and of course, it also depends on the dividend yield).
Let's keep scrolling.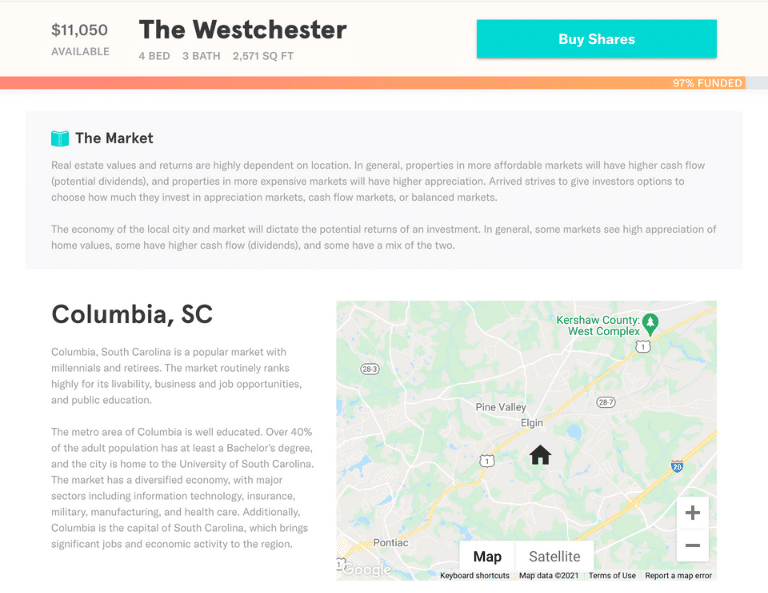 This section discusses the local housing market.
Since The Westchester is located in Columbia, South Carolina, you can expect to read about the Columbia, SC market.
Let's jump to the next section.

I'm a big fan of this section, because this is where investors like you and me can see how much the home is leveraged (aka how much does the bank own?).
Pro Tip:
This section also helps you identify the typical hold period for your investment.
Take note of how long you should expect to hold your investment before liquidating.
In most cases, as shown with The Westchester as well, the hold period is 5 to 7 years.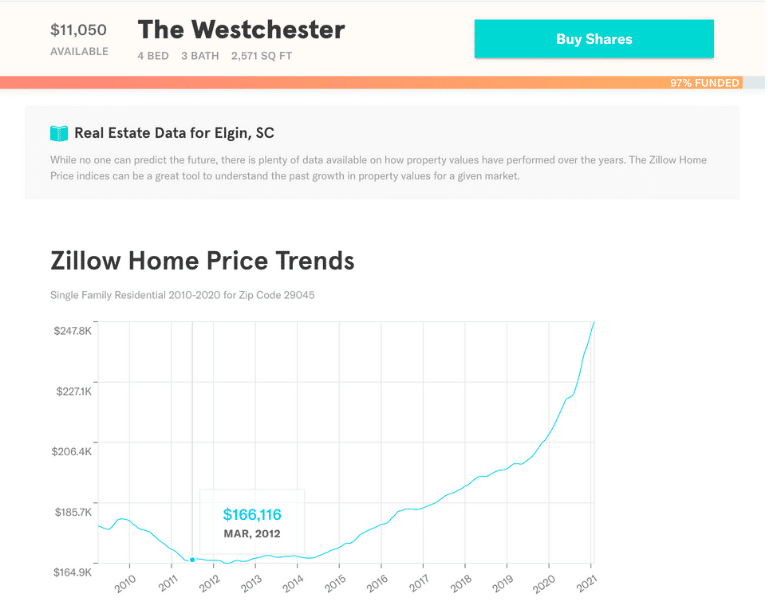 The section above reviews some more relevant real estate data points for the location of your home.
Not surprisingly, the housing market has taken off since 2015 – 2016.
Let's scroll to the next section.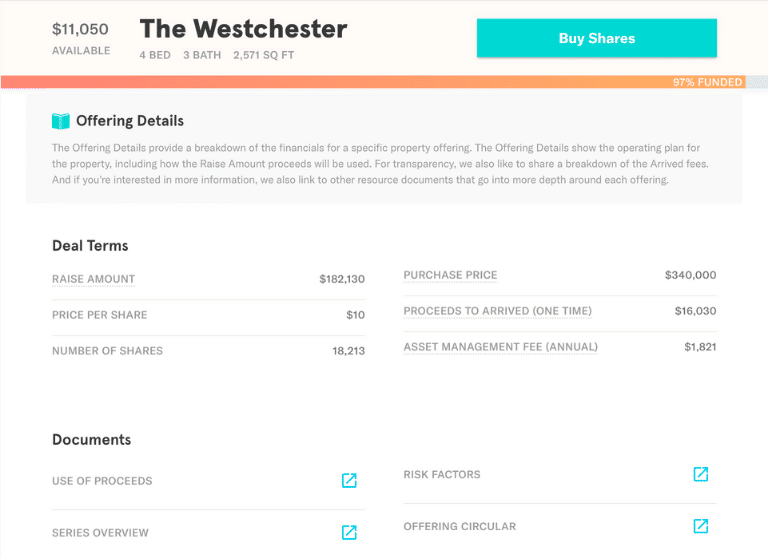 In the section above, you'll find a lot more of the dry data about your investment property.
Pro Tip:
Take a look at the price per share, under the deal terms section. This means that 1 share in your rental real estate property costs $10.
Since your minimum investment with Arrived Homes is $100, you'll likely own a minimum of 10 shares (worth $10 each) if you decide to invest in The Winchester.
In the case you're not familiar with the terminology listed in the screenshot above, I've broken down the information for you below:
Term

Explanation

The money that investors like you contribute to the property

Raise Amount = Home Purchase Price + Property Improvements + Fees + Cash Reserves (needed for operating expenses) – Mortgage

Cost to own 1 share of the rental property (which is held in an LLC)

Typically depends on the "Raise Amount"

In this case, the raise amount is $182,130 and the price per share is $10

The amount of money paid to actually buy the property

Proceeds to Arrived (One Time)

A one-time fee charged by Arrived Homes, which is based on AH's efforts in vetting the tenants, preparing the home for investors like you, etc.

Note: This one-time fee is included in the "Raise Amount" and the share price that's already listed

Asset Management Fee (Annual)

Annual and recurring fee charged by Arrived Homes to investors like you

The fee is based on how much you have invested in the property and covers the cost of ongoing property management costs
While not very interesting, I would suggest reviewing the documents that are listed in this section.
For example, under the Use of Proceeds section, you can find how Arrived Homes plans to use the funds for each home offering.
These documents are a good way to learn more about your investment property, and I highly recommend you take the time to review this additional information.
Let's keep scrolling.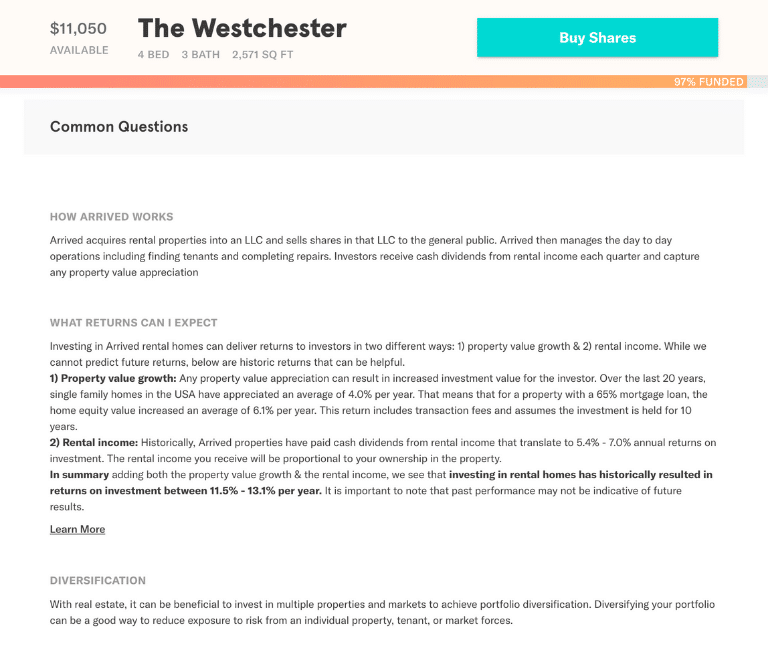 Here, you can review the most frequently asked questions about the property, process, and potential profit.
Let's keep scrolling to the last section.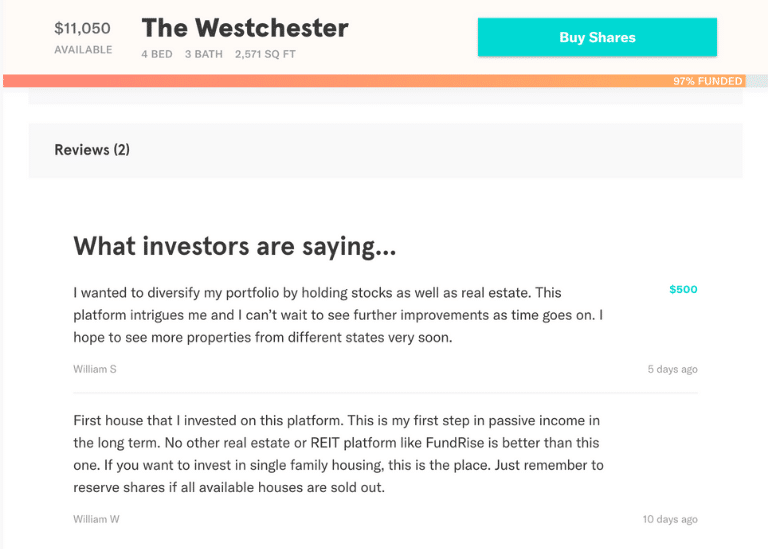 I'm a big fan that Arrived Homes posts comments from investors themselves for each of the available homes for investment.
The longer the home is available for investors, the more comments you'll likely see from investors.
The investor (aka you and me) gets a lot of data and information about the potential property, so you can make an informed investing decision.
How Do You Buy Shares with Arrived Homes? 

On each property, there is a button that says "Buy Shares."

From there, you'll be led to a screen where you can select the number of shares you want to purchase.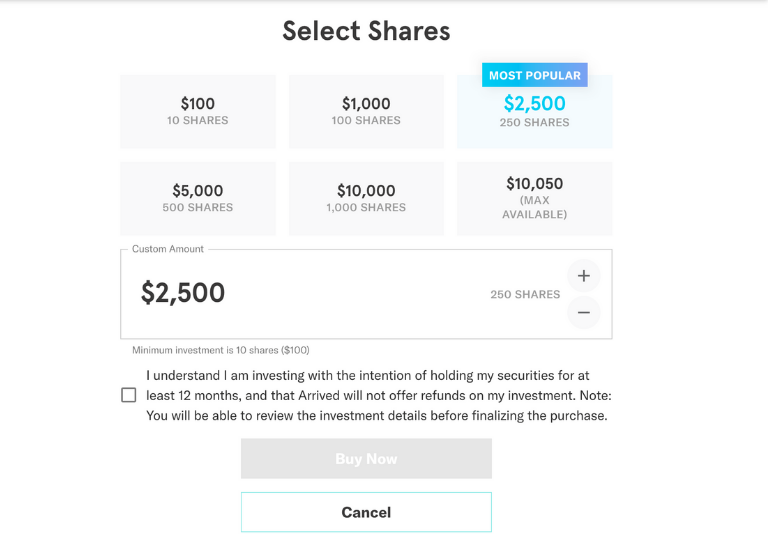 While there are many options to choose from, Arrived Homes gives you the "most popular" share selection.
Pro Tip:
You can always customize the amount of money you want to invest with Arrived Homes – you are not obligated to invest exactly $100 or $1,000 dollars.
I'm a very conservative investor, so I probably would start by investing between $100 to $1,000 first and see how things go.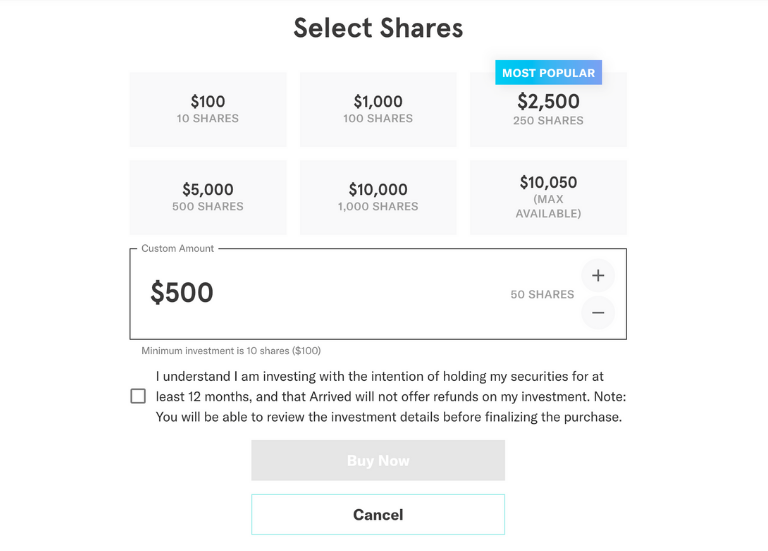 In this case, I decided to select a $500 investment.
Next, you'll have to physically set up your account with Arrived Homes (and link your bank account).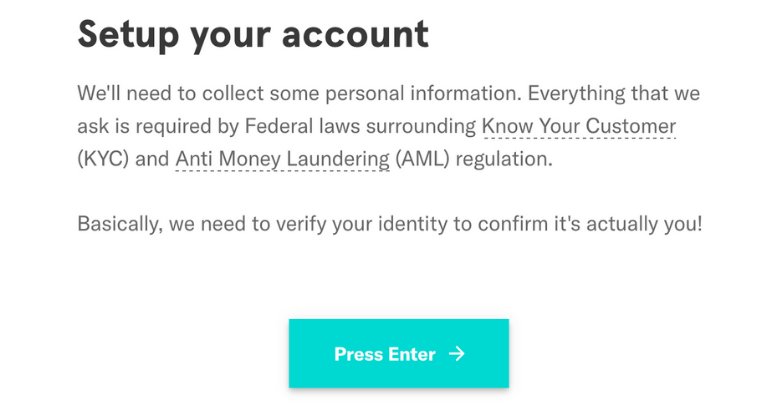 The main reason why you have to complete your personal information here is because of the "KYC" rule (aka Know Your Customer).
KYC Definition:
The KYC (or know your customer) rule is where companies are obligated to do their due diligence about their investors to ensure that funds are legally obtained (and that the customer is not involved with money laundering, for instance).
Some of the personal questions you'll have to answer include:
Your address
Your last name 
Your first name
The account type
Your citizenship status
Your net worth information
Your social security number 
Once you've inputted your information, it's time to link your bank account to your Arrived Homes portal (Arrived Homes uses Plaid).
Pro Tip:
If you are having issues connecting your bank account with Plaid, you can also link your account manually.
If you are connecting your bank account manually, you may have to send an email to: support@arrivedhomes.com
They will help walk you through the process of manually connecting your account with Arrived Homes.
Let's take a look around your Arrived Homes portal.
To see how many rental homes you've invested in, click on the top left, on "Portfolio."

To learn more about the types of properties you can own, just click on "Browse Properties," at the center of the screen.
Next, let's take a look at the "Transactions" tab.

To view your recent purchases, sales, dividend payments, etc., this is the tab you'll want to access.
Especially for tax season in the US (every April), this is a great place to review your transaction history for you and your accountant.
Finally, if you want to learn more about the Arrived Homes platform, rental real estate, or just investing in general, then click on the "Learn" tab at the top, center.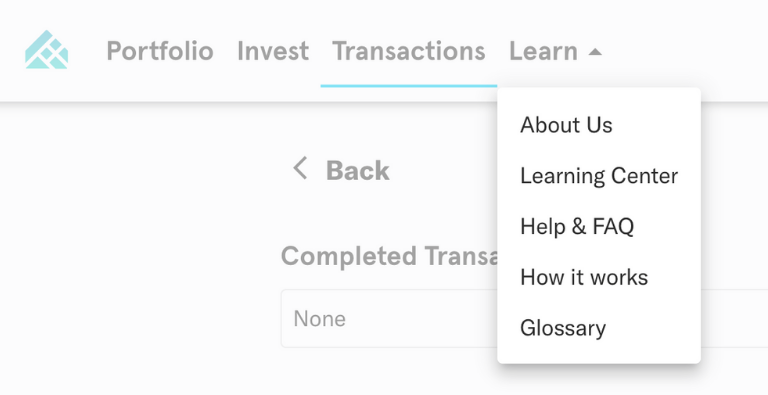 I'm a big fan of Arrived Homes' Learning Center – and even their Glossary section because they help you understand rental real estate investing in much simpler terms.
At this point, you should be set up to start investing in the rental real estate world.
Arrived Homes recently rolled out this latest feature in 2022.
Instead of investing in just rental properties, you can also now invest in vacation rentals.
Some benefits of investing in Vacation Rentals include: 
Seasonal cash flow
Rapidly growing industry
Increased potential revenue

So when could investing in vacation rentals make sense for you?
Here are some considerations: 
You like a little more investment risk
Tax advantages aren't the No. 1 priority for you
You're comfortable earning inconsistent income 
You don't mind spending more on operating costs
You want to be an early investor in a growing industry
If you're a real estate investor by nature, then what you can do is simply invest in BOTH vacation real estate and rental homes.
Diversification can improve your chances of earning a return.
Below are some of the available vacation rentals at the time this article was written: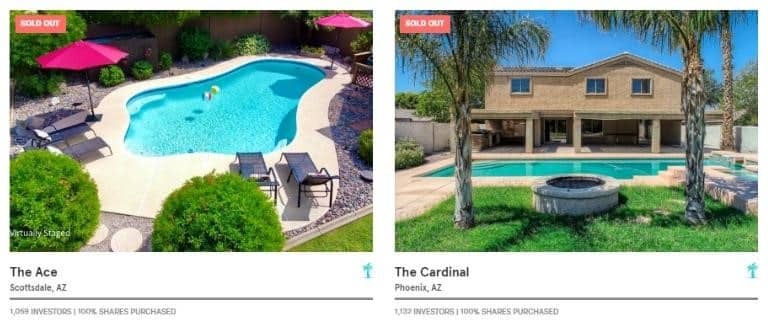 If you click on a vacation rental, you'll see much more detail about the property itself: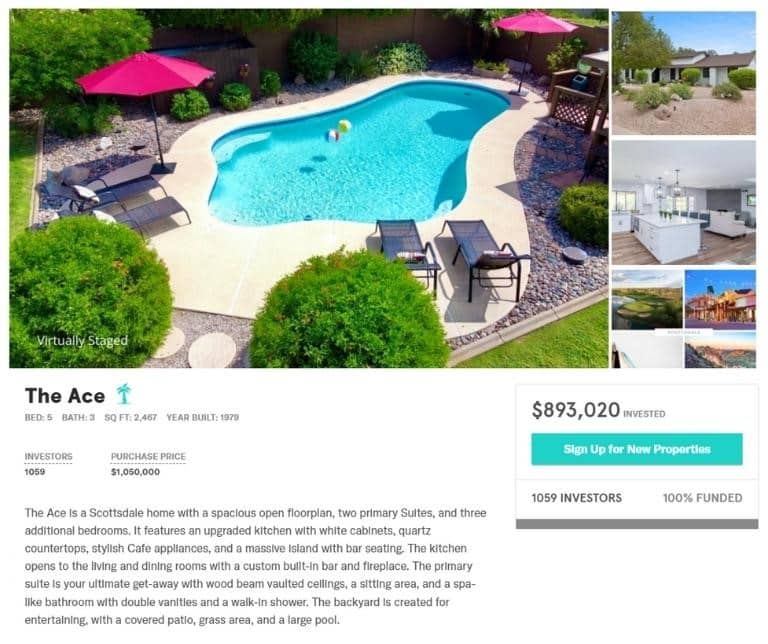 Arrived Homes does a great job in visualizing the data.
Take a look at the following cash flow information below: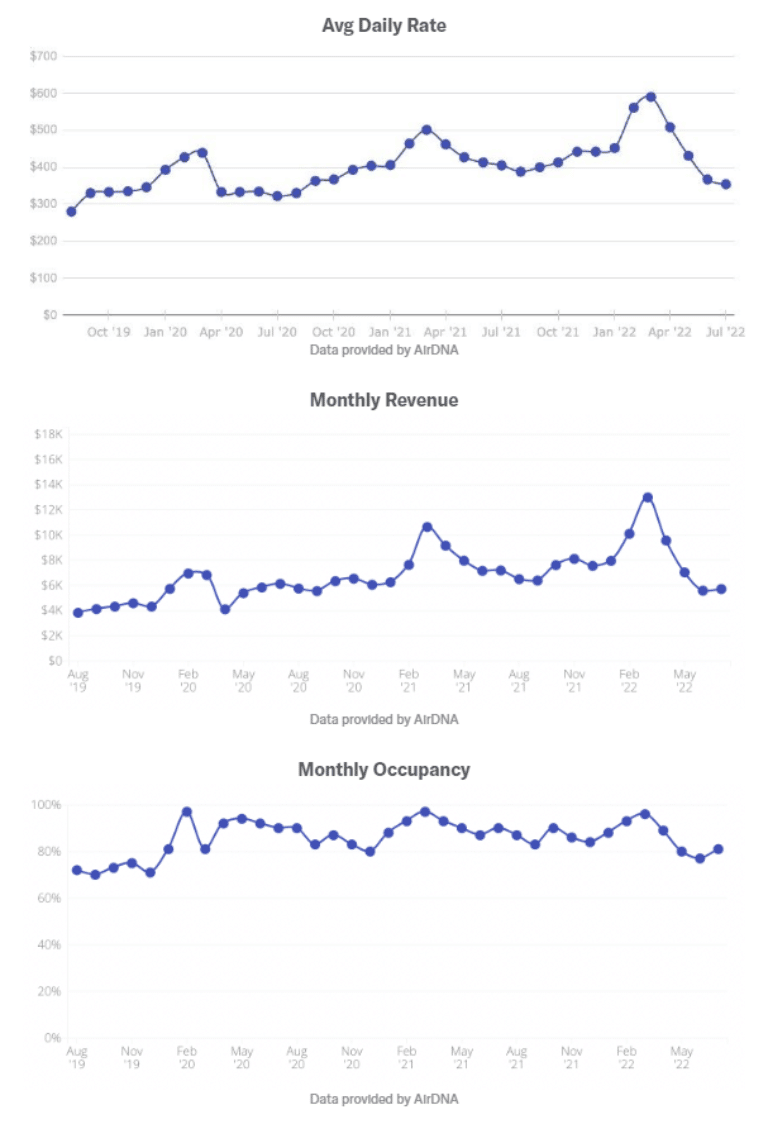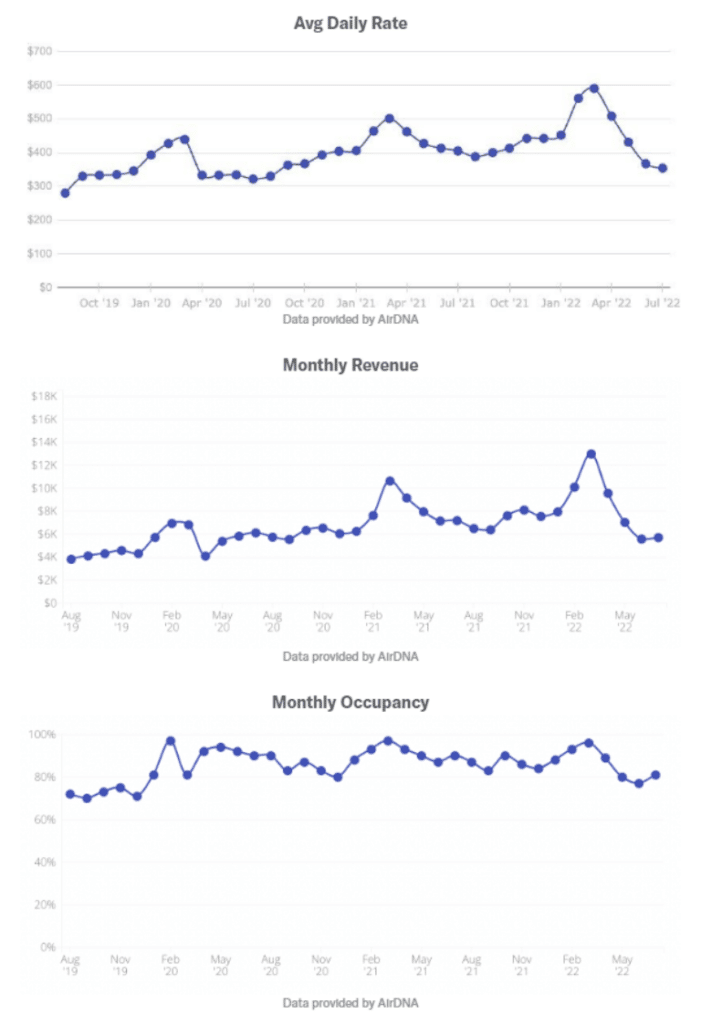 For this particular vacation rental, it appears that the cash flow is seasonal and you can expect the most amount of money in the late February to April time (perhaps Spring Break?).
Note:
The minimum investment for vacation properties is $100, just like the Arrived Homes minimum investment for rental properties.
You'll find that most of the vacation properties are concentrated in the southeast and Southwest of the US.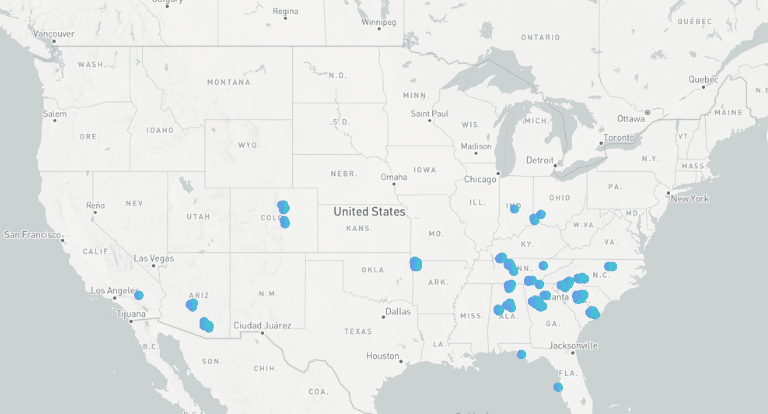 Whichever investment you decide to pursue – vacation rental vs. rental property – make sure you do your research.
Pro Tip:
Vacation property investments typically sell out fast (within 1 to 2 days of being posted on Arrived Homes).
So after you do your research, you should make a decision sooner than later.
Is Arrived Homes Worth It?

The answer is not as straightforward as I wish it could be.
Arrived Homes could be worth your time and money if you:
Want to earn passive income
Don't have high-interest debt
Are ready to invest in rental real estate
Want to protect yourself against inflation
Want to earn potential returns between 5.4% to 7%+
Want to protect yourself against stock market volatility
Don't mind having your money locked up for 5 to 7+ years
If you connect with these points, then Arrived Homes could very likely be one of the best investment platforms for you.
Pro Tip:
Real estate is a hedge (aka protection) against inflation and stock market volatility.
As an example, below is a graph illustrating the difference between the volatility of returns in the stock market versus the volatility of returns in real estate, since 1870: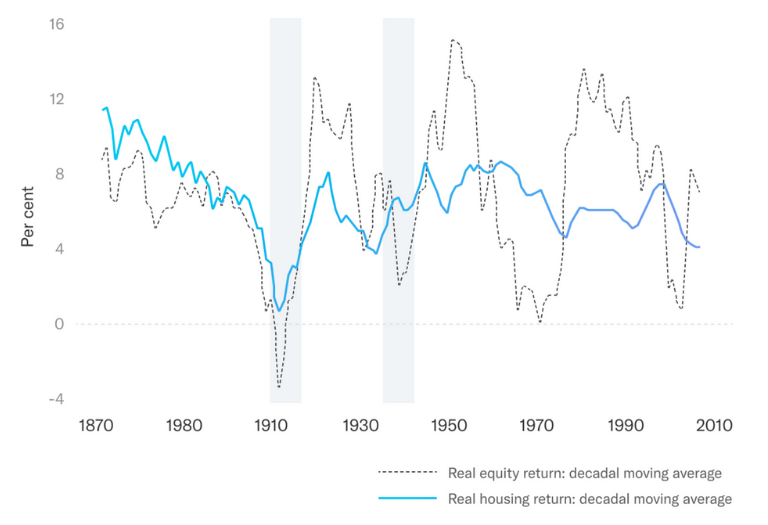 The real estate markets (blue) has seen fairly stable returns, especially from 1910 to the present day, in comparison to the stock market, which has seen much more volatility.
The graph below also illustrates how real estate can help lower your risk against inflation (which has recently been hovering around 40-year highs):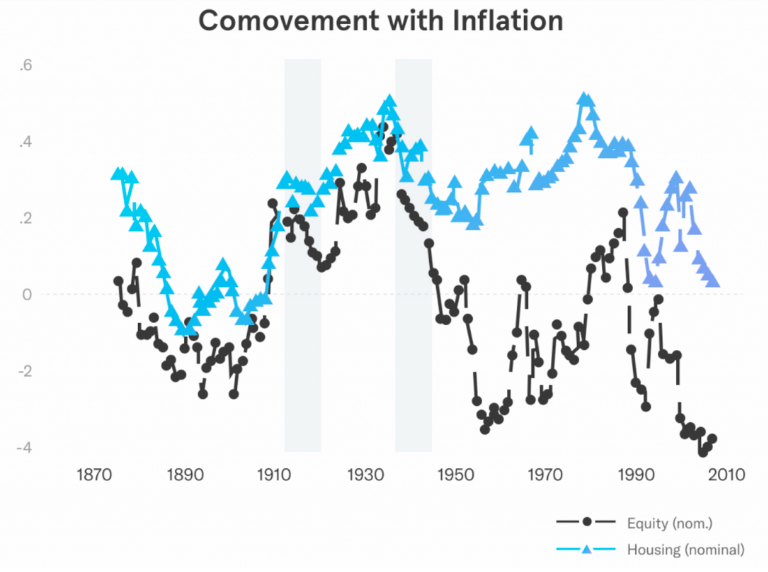 If you look closely, you'll find that inflation causes both home prices and rents to increase (as we have experienced in 2021 and 2022).
Increased rents also mean increased cash flow for investors, like you and me.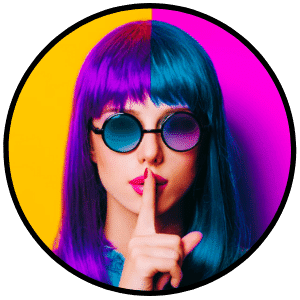 The Bottom Line:
If you want to earn passive income and invest in something that is independent of the stock market, then investing in rental real estate could be a good choice to preserve and build your wealth.
Arrived Homes Alternatives

Not sure if investing in rental homes is the right next step for you?
Here are a few more lucrative alternative investments:
Just remember to do your research – no matter the investment type – before you commit financially.
Arrived Homes Review Verdict

Not many people can say they have an ownership stake in multiple rental real estate properties.
Typically this activity is only available to the top 1%.
Not anymore.
Arrived Homes is the single-family rental real estate investing platform we've all been waiting for.
Now, you and I can invest in multiple homes across the country for as little as $100.
Note:
While all of this sounds just dandy, keep in mind that Arrived Homes does charge fairly high fees and the lockup periods tend to be very long (up to 7+ years).
However, the interface, customer service helpfulness (and responsiveness) as well as the website user experience itself (in my opinion) makes up for the complexity in the fee structure.
Closing Thoughts

Arrived Homes makes it possible for almost anyone to start investing in rental real estate.
Instead of buying the actual house itself and managing your tenants, you (the investor) buys shares of the rental estate, starting at just $100.
While you can certainly make money investing with Arrived Homes, it's important to recognize that there are risks involved when investing in rental real estate.
Some of these risks could include:
High costs and fees
Long lock-up periods 
Limited amount of properties available 
Investing in real estate may not be for everyone.
If you feel like this isn't your best bet, you may want to check out other alternative investments, instead.
Caution:
It's critical that you are cautious with how much money you invest in Arrived Homes – make sure that whatever you invest, you are OK losing (worst case scenario).
Now I'd like to hear from you:
What are your thoughts on Arrived Homes?
Would you consider investing in the platform?
Let me know in the comments section below.