Learning how to invest in cryptocurrency could be one of the most profitable investments.
In fact, take a look at the immense growth rate of Bitcoin's price below.
As you can see, over the long-term, Bitcoin has proven to be very profitable.
So if you're ready to start investing in crypto, this will be your go-to guide.
Keep reading.
Sneak Peek: Top Cryptocurrency Platforms

Cryptocurrency Exchange 👇
What is Cryptocurrency? 

Cryptocurrency is a form of digital currency, that is typically used to purchase goods or services. What differentiates cryptocurrency from regular money (like the dollar) is that cryptocurrency utilizes an online ledger (also known as a blockchain).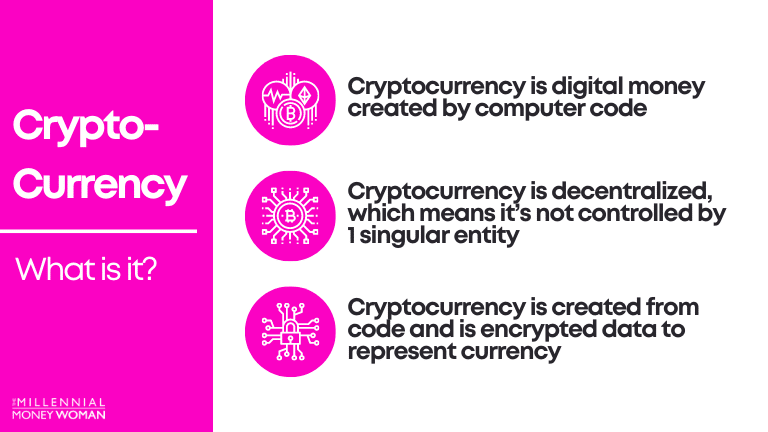 Here's a general breakdown of the terminology – from the most general (blockchain) to the most granular (Bitcoin – as an example).
Blockchain – This is a form of digital technology that is (in theory) unhackable. Blockchain is decentralized (meaning not controlled by 1 single entity such as a government or bank) Blockchain manages transactions across many computers.
Cryptocurrency – A type of currency, which is in the digital format. Cryptocurrency uses blockchain technology to process transactions (buying or selling)
Token – The currency issued by other companies, to be stored on the blockchain, which can be exchanged for goods or services that this company offers (like poker chips being exchanged for money, a good or service)
Bitcoin – This is a type of token (specifically, a payment token)
For those of you who are visual learners, take a look at my illustration below.
This is how I was able to make more sense of cryptocurrency and how Bitcoin and Ethereum fit into the picture.

As you can see from the chart above, blockchain is merely the technology that can allow virtually any type of transaction to be securely and immutably recorded.
Bitcoin uses the blockchain to record transactions.
Voting records could also be recorded on the blockchain and you would have an unchangeable, un-hackable voting record.
Why Use Blockchain Technology?

The bottom line is that blockchain technology is decentralized.
In other words, blockchain removes the middle man, which could include:
Process Type

The Middle Man that Blockchain Removes

Bank (or the Federal Reserve in the US)

Vote counters / government

Local property recorder's office

Hospital staff and others who would have access to these health records.

Blockchain would ensure accessibility only to certain individuals
As you can see, blockchain technology could improve efficiency substantially.
Below I've created an infographic that should help you better understand the process of a blockchain transaction: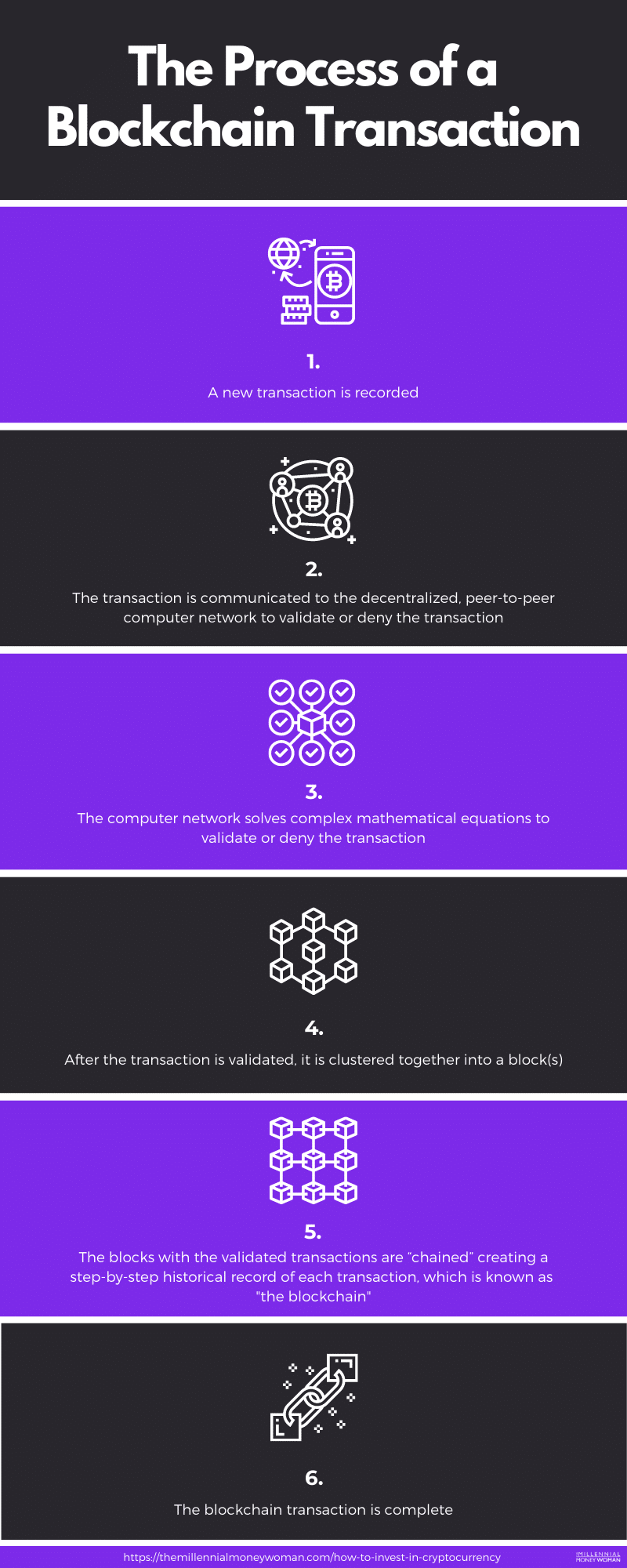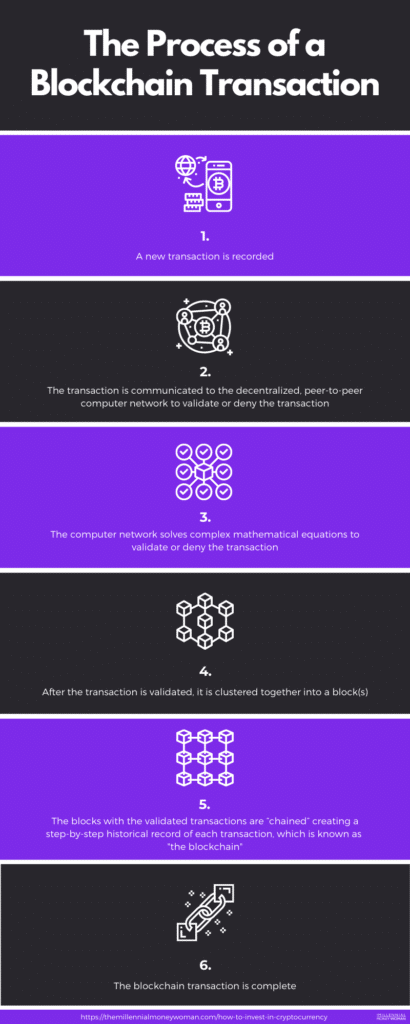 Blockchain transactions could help you save:
… And still get your tasks done in a minimal amount of time.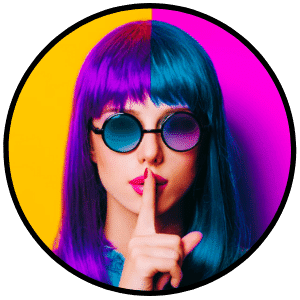 The Bottom Line:
With Blockchain technology, you don't just rely on 1 player (the bank) to verify your transaction. Instead, with Blockchain technology, you rely on thousands and thousands of computers within the blockchain network to verify the transaction and add that transaction to the blockchain itself.
Where to Buy Cryptocurrency

The cryptocurrency topic has seemingly exploded (not just in the world, but also in my household – mainly being my husband trying to convince me to buy cryptocurrency!).
And that's where this question comes into play: Where can you buy cryptocurrency? 
You can buy cryptocurrency in what is known as a cryptocurrency exchange. 
Cryptocurrency Exchange Defined:
A cryptocurrency exchange is a platform that gives cryptocurrency investors the ability to buy and/or sell cryptocurrencies for other assets like your regular dollar or other forms of digital currencies.
Let's take a look at how a cryptocurrency exchange works in the graphic below.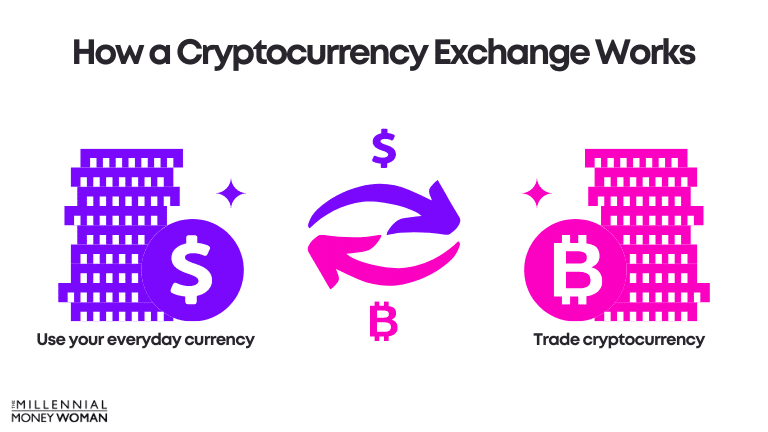 The cryptocurrency exchange I use is Gemini.
Gemini is arguably one of the best and most established cryptocurrency exchanges in the US.
Gemini allows you to hold, buy and sell over 10 cryptocurrencies and 6 stablecoins.
How to Invest in Cryptocurrency for Beginners

Let's take a look at how you can start investing in cryptocurrency.
Spoiler Alert: It's a lot easier than you think.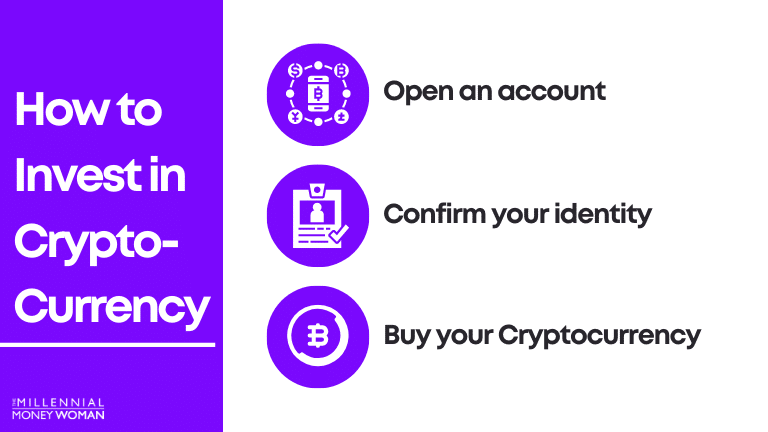 Step #1: Open an Account with a Cryptocurrency Exchange

First, you want to open an account on a cryptocurrency exchange. 
My go-to crypto exchange is Gemini.
Opening an account is in most cases free and very straightforward. 
Step #2: Confirm Your Identity

Below are some things you will typically need for opening an account:
Photo ID (typically a driver's license)

First & last name

Email address
Many people (myself included!) wonder why you need a photo ID to purchase cryptocurrency – especially Bitcoin. 
The answer is typically because to buy Bitcoin, some cryptocurrency exchanges require the identification of the customer in an effort to discourage fraud and obtain some form of personal information in the case of theft.
Step #3: Buy Your Crypto

Typically speaking, you can buy cryptocurrency in dollars through:
Cash

Debit cards

Credit cards
However, there are other cryptocurrencies that will require you to purchase their currency in bitcoin.
If you buy your cryptocurrency through a crypto exchange like Gemini, it will be stored in what is known as a "Digital Wallet."
Typically speaking, digital wallets offer some of the following functions:
Ability to store cryptocurrency

Ability to sell other cryptocurrencies

Ability to store personal information

Ability to buy other cryptocurrencies
Check out the section below to learn more about how to store your cryptocurrency.
How to Store Your Cryptocurrency

Now that you set up your account and are ready to trade your cryptocurrency, it's also time to consider how to store your cryptocurrency – safely. 
Note:
Since cryptocurrency is digital, your money could be susceptible to hackers – and if your account information is not secure, then people will try to come after it.
I've listed 2 ways that are typically safe ways to store cryptocurrency, below.
1. Hardware Wallet (Offline Wallet)

A hardware wallet is typically one of the safest ways to store your cryptocurrency.
Hardware Wallet Definition:
A hardware wallet, also known as a cold wallet or off-line wallet, is typically a USB stick storing every bit of your personal user information, passwords to access your cryptocurrency, etc. The advantage of hardware wallets is they are unhackable because they are offline.
What does a Hardware Wallet do?
A hardware wallet stores your private user information. This information includes storing your password to your cryptocurrency accounts, also known as your "keys."
That way, no other hacker can obtain your passwords to "open" your cryptocurrency accounts. 
If they cracked your passwords to your cryptocurrency accounts, you would lose your investments. 
A hardware wallet is my personal choice to securely store my cryptocurrency information.
2. Cryptocurrency Exchange (Digital Wallet)

Similar to storing your cryptocurrency information in a hardware wallet (offline) you could also store your cryptocurrency information (including your password to your crypto account) in what is known as a digital wallet.
What is a Digital Wallet?
A digital wallet is software that safely stores your personal information, passwords, and your cryptocurrency. A digital wallet can hold the same data as a regular, leather wallet would, simply in e-form: driver's license, money, credit card information, etc.
Digital wallets come in many different shapes and forms.
Some of these include:
Allied Wallet

Amazon Pay

Exchanges

Apple Pay

Venmo

PayPal
However, a digital wallet is not the safest way to store your cryptocurrency. 
That's why I would stick with a hardware wallet like Ledger Nano X (offline storage) if you prefer to be on the side of safety.
Pros and Cons of Investing in Cryptocurrency

Cryptocurrency has been the talk of the year – and likely decade.
Let's take a look at the pros and cons of investing cryptocurrency below.
| Crypto Pros | Crypto Cons |
| --- | --- |
| Astronomical return potential | |
| Short time before major returns could be made (you can cash out very fast) | Potential failure of attracting fiat currency users, which would cause the cryptocurrency network to stall |
| Extreme transparency with transactions recorded forever on blockchains | No safety in the case of loss or hacking |
| 24/7 instant availability to trade/sell | Possible mishandling of cryptocurrency by company founders |
| | Very difficult to understand |
The more you learn about cryptocurrency, the more you can consider whether its pros and cons are worth the investment for you.
There is no minimum amount to invest in cryptocurrency. Typically the investment platform you use will tell you the minimum investment amount.
There are more than 4,000 cryptocurrencies in existence as of January 2021.
Here are the top 10 cryptocurrencies by Market Capitalization:
Bitcoin

Ethereum

Tether

Polkadot

Ripple

Cardano

Litecoin

Bitcoin Cash

Chainlink

Stellar
Investing in cryptocurrency is similar to investing in stocks and bonds. If you invest today in cryptocurrency, you could become a very wealthy man tomorrow due to the astronomical return on investment opportunity cryptocurrency offers.
Closing Thoughts

The more you know about an investment, the better you'll be able to decide for yourself whether it's the right fit for you and your current lifestyle.
Now, will I invest 100% of my net worth in Bitcoin or another cryptocurrency?
Never. 
But I am willing to dabble in cryptocurrency and invest a little. And I'm 100% OK with losing that money.
I would not suggest that you use your cryptocurrency investments as your retirement fund. 
Instead, consider your cryptocurrency investments to be a way to potentially grow your net worth. 
Read first, learn now, and invest once you're comfortable. 
Your bank accounts will thank me later!
Have you invested in cryptocurrency? What's your experience been so far? Let me know in the comments section below.