Mainvest is a new platform that gives virtually anyone the chance to invest in small businesses for as little as $100.
With Mainvest, you'll have the option to:
Diversify your portfolio
Earn profits from 10% to 25%+
Invest in small, local businesses
Protect yourself against inflation
No longer do you have to be in the top 1% to invest in small business ventures.
Thanks to Mainvest, investing in small businesses is available to everyone, not just the ultra-wealthy.
But is it safe and legit?
Let's take a deep dive into my full Mainvest review to find out if it's the best alternative investment platform for you.
Pros

Cons

Low minimum

Open to all investors

No fees for investors 

Highly illiquid

No secondary market

Higher risk investment
What is Mainvest?

Mainvest is a crowdfunding platform for any investor, age 18 and older, who is interested in funding local small business startups.
Crowdfunding Definition:
Crowdfunding is when small amounts of capital (money) is raised by many different investors like you and me to help fund a project.
And no, Mainvest is not like Kickstarter, which is a platform where you can fund projects, but never see a penny back in profit or income.
Mainvest does the hard work for you by analyzing business data, vetting small businesses, and giving you insights into local startups.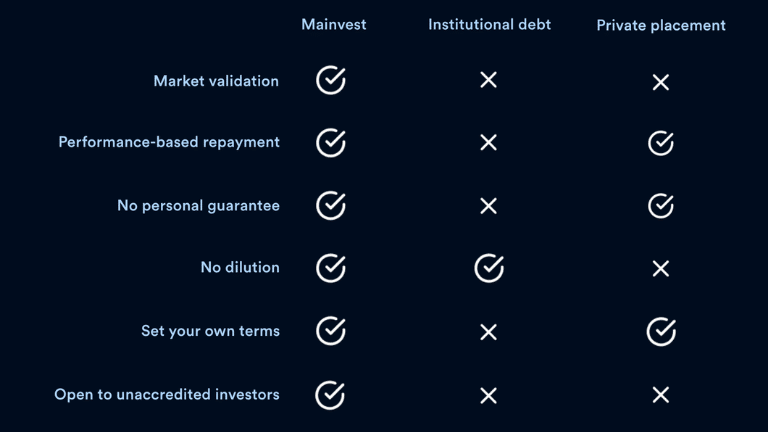 Mainvest differentiates itself from the rest of the pack because it aligns incentives with investors and local communities.
You can even stop by the business you're considering funding to see how it's run.
Thanks to Mainvest, the average Joe can now also take part in what was formerly an exclusive investment opportunity for the high-roller world for a minimum of just $100.
What Does Mainvest Offer?

In general, there are 2 types of investment classes:
Debt investments
Equity investments
Here's what these terms mean:
| Term | Definition |
| --- | --- |
| | You lend money with the expectation that your money will be repaid with interest |
| | You invest your money to own a share or piece of a company that might have debts, liabilities, etc. attached to it |
Currently, Mainvest offers only 1 equity investment (which is a one-off). All other investment options are debt investments.
With debt investments, you are effectively playing the role of the bank (you're lending out your money) with the expectation that you'll be repaid plus earn interest.
Pro Tip:
If you're looking to optimize your profit potential, then equity investments are typically the way to go. That's because how much you earn is likely tied to the performance of the business.
On the other hand, if you make a debt investment, then even if the business becomes super-successful, the most you can ever expect back is your money plus interest.
So how do you actually select a business to invest your money in?
You can select your future business venture by viewing data in 1 of 3 settings:
The Mainvest map is like the real estate website, Zillow, which illustrates all possible small business investment options at the time you are browsing.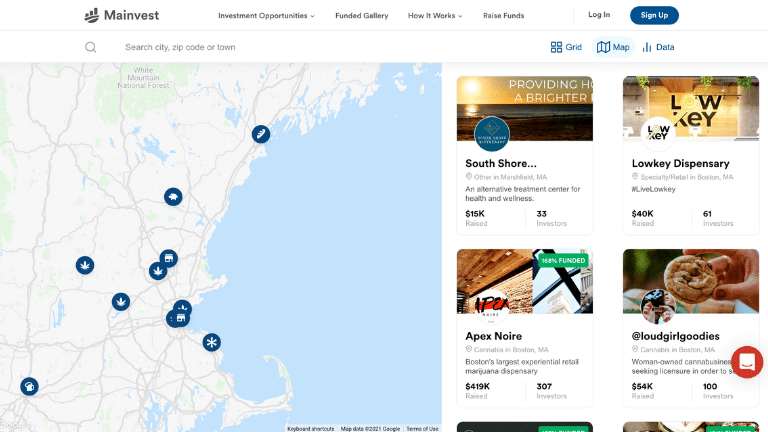 Sadly, there is only one investment opportunity in Florida (which is where I live).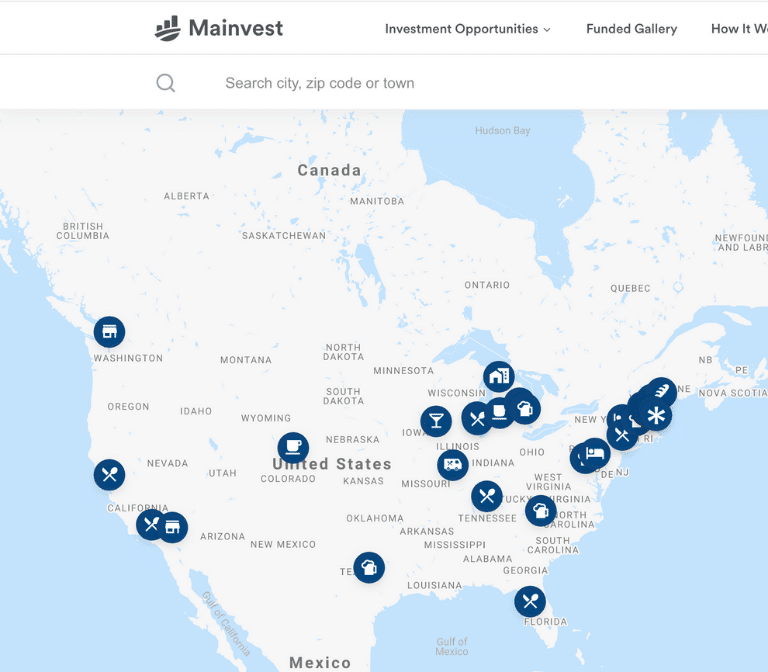 It appears that most investment opportunities are in:
Maine
New York
Massachusetts
Caution:
Since Mainvest is a crowdfunding platform, you are given limitations on how much money you can invest (if you are a non-accredited investor).
As a recap, an accredited investor is someone who:
Earns an annual gross income of $200,000+ in the past 2 years (single) or $300,000 (married filing jointly)
Or, has a net worth (excluding your primary residence) of $1 million+
The maximum you can invest is $2,200 if:
Your income is less than $107,000
Or, your net worth is less than $107,000
You can invest 10% of your net worth and annual income (whichever is greater) up to a maximum investment of $107,000 if your net worth AND your income is greater than $107,000.
Pro Tip:
Remember to only invest as much as you are willing to lose.
Especially when you invest in small businesses, there is a lot of risk since these companies aren't yet established and don't have a proven track record.
Mainvest Pros and Cons

Before we jump into the nitty-gritty, let's take a big-picture look at the Mainvest pros and cons:
| Mainvest Pros | Mainvest Cons |
| --- | --- |
| You can invest with as little as $100 | No proven track record yet (because Mainvest was founded in 2018) |
| Available to non-accredited investors | No secondary market to sell your investment |
| Mainvest analyzes the business data for you | |
| You can earn passive quarterly income | Small businesses are typically very risky investments |
| Returns could range between 15% to 30%+ | Low investment activity (some small businesses have raised less than $1,000) |
| No fees are charged to you (the investor) | Mainvest charges a 6% fee to the businesses using the platform |
| 97% of businesses supported through Mainvest are in good standing | If a business defaults, then Mainvest will not be responsible to repay any investment funds to you |
One reason why Mainvest could be an attractive option is that it offers the opportunity to diversify your portfolio by investing in small, local business ventures.
Owning, operating, and running a business is a proven hedge (aka protection) against rising inflation and stock market volatility because (as long as you're successful) you'll earn a passive income stream.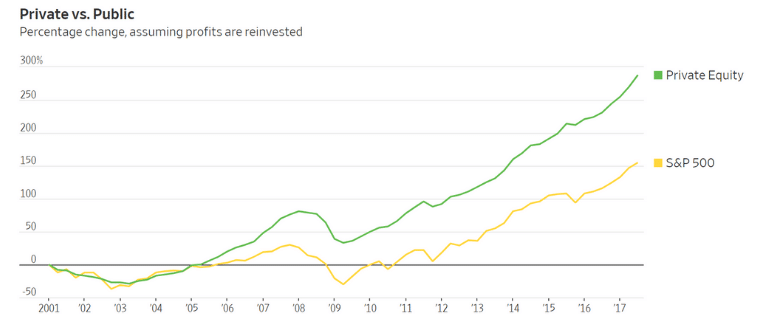 As you can see from the chart above, investing in private equity (which is the same thing as investing in private businesses), typically sees a higher return than investing in just the stock market.
The downside to investing in private businesses?
There is a lot more risk.
Before reading further, check out my ratings for each of the following Mainvest categories:
Fees scored very high on the rating scale because they are non-existent for investors (like you and me).
Liquidity scored very low on the rating scale because:
There is no secondary market
It could take a long time for you to sell out of your investment
Mainvest also works best if you're invested for the long term (we're talking several years – if not 10+ years) to get the biggest bang for your buck.
Caution:
Because there is no secondary market to sell your investments in a Mainvest small business, there is a very high chance that your money will be illiquid for a long time.
If you do have questions about the liquidity issues your Mainvest investment might encounter, then I would suggest you talk to a customer service representative first.
Mainvest Features

One thing I love about Mainvest is that it comes with a lot of user-friendly features, especially for first-time small business investors like me.
Here's a breakdown of Mainvest's features:
Mainvest Features

Minimum to Start Investing

Can you sell your investment at any time?

No – there is no secondary market so this is a very illiquid investment

- Brick-and-mortar businesses

- Local businesses

Most Common Business Industries

- Cannabis

- Restaurants

- Coffee shops

Current Number of Offerings (early 2022)

Number of Successfully Funded Companies

$1 million+ (consistently trending up)

Current Users (as of August 2021)

Do you own equity in the business?

You could – it depends on whether you are a debt investor or equity investor

- Phone: (978)-414-5989

- Email: info@Mainvest.com

- Website Chat Portal

- Social media

Must have a US bank account

Investor Age Restrictions
Mainvest can also support your community by helping small businesses raise capital from investors like yourself.
Mainvest Fees and Pricing 

When I read through Mainvest's fees and pricing structure for the first time, I thought I had misread it, so I read through it again…
Mainvest will not charge you fees to invest.
I'm not kidding when I say that in my many years of investing experience, I have never seen an investment platform allow investors to invest for free.
Here's what else you can expect when you invest in Mainvest:
Mainvest Fees and Pricing

Depends on the business you invest in

Can you sell your investments at any time?
Coming from the investment world where high fees are the norm, I find the Mainvest 0% investor fees extremely refreshing (aka you don't have to pay a cent in fees!).
Note:
Mainvest does charge an average of about 6% in fees to its businesses – so that's where Mainvest earns its money.
Remember to invest only as much as you are willing to lose.
Mainvest Returns

You could earn some serious money if you invest (and hold) your investment with Mainvest.
Mainvest's target annual returns are 10% to 25% even if you start investing with as little as $100.
While these returns are not guaranteed, there is a high chance that these small businesses could match the target returns, since Mainvest does a great job vetting businesses before offering them to investors.
Pro Tip:
Investing in small businesses through Mainvest means that you can also earn a passive income stream every quarter.
Why?
That's because the small businesses on Mainvest promise to pay you a small percentage of their profit every quarter.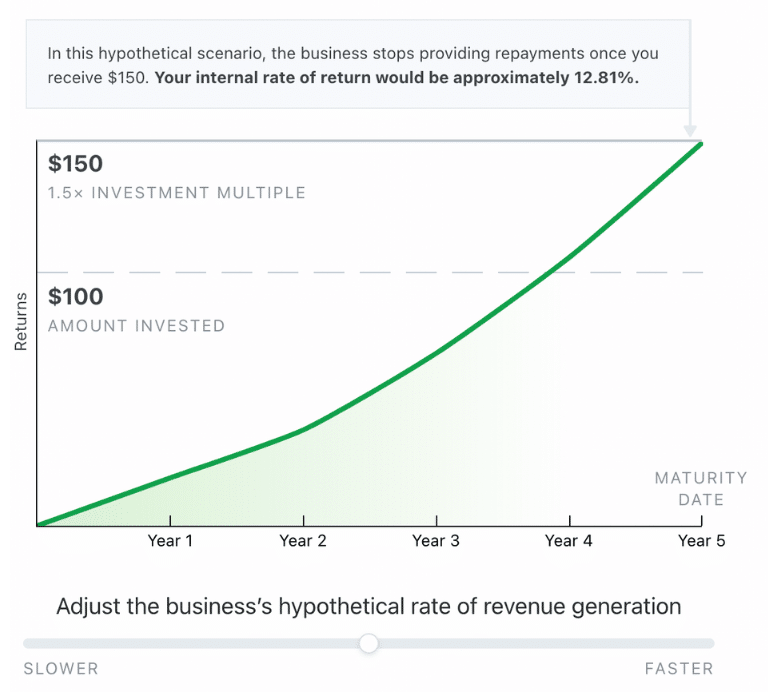 As you can see in the image above, Mainvest businesses elect to share their revenue with you, which is how you earn passive income.
The exact percentage that is paid out to you is based on your agreement with the small business owner.
Take a look at some of the percentages below in the "Revenue Share" column.

Notice the varying revenue shares that investors could earn:
Some businesses offer revenue shares up to 12.5% 
Some businesses offer as little as 0.7% of their profits
A typical revenue share percentage should be between 2% to 10%, so most of the revenue sharing numbers on Mainvest are actually higher than the industry average.
Caution:
Keep in mind that the higher the return (or in this case, the higher the revenue share number), the more risk a product has.
Investing really is a balancing act.
But, let's take a step back: What actually is a revenue share?
Revenue Share Definition:
A revenue share is a concept where businesses agree to share their profits with financial investors (like you).
How much you receive each quarter with revenue shares depends on several factors, including:
The amount of money you invest
The profits (or losses) earned by the business
The

 total amount of capital that the business has raised
As with any financial commitment, make sure you do your proper research.
Mainvest Usability & Interface

If I could, I would rate the Mainvest website an 11 out of 10.
It's extremely user-friendly, intuitive, and it does a great job of displaying the information in a neat and organized fashion.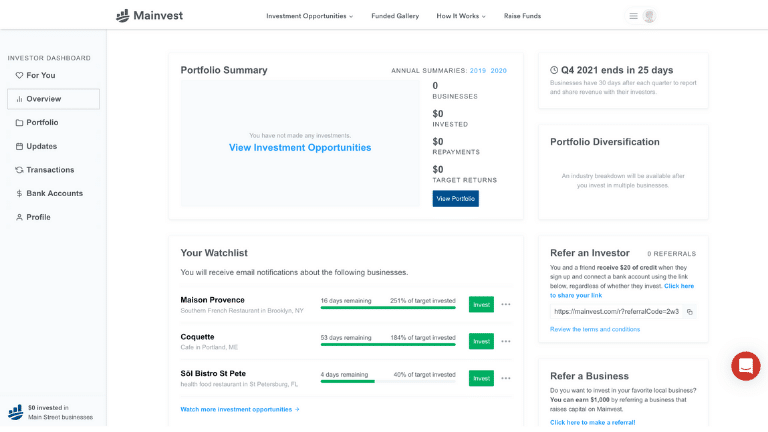 Here's what I love (and appreciate) about Mainvest:
Anyone can invest
Easy to link your bank account
The website platform is easy to use
The customer service (from my experience) is very friendly and knowledgeable
Note:
As of January 2022 - Mainvest doesn't offer a phone app – it's strictly computer-based (for now).
Otherwise, the Mainvest platform itself is a simple design with an interface that's fairly intuitive and that can help you track your small business portfolio.
Mainvest Customer Service Review

I've personally reached out to Mainvest's customer service to evaluate their:
Knowledge
Friendliness
Customer experience
…And I must say that Mainvest passed my test with flying colors.
Below is my evaluation:
As you can see, I'm pretty happy from my own personal experience when it comes to customer service.
There are 4 ways to contact Mainvest:
By email
By phone
By social media
By website chat
Mainvest Contact Information

Twitter, Facebook, Instagram
Just keep in mind that Mainvest is located in the EST time zone, so depending on where you live, don't expect an immediate response due to the time difference.
Pro Tip:
To make sure you get the full picture of Mainvest's customer service, check out Mainvest's profile on the BBB (Better Business Bureau).
Mainvest is recently accredited with the BBB (as of October 23, 2019) and currently (late 2021) has a rating of A+ with the BBB (which is excellent!).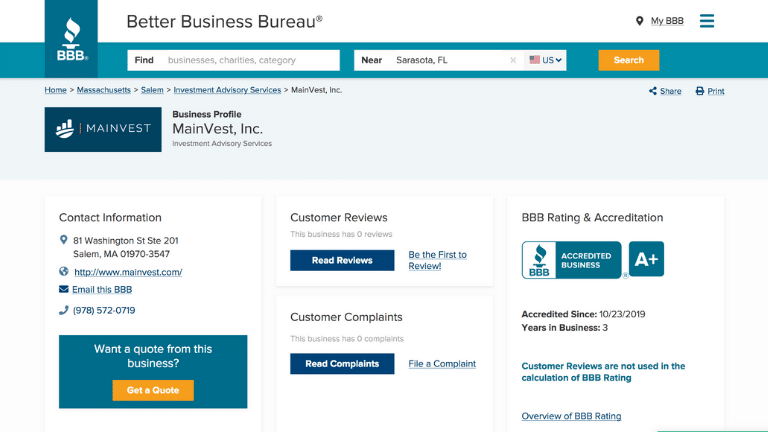 Because Mainvest is so new, there is not much information to review – at least not on the BBB, so just keep your eyes and ears open for reviews, complaints, etc. on the BBB as time elapses.
Since we didn't find much information on TrustPilot or the BBB, I decided to take it one step further and check out their Facebook page reviews.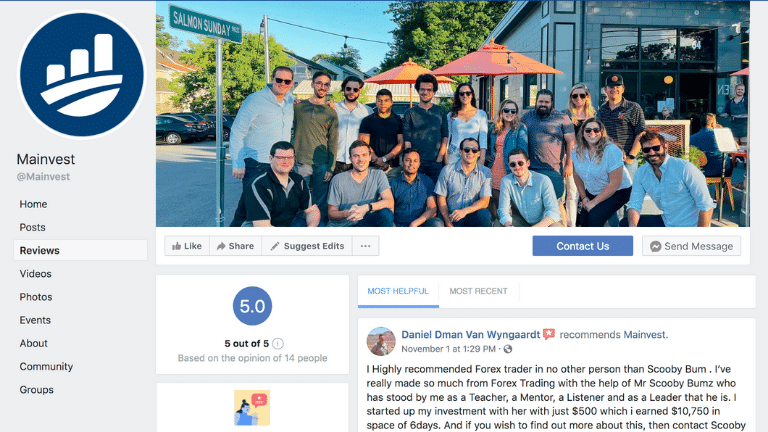 Take a look at the blue circle with the "5.0" number.
I think it's reassuring to see that 14 different people rated Mainvest 5 stars.
Pro Tip:
Keep in mind that the people who post great or poor reviews are much more likely to let their voices be heard versus those who had an "average" experience.
Always take these reviews with a grain of salt.
Revenue Sharing: What is it & How Do You Get in?

If you choose to invest in a business through Mainvest, depending on the business project, you could actually receive a small percent of the business's revenue each quarter.
This is called a revenue share.
Revenue Share Definition:
A revenue share is when a business decides to share a percentage of its profits with its investors.
Why would businesses elect to give a small percentage of their profits to investors?
Typically, it's to give investors more confidence that they chose the right business.
If you go to Mainvest's "Investment Opportunities" page and then click on "Data," you'll see the current small business offerings listed, along with their individual revenue share percentages.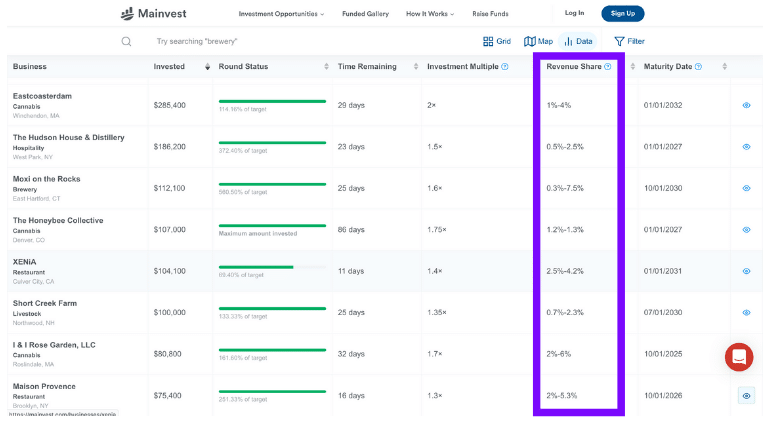 So, do you earn 4% of a business's profit for the rest of the business's life?
No.
Here's an example of how this particular revenue sharing would work:
Revenue Share Example

1% to 4% (depends on profit and amount raised)

Revenue Share Payout Schedule

Amount you Invested in the Business
So I introduced 2 new key terms to you: 
Maturity date
Investment multiple
First, let's take a look at what the maturity date means.
Maturity Date Definition:
The maturity date of an investment is when the investment comes due and must be repaid by the lender in full with interest.
In other words, if you invest $100 and the maturity date is 2032, then your $100 must be repaid (plus interest) no later than January 1, 2032.
However, it could be repaid earlier, if the business is profitable.
Let's take a look at what the investment multiple means.
Investment Multiple Definition:
An investment multiple is the maximum amount of money a business will promise to return to its investors (you) through its revenue share by the maturity date.
So, let's say you invest $100 and the investment multiple is 2x.
What this means is that even if the business repays your $100 within 1 month, you continue receiving money from the business (that's the revenue share) until you are repaid 2x.
Here's what that translates to, financially:
Investment Multiple

Maximum You Can Be Repaid
If the investment multiple were 1.5x, then the maximum amount of money the business would repay you is $150 (or 150% of $100).
If the business maxes out the investment multiple (let's say they've repaid you $200), then the business no longer owes you any money.
Selling Your Shares on Mainvest

The bottom line is that you really can't sell your investment with Mainvest.
The reason why you can't sell your investment is that there is no secondary market (aka once you invest, you're basically in it for the long haul).
Note:
The typical Mainvest investment lockup period is between 5 to 7 years.
If you want liquidity, then Mainvest is probably not your best option.
How Does Mainvest Select its Businesses?

Mainvest follows a rigorous vetting process to ensure that investors like you and me invest our hard-earned money in small businesses with profit potential.
Pro Tip:
One of the main reasons investors use Mainvest is because Mainvest does all the work for you – analyzing, vetting, and facilitating the investment process.
All you do is invest your money and wait for a quarterly passive income paycheck in the mail.
Here's the process of how Mainvest selects its businesses:
Anti-Fraud Vetting
Responsibility Check
Bad Actor Check
Yellow Flag BAC's
Continuous Review
Below is the process explained in plain English:
| Process | Explanation |
| --- | --- |
| | Mainvest ensures that the small businesses they are about to vet are not actually fraudulent |
| | Mainvest staff interact with the business owner and stay alert for possible red flags (like lack of communication, suspicious financials, etc.) |
| | Mainvest staff perform a limited background check, which reviews the business, the managers, officers, and any other owners with a more than 20% stake in the business |
| | Any background checks that surface as "yellow flags" (like traffic tickets, lawsuits, liens, etc.) are reviewed thoroughly and evaluated on a case by case basis |
| | Mainvest continues to monitor approved businesses for potential red or yellow flags that may disqualify the business from raising capital on the Mainvest platform |
As you can see, there are many steps involved from selecting small businesses with investment return potential, to vetting them, to actually offering the small businesses as investment opportunities to investors like you and me.
Mainvest's vetting process is extremely rigorous, to the point where less than 5% of businesses actually pass the vetting process.

In addition to the vetting process, Mainvest's target returns range is between 10% to 25%, which are significantly higher than what you can expect with the stock market.
Mainvest Education Resources

Do you want to diversify your investment portfolio with small businesses but really don't know much about the start-up world?
You're not alone (I'm right there with you!).
So the Mainvest platform has found a solution for newbies like me by offering opportunities for education.
Here's a comprehensive list of the educational resources Mainvest offers its investors:
Mainvest Educational Resources

Mainvest offers an educational materials webpage on their website

Mainvest Revenue Sharing Calculator

Click on the "How it Works" tab and then click on "For Investors" to access the revenue sharing calculator, which estimates your internal rate of return (IRR) and how fast you would be paid back by your business

The Mainvest Blog is an excellent resource for investors to stay updated on bigger picture items (the blog isn't really granular)

Check out a small business's financial information and other data compiled in easily understood graphs and charts under the "Investment Opportunity" tab

Investment Opportunity Information

Every small business on Mainvest has plenty of information about it under the "Investment Opportunity" tab

Investor Discussion Forum

Every small business offered through Mainvest (under the "Investment Opportunity" tab) offers an investor discussion forum, where you can chat with other investors as well as the owner of the business to learn more
As you can see, Mainvest certainly doesn't keep you in the dark.
One of my favorite educational tools is the Investor Discussion Forum, which you can see here: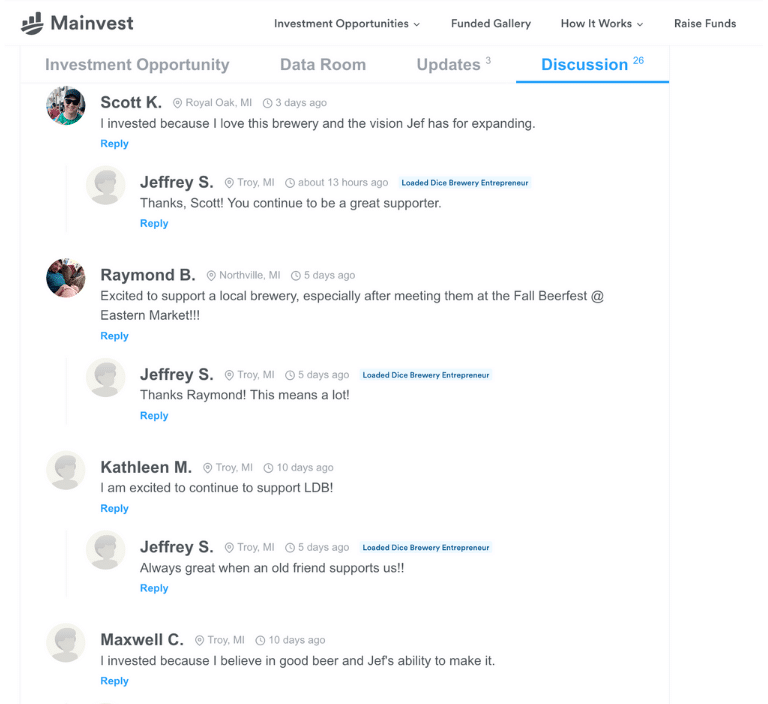 I'm a particularly big fan of this chat forum because you can reach out to any investor that has posted in here – or even speak with the business owner.
From what I've seen so far, the business owners are actually pretty responsive (between 1 day to 1 week) to investor comments, which is another plus.
Mainvest Referral Bonus

You can earn extra money if you refer the following to the Mainvest platform:
New investors
New businesses
Here's how you can access your referral link and earn up to $2,000 in referral bonuses.
First, signup to Mainvest (if you haven't already).
Then, click on your "Overview" to access your investor summary dashboard.
Scroll all the way down and look to the bottom-right side of your screen.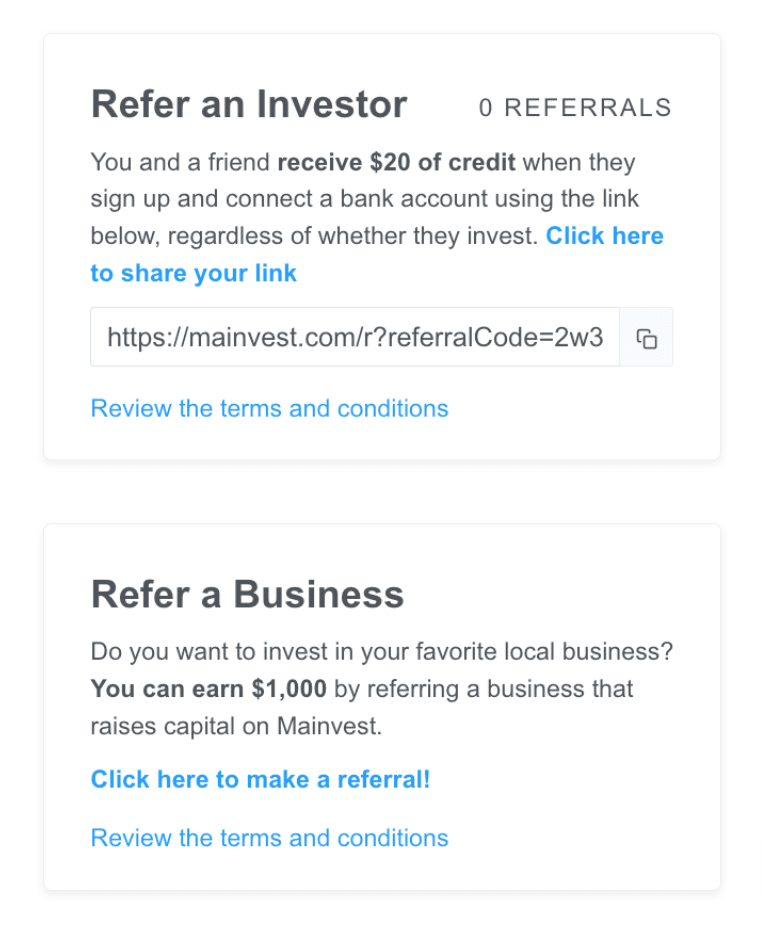 If you refer an individual investor to Mainvest (who actually links their bank account), then whether they invest or not, you would earn $20 of Mainvest credit – as long as you give your referral your customized referral link to signup with Mainvest.
If you refer a business, then you can earn money in 1 of 2 ways:
You can earn $1,000 in cash 
You can earn $2,000 in Mainvest credit
Note:
Keep in mind that it can take some time for a business to actually become part of the Mainvest network because Mainvest must conduct its vetting process.
Since only 5% of businesses pass the Mainvest vetting process, there might be a chance that although you refer a business, that business might not actually make it past the Mainvest gatekeepers.
Do I Pay Taxes on my Mainvest Investments?

Yes, since you are investing your money through Mainvest, you will have to report your taxes for income purposes.
Pro Tip:
Since the majority of offerings on Mainvest are debt investments, you'll likely have to report your quarterly income as interest on your tax returns.
However, it really depends on the type of investment you have (debt versus equity) and it's probably best to consult with a tax advisor to confirm how to report your income and/or gains made from Mainvest.
Here, you'll have to decide how you want to sign up with Mainvest.
You have 2 options:
Sign up with Google
Sign up using your email
I'm a big believer in signing up by email, so that's what I decided to do.
The next screen lets you pick the types of businesses and their industries that you might be interested to invest in, so you can pick and choose.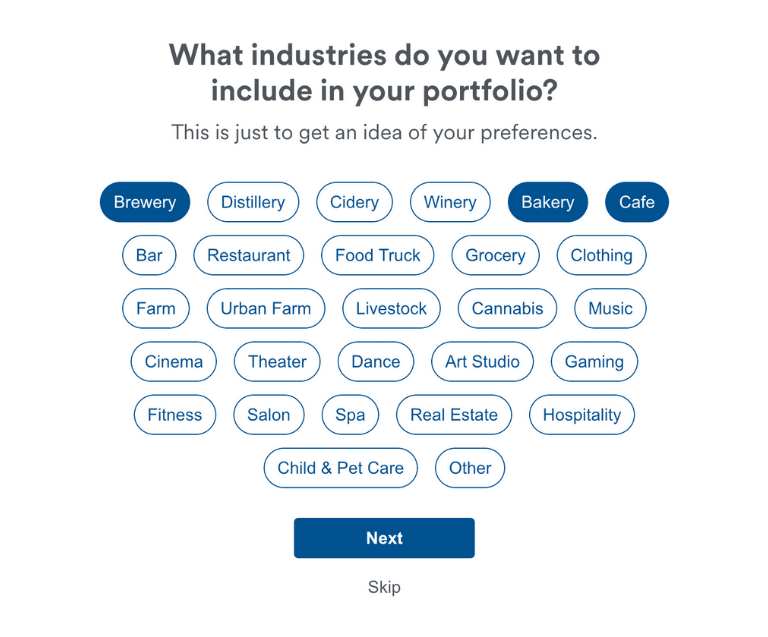 Note that you don't have to complete this step, but I think it's a good idea to do, especially since it should only take you a few extra seconds.
Next, you can choose the geographic location of the business you want to invest in.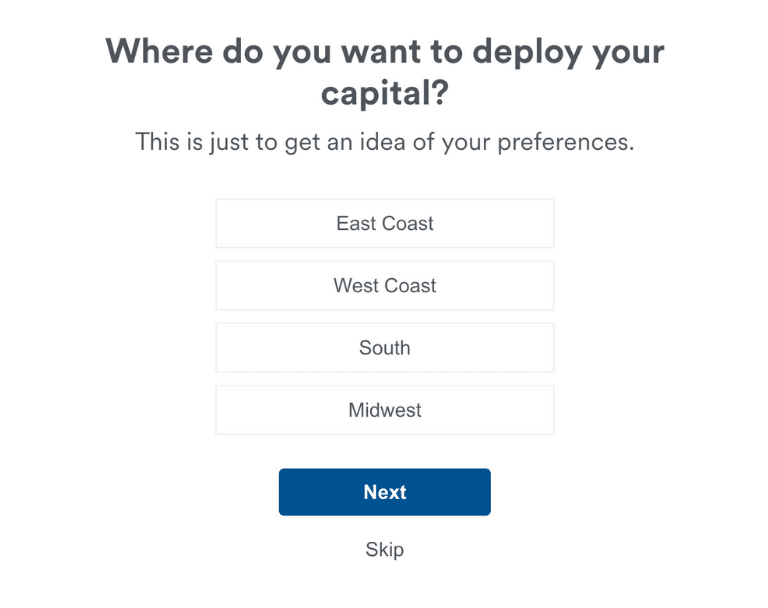 Since most people want to make a positive impact on their local community, they might select the geographic location in the US that represents where they live.
Since I live in Florida, I'm going to click the South.
However, I'm also interested in business opportunities on the East Coast, so I'll click on that geographic option, as well.
Once you're done selecting from the options, you'll be brought to your Mainvest investor dashboard.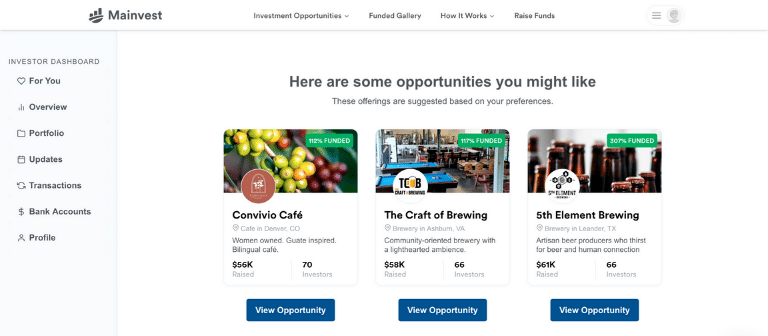 Right off the bat, you can see the top 3 investment opportunities in your investor dashboard – but there are many other options that I would suggest you explore first.
If you click on "Overview" (on the left-hand dashboard), you'll see your investment dashboard at a glimpse.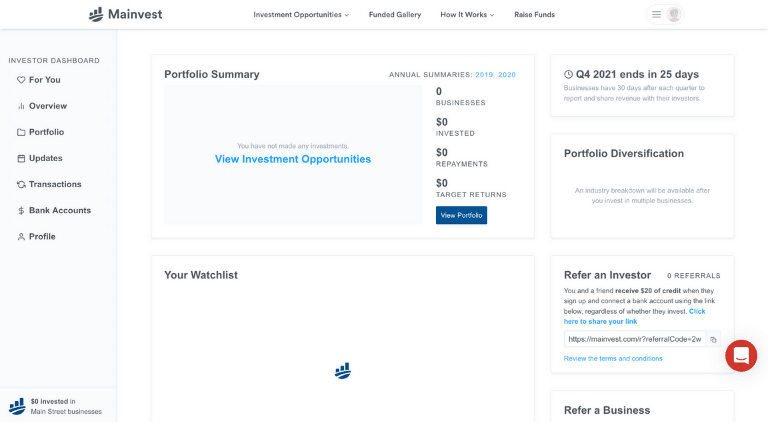 If you notice in the screenshot above, you can add businesses to your "Watchlist."
Watchlist Definition:
A watchlist is when you're not 100% positive you want to invest in a business yet, so you place this business on a "watchlist" to monitor its performance first before making an investment decision.
To add Mainvest businesses to your watchlist, simply click on "Updates" on the left-hand bar and you'll be brought to the "Investor Updates" portal.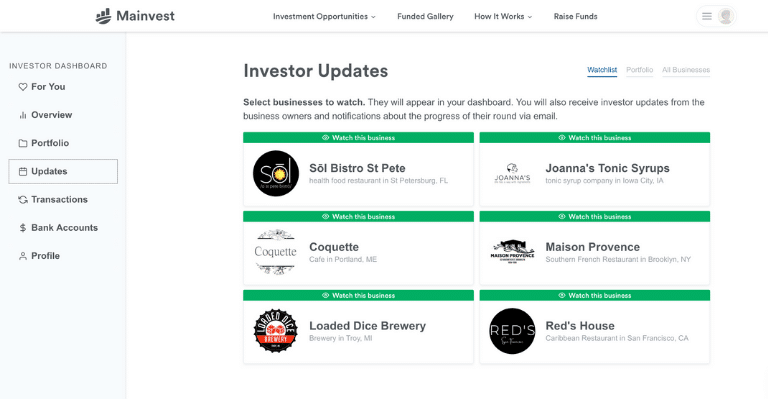 In the "Investor Updates" portal, you can select which business you want to add to your watchlist by clicking on the business.
Now, when I click back to the "Overview" tab and scroll down to my watchlist, you'll see a different picture: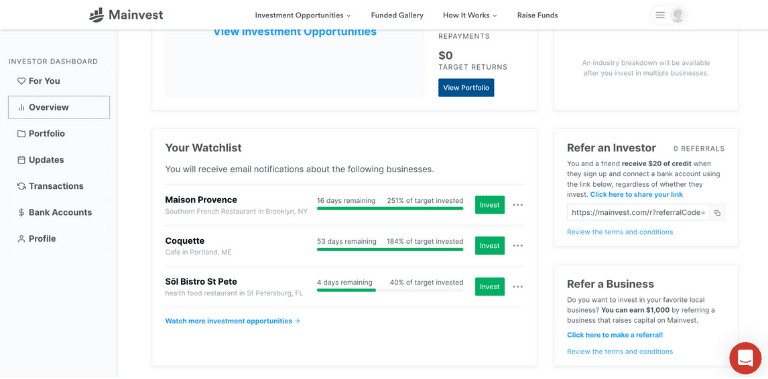 The watchlist will tell you:
The number of days left to fund the project
The percent of the target number that has been funded
Whether the business has been overfunded (which is a good thing!) 
Now, if you click on the "Updates" tab on the left, you'll be given weekly, if not daily, mini-blog posts of each of the businesses you placed on your watch list.
Take a look here: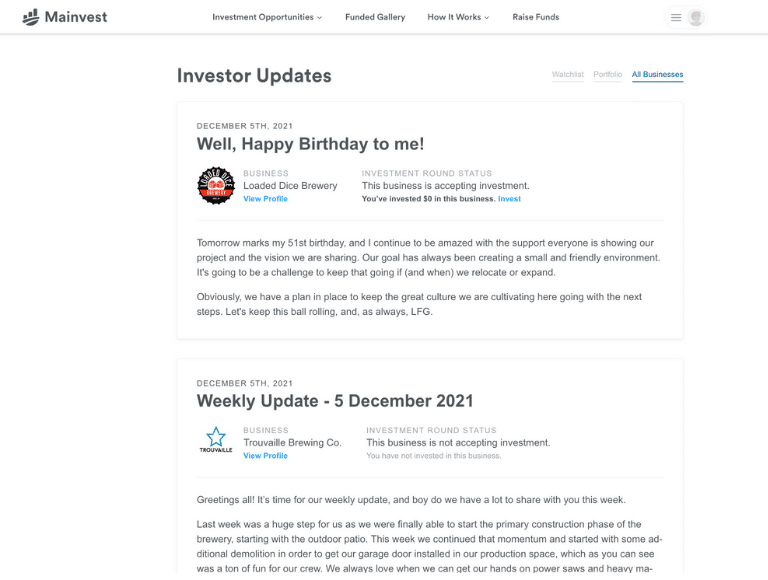 I find that most businesses share personal updates (like a birthday or family update) or business updates (like how a building project is going) every 3 to 6 days – which I think is ample communication with small-time investors like me.
Next, take a look at "Portfolio."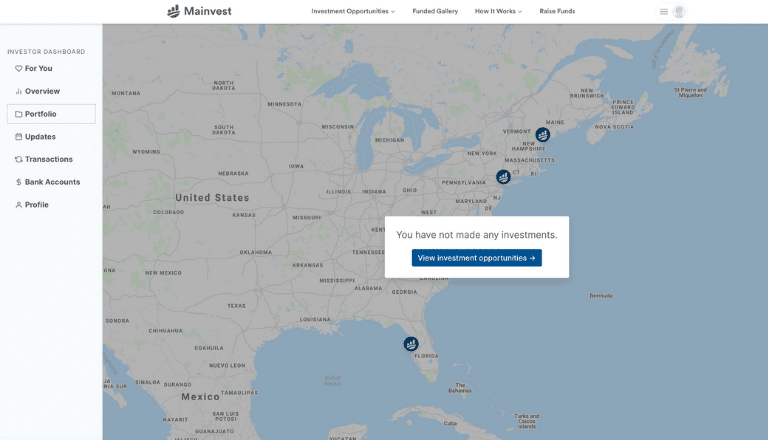 This "Portfolio" map is customized, based on the questions you answered as you signed up for Mainvest (the types of businesses and the geographic location of the businesses you're interested investing in).
If you click on "View Investment Opportunities" (the blue link in the white box from the screenshot above).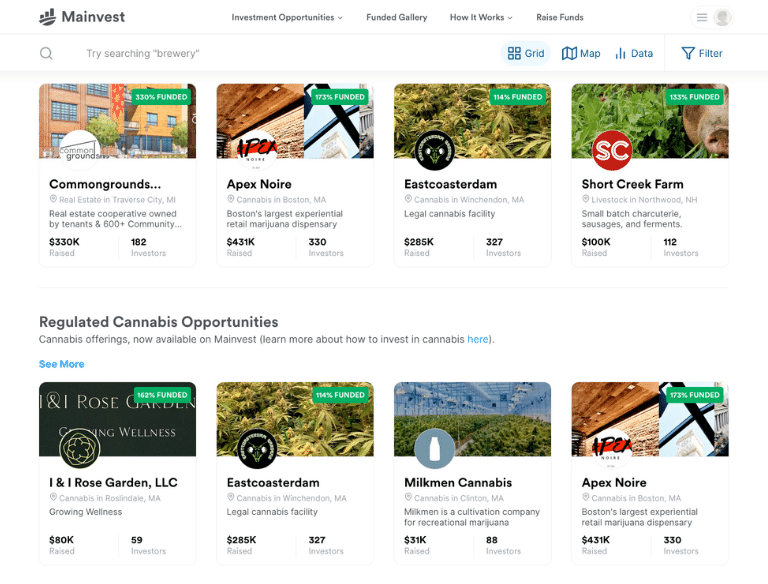 Here, you can search for businesses based on:
Popularity
Industry specialty
Trending businesses
Local businesses near you 
And, if you still have no idea which business you want to invest in, then I suggest you consider taking the Mainvest quiz (found on the same page) to discover investment opportunities that match your investment style.

Once you've taken a good look at the types of investment opportunities that are offered through Mainvest, the next step is to link your bank account.
Click on "Bank Accounts" on the left-hand navigator bar.
You might be brought to the Investor Profile screen first, to complete your personal information before you can finish setting up your account with your bank details.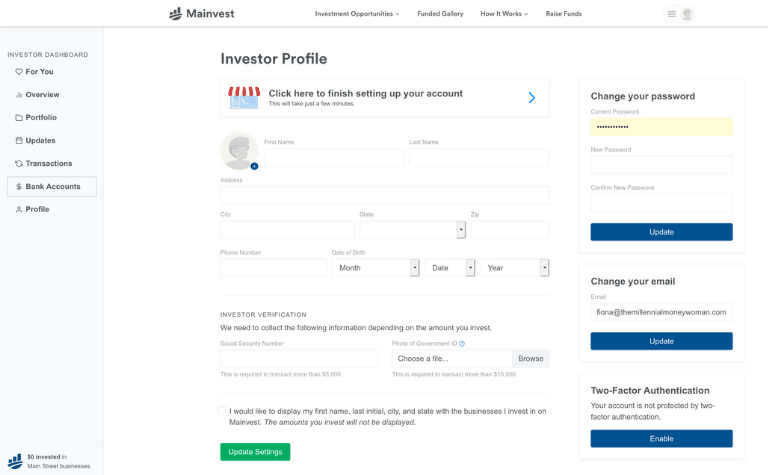 Once you've filled out your personal information, you can go ahead and link your bank account information.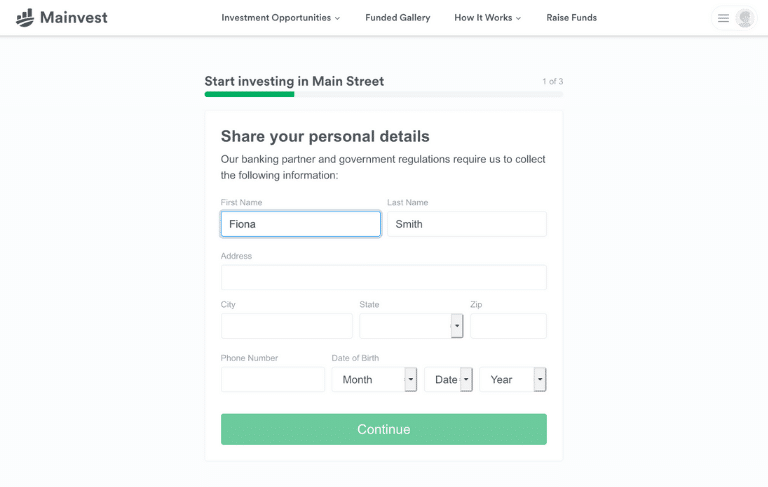 Note that unlike other alternative investment platforms that accept payment through forms like:
Credit card
Cryptocurrency
…Mainvest only allows you to link your bank account and deposit funds into your Mainvest account that way (and this could change in the future).
At this point, you should be set up to start investing with Mainvest.
Pro Tip:
Remember to invest only as much as you are willing to lose. Investing in small businesses can be risky and long-term. Do your research before you commit yourself financially.
Is Mainvest Worth It?

The answer is not as straightforward as I wish it could be.
Mainvest could be worth your time and money if you:
Don't have high-interest debt
Want to protect yourself against inflation
Want to diversify your investment portfolio
Want to earn potential returns between 10% to 25%+
Want to protect yourself against stock market volatility
Don't mind having your money locked up for 5 to 7+ years
If you relate to these points, then Mainvest could very likely be the right option for you.
Especially if you're already invested in the stock market, then you may want to protect your money against stock market volatility.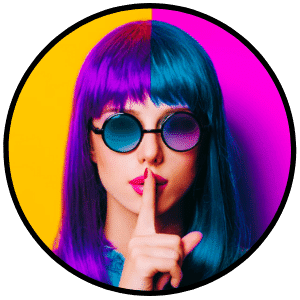 The Bottom Line:
If you want to invest in something other than the stock market, then investing in small businesses could be a good choice.
Mainvest Alternatives

Not sure if investing in small businesses is the right next step for you at this time?
Here are a few more lucrative investments to consider:
Just remember to do your research – no matter the investment type – before you commit financially.
Mainvest Review Verdict

Not many people can say they are small business investors.
In fact, it's typically only the top 1% who can boast about their exotic alternative investment ventures.
Not anymore.
Mainvest is the small business investing platform we've all been waiting for.
Now, you and I can invest in our local, brick-and-mortar businesses across the United States using Mainvest's curated platform.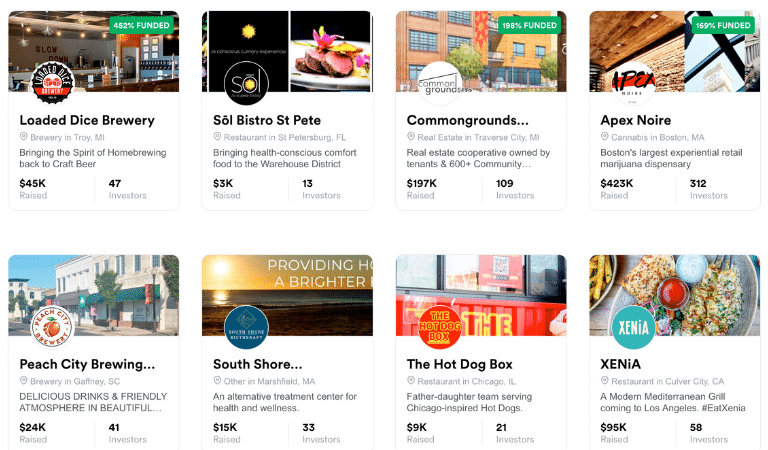 Here's how you can get started with Mainvest:
Ensure you have a US bank account
Review which businesses you'd like to invest in
Fund your Mainvest account with a $100 minimum
Monitor and manage your small business investments over time
In addition, unlike many other alternative investment platforms, Mainvest does not charge a fee for investors, which can save you a lot of money.
Pro Tip:
While you may want to jump head-first into small business investing, remember that this is a risky and long-term (5 to 7+ year) endeavor.
I encourage you only to invest as much as you are comfortable losing.
Closing Thoughts

Mainvest makes it possible for almost anyone to start investing in small businesses that could be worth millions – if not billions – in the future.
While you can certainly make money investing with Mainvest, it's important to recognize that there are risks involved when investing in small businesses.
Make sure that whatever you invest, you are OK losing (worst case scenario).
If you feel like investing in small businesses isn't the best fit for you, then you might want to check out other alternative investments.
Think about your investment options today, because your bank accounts will thank me later.
Now I'd like to hear from you:
What are your thoughts on Mainvest?
Would you consider investing in the platform?
Let me know in the comments section below.