Fundrise is an online real estate investment platform that gives the everyday investor the chance to invest in private real estate deals for as little as $10.
Typically, the world of private real estate investing is exclusively available to the ultra-wealthy.
Not anymore.
Thanks to Fundrise, ordinary investors can now partake in high-end real estate investing too.
But is it safe and legit?
Let's dive into this Fundrise review and find out if it really is the best real estate investing platform.
Pros

Cons

Diversification

Low minimum

Open to all investors

Highly illiquid

Complex investments

No secondary market
What is Fundrise?

Fundrise is a private market real estate investing platform that combines the element of investing in commercial real estate across the United States with the element of crowdfunding.
Crowdfunding Definition:
Crowdfunding is when a large number of investors pool their capital together to fund a project.
Since its inception (in 2010), Fundrise has:
Attracted over 210,000 users 
Acquired more than $5.1 billion in assets
Seen more than $7 billion of transactions
Paid out more than $160 million net dividends to investors like you and me
Because Fundrise is a crowdfunding platform, anyone can start investing in million-dollar real estate deals without writing a million-dollar check.
Fundrise Pros and Cons

Before we jump into the nitty-gritty, let's take a big-picture look at the Fundrise pros and cons:
| Pros | Cons |
| --- | --- |
| | |
| Virtually anyone can invest | |
| Fundrise vets all real estate projects | Available only to US citizens or permanent residents |
| Intuitive and easy-to-use website interface | Fees are somewhat complex |
| You can earn passive quarterly income | |
Overall Rating

Before reading further, check out my ratings for each of the following Fundrise categories:
To give you a little more detail behind the reasons for my ratings, above, take a look at my breakdown, below.
Liquidity – There is currently no guarantee of a secondary market, and your money is likely tied up to 5+ years
Usability – Very intuitive website interface, very easy to use
Investment Options – Fundrise offers 5 different investment plans, ranging from the Starter to the Premium Plan
Projected Profits – Depends on several factors including how much you invest, the type of property you invest in, and the length of time your investment for
Fees – Fundrise's fees are fairly reasonable, however, you may also pay other fees such as origination fees and early redemption fees (if you withdraw your investment after the first 90 days)
Customer Service – Drawing from my own personal experience, I've had nothing but the best interaction with the Fundrise' customer service team
So far, I'm pretty happy with this platform.
Keep reading because I go into further depth below.
Fundrise Features

Fundrise has many features.
Here's a quick overview:
Fundrise Features

Minimum Needed to Open Account

Minimum Needed to Start Investing

Private market commercial real estate deals

- Single-family construction projects

- Residential apartment complexes

- Private commercial properties

Total net dividends earned by Fundrise investors

Current Users (as of early 2022)

Fractional Investing Available?

No – there is no FDIC or SIPC protection

- Desktop

- Mobile app for iOS and Android

- Direct message

- By social media

- By Phone – Call 202-584-0550

- By Email – contact@fundrise.com

- Must be 18 or older

- US citizens or permanent residents only
Fundrise Fees

Let me be upfront about the Fundrise fees:
Fundrise is pretty transparent with its fees 
The fees are higher than what you would pay for low-cost index funds
The fees are relatively low compared to what other real estate investment managers would charge
Here's what fees you could expect when you invest in Fundrise:
Fundrise Fees

- Servicing Fee

- Origination Fee

- Early Redemption Fee

- Annual Management Fee

1% of your assets under management (includes a 0.15% servicing fee and a 0.85% management fee)

0% to 2% - Paid 1x when you start investing in a new property

1% to 3% - Paid only if you liquidate your investment prematurely

About 3% (these fees are more complex than the standard portfolio)

Annual Management Fee is Used For:

- Investor relations team

- Customer support team

- Tax management dashboard

- Managing real estate deal flow

- Automatic dividend payout system

- Constructing a customized portfolio

- Customized portfolio performance reports

How the Investor is Paid Back

- Passive income (from rents paid)

- Profits (from sale of appreciated properties)

- Must wait a minimum of 60 days after you request to redeem your shares

- Any withdrawals may be subject to a 1% penalty of the proceeds
I do want to point out that Fundrise prides itself on its fee transparency.
In fact, Fundrise dedicated an entire blog article under their "Education" section (under the Resources tab) to discuss their fee structure in depth.
Fundrise does point out that there are certain investment platforms that tend to hide their fees, as illustrated here: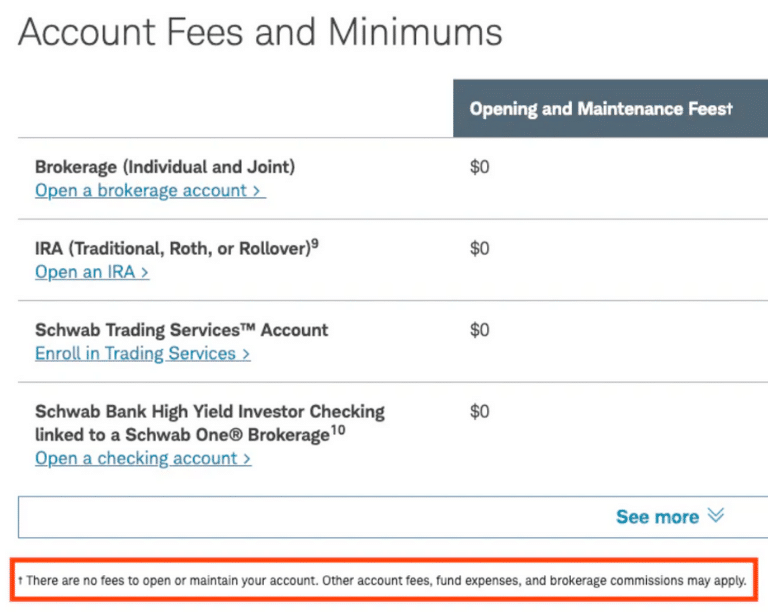 In these cases, it's important to read ALL of the fine print (which typically means you'll have to scroll down to the bottom of the page, zoom in by 200%, and then read paragraphs of lawyer-speak before you find the information you are looking for).
And to be honest with you, I haven't really seen any hidden fees or other red flags.
Caution:
I did notice that Fundrise claims to reserve the right to charge additional fees, if necessary (such as liquidation fees).
If you're ever confused about fees or want to learn more about the fee structure, then email the investment team at: investments@fundrise.com.
Fundrise Returns

In the grand scheme of things, your Fundrise returns really depend on the type of commercial property you invested your money in.
Here's a brief overview:
Fundrise Returns

Quarterly, or at the end of your investment term (about 5 years)

How will you receive your dividend profits?

Bank account, or Fundrise Dividend Reinvestment Program (DRIP)
If you want an aggregate view of literally every Fundrise client's portfolio performance, then check out this chart, here: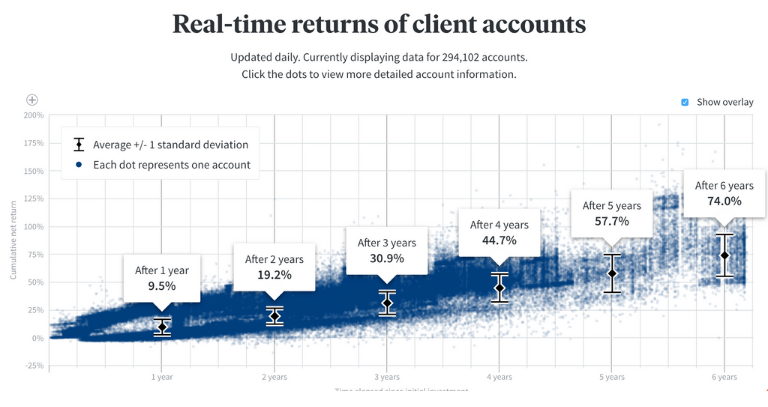 This chart illustrates the returns of 294,102 client accounts and is updated daily.
Based on the chart, the longer you keep your investment, the more likely you'll see a higher return.
In fact, if you want to analyze the performance of an individual client account that's shown in the chart above, just click on one of the points on the graph to learn more.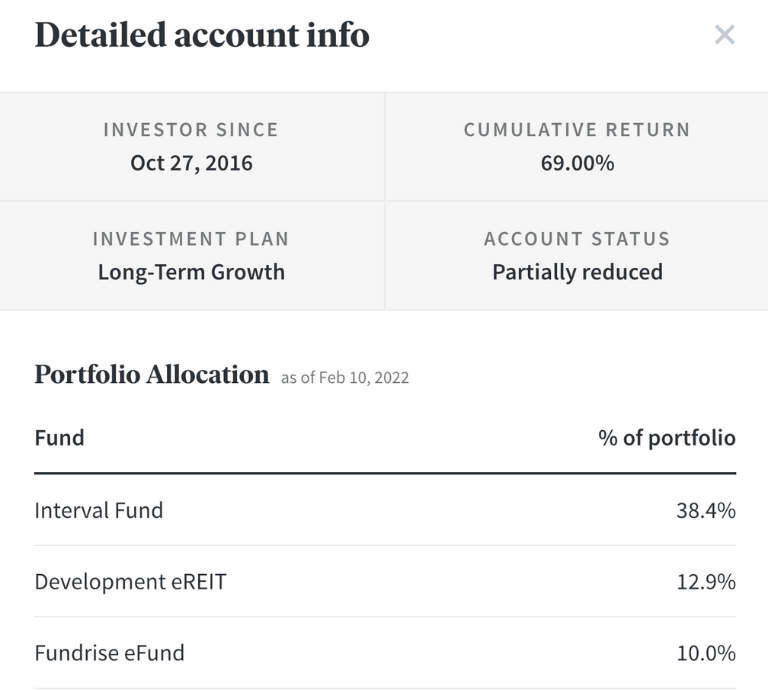 Of course, each investor's personal information is kept private, but this function allows you to see each data point's information, such as:
The returns
The portfolio allocation
The investment strategy
When the investors started with Fundrise
If you are focused on long-term investing and aren't planning to take your cash out at any point soon, then I would probably recommend you check out the Fundrise DRIP program.
DRIP Program Definition:
A dividend reinvestment program (aka DRIP) is where you would elect to reinvest your dividends instead of receiving a check in your bank account.
A DRIP program can be offered through Fundrise or virtually any other investment platform (even for the S&P 500!).
Below are some additional characteristics of DRIPs: 
Automatically invest
Utilizes the power of compounding interest
Grow your investments over time without fees
Just keep in mind that you cannot defer taxes even if you select a DRIP program.
Since Fundrise started capturing returns in 2017, you can earn anywhere from 7.31% per year (its lowest return in 2020) to 22.99% per year (its highest return in 2021).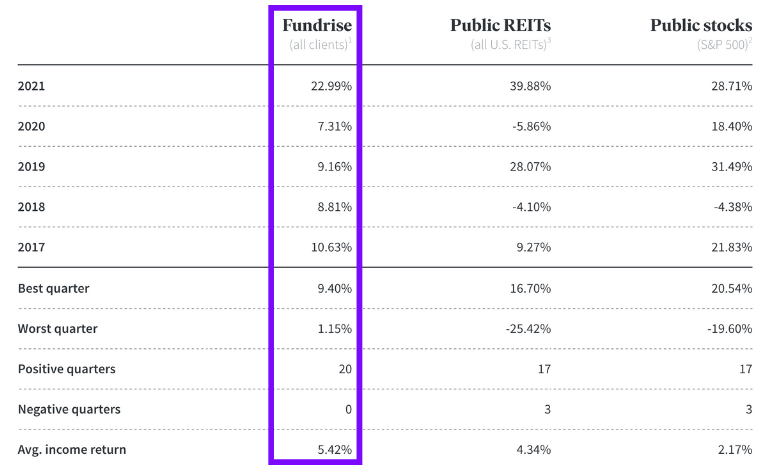 You should also focus on the "average income return" column, which will show you how much passive income you could earn (on average) as a Fundrise investor.
While commercial real estate investments do offer a great way to earn more money, remember that real estate in general is a long-term investment.
How Does Fundrise Work?

As the investor, "all" you have to do is invest your money in the property that you feel would be a good match.
Fundrise does the rest of the work – the vetting, the analysis, the management, and ultimately the sale process as well.
Below is an outline of how Fundrise actually works:
Vet – Determine the most profitable deals
Buy – Purchase the highest return potential deal 
Invest – Investors are now allowed to invest in the deals
Holding Period – Average holding period lasts about 5 years
Passive Income – Earn passive quarterly (or annual) income from rents received 
Sale – Real estate is sold and you receive profits based on the property appreciation
Here are some examples of commercial real estate projects Fundrise currently invests in:
Industrial warehouses
Home construction lots
Multi-family apartment complexes
Take a look at some of the investment opportunities you could invest in:

Fundrise has a very strict vetting process when it comes to selecting their property investment types.
In fact, Fundrise has claimed that they receive more than 13,000 real estate deals for consideration (that's over 250 deals per week!!).
Of the 13,000 deal submissions, due to Fundrise's strict vetting process, less than 1% of deals actually are approved.
The real estate investments that Fundrise selects can earn you money in 2 ways:
| Income Type | Income Source |
| --- | --- |
| | |
| | Appreciated property sale |
When you invest with Fundrise, your money can be allocated across a healthy mix of Fundrise's offerings, which can include:
Let's take a deeper dive into what an eREIT and an eFund actually mean.
What are eREITs? 

An eREIT (aka electronic real estate investment trust) is focused exclusively on commercial real estate.
As an example, you can get exposure to 10 commercial properties all wrapped into 1 eREIT fund purchase.
eREITs typically invest in these types of properties:
Malls
Hotels
Office buildings
Apartment complexes 
For the most part, there are 5 main eREITs, which include:
Income
Growth
Balanced
Heartland
Development
Check out the differences here:
Types of eREITs

Main focus is passive income

Main focus is property appreciation

Balanced (Income & Growth) eREIT

Combines passive income focus with the focus on property appreciation

- Typically focuses on the Midwest or other specific regions in the US

- Growth and income focus 

- Newer option on Fundrise

- Typically focuses on commercial property renovations or development
Income focus
Depending on your financial objective – cash flow versus profit potential through property appreciation – you can select which eREIT strategy is best for you.
eREIT Fees 

The good news is that the Fundrise eREITs eliminate any middlemen that would have charged additional fees and instead, the eREITs are sold to you directly.
Let's take an in-depth look at the fee structure for eREITs:
eREIT Fees

Annual Asset Management Fee

Servicing Fee (can be waived if the investment fails to perform)

1% (based on any non-performing investments)

2% (based on raised funds)
As you can see, the fees you might be paying for eREITs are generally a bit more expensive than the fees for low-cost index funds (which typically range around 0.05% to 0.20%).
Another thing to remember is that private eREITs, due to their "private" nature, are not liquid.
In other words, once you invest your money, it can be pretty difficult to withdraw your cash.
How to Cash Out Your eREIT Investment 

Let me start this section by saying that redeeming your eREIT shares will not be as easy as pushing a "sell" button.
In fact, because eREITs are illiquid, you may have to wait a some time before you can redeem anything.
Let's take a look at the rules concerning cashing out your eREIT shares:
eREIT Rules

Can You Cash Out Your Shares?

You can only cash out a specific number of eREIT shares each quarter

Penalty for Cashing Out Early

3% to 5% (based on the eREIT share value, which is calculated by Fundrise)

Typical Initial Share Price

Fundrise determines share price valuation

Cash Out Penalty (0 to 6 Months)

You are not allowed to cash out within 6 months

Cash Out Penalty (6 Months to 24 Months)

Cash Out Penalty (24 Months to 36 Months)

Cash Out Penalty (36+ Months)
So what does this cash out penalty schedule mean for your wallet?
Let's say you invest $1,000 in an eREIT and after 1 year you decide to redeem your shares.
Here's what the penalty schedule would mean for you:
You would pay a penalty that's equal to 5% of your share value
You would leave the eREIT with only 95% of your investment's value (so about 95% of $1,000 = $950) 
The longer you wait to cash out your shares, the lower your penalty.
Caution:
Personally speaking, I'd probably invest in something that's more liquid and I would also do my proper research before committing large amounts of money.
To be honest, unless I was purely focused on dividend generating assets, I'm probably not the biggest fan of this option just because my money would be tied up indefinitely.
What is an eFund? 

Just like an eREIT, an eFund is also a privately (aka illiquid) held investment that generally focuses on residential real estate and is structured as a partnership.
eFunds tend to specialize in the following property types:
Townhomes
Condominiums
Single-family homes
Pro Tip:
In general, the eFunds offered through Fundrise offer only a restricted quarterly redemption period.
In other words, if you want to cash out of your investment, then make sure you read the fine print first, because chances are, you'll have to:
Pay a penalty fee for cashing out early
Wait for a certain period of time before cashing out
Cash out only a certain number of shares each quarter
As you can see, there are many restrictions, so it's critical that you do your research thoroughly before committing your cash.
Fundrise Customer Service Review

There are several ways you can have your questions for Fundrise answered:
By Email
By Phone
By direct message (through their website)
The good news is that you at least have the chance to speak to a live human – and not just communicate with an automated voice, email, or instant chat.
Pro Tip:
Did you know that with Fundrise, you can actually communicate with the investor relations team and ask them any questions you have?
To make sure you get the full picture, you should either check out the BBB (Better Business Bureau) or TrustPilot.com.
The BBB maintains a grading system from F to A+ so the fact that Fundrise scored an A is pretty good: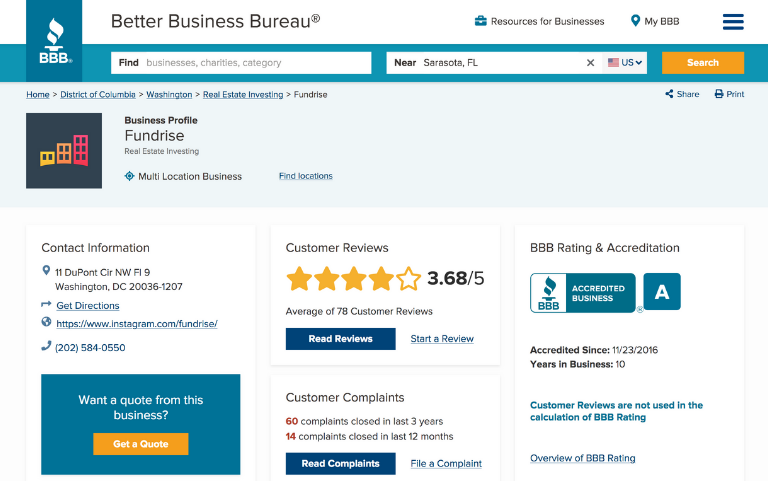 Note that Fundrise has been registered with the BBB since November of 2016.
Since then, Fundrise has:
Earned 3.68 stars out of 5 stars
Had 60 complaints in the last 3 years
Had 14 complaints in the last 12 months
Most of the complaints on the BBB revolve around:
No liquidity
No dividend earnings
Poor customer service
Fundrise not redeeming the investors' shares 
The good news is that out of the complaints I read, Fundrise responded to every single one: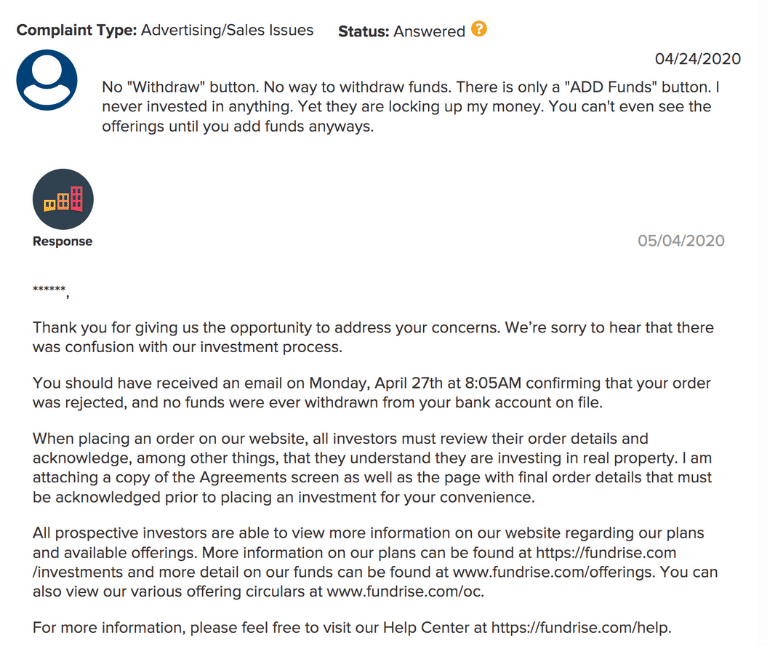 The most recent complaint listed on the BBB is as of September 7, 2021, which was answered by a Fundrise representative on September 16, 2021.
Another good place to review a company's customer service is on Trustpilot: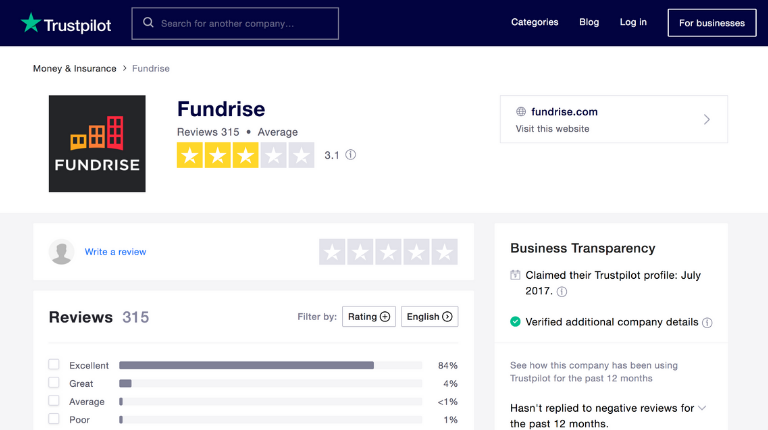 Similar to the BBB, Fundrise is ranked at a 3.1 out of 5 rating on Trustpilot, with over 315 reviews.
While 89% of Trustpilot reviews rank Fundrise as Great and Excellent, there are about 10% of reviews that ranked Trustpilot as Poor and Bad.
Here's a quick overview of the good vs the bad Fundrise reviews on TrustPilot:
Fundrise Complaints Overview

Happy with the diversification

Unhappy with the slow redemption schedule

Unhappy about lack of liquidity

Happy about website interface simplicity

Unhappy about poor customer service
To me, it seems like a lot of the negative reviews were about the illiquidity of Fundrise.
However, if you thoroughly read through my Fundrise review, then you hopefully are aware that your money with Fundrise will probably be invested for the long term.
Keep in mind to take both the positive and the negative reviews with a grain of salt.
Is Fundrise Right for You?

While the concept of investing in multi-million-dollar private market commercial properties can be exciting, it's important not to get carried away and invest your life's savings with Fundrise.
Caution:
Never invest more than you are willing to lose (worst case scenario).
Below are some things that set Fundrise apart from the rest of the crowd: 
You can invest in real estate for $10
Fundrise manages its client portfolios
Fundrise handles all of the real estate transactions
Fundrise works directly with real estate developers
I've created a shortlist to show when you may want to consider using Fundrise:
| | Consider Using | Hold Off |
| --- | --- | --- |
| You Want to Diversify Your Portfolio | | |
| | | |
| You Want to Protect Yourself Against Inflation | | |
| You Want to have Control over all of Your Investments | | |
| You Don't Mind Locking Your Money up for 5+ Years | | |
| | | |
| You Want to Protect Yourself Against Stock Market Volatility | | |
Remember that investing in real estate may not be the right fit for everyone, but it's still important to stay informed of your options.
Why Should You Invest in Commercial Real Estate?

The reason why commercial real estate can be so beneficial is that people need a place to live and conduct their businesses.
Some examples of commercial real estate may include:
Malls
Hotels
Office buildings
Medical centers
Industrial property
Industrial warehouses
Apartment building complexes
You really earn money in 2 ways with commercial real estate investing:
Passive rental income
Property appreciation 
Additional benefits include:
Home price stability
Passive rental income
Protection against inflation
Even during a recession, chances are you'll earn passive income from your commercial property investments.
How to Invest with Fundrise 

There are 5 ways you can invest with Fundrise, with packages ranging from $10 to $100,000.
Take a look at the descriptions below: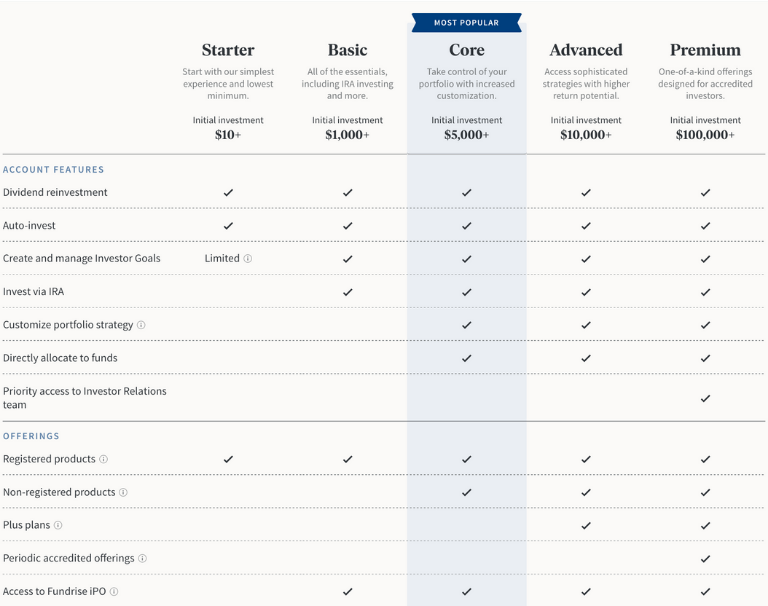 Let's take a closer look at the minimum investment for each of the 5 plans:
| Account Level | Min. Investment |
| --- | --- |
| | |
| | |
| | |
| | |
| | |
Below are some investment funds that you could allocate your money to, if you invest through Fundrise: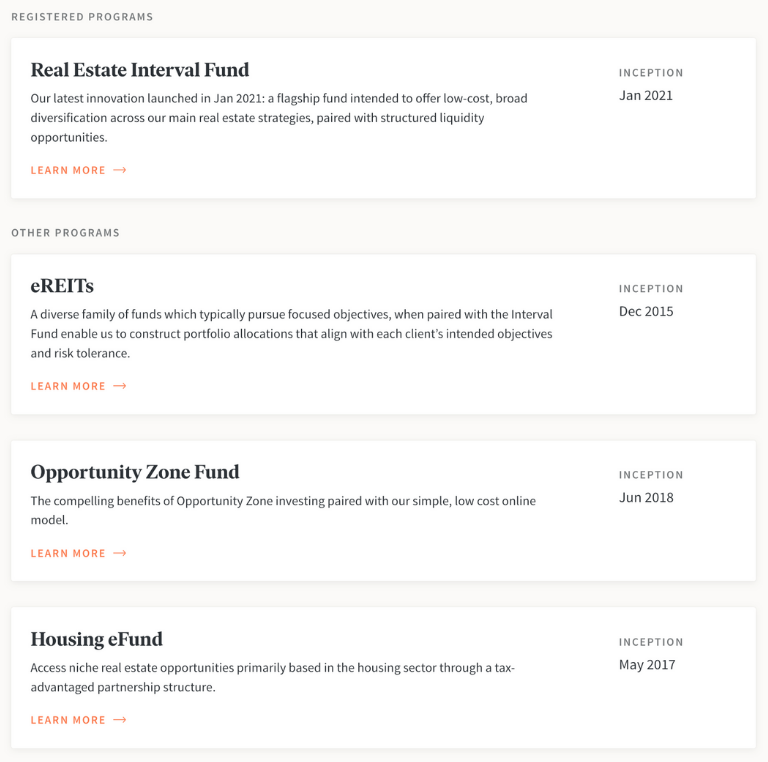 And, depending on your risk tolerance, you may be able to invest in 1 of 4 different investment strategies.
Let's take a deeper dive into the Fundrise investing strategies.
Fundrise Investing Strategies 

You can choose from 4 different investing strategies with Fundrise:
Core Plus
Value Add
Fixed Income
Opportunistic 
The chart below can better illustrate the risk versus return relationship between the 4 investment strategy types.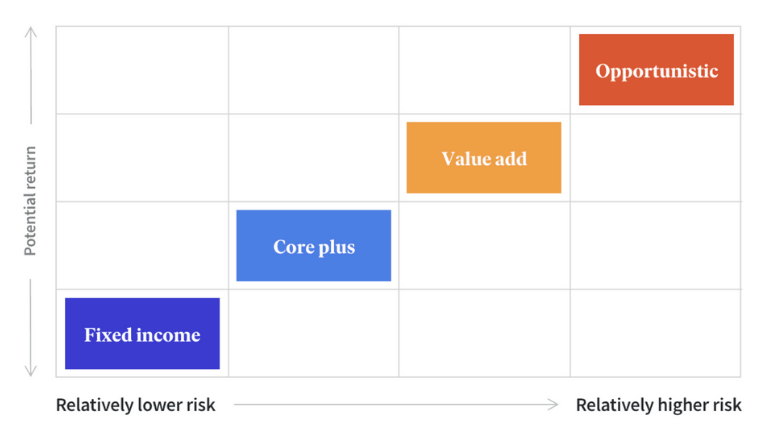 So, if you prefer less risk, then you may want to consider looking at a fixed income portfolio (which generally focuses on passive income generation and not so much property appreciation).
Here is a better look at the difference between the 4 strategies: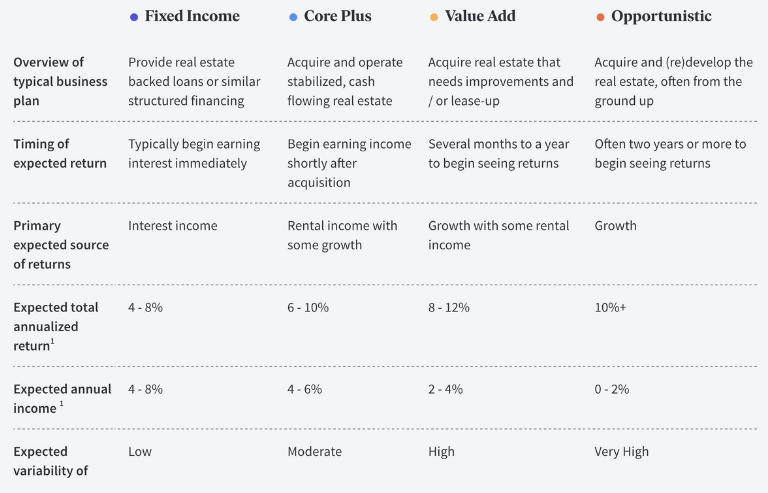 Let's take a deeper dive into the 4 investment strategies:
Fixed Income 

The fixed income investment strategy focuses on high-quality real estate investments that can produce above-average yields.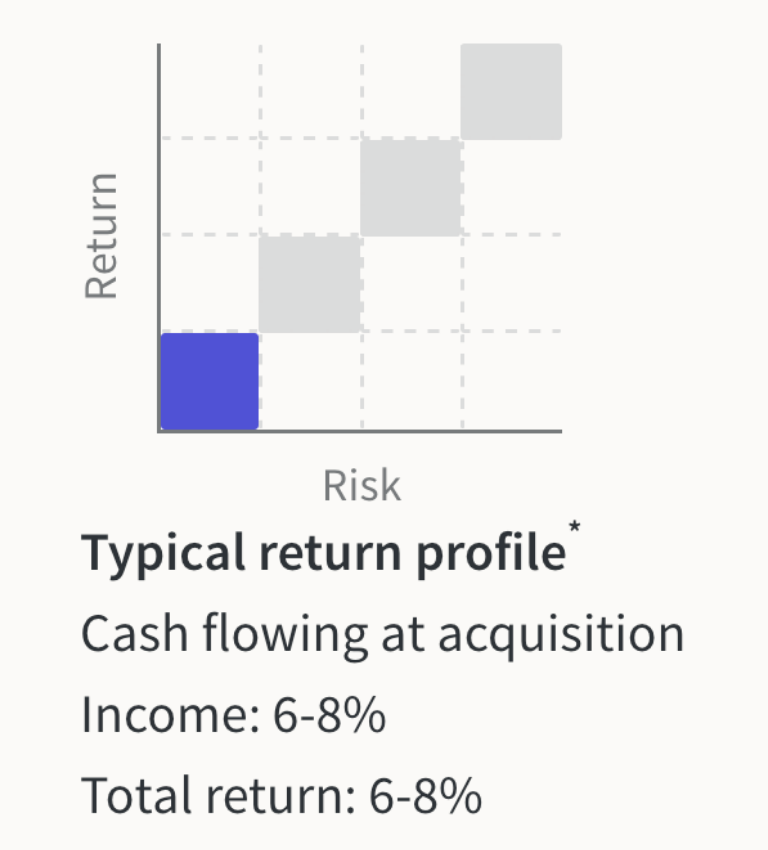 The downside for a fixed income strategy is that you take a lower risk, which means you also typically generate lower returns.
Below are some typical fixed income investment properties: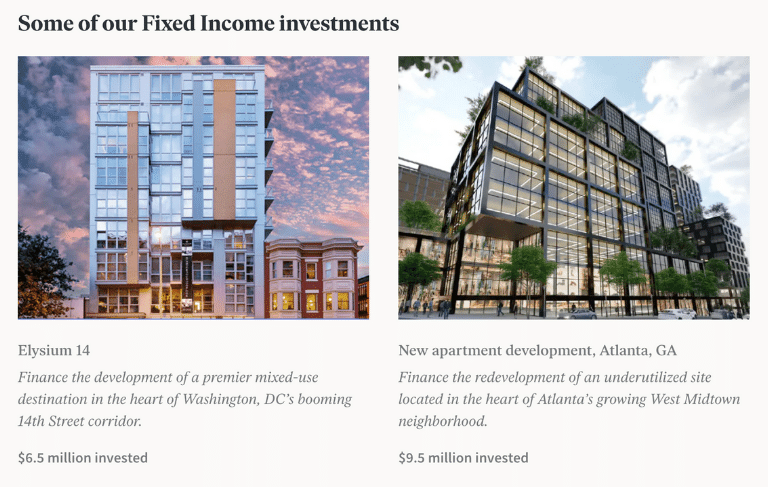 Core Plus

The Core Plus model is a little more risky than the Fixed Income model where Fundrise seeks to fund quality real estate projects in growing markets.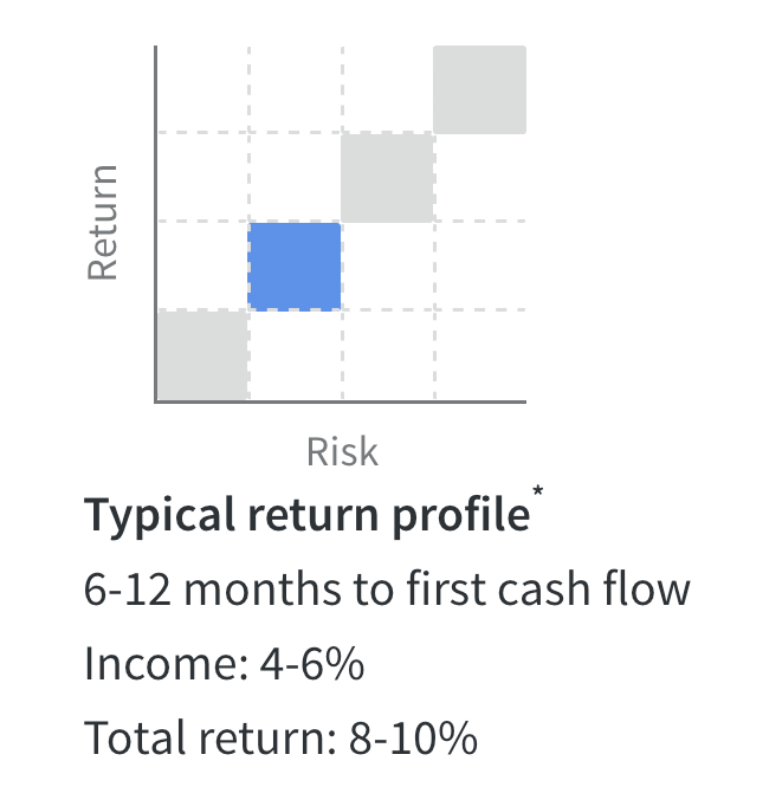 Note that the Fixed Income model aims to generate between 6% to 8% of passive income, while the Core Plus model focuses on 4% to 6% of income.
On the other hand, the Core Plus model aims for a total return (including property appreciation) between 8% to 10% while the Fixed Income model's total return is much lower, at 6% to 8%.
Below are some typical Core Plus model real estate properties: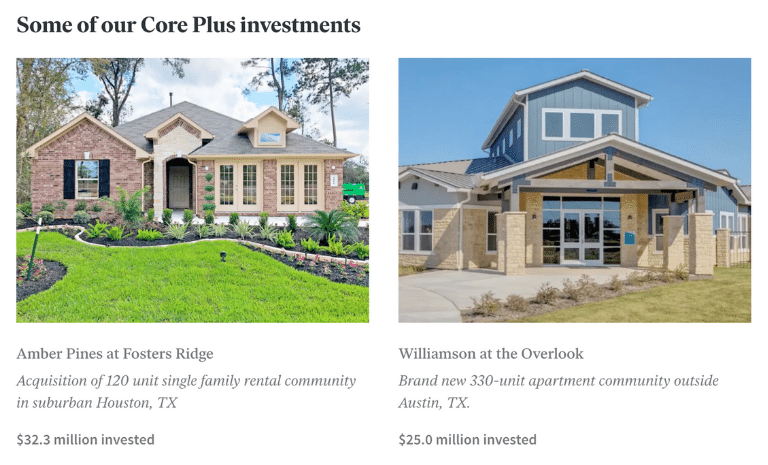 Value Add

The second-riskiest investment model is known as the Value Add model, which generally emphasizes purchasing already existing properties, which need a fix-up.
Generally speaking, these properties are residential communities in growing markets.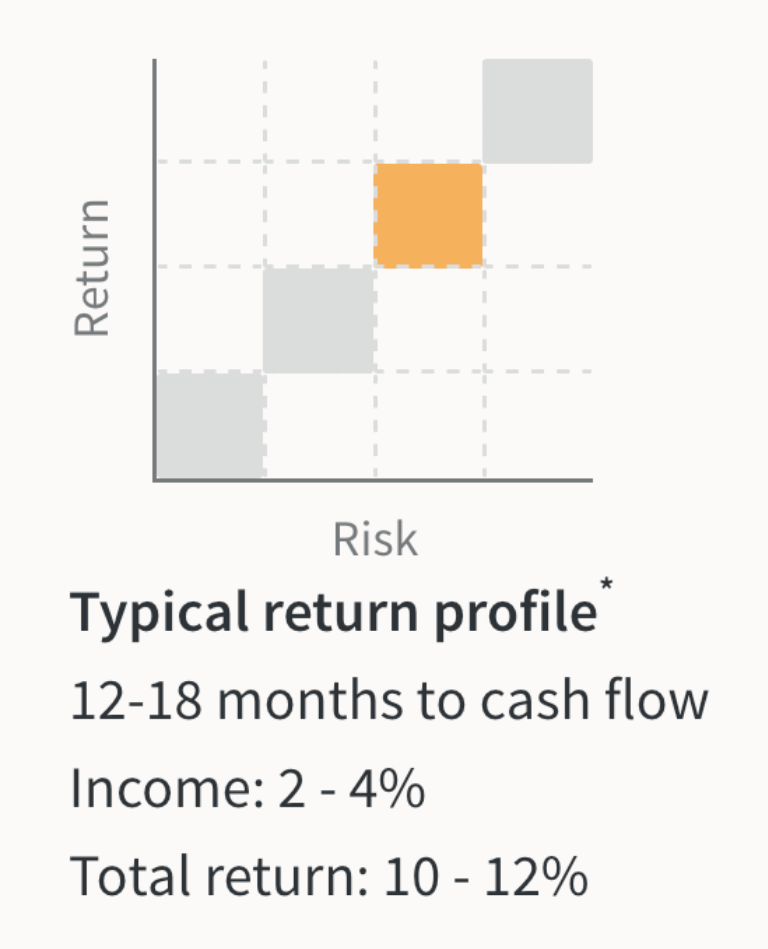 As you can see, the income focus is very low at 2% to 4% (versus the fixed income model, which was at 6% to 8%).
However, the total return approach for the Value Add model is much higher, between 10% to 12%.
Below are some typical Value Add properties you would see in a Fundrise portfolio: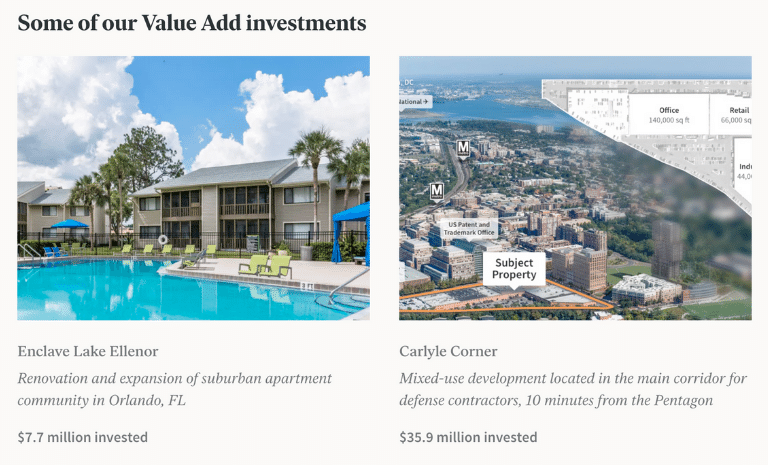 Opportunistic

The last, and the riskiest, investment strategy in Fundrise is known as the Opportunistic fund.
The opportunistic fund seeks to acquire properties that are:
Well-located
Underutilized
In growing markets 
The opportunistic properties will likely be the longest-term properties in your Fundrise portfolio.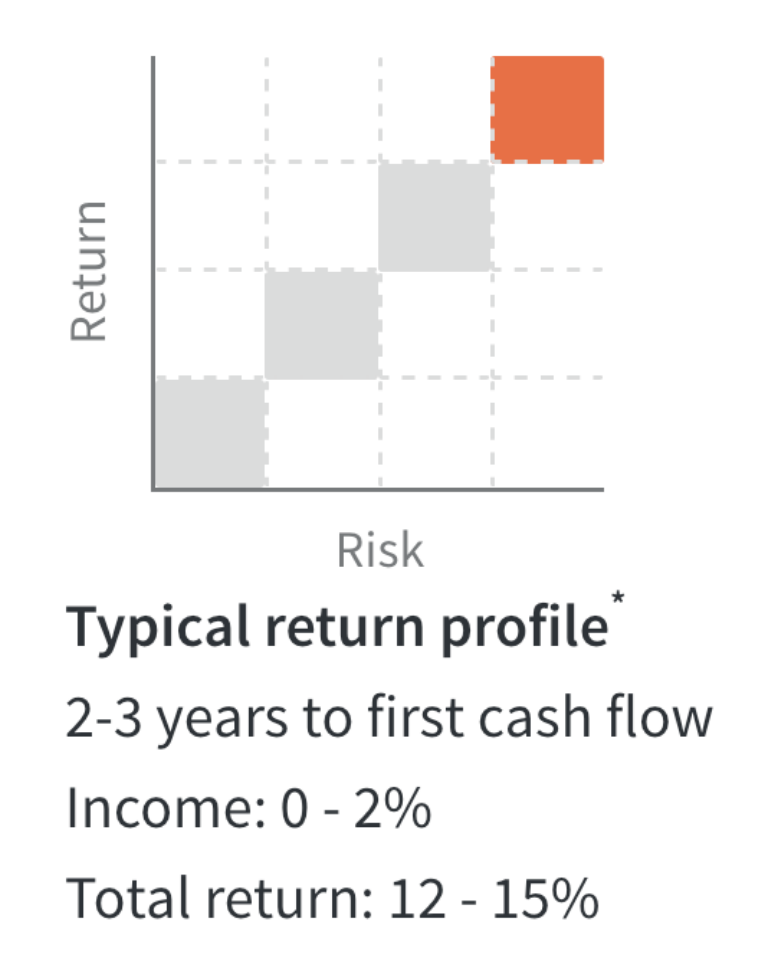 As you can see, the income focus is virtually non-existent while the total return focus is the highest out of the 4 investment strategies.
Below are some typical opportunistic properties you may find: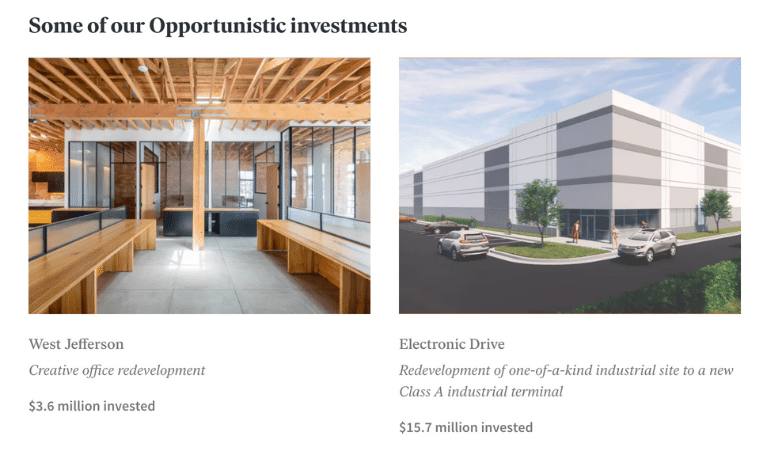 Fundrise IPO and IRA

In addition to having the option to invest in eREITs or eFunds, you could have a third investment option: Investing in the company, Fundrise, itself.
Let's take a further look at some of the special investment features Fundrise offers:
Fundrise IPO

You can access the Fundrise IPO option if you are enrolled in the following account types:
Fundrise claims you will have access to invest in Fundrise within your first year of using the investment platform.
Knowing that the company has been around since 2010 and also knowing that the company has helped pay out over $160 million in dividends to investors, this might be an option to consider.
Fundrise IRA 

If you're looking for a tax-advantaged option that can help grow your Fundrise investment while deferring taxes, you may want to consider opening an IRA through Fundrise.
This option is only available to the following account types:
Fundrise offers both Traditional IRAs and Roth IRAs.
Below is a quick breakdown of the 2 different types of investment vehicles:
| Traditional IRA | Roth IRA |
| --- | --- |
| You don't pay taxes on your contributions today but you pay taxes on any withdrawals | You pay taxes on your contributions today but you don't pay taxes on your withdrawals |
Keep in mind that there are additional rules associated with Traditional and Roth IRA accounts, but for the purpose of this article, I'll keep it brief.
Roth IRA Rules:
If you are under age 50, you can contribute up to $6,000 in 2022. If you are age 50 and older, you could contribute up to $7,000.
If you decide to open an IRA with Fundrise, you'll need to:
Open a new IRA with Fundrise first
Make a direct transfer of IRA funds (from your old IRA) to your new IRA
Here's a little more information about opening an IRA through Fundrise:
Fundrise IRA

Millennium Trust Company, LLC

How to get your IRA investing fee waived for 1 year

How to get your IRA investing fee waived for multiple years

Maintain an account balance of $25k+
Before you make any fast decisions and transfer or open new IRAs, really do your research, and don't be afraid to hop on a call with Fundrise or your current IRA custodian.
How Does Fundrise Find & Vet its Investments?

Fundrise takes the vetting process very seriously to ensure that you can make profits – and that Fundrise can make profits, too (obviously).
Did you know?
Fundrise receives more than 13,000 real estate deal submissions per year and approves less than 1%.
It gets better: Fundrise is actually the first to fund a private real estate deal and then offers the deal to the investors through its crowdfunding platform.
Typically, it's the other way around, where the investors (you) take the risk first.
So since Fundrise will be taking a big risk by investing first, naturally the company will adhere to a strict vetting process.
Here's how the Fundrise vetting process works in 4 steps:
Sponsor Screening
Initial Project Vetting Process
Detailed Underwriting
Property Purchase
Let's explore these processes a little more in-depth.
1. Sponsor Screening

Fundrise's first step is to review the company and/or sponsors that made the initial submission.
While Fundrise is inundated with funding requests, Fundrise looks for companies that are:
Well funded
Have little debt
Focus on the US markets
Have a successful track record
In fact, out of the many submissions Fundrise receives each week (about 250), only about 25% are considered viable candidates and move to Fundrise's second step.
Let's check out the second step.
2. Initial Project Due Diligence

The second piece of the Fundrise vetting process goes one step beyond sponsor screening: This is where Fundrise takes a closer look at the type and nature of the project offering.
Fundrise typically seeks out projects that are focused on:
Mezzanine debt
Preferred equity
Senior secured debt
Short term (up to about 5 years)
Let's go over what these rather complex terms mean in plain English:
Term

Definition

- Is like a hybrid debt that includes both debt financing (aka you are lending money) and equity financing (aka you are becoming the owner)

- Can also give you a right to convert your debt into equity shares

- Is pretty risky in the case a company goes bankrupt, because your initial investment may never be repaid

- Not very risky because if the company goes bankrupt, there is a higher chance that you'll be repaid your initial investment versus if you used a Mezzanine Debt approach

- You don't have any voting rights, but you can earn dividends based on a company's income

- Typically, the lowest risk debt, since this is debt that is backed by an asset as collateral (e.g., your house is collateral for your mortgage company

- If you can't pay your mortgage, then your mortgage company will take your house, kick you out, and sell your house to make money)
Just remember that the higher your risk, typically speaking, the higher the reward.
You just really have to understand your own comfort level before committing to a certain investment type.
3. Detailed Underwriting

The third step in the Fundrise vetting process really focuses on the granular aspect: Fundrise shreds apart each request to look into the details.
Let's take a look at what underwriting actually means:
Underwriting Definition:
Underwriting is when a company (like Fundrise) carefully reviews and verifies a potential project's income, assets, liabilities, property details, management team, etc. for approval.
This is really where it matters, and Fundrise takes its time as well.
In fact, Fundrise claims that it ensures each project passes a 350+ data point checklist to review a potential deal's candidacy for the Fundrise platform.
Some of the data points Fundrise evaluates in each real estate deal include: 
Site plan
Sales comparisons
Rental comparisons
A list of tenants with subsidies
Occupancy history of the past 36 months
If you want to take a closer look at additional evaluating criteria, then check out this screenshot below: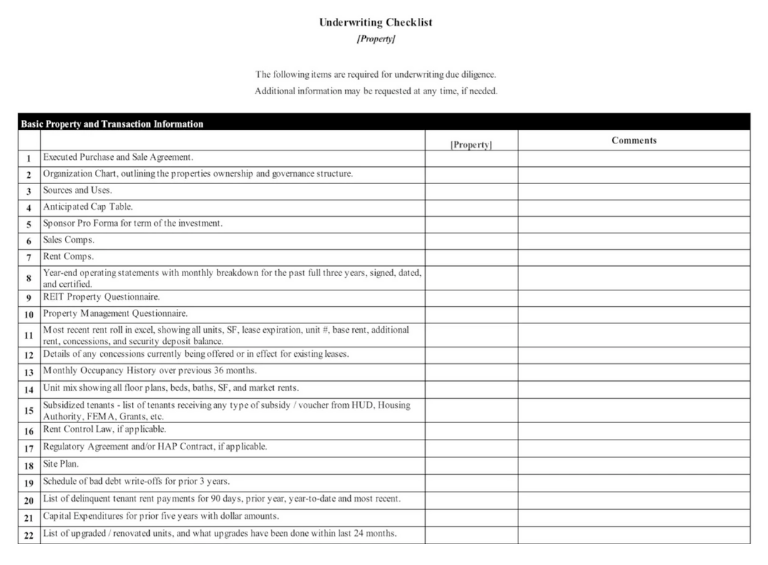 As you can see, Fundrise does not take the vetting process lightly.
4. Purchase

The final step in the Fundrise 4-step vetting process is actually purchasing the real estate deal itself.
Keep in mind that Fundrise bears the brunt of the risk because the company pre-funds the deal.
This means you (the investor) has much less risk because you're not the first person to invest their money. Fundrise is.
What Investments Does Fundrise Offer Investors?

As a Fundrise investor, you can invest in a lot of different private market commercial real estate projects – many of which typically cost between $1 million to $30+ million.
Did you know?
Fundrise has already funded and completed 123 projects.
As of early 2022, Fundrise offers 248 active real estate investment projects for its investors.
Take a look at some of the investment options below:

As you can see, there are a variety of projects, ranging from residential apartment construction to a full home construction site.
Here's a little more insight:
Fundrise Properties

Fundrise invests in these projects

- Single family homes

- Residential apartments

- Industrial commercial property

- Texas

- Florida

- Georgia

- California

Percent of real estate deals received by Fundrise each year

Percent of real estate deals that are approved by Fundrise

< 1% of all submitted deals
It appears that the majority of the Fundrise deals are located in what is known as the "Smile States."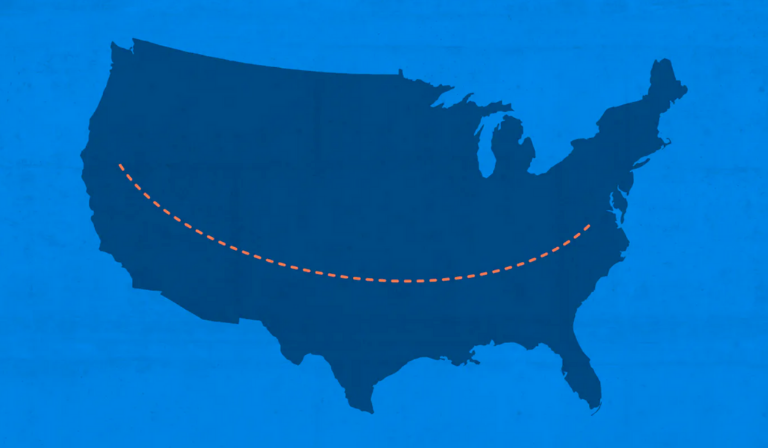 In general, the "Smile States" refers to the Sunbelt region, where cities have been growing faster than their northern counterparts.
Below is a map of the US real estate deals Fundrise is currently offering (as of early 2022):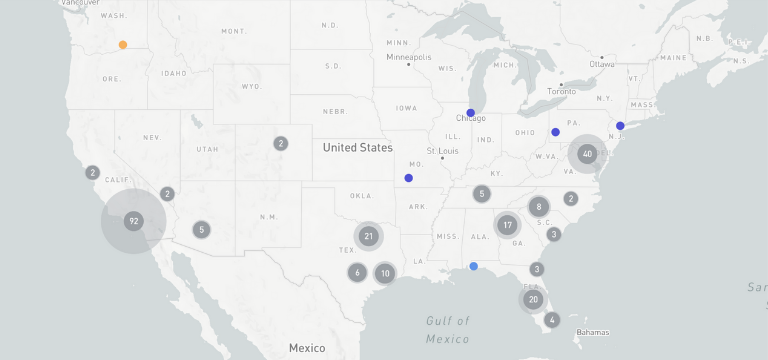 In fact, southern cities, according to Fundrise, make up 66% of the total urban population growth in the country.
Here's another good view of the 4 major southern cities Fundrise tends to invest in: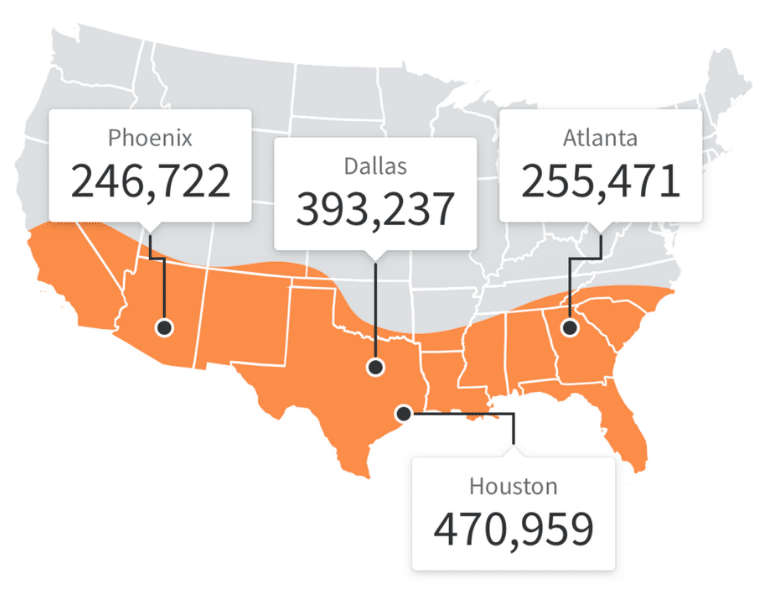 The good news is that even if you're not well versed when it comes to real estate investing, Fundrise's team of analysts can help you make an informed and relatively calculated decision to help your investment earn money in the long run.
Just remember to never invest more than what you are comfortable losing.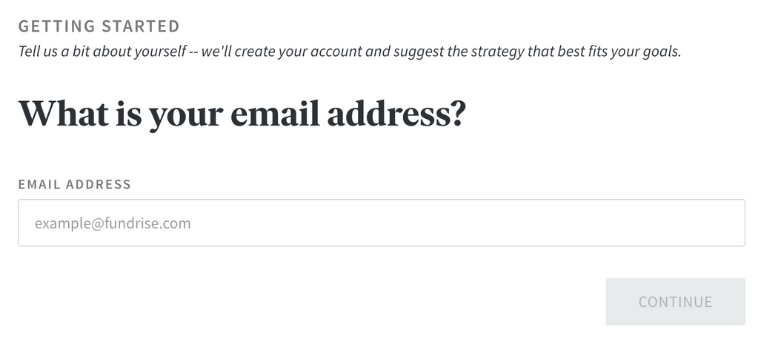 You'll have to input your email address and create your own account password.
You'll also have to fill out additional, personal information, such as:
Your age 
How much you can invest
Why you're interested in Fundrise
Who you consult for investing advice
Your familiarity with investing (are you an expert or beginner?)
One of the questions that I find is very important to answer is the one below: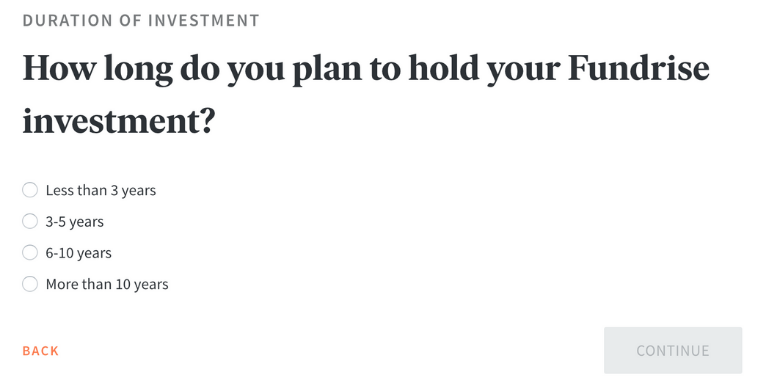 The duration of your investment, or how long you plan to keep your money illiquid, plays a critical role in whether 1 investment is better for you over another.
Pro Tip:
If you select that you prefer to hold your investment for less than 5 years, you'll see a pop-up note from Fundrise, which explains that most Fundrise investments are illiquid for 5+ years.
I think it's so important to keep in mind that your investment will be illiquid for a certain period of time.
Once you've answered basic investment questions, you'll have to go through a series of Questions, to set up your user profile:
Your legal name
Country of citizenship
Next, you'll need to select the type of account you plan to open: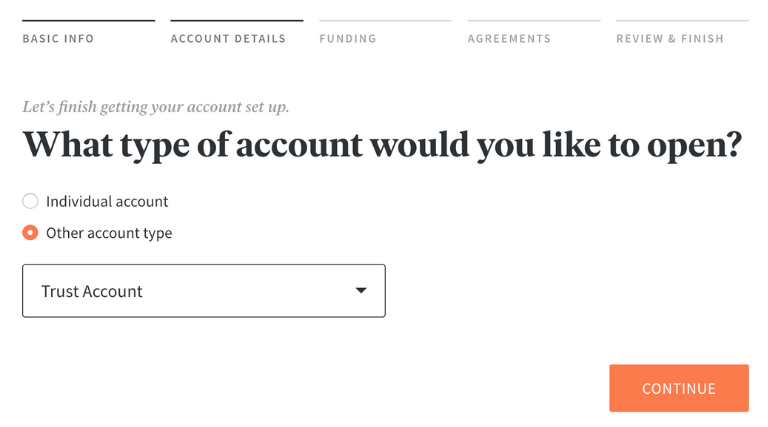 You can open an individual account (which is a regular, taxable account that's titled in your name).
However, you can also open other accounts such as:
Joint accounts
Trust accounts
Entity accounts
From there, you'll need to input your address, phone number, social security number, etc.
And finally, you can access your profile.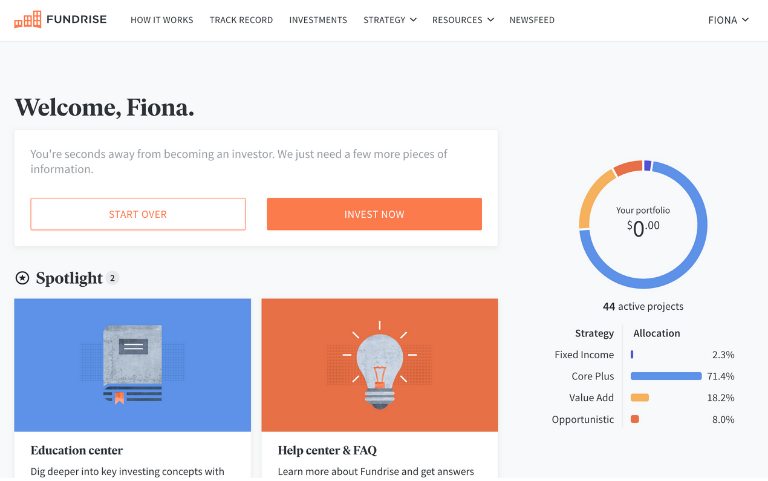 Notice that based on your answers in the initial questionnaire, Fundrise constructs a customized portfolio for you, which you can see on the right.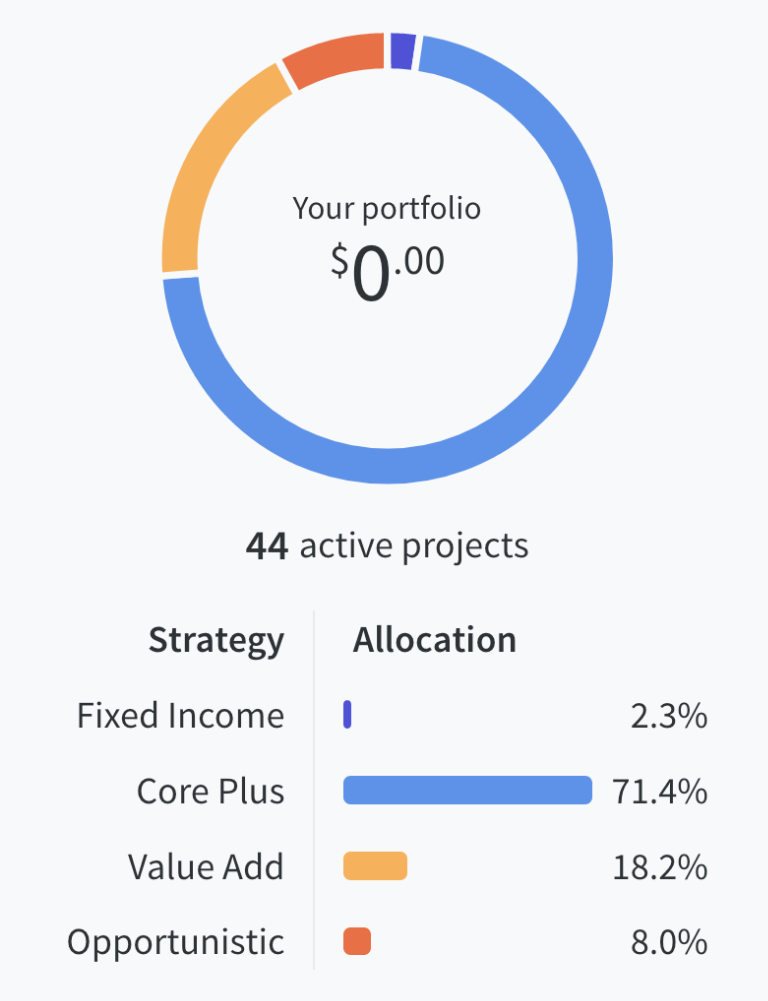 I do like that Fundrise helps allocate your portfolio based on your answers.
Now, if you're curious about what each of the 44 different active projects in your investment portfolio looks like, then hover your mouse over a specific color in the circle and click on that color.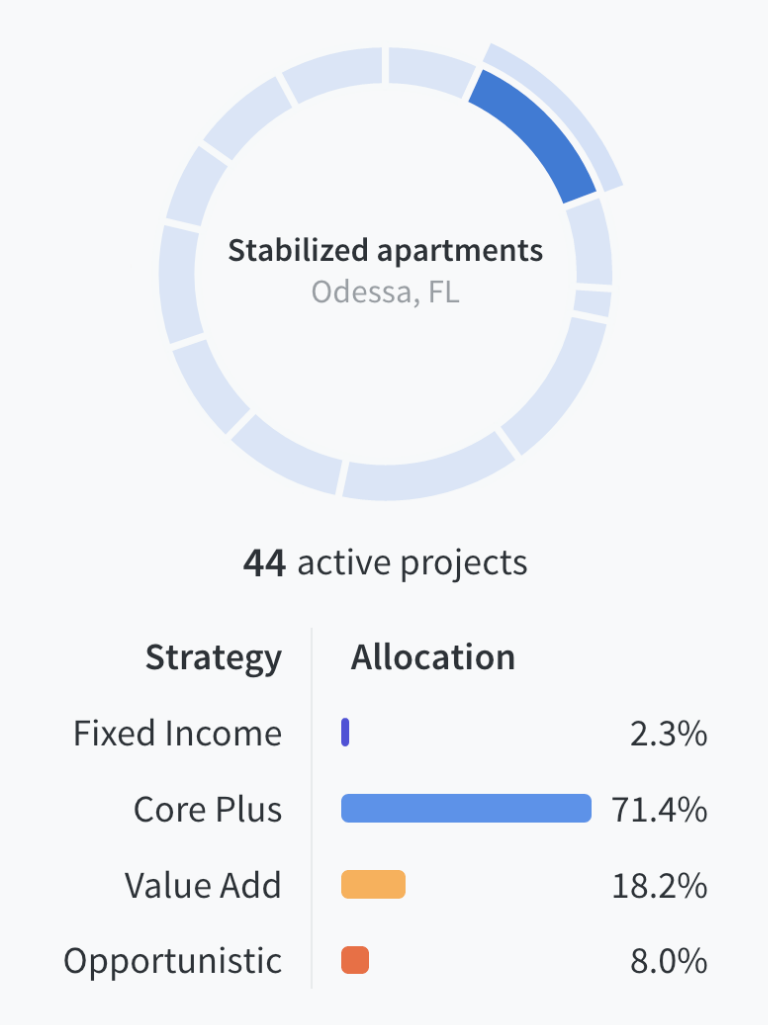 For example, if I'm looking at the Core Plus portion of my portfolio, I can scroll through each active project and see the location and roughly how much of my portfolio each project would occupy.
If you want to take it a step further and actually see the project itself, just click on the circle again and a new window will pop open, with your project's features.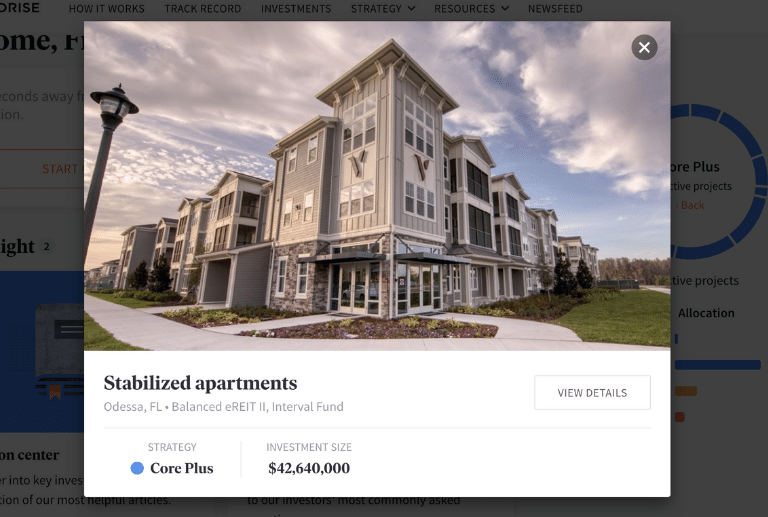 From there, you can click on the "View Details" tab to dig even further into your investment property's status.

This is a $42 million dollar project – and I'm not going to lie, it's actually pretty cool to think about being an investor in such a big undertaking!
You'll see additional details such as the capital funding of the project.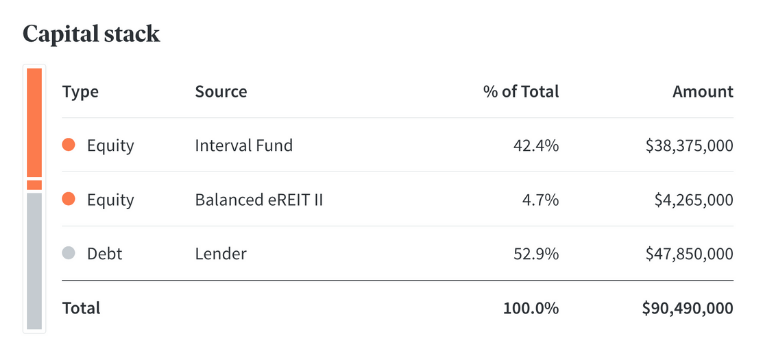 In general, the more debt a project has, the riskier it is.
You'll want to maintain your debt ratio to about 70% to 80%, so seeing that this project has about 53% of debt, you could feel a little less worried about its inherent risk.
You can also see the project timeline with regular updates: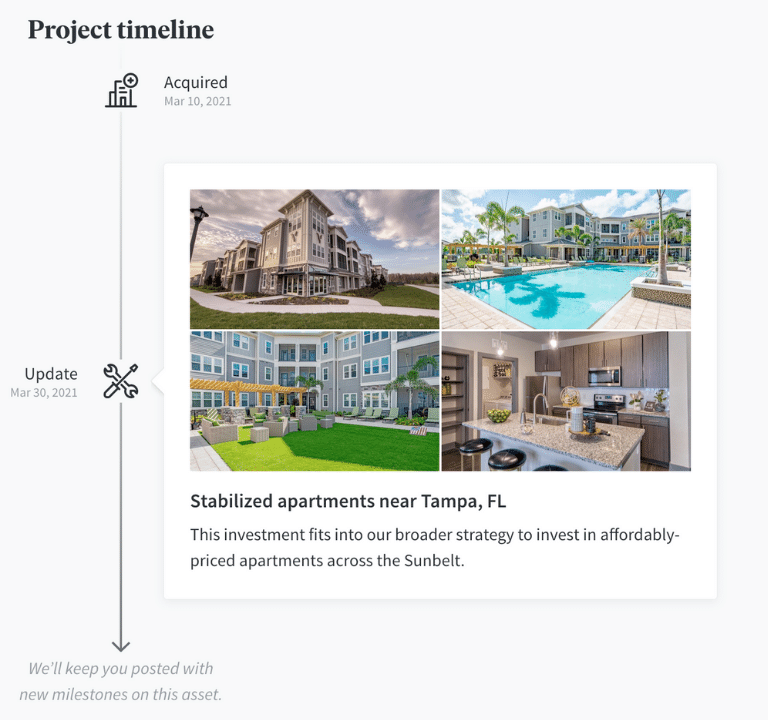 Normally, I've noticed on Fundrise that project updates are made every quarter or so, which means that this update (about 9 months old) could be a little outdated.
However, if you want to learn more about the latest update, just click on the title (in this case, "Stabilized apartments near Tampa, FL") and you'll be brought to a separate page.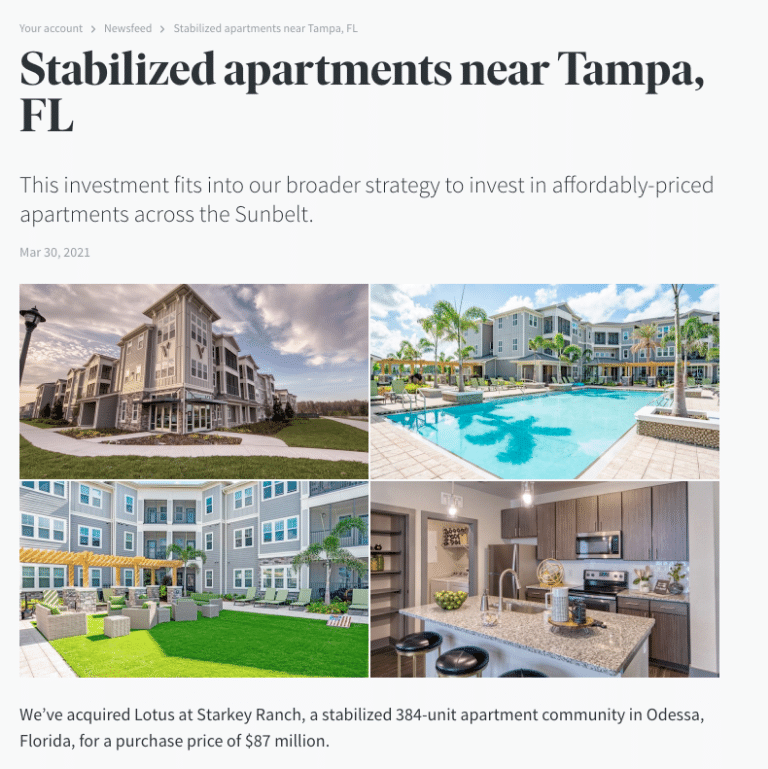 As you can see, by clicking on the project timeline update itself, you'll be led to a new page with additional details, including:
Business plans
Market analysis
Local economy analysis
Analysis on potential income
Personally, however, I would have liked to see a little more information for each project update.
Back in the main page of your investor portal, I'm a big fan of both the "Newsfeed" and the "Spotlight" sections.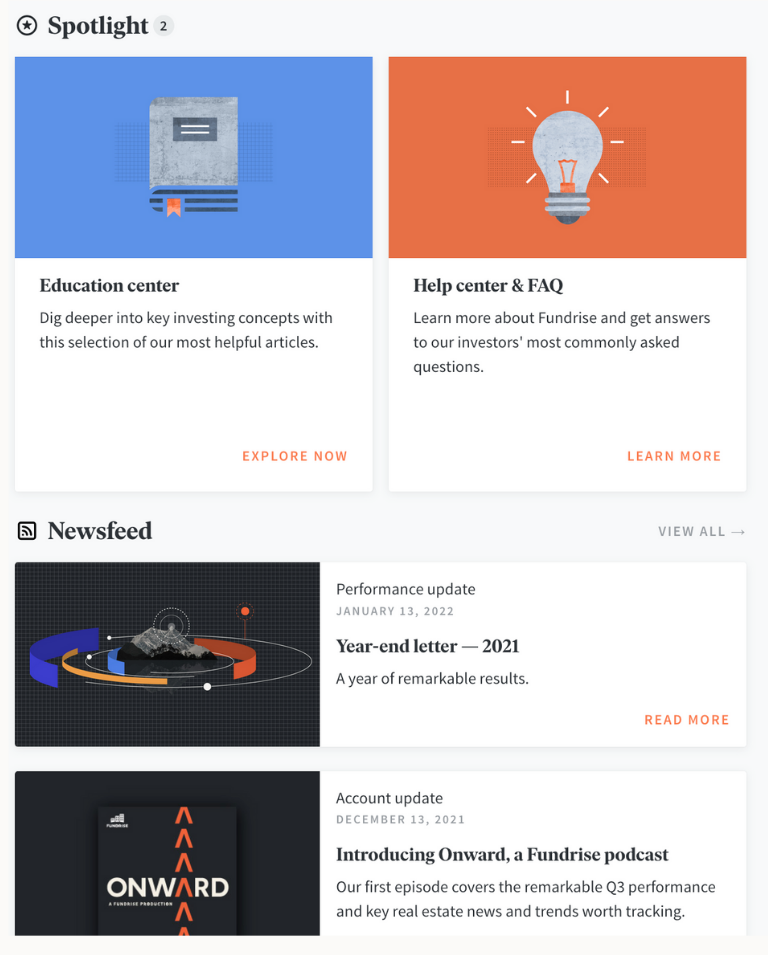 The Spotlight Section is there in case you want to take a deeper dive into all things real estate investing.
The Newsfeed Section is available to those who are looking for things like:
Investor reports
Fundrise updates
Quarterly updates
Fundrise project updates
Now, if you're ready to invest, you'll want to click on the orange "Invest Now" button, right in the center of your investor dashboard.

Remember to invest only as much as you are willing to lose.
Investing in real estate can be risky and long-term. Do your research before you commit yourself financially.
How Do I Check for New Fundrise Offerings?

Here's how to browse through each current real estate investment:
Go to the home page
Scroll to the bottom of the page
Click on "Real Estate," under the "Products" section
…And voila!
As of early 2022, Fundrise offered more than 248 real estate investment projects for investors like you and me.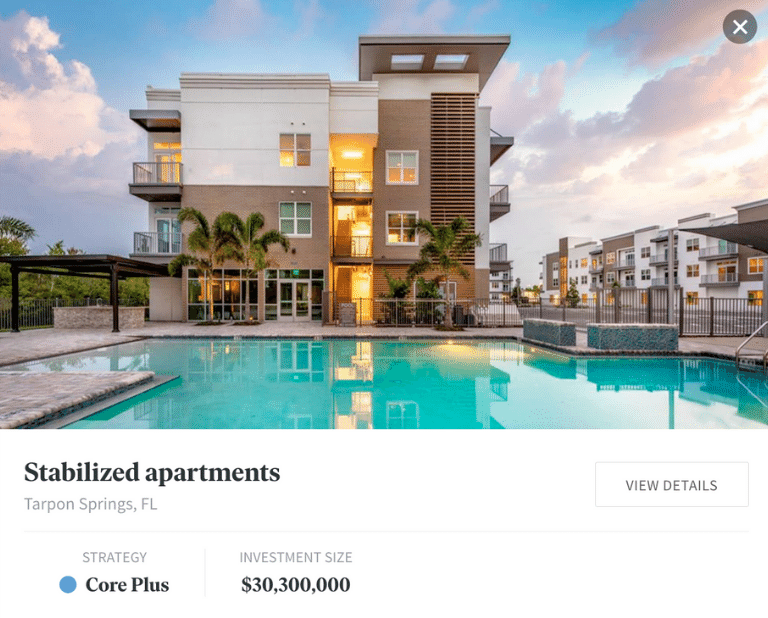 Here is a look at a project in Tarpon Springs, Florida (close to Tampa).
If you click on the "View Details" tab, you can see each project's strategy, market analysis, project timeline, etc.
Fundrise Secondary Market

If you're concerned about liquidity (aka how easily can you sell your investments), then you should be.
That's because Fundrise has a very limited secondary market (some would even argue Fundrise does not have a secondary market).
Secondary Market Defined:
A secondary market is for individual investors who are looking to sell their shares to other investors. The secondary market is strictly peer-to-peer.
That means you'll only be able to buy/sell your Fundrise share to other Fundrise investors (so your pool of potential candidates is very small).
Typically, the only reason you would want to resort to the secondary market is that you're looking for liquidity (aka you need the cash) before the real estate project itself is actually sold.
I should note that selling your shares is not guaranteed – even on the secondary market.
Caution:
In Fundrise's case, there is virtually no secondary market, so be very careful before you invest your money, because chances are that your cash will not be liquid.
Now, the good news is that you can redeem some of your shares (like if you invested in an eREIT, for instance).
Redeeming Shares Definition:
When you redeem your shares, you effectively sell your shares back to the issuing company (in this case, Fundrise).
So while you can redeem your shares on only certain investment types, there are several restrictions built into the redeeming process that include:
You'll likely never receive 100% of the full share value
You can only redeem a certain number of shares every quarter
You can't redeem your shares within the first 6 months of investing
Below is a rough example of how most redemption schedules would look like, through Fundrise:
Fundrise Redemption Schedule

Redemption Penalty: 0 to 6 Months

You are not allowed to redeem within 6 months

Redemption Penalty: 6 Months to 24 Months

Redemption Penalty: 24 Months to 36 Months

Redemption Penalty: 36+ Months
In other words, if you have a share that's valued at $1,000, and if you decide to redeem that share in 12 months, you would only receive 95% of the full share's value (since you have a 5% early redemption penalty).
Caution:
During times of economic volatility and/or uncertainty, Fundrise reserves the right to delay or suspend redemptions.
For example, as COVID broke out in March of 2020, Fundrise temporarily suspended redemptions until July of 2020.
Pro Tip:
As far as I can see, the only Fundrise investment option that does not impose an early redemption penalty is the Interval Fund.
Make sure you read the fine print before you lock-up your money.
Do I Pay Taxes on My Fundrise Investments?

If you receive quarterly or annual dividends from your investments (like eREITs and eFunds), then you should receive a tax form K-1 to report your income.
K-1 Definition:
A Schedule K-1 is an official federal tax document that reports income (from dividends in this case), business losses, etc.
The deadline for most companies to issue the K-1 form is March 15, so make sure to check your mail and/or email for notification of your K-1 around that time.
How much you pay in taxes really depends on the classification of your dividends.
Below are the 2 dividend types:
| Qualified Dividends | Non-Qualified Dividends |
| --- | --- |
| Taxed as capital gains (lower tax rates) | Taxed as ordinary income (higher tax rates) |
While real estate can increase in value over time, you will not have to pay taxes on the property appreciation until that property is sold (or you cash out your shares).
Fundrise Education on Real Estate Investing

Do you want to diversify your investment portfolio with private REITs but really don't know much about the real estate world?
You're not alone (I'm right there with you!).
Fundrise realizes that most investors may not have a solid background when it comes to real estate – and the platform has found a solution for real estate newbies like me.
Here's a list of the educational resources Fundrise offers its investors:
Educational Resource

Description

- Describes each real estate investment's position during the project timeline

- Timelines are typically updated every few months

Client Performance Database

Database featuring the average annual returns of Fundrise client accounts from 2017 to 2021

Thoroughly researched and information-driven articles that provide investors with insight into the real estate investing world

Fundrise provides in-depth information about its active and completed real estate projects

Quarterly reports covering the macro and micro level of real estate, including the wellbeing of the commercial real estate markets economy, historical data, and the progress and returns of current projects

Fundrise offers in-depth FAQs, where the platform lays out the pros and cons of investing in real estate, paying taxes, how to get started, managing your account, etc.

Customer Service Representative

You can always contact the customer service team by Phone (call 202-584-0550) or by email:  contact@fundrise.com

If you ever have any questions about fees, investments, etc. you can always reach out to the investor relations team by using the following email: investments@fundrise.com
As you can see, Fundrise certainly doesn't keep the customer in the dark.
Granted, some of the data can be a little dry, but if you're wondering how (and where) your hard-earned money is going, I would definitely recommend you to do your research first – both on and off the Fundrise platform.
The Future of Real Estate Investing

In the end, the question remains whether the future of real estate investing looks bright or bleak.
Thanks to the rise of FinTech apps, many barriers to entry are broken when it comes to real estate investing.
Other reasons why real estate investing continues to show positive signs include:
Technology 
Increased mobility
Easy-access secondary markets
Upward trend to work from home
Take a look at the increasing trend of housing prices over the past 20 years:

This graph indicates that housing prices have continued to increase consistently – even while markets may have been rather volatile.
As technology like Fundrise continues to evolve, it will be even more likely that real estate investing will become more accessible to the average Joe.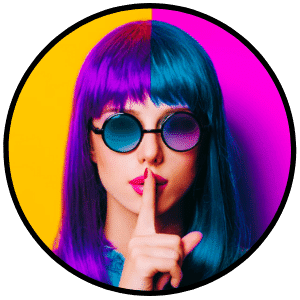 The Bottom Line:
The future of real estate investing looks very bright, especially thanks to advancements in technology.
Fundrise Alternatives

Not sure if investing in real estate is the right next step for you at this point?
Here are some other potentially lucrative investments you can consider:
Just remember to do your thorough research – no matter which investment you decide to put your money in – before you commit financially.
Is Fundrise Worth It?

Not many people can say they are private market commercial real estate investors – in fact, it's typically only the top 1% who can boast about this.
Not anymore.
Fundrise is the real estate crowdfunding investing platform we've all been waiting for.
Now, you and I can invest in million-dollar properties without writing million-dollar checks.
Here's how you use Fundrise:
Sign-up online 
Answer investment questions that help Fundrise tailor your portfolio to your situation
Begin investing in private market commercial real estate
If you decide to invest with Fundrise, then only invest as much as you are comfortable losing.
Remember that the real estate crowdfunding world is still speculative, risky, and illiquid.
Fundrise Review: The Bottom Line

Fundrise makes it possible for virtually anyone to start investing in the real estate world.
Instead of spending $100,000's or even millions of dollars to buy investment properties, you can start investing for a $10 minimum.
While you can certainly make money investing with Fundrise, it's important to recognize that there are risks involved with crowdfunding and investing in real estate, some of which include:
High costs and fees
Long lock-up periods 
Higher chance you'll lose your money
As you can see, investing in private real estate deals may not be for everyone.
If you feel like commercial real estate investing isn't your best bet, you may want to check out other alternative investments, instead.
Warning:
It's important that you're cautious with how much money you invest in Fundrise – make sure that whatever you invest, you are OK losing (in a worst-case scenario).
Think about your investment options today, because your bank accounts will thank me tomorrow.
Now I'd like to hear from you:
What are your thoughts on Fundrise?
Would you consider investing in the platform?
Let me know in the comments section below.
Disclaimer:
This is a testimonial in partnership with Fundrise. I earn a commission from partner links on themillennialmoneywoman.com. All opinions are my own.