AcreTrader is a new platform that gives investors the chance to buy shares of farmland, which is one of the world's most appreciating and stable assets.
With AcreTrader, you'll have the option to:
Invest in farmland
Diversify your portfolio
Protect yourself against inflation
Protect yourself against stock market volatility
Since its inception in 2018, AcreTrader has become a popular farmland investment platform that combines the elements of both real estate investing and fractional investing.
But is it the best platform to grow your wealth?
Let's take a deep dive into this AcreTrader review and find out if it's the best alternative investment for you.
Pros

Cons

Low volatility

Fees are relatively low

Portfolio diversification

Highly illiquid

No secondary market

Accredited investors only
What is AcreTrader?

AcreTrader is a farmland crowdfunding investment platform that was founded in 2018 and is available for accredited investors only.
You can start investing in farmland between $10,000 to $40,000 without worrying about land management (the average cost is about $10,000 to $25,000).
Once you know which farms you want to invest in, all you do is collect your annual dividend checks from the farmland rent payments and collect your potential profit once the land itself is sold.
Did you know?
AcreTrader was founded by Carter Malloy, who grew up in a farming family and spent time in the finance industry before founding AcreTrader.
Since AcreTrader's inception in 2018, the company has grown to just under 80 employees and appears to be expanding as we speak.
How Does AcreTrader Work?

AcreTrader does all the land management work for you – the buying, the analytics, collecting the rent, handling the land sale, etc.
Below is an outline of how AcreTrader actually works:
Analyze – Review farms with the highest quality soils, tenants, water sources, crop history, etc.
Vet – Less than 5% of offerings successfully make it through the AcreTrader vetting process
Establish an LLC – the LLC will be the official owner of the farm
Invest – Investors (you) are now allowed to buy shares of the LLC
Buy – Purchase the highest return potential farm
Management – AcreTrader is responsible for the rental payments, insurance, taxes, property maintenance etc. 
Holding Period – Average holding period lasts between 5 to 10 years
Sale – You can sell your shares on the secondary market (anticipated to be available in 2022) or wait for AcreTrader to sell the farm 
As you can see, there are many steps involved with owning farmland.
AcreTrader Pros and Cons

Before we jump into the nitty-gritty, let's take a big-picture look at the AcreTrader pros and cons:
| Pros | Cons |
| --- | --- |
| Earn passive rental income every year | Your money is locked up for long periods (between 5 to 10 years) |
| AcreTrader vets all farmland and farmland tenants | Limited number of properties are available (typically 1 farm per week) due to the slow nature of the vetting process |
| AcreTrader handles the management aspects of the farm for you, so you don't do the work | AcreTrader has a very limited track record (about 4 years) |
| Fees are relatively low (between 0.75% to 1% of assets under management) | Minimum investments typically start around $10,000 to $25,000 |
| Investors can use tax-advantaged investment vehicles (like self-directed IRAs or Solo 401(k)'s) | No secondary market available (as of January 2022) |
| Protection against inflation and stock market volatility  | Available to only accredited investors |
Overall Rating

Before reading further, check out my ratings for each of the following AcreTrader categories:
AcreTrader Overall Rating
To give a little more detail on the reason for my ratings, take a look at my breakdown below:
Liquidity – There is currently no guarantee of a secondary market, and your money is likely tied up between 5 to 10 years
Investment Options – Typically limited because they are often sold out fast and AcreTrader has an intense due diligence process, so new investments are available on the platform around once per week
Projected Profits – Depending on the amount of your investment and the type of farmland, you could see both passive income and capital appreciation
Fees – Considering the high fees of other alternative investment platforms, AcreTrader's fees are fairly reasonable (ranging from 0.75% to 1% of assets under management)
Customer Service – Drawing from my own personal experience, I've had nothing but the best interaction with AcreTrader' customer service team
Usability – Very intuitive website interface, very easy to use
If your portfolio is already diversified in the stock market and you want to find alternative investments to protect yourself against stock market volatility and inflation, AcreTrader could be the right next choice for you.
Remember: Never invest more than you are willing to lose in alternative investment platforms like AcreTrader.
AcreTrader Features

AcreTrader has many user-friendly features.
Here's a breakdown of their features:
AcreTrader Features

Anticipated to be available in 2022

$200 Million+ (as of January 2022)

- By Email

- By Phone

- By Social Media

- By website portal

Investors Must be Based in
Here's what you can expect when you invest in AcreTrader:
AcreTrader Investing Overview

Minimum Needed to Open Account

$10,000 to $25,000 (as high as $40,000)

- Traditional IRA

- Self-Directed IRA

- Return from dividends: 3% to 5%

- Return from property appreciation: N/A (yet)
AcreTrader Fees

Believe it or not, the AcreTrader fees are actually not too expensive.
Here's a breakdown of their fees:
AcreTrader Fees

- 0.75% to 1% of assets under management

- Closing fees (vary, but typically 2% of the offering value)

- Property analysis

- Farm maintenance

- Farm management

- Administrative costs

How the Investor is Paid Back

- Rental income (paid annually in the form of distributions)

- Profits from property appreciation upon property sale (typically 5 to 10 years after investment)
Now, you might be wondering:
How can AcreTrader afford to charge you such "low" fees at 0.75% to 1% of your assets under management?
The reason why is that AcreTrader also acts as a real estate broker, AcreTrader earns a commission with each farmland purchase and sale.
That's why AcreTrader can afford to decrease your investor fees.
AcreTrader Potential Returns

Let's explore the potential returns you could earn by investing with AcreTrader.
First, it's important to note the 2 benefits of AcreTrader:
Land appreciation
Passive annual rental income
So, how much do you actually earn by investing with AcreTrader?
Typically, you can expect your annual return (from farmland rental payments) to be around 3% to 5%.
To provide you with a more accurate picture of the historical annual returns which include both annual dividends from rents paid and property appreciation, take a look at the chart below: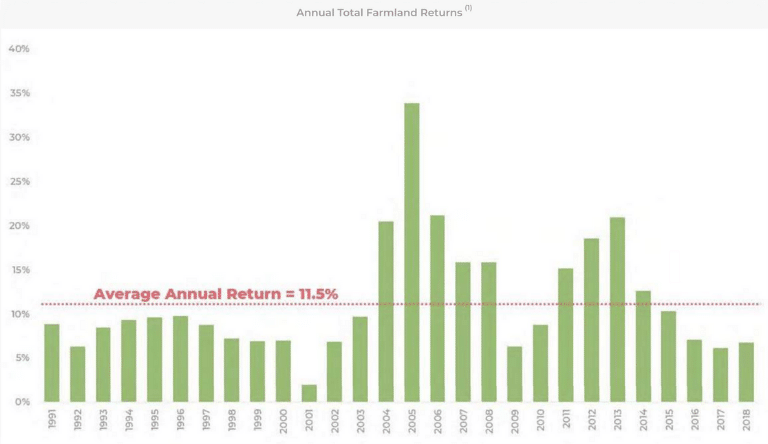 In other words, from 1991 to 2018, the average annual return from farmland (including rent and land appreciation) is about 11.5%.
If you want to exclude the rent payments, then the new return number is 6.1% (which takes the performance into account from 1968 to 2018).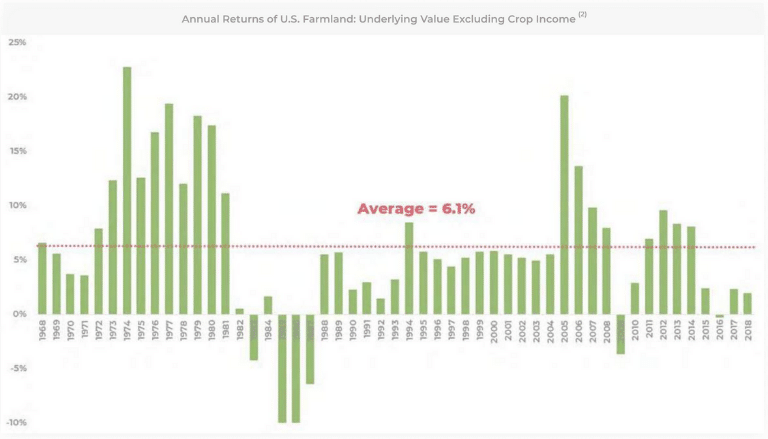 Since AcreTrader is still so new (it was founded back in 2018), there really isn't much historical information to go off, when it comes to calculating the return for land appreciation on the AcreTrader platform itself.
Pro Tip:
AcreTrader did report making 500 distributions in 2020 at or above projected returns.
Since AcreTrader typically holds its property for up to 8+ years, you might have to wait a little longer for more information.
AcreTrader Usability & Interface

If I could, I would rate the AcreTrader website an 11 out of 10.
It's extremely user-friendly and it does a great job of displaying the information in a neat and organized fashion.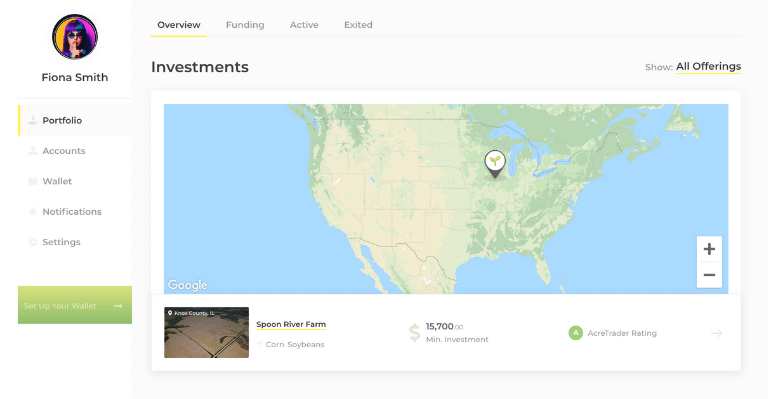 Here's what I love (and appreciate) about AcreTrader:
User-friendly website
Easy to link your bank account
The customer service is very friendly and knowledgeable
It took me a little more than 5 minutes from start to finish when I signed up to the platform and started browsing the available farms.
The platform itself is a simple design with an interface that's very intuitive.
AcreTrader Customer Service Review

I've personally reached out to AcreTrader's customer service to evaluate their:
Knowledge
Friendliness
Customer experience
…And I must say that AcreTrader passed my test with flying colors.
Below is my evaluation:
Here's a quick summary of my experience with the customer service team:
They did not push me to buy
I spoke to a human (not a robot!)
They answered my questions thoughtfully
There were some questions they did not know the answer to – but they followed up via email with the right answers (which I really appreciated)
As you can see, I'm pretty happy from my own personal experience when it comes to customer service.
There are several ways you can contact AcreTrader:
By Mail
By Email
By Phone
By Social Media
By Private Message (through their website)
AcreTrader Contact Information

- (888) 958-1470

- (479) 335-5660

Through their website portal

- @AcreTraderInc (Twitter)

- @AcreTrader (Instagram)

- Also available on LinkedIn and Facebook
Let's take a look at the BBB (Better Business Bureau) reviews: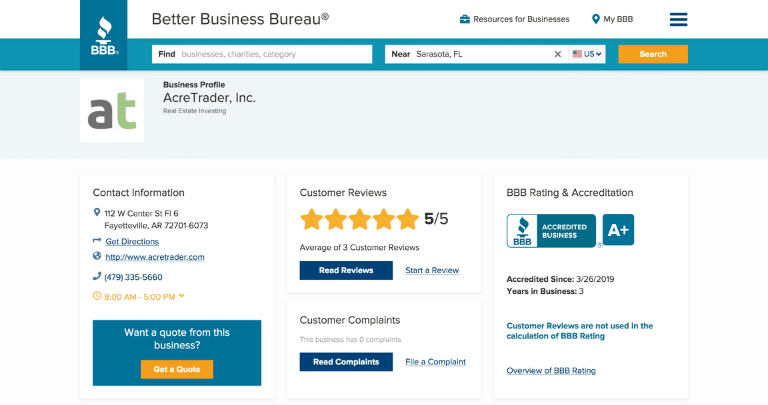 Not only is AcreTrader rated as an A+ company, but it's also received a 5 out of 5-star rating (from 3 customers) on the BBB.
I would say that's a good start (although we have reviews from just 3 customers at this point).
Who Can Invest with AcreTrader?

If you are not an accredited investor, you cannot invest with AcreTrader (at this point).
Accredited Investor Definition:
An accredited investor is someone with a net worth (not including your primary home) of $1 million+ OR has an annual income of $200,000+ for the last 2 years (if you're single) or an annual income of $300,000+ (if you're married).
Basically, an accredited investor is anyone with:
A liquid net worth of $1 million+
A high income, which is not expected to drop 
One reason why you may want to invest in AcreTrader is that the company does all of the grunt work for you, in exchange for your investment.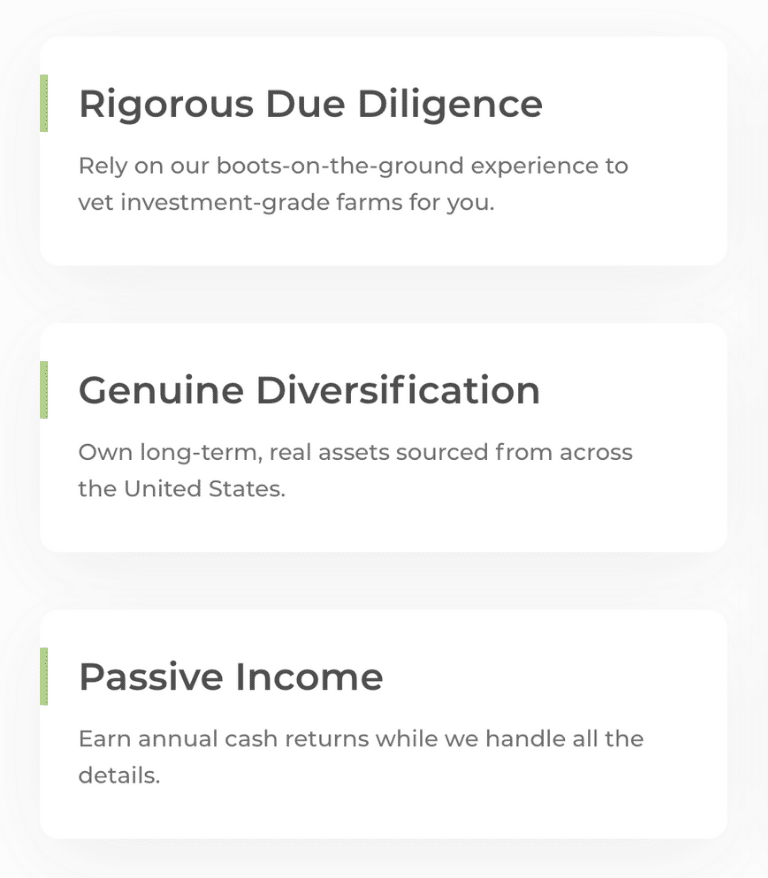 Here's a list for those who may want to consider using AcreTrader:
You are an accredited investor
You want to earn passive income
You're looking to diversify your portfolio 
You want to protect yourself against inflation
You don't mind locking your money up for 5 to 10 years
You want to earn returns between 3% to 5% (not including land appreciation)
You want to protect yourself against stock market volatility
Even if investing in farmland may not be the right next move for you, it's still important to stay informed of your options.
How to Invest with AcreTrader

When you invest with AcreTrader, you are actually buying a share of an LLC, which owns the title to the farm.
If you're ready to invest, all you have to do is link your bank account with your secure AcreTrader platform to transfer your money for investment.
First, however, take a look at the AcreTrader farm investment options by clicking on the "Investments" link.

From there, you can scroll through the farm properties that are currently up for investment.
At the time this article was written, for example, 0 farms were available for investment, and 1 farm was "coming soon."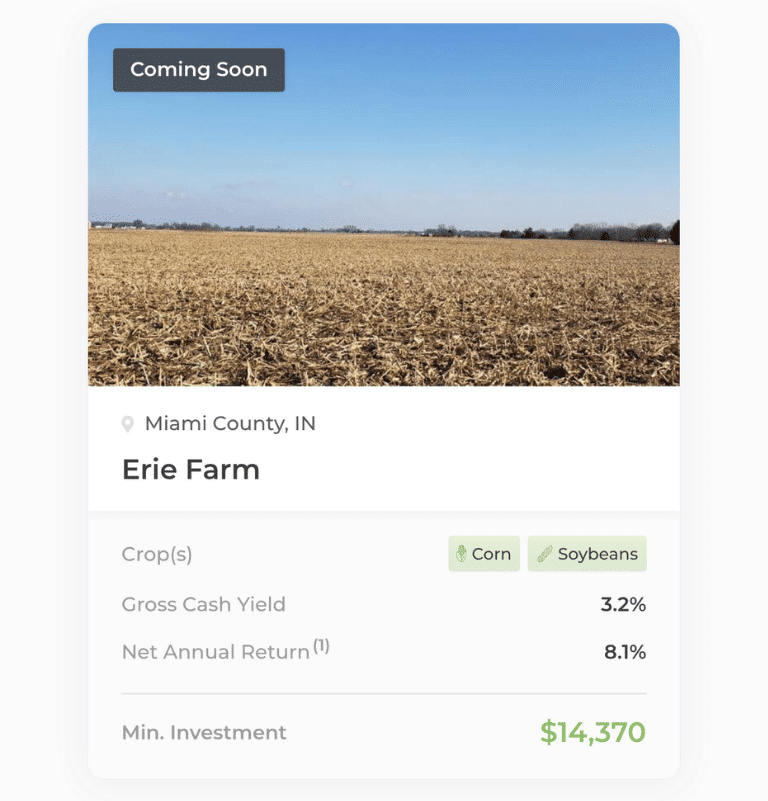 If you're curious to learn more about how to be notified when a new farm property hits AcreTrader, then keep reading, because I go over that in a section below.
According to AcreTrader, each share you purchase is worth 10% of an acre.
So, if you purchase 50 shares, you own 5 acres of land.
Note:
Investment minimums depend on the farm property itself.
I've seen minimums ranging anywhere from:
Take a look at this farm property, where minimums start at $35,000: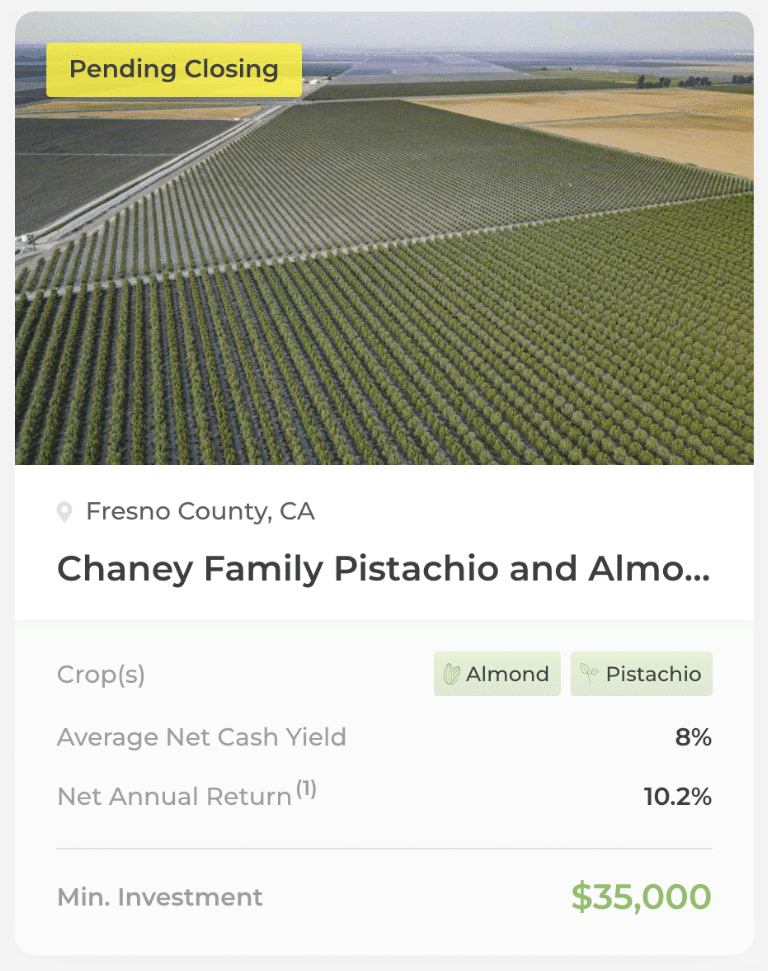 So in which account types can you actually invest?
For AcreTrader, you have several account options:
Entity
Trust
Solo 401k
Self Directed IRA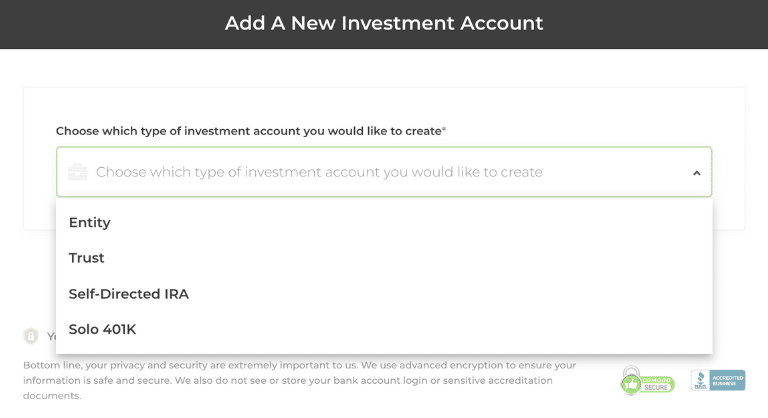 Common accounts typically include self directed IRA's (also known as the SDIRAs) and Solo 401(k)'s.
Self Directed IRA Definition:
A self directed IRA (aka SDIRA) is like any other IRA – Traditional or Roth – which offers a tax advantaged investment account to build wealth. The difference between SDIRAs and regular IRAs is that you can invest in alternative assets with SDIRAs.
For example, a regular IRA would not allow you to invest in farmland, while a Self Directed IRA would.
Below is a better description of the differences and similarities between a regular IRA and a SDIRA: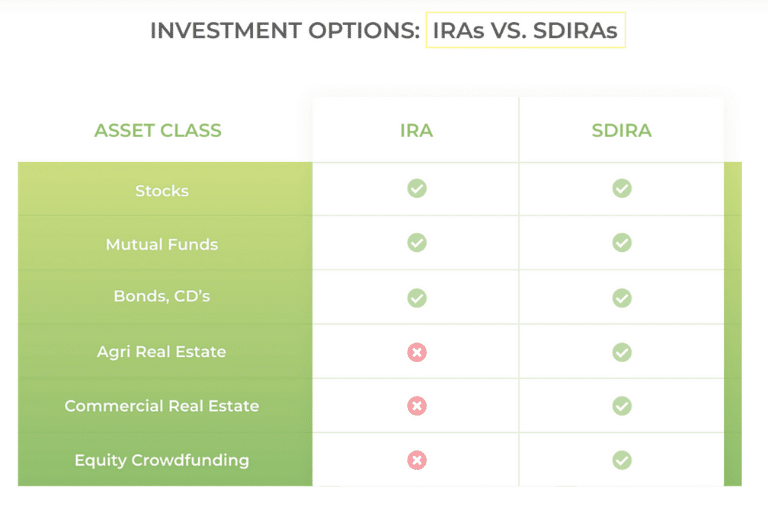 If you don't have a self directed IRA yet and would like to open one so you can start investing, then check out Rocket Dollar's Self Directed IRA.
With Rocket Dollar, you can simply set-up your SDIRA and start investing in alternative assets to build your future wealth.
Typically, you'll have to pay:
A one-time set-up fee 
A small recurring annual fee 
Now imagine that you just invested in farmland for $10,000 in your SDIRA. After 10 years, you discover the value of your shares increased to $100,000.
Pro Tip:
With a SDIRA, you don't have to pay taxes on the appreciation.
You also don't have to pay taxes when the shares are sold and you make a profit – as long as your money still stays in your SDIRA (and you don't withdraw your cash).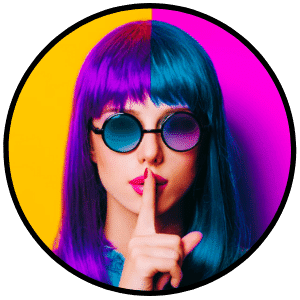 The Bottom Line:
The fact that you can invest in farmland using a tax-advantaged retirement account like a Self Directed IRA can save you a lot of money in taxes, especially as farmland property values are expected to increase.
Selling Your AcreTrader Shares

If you're worried about liquidity and want to sell your farmland shares before the typical 5 to 10 years, then AcreTrader may not be the best option for you.
As of January 2022, AcreTrader does not have a secondary market, so there is minimal to no liquidity.
However, there is good news.
AcreTrader is working to build a secondary market and you can anticipate having this rolled out in 2022.
Secondary Market Defined:
A secondary market is a "backdoor" way for investors to sell out of typically illiquid investments at a discounted price.
I should note the secondary market is strictly peer-to-peer, which means that you can only buy/sell your shares to other investors using the AcreTrader platform.
Typically, the only reason you would want to resort to the secondary market is that you're looking for liquidity (aka you need the cash) before the farmland itself is sold.
Caution:
Selling your shares on the secondary market is also not guaranteed.
So for now, just make sure that whatever you do invest with AcreTrader, you're comfortable keeping invested for a number of years.
How Does AcreTrader Select its Farmland?

The farms on AcreTrader's platform have ranged in total price for $500,000 to $10+ million.
For the most part, however, AcreTrader looks to invest in farms ranging between $2 million to $5 million.
Here's a little more insight:
AcreTrader Farms

Percent of land parcels that make it through AcreTrader's vetting process

Typical Property Locations

- The Corn Belt

- The West Coast

- The Southeast/Delta

International Property Locations

- Rice

- Corn

- Citrus

- Almonds

- Soybeans

- Pistachios

- Vegetables

Can you sell your shares at any time?

When will a secondary market emerge for AcreTrader investors?
Since a large majority of AcreTrader team members have one of the following:
A background in farming
A farming or agricultural degree
…AcreTrader's team has a large network of connections in the farming industry, which allows AcreTrader to connect with well-known and high-quality farmers & operators who know about upcoming land sales.
Since AcreTrader is now established for a few years, word of mouth has also helped AcreTrader's deal flow.
AcreTrader' team of analysts makes investing in farmland easy and increases your chance of generating long-term profits.
Are the Farms Financed?

No, as of January 2022, the large majority of farms have been cash deals – which is very good.
Note:
AcreTrader offers 2 different structures of deals, one known as "sponsor deals" and "row crops," which is the main focus of this review. Row crops generally do not take on debt, while the "sponsor deals" can take on debt.
In fact, take a look at the historical US farmland debt to equity ratio from 1970 to 2018: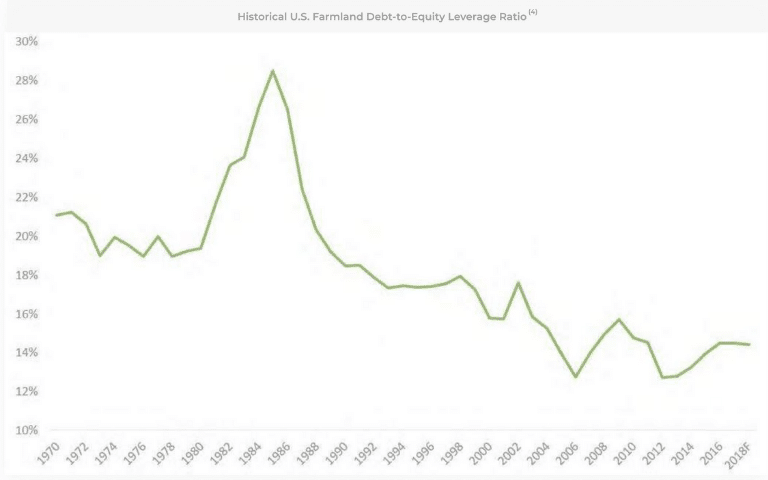 This chart illustrates how the amount of leverage (debt) on farm properties has decreased over the past few decades from a high of 30% to about 14%.
Debt to Equity Ratio Definition:
This ratio is used to illustrate how much debt AcreTrader is using to finance its assets (like farms) relative to the shareholder's equity.
In general, the lower the debt to equity ratio, the better.
In the case of the debt to equity chart above, the ratio is very low, compared to your typical home or other real estate property (which generally ranges around 70% to 80%).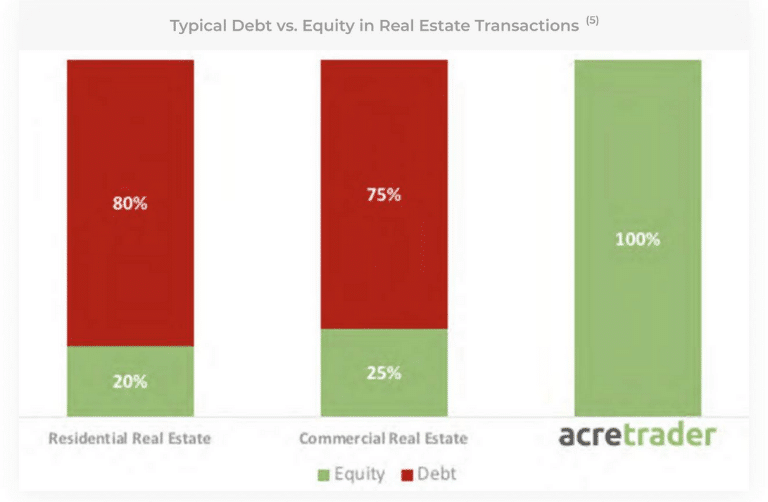 What this graph shows, is that AcreTrader investors actually own the land – and don't have to worry about banks getting involved.
An investment that does not have debt tied to it is typically a very good bet, so I am personally a fan of AcreTrader not financing its farms.
While there will always be risks associated with investing in land, the AcreTrader investments actually seem pretty low-risk (when compared to other private commercial real estate deals).
Who Owns the Farms?

One question you might be asking yourself is "who owns the farms at AcreTrader?"
While you (and probably 100's of other investors) do own shares of a farm, you actually don't own the farm itself.
Rather, you own shares of an LLC, which owns the farm.
If you want to know more about which LLC owns the farm, then simply click on:
Your farm's token card 
"Documents" tab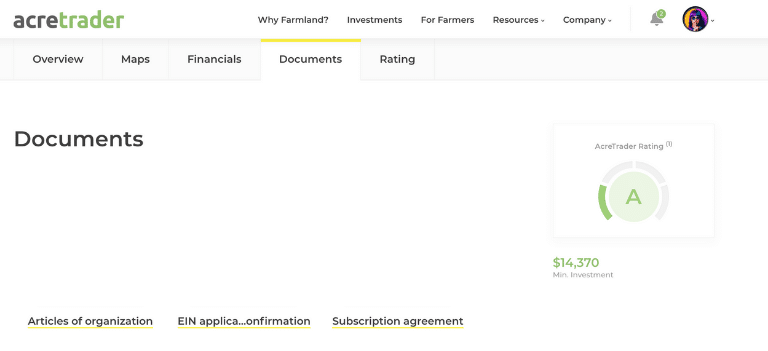 You'll see that each farm has several documents for public access.
In this particular farm's case, you'll see the following documents:
Soils map
Articles of organization
Subscription agreement
EIN application confirmation
If you want to find out who your farm investment property is actually owned by, click on the 2 following documents:
Articles of organization
Subscription agreement
The articles of organization are typically a one-page document, signed by the Secretary of State, acknowledging your formation of an LLC.
If you want to learn more about the LLC itself as well as the duties and rights of the LLC itself and each LLC member (which could be you, assuming you buy shares of this LLC), then click on the Subscription Agreement.
Subscription Agreement Definition:
Generally speaking, the subscription agreement is a multi-page document (typically between 30 to 50 pages long), outlining the various details for each farm.
In this case, AcreTrader 188, LLC corresponds to a farm that was available to investors and is also known as the Erie Farm.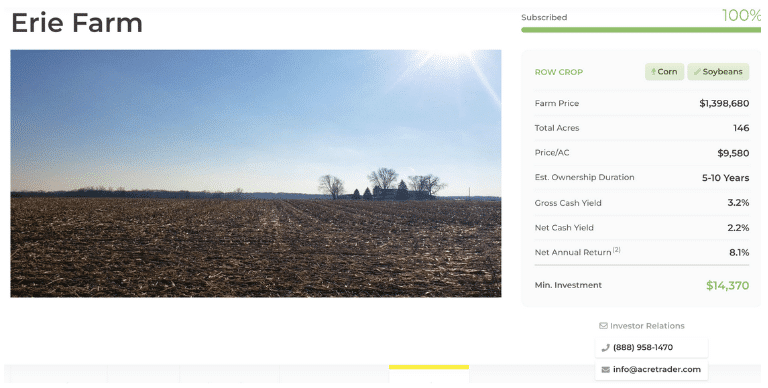 It's actually very advantageous to have an LLC own a property.
Why?
Pro Tip:
If an LLC owns a property, your personal liability is limited (typically to the amount of money you invested).
Keep in mind that because you're technically a part-owner of an LLC, you should expect to receive a tax form that's called a K-1 at the end of each tax year.
You'll want to keep the K-1 document along with your other financial statements to file with your tax returns.
What Happens if All Farms are Sold Out?

While AcreTrader does offer multiple farm properties, AcreTrader investors snatch up these farms fast.
So, there is not much to choose from.
As an example, as of early January 2022, there was no farmland to invest in, so just one token appeared under the "Investments" tab: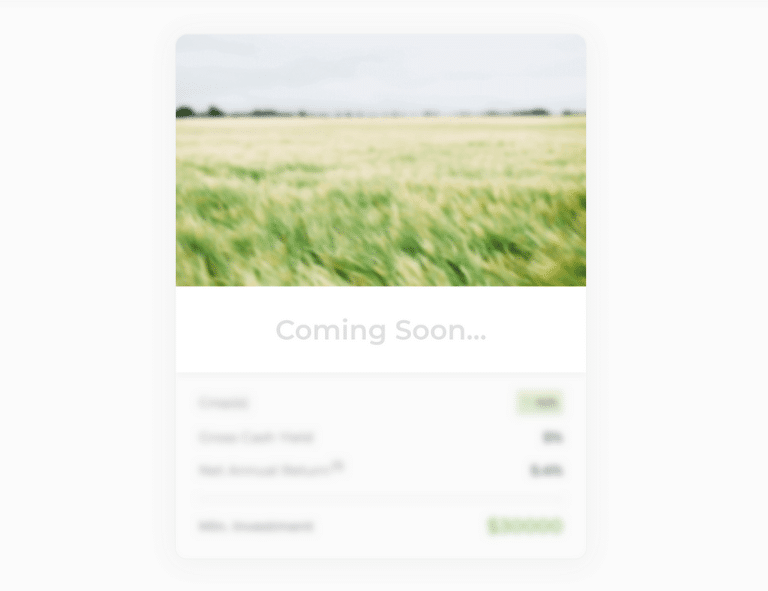 If you see a "Coming Soon" token, you'll know that:
AcreTrader is working hard to publish its next investment property
And, a few days later, I checked back into AcreTrader and found the following token card under the Offerings Section: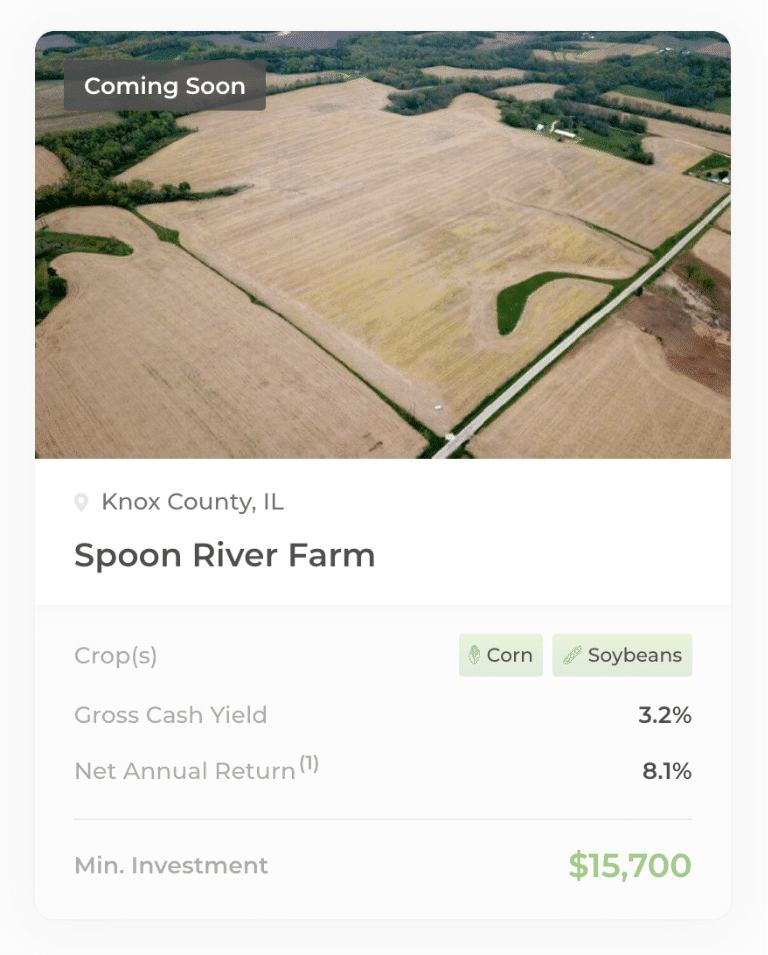 Note that you'll still see the "coming soon" title at the top, left of the token.
This means that:
The property is in "preview mode"
AcreTrader has a property that's ready to open for investment
AcreTrader is working on an educational webinar regarding the investment
AcreTrader is preparing emails, text alerts, investor discussions, etc. for the new investment
AcreTrader aims to offer a "preview mode" to farms on the website for at least 24 hours before the property is available to invest in.
Pro Tip:
AcreTrader is typically very good about updating its "Current Offering" section weekly to show the latest current and future farmland investment options.
So how do you combat this problem of scarcity?
If you see a "Coming Soon" token like the screenshot above, you'll want to click on the token itself.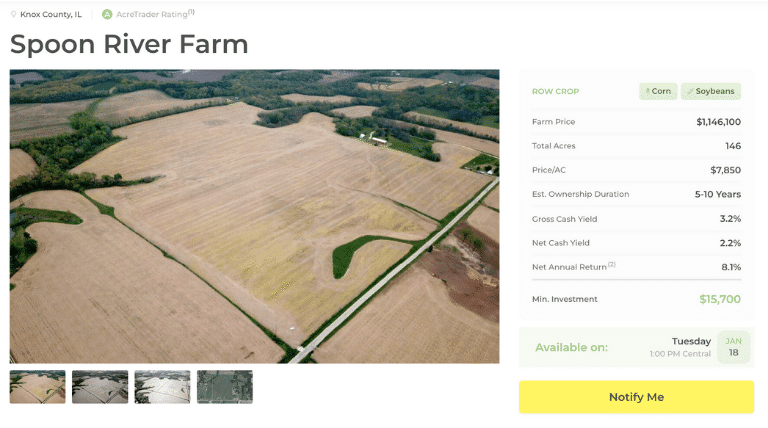 Once you've clicked on the "Coming Soon" token, you'll find all of the information you need about the investment itself.
Pro Tip:
For future offerings, AcreTrader will list a future date for when you can expect the farmland offering to go live.
In this case, the Spoon River Farm investment will go live on Tuesday, January 18 at 1 pm Central Time.
You'll also notice the big, yellow button that says "Notify Me."
If you want to receive a notification for when the shares for a future offering go live, then click on this button next.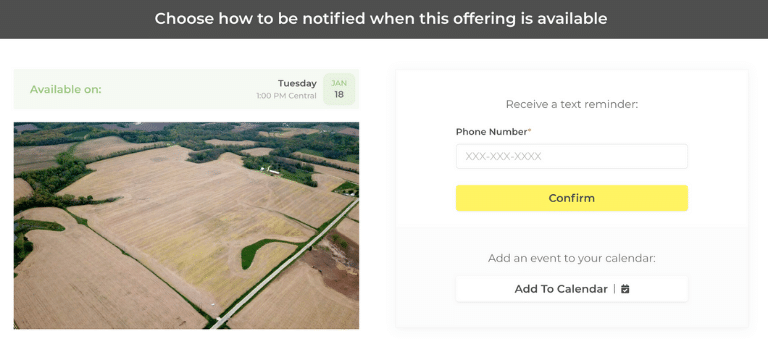 You can input your cell phone number here so that you can receive a text message once the offering goes live.
And, if you're serious about investing first, then you can even add a reminder to your calendar!
Note:
Unlike some other alternative investing platforms, AcreTrader does not offer the option to reserve shares in advance.
So, if you're really interested in reserving future farmland shares, the "Notify Me" feature might be a good idea for you.
Timber Investments

The latest edition to AcreTrader is timber investments.
Timberland is an agricultural product that also consists of growing trees (either naturally occurring or planted).
Timber has shown proven results over the past 3.5 decades.
In fact, the US accounts for about 65% of the global investable core timber markets.
Take a look at the variety of timberland ownership across the US: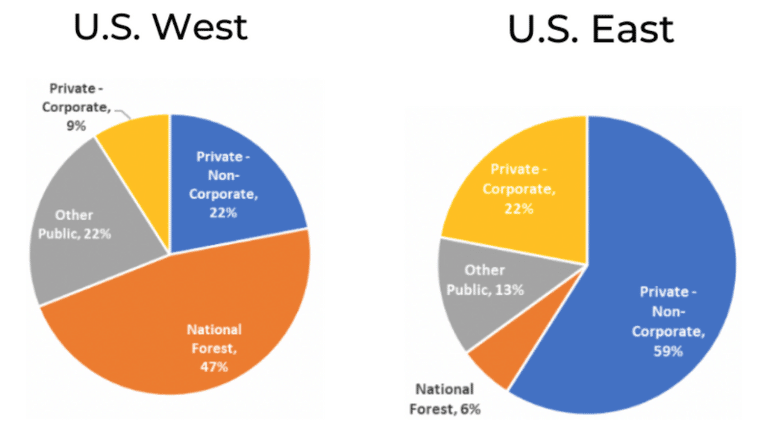 Investing in US Timberland has formerly only been available to institutional investors such as:
Pension funds
University endowments
Private equity investors
Not anymore.
Thanks to AcreTrader, Timberland investing is now also open to individual investors.
Check out the graph below, which shows the growth rate vs. volatility for Timberland investments: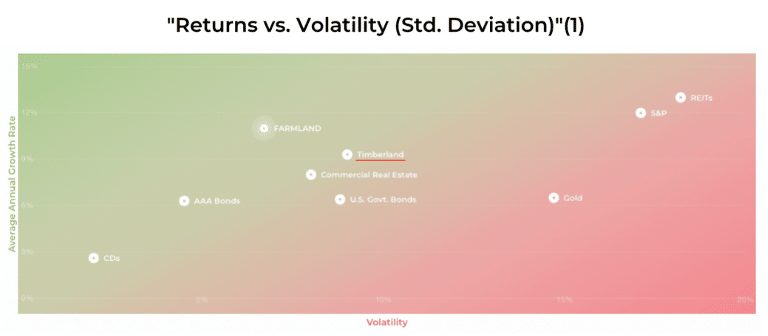 Over the past 35 years, Timberland (just like farmland) outperformed traditional assets like:
CD's
Gold
Bonds
Commercial real estate
And while timberland has not outperformed the S&P 500 or REITs, timberland is a good hedge (or a way to diversify) your portfolio.
That's because timberland is not very correlated to the stock market, as shown in the graph below: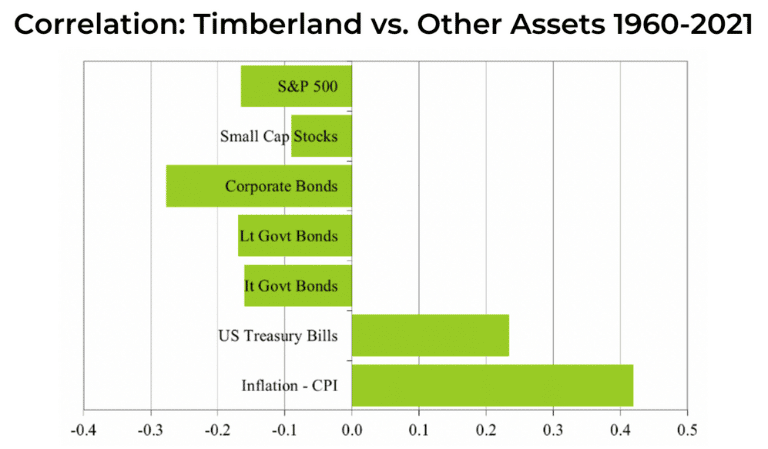 If timberland had a correlation of 1.0 to the stock market, then both asset classes would move in tandem.
The closer the correlation is to -1.0, the more likely it is that the asset classes are inversely correlated.
AcreTrader has just opened timberland investments to the public: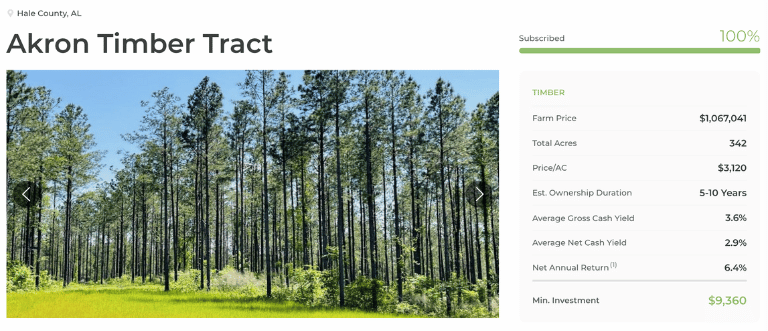 And as you can see, timberland investments are very popular with AcreTrader investors – so these opportunities sell out fast.
Check out some of the additional pros and cons of timberland investing below:
| Timberland Pros | Timberland Cons |
| --- | --- |
| Earn passive income from timber harvest | |
| | Volatility in supply and demand for wood products |
| Non-timber income (including land leases, etc.) | Regulatory risk (political/environmental pressures) |
Timberland is clearly a unique investment class of its own – and can certainly provide the diversification, cash flow, and steady returns that your portfolio may need.
Keep in mind to always research before you commit financially.
Why Farmland Investing?

Think about it: Our population is constantly growing and what do we need to live?
We need:
Land to live
Land to produce food for us to eat
Now, we need to let the basic laws of supply and demand do the math for us: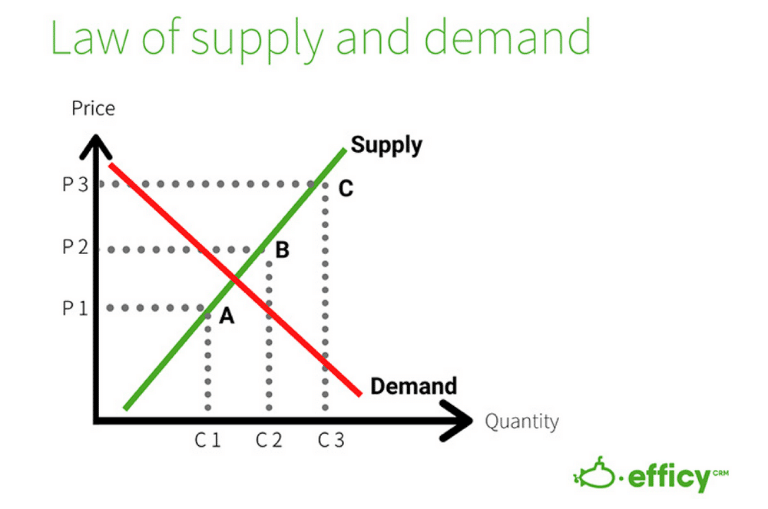 As our supply (land) decreases because more people need land to live, the demand increases.
A lower supply and higher demand lead to higher prices.
And higher value is exactly what we, as investors, are looking for, especially when considering the long-term returns of farmland investing.
That is a 2,058% return.
Take a look at this chart from AcreTrader, which shows the stable and positive returns of farmland (the lightly shaded green line) if you had invested $10,000 in 1991:

The only other asset class that has outperformed farmland, according to this chart, is REITs (real estate investment trusts) like those offered through platforms such as Fundrise.
And unlike REITs, farmland is much more stable, especially during volatile economic periods.
In fact, in the past 50 years, farmland value has only declined in 5 years.
This can be shown by the graph below, which illustrates the value of farmland from 1968 to 2018: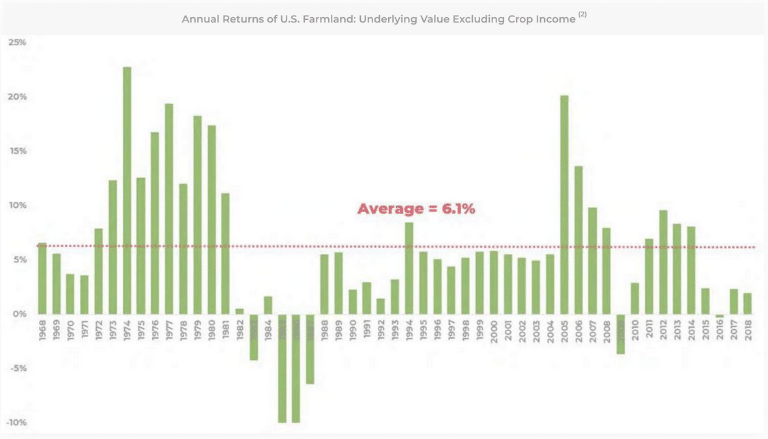 The 3 negative consecutive years in farmland value (1985 to 1987) were poor because of:
Oil crisis
Interest rate crisis
Moreover, if you had invested in farmland during this time period (1985 to 1987), the value of your land would have increased by more than 400%.
Let's take a look at the value of farmland in the United States.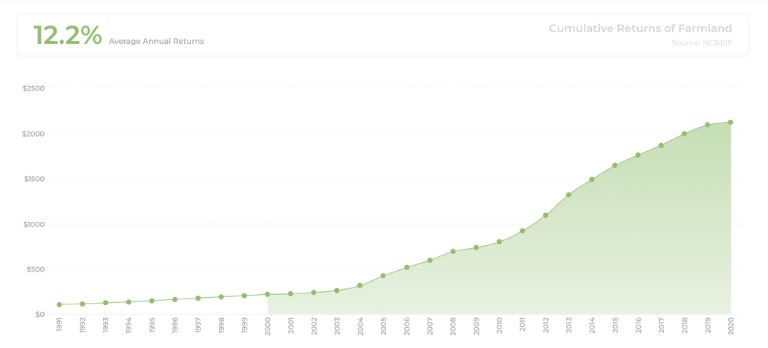 According to this graph, in the past 20 years, US farmland has provided average annual returns of 12.24% with very low volatility and fluctuation.
You can see the top 5 states with the highest farmland returns so far: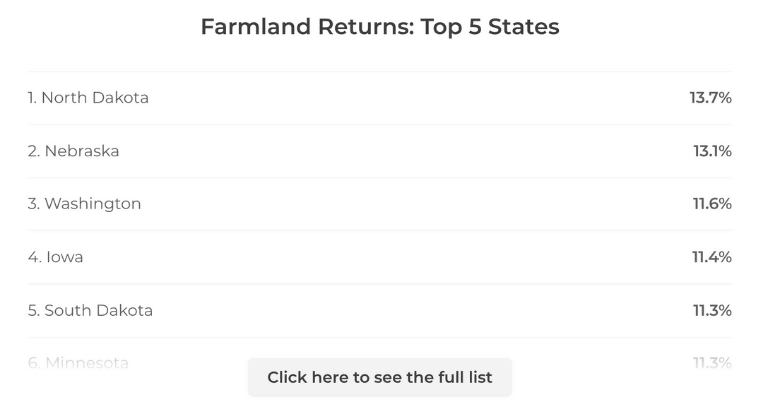 Moreover, US farmland has consistently performed at the same or better than other assets including:
Gold
S&P 500
US Treasury Bond
Dow Jones REIT Index Return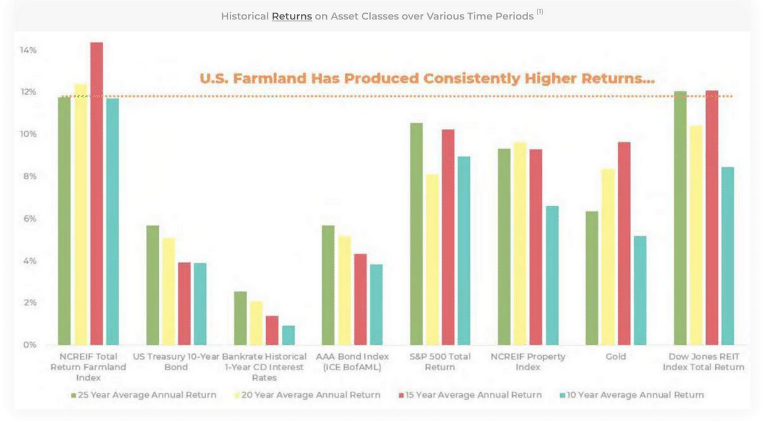 The screenshot above illustrates farmland returns (the bar graph on the furthest to the left).
While the farmland returns were so high, the volatility of this asset class is still relatively low, compared to other asset classes, which is a very good thing: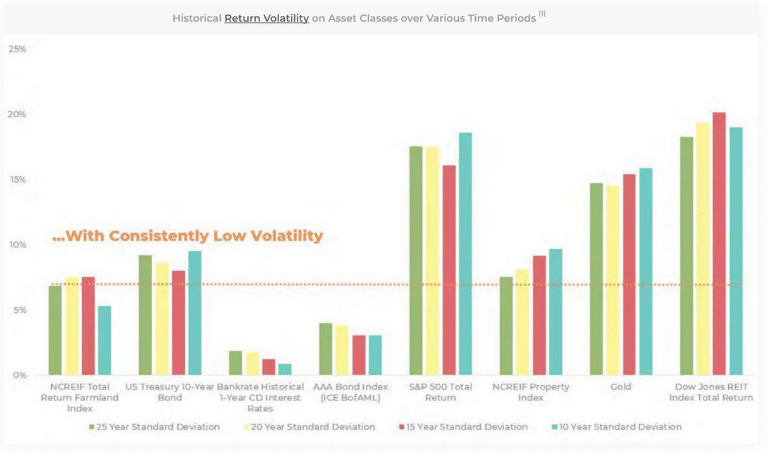 Based on this information, there certainly seems to be value in farmland investing.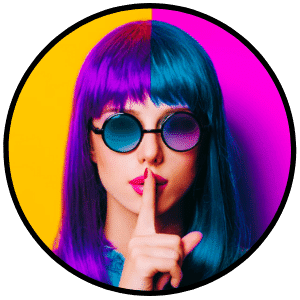 The Bottom Line:
Investing in farmland has historically proven to show positive returns. And even if the value of your land decreases or stays the same, keep in mind that you keep earning passive income through rent payments, which is an important benefit.
AcreTrader Education on Farmland Investing

Do you want to diversify your investment portfolio with farmland but really don't know much about the farm world?
You're not alone (I'm right there with you!).
AcreTrader realizes that most people may not have a background in farming.
So, the AcreTrader platform has found a solution for farm investor newbies by providing quality educational content.
Take this beautiful farm in Tehama County, California, for example: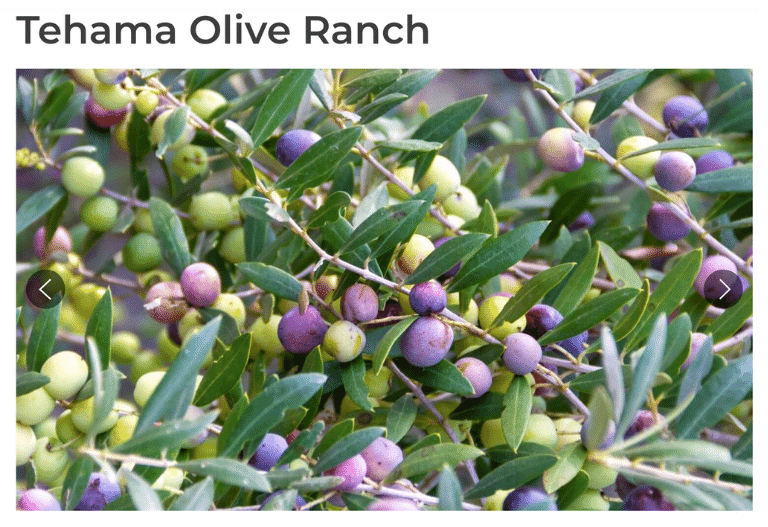 If you're interested to learn more about this farm, you can see all the important facts if you click on this farm property.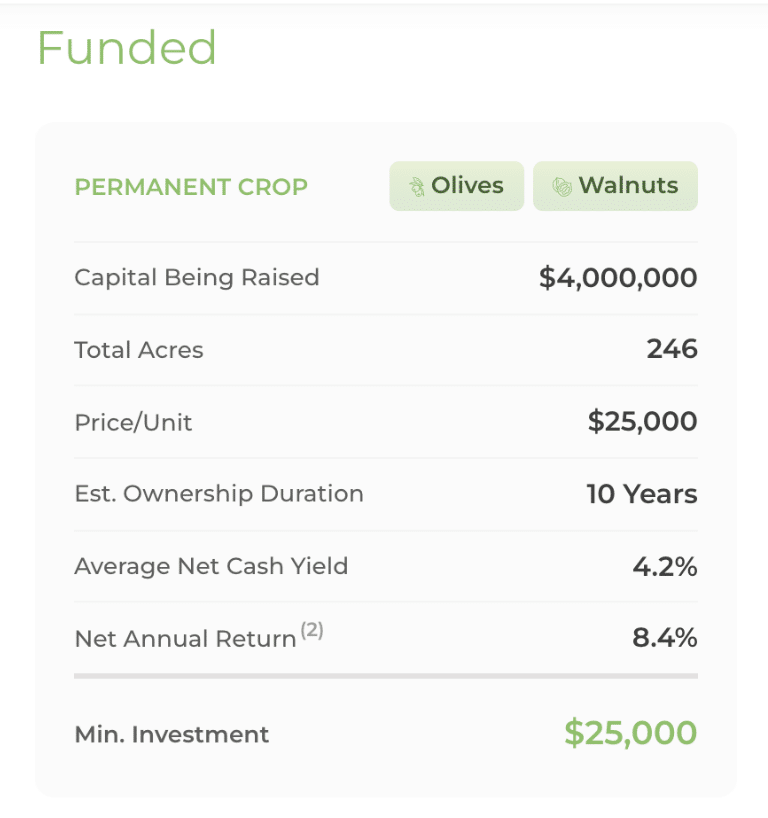 The facts for each farm can include:
Crop type
Risk factors
Price per acre
Net annual return
Financing information
Articles of organization
Historical market return
…And a bunch of other details that serious investors will want to know first.
Here's a list of the additional educational resources AcreTrader offers its investors:
AcreTrader Educational Resources

Thorough details and descriptions of each farm.

This section lists net expected annual return, future projections, articles of organization etc.

You can find the facts and figures if you click on each farm under the "Investments" tab

AcreTrader's library of educational materials, which posts regular articles about a broad range of agriculture and investing topics, from inflation hedging strategies to farmland valuation tips.

Includes information about:

- Selling a Farm
- AcreTrader 101
- Passive Income
- Investing Fundamentals
- Farming Fundamentals

The Farm Value Tool (found under the "Resources" tab) is an interactive tool that lets you understand by how much specific farmland (based on geographic region) has increased in a certain period of time

AcreTrader offers candid FAQs, where the platform lays out the pros and cons of investing in farmland and addresses other commonly asked questions

Keep in mind you can reach a dedicated customer service and investor relations team (using many different channels such as email, phone, private message, social media, etc.), where you can speak to a human if you are in search of answers
As you can see, AcreTrader certainly doesn't keep you in the dark.
Granted, some of the research articles and data can be pretty dry (but educational and unbiased).
However, if you're wondering how (and where) your hard-earned money is going, I would definitely recommend you do your research first.
How to Open an AcreTrader Account

Are you ready to start investing in farmland?
First, head to the AcreTrader website:
Then, click on "Get Started" or on the yellow "Sign Up" button, in the top, right-hand corner.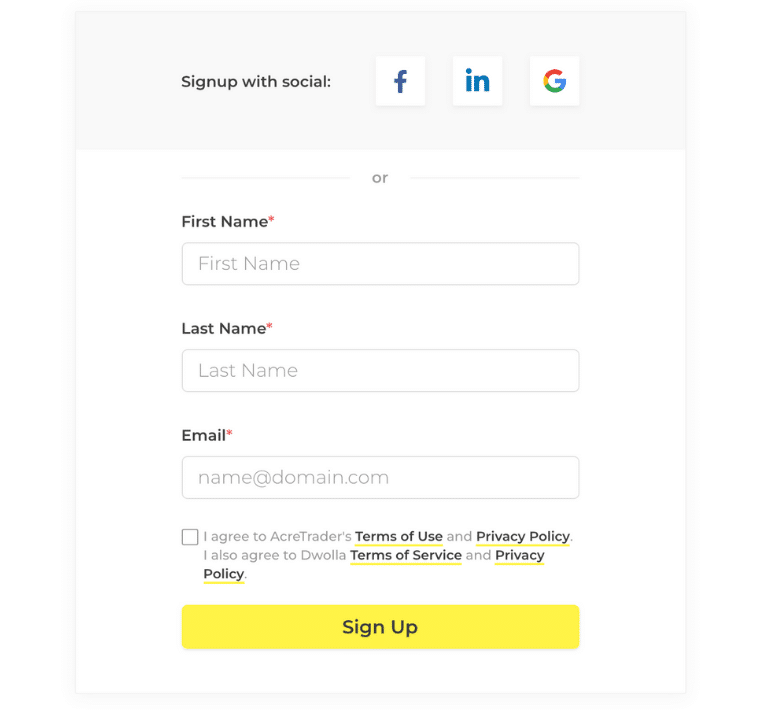 Next, include your first name, last name, and email address to continue.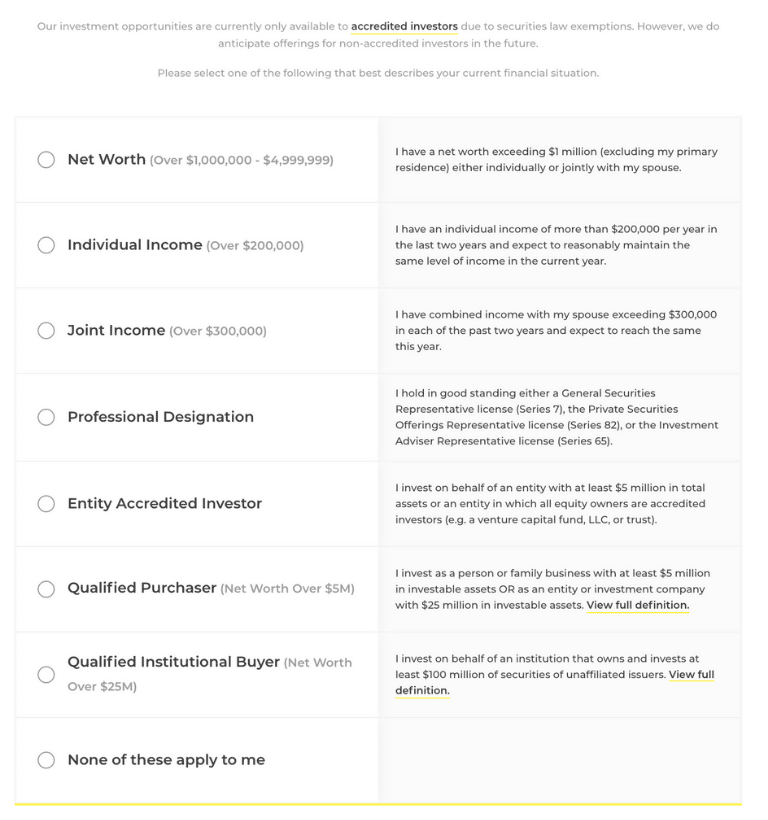 Remember that to invest with AcreTrader, you need to be an accredited investor.
This means you need a certain liquid net worth – typically over $1 million – or you need to be earning enough income.
As you can see in the screenshot above, you will have to explain which of these points describe you.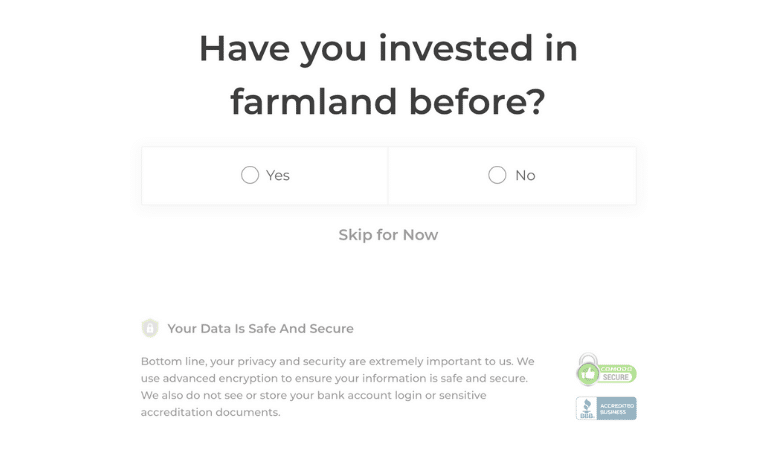 You'll be asked some additional personal questions about your investing experience in farmland (like the screenshot above).
The good news is that if you don't feel like answering these questions right now, you can skip them.
Finally, you'll be asked to open your account by adding your phone number and a password.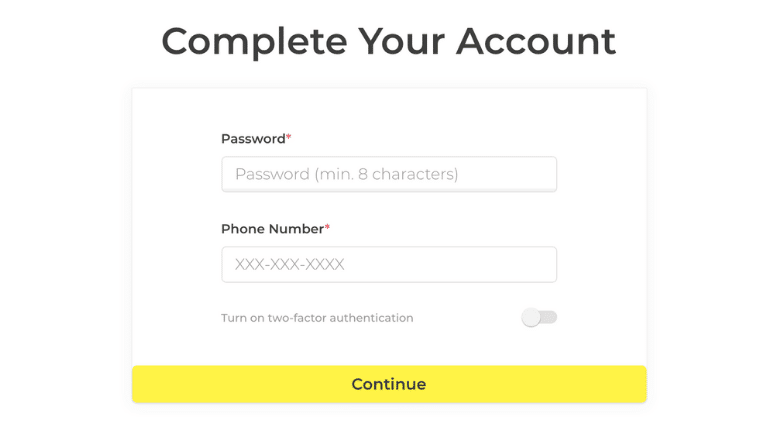 Once you've inputted your information, click continue.
You'll land straight in your AcreTrader investor portal.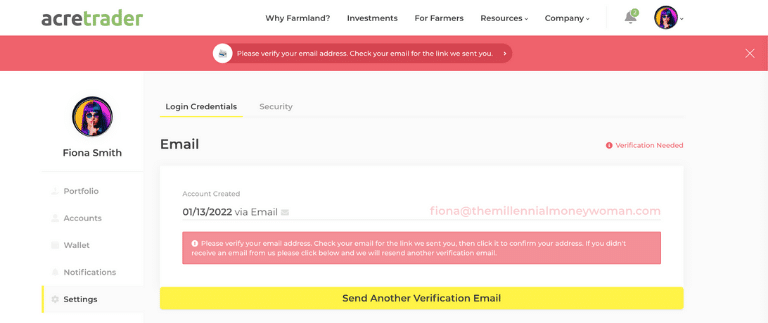 You'll notice the big, red stripe across my investor profile.
The red stripe indicates that you need to verify an email that was sent to your email address from AcreTrader.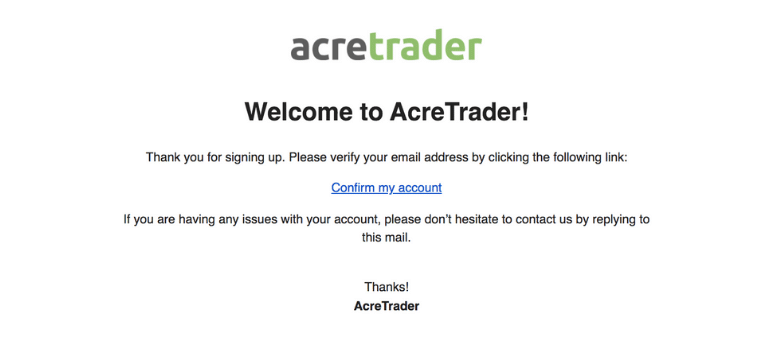 You'll want to click the blue verification link, that says "Confirm my account."
When you click the hyperlink, you'll be redirected back to the AcreTrader platform to re-input your:
Once you've verified your email address, you should be able to re-access your investor profile without any issues.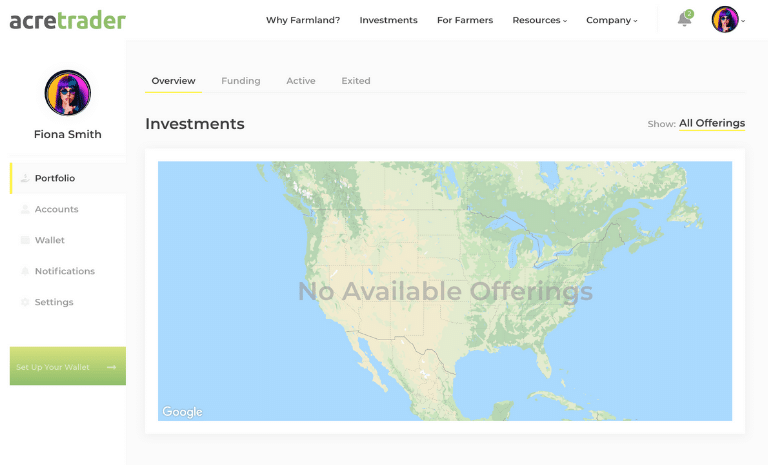 Of course, the big, blank map of the United States that says "No Available Offerings" is not exactly what I was hoping to see…
A few days after I created my AcreTrader account, I hopped back into my platform to see if there were any updates.
As it turns out, there was a new farm offering, so now my blank map changed to this: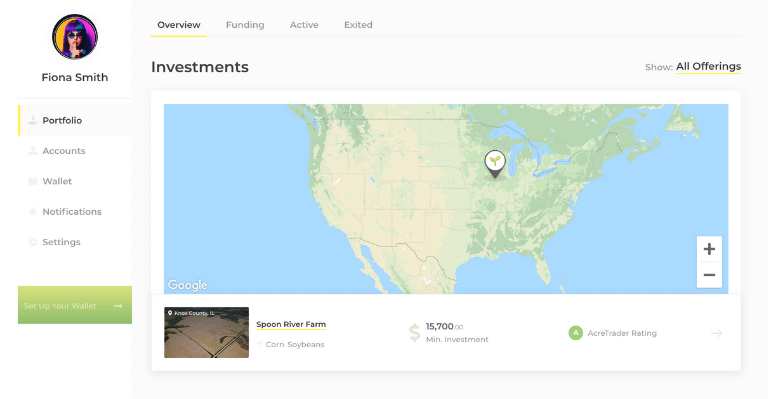 As you can see, if you have available (or even future) offerings, your investment map in your investor overview portal will update and reflect some basic information about the farm(s).
Pro Tip:
The Investment Map will also highlight any farms that you are currently invested in.
I should add that you will also need to complete ID verification information before you can start investing with AcreTrader.
To start the ID verification process, you'll want to click on the "Accounts" tab on the left.

From there, click on the yellow button that says "Fill out ID verification info."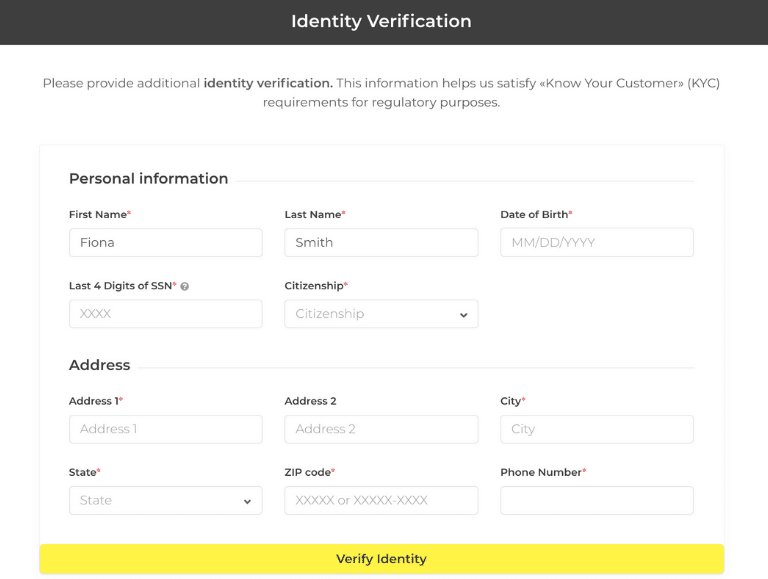 This step is required by law before you start investing and it's part of the KYC rule.
KYC Definition:
KYC (aka Know Your Customer) is a rule typically found in the investment industry, where broker-dealers and other investment companies are required to use a reasonable effort to understand their clients' risk and financial profile before starting the investment process.
KYC rules are also used to protect the financial platform against fraud, money laundering, corruption, etc.
Let's jump back and take a look at your investor overview: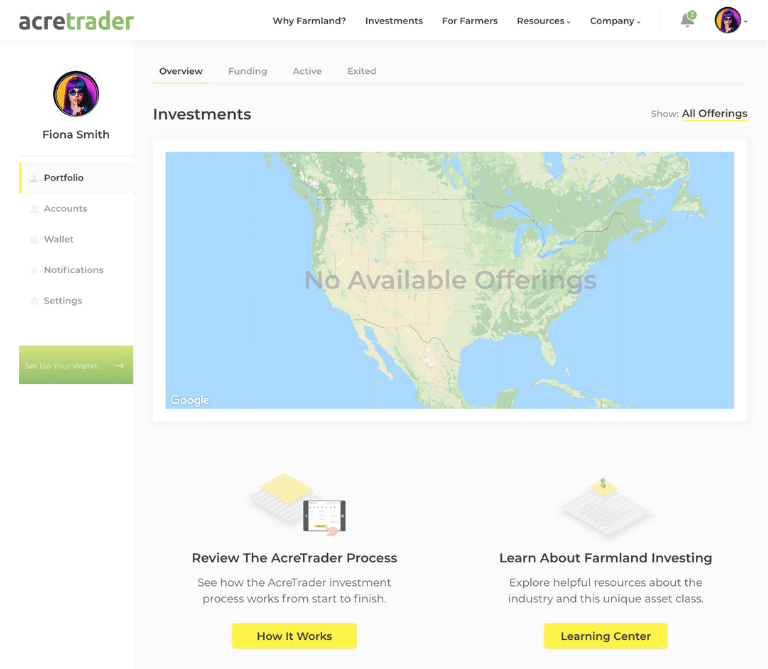 One of the first things I would do is probably click on the accounts button on the left-hand side of my user dashboard.
This step is important because you can designate which type of account you would like to use to invest in farmland.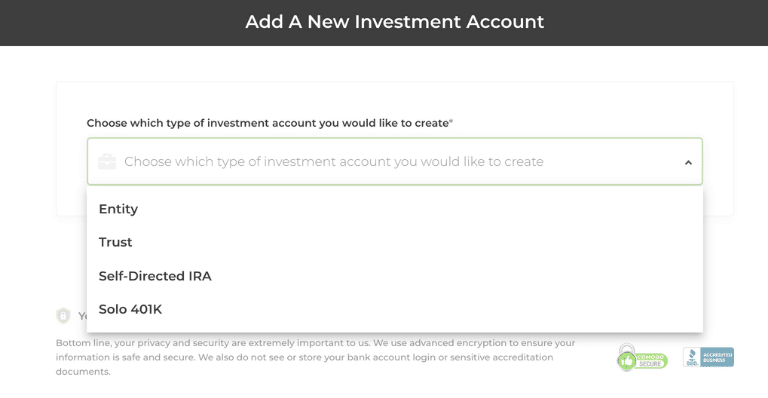 You have the following account options:
Entity
Trust
Solo 401k
Self-Directed IRA
A common choice here would likely be a self directed IRA, or SDIRA.
If you want to learn more about SDIRAs, then check out my earlier section: How to Invest with AcreTrader.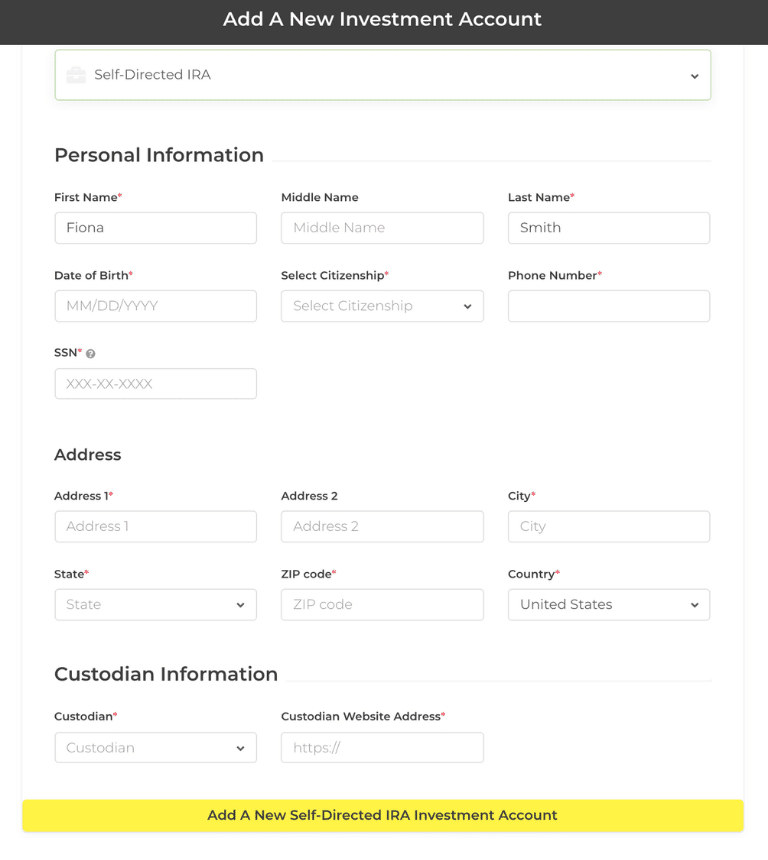 Once you select your account type (in this example, I selected a SDIRA), you'll have to fill out your personal information and click the yellow button.
If you're ready to start investing with AcreTrader, then you can either:
Link your bank account 
Prefund your AcreTrader wallet
I would probably recommend linking your bank account, which means your funds will pull directly from your bank account into the AcreTrader escrow account.
You can do this by clicking on the "Wallet" tab.

You can only transfer funds into your AcreTrader wallet by clicking on the yellow "Load Funds" button.
If you're skeptical about directly linking your bank account, then you don't have to.
Ways to fund AcreTrader investments include:
ACH transfer
Wire transfer 
Link bank account
Pro Tip:
You can add an individual wallet if you are investing on your own. If your AcreTrader account is in a business entity or a trust, then you can establish a separate wallet.
If you do want to add another wallet, all you do is click on "+ Add A New Wallet" from the drop-down menu (see the screenshot above).
You can select the type of wallet you would like to open.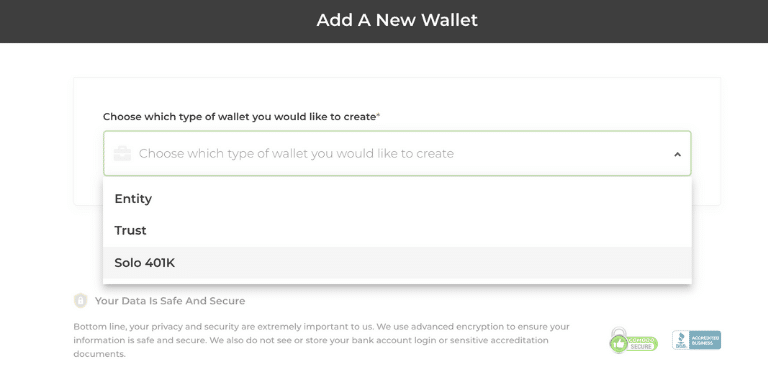 If you do want to establish one of the 3 listed wallet types above, you'll likely have to:
Share your personal information
Share your business/trust information
Upload the organization/formation documents
Share the business controller contact information
To keep things simple, I will use an individual wallet and link my bank account.
To link your bank account, make sure you're on the "Wallet" tab of your investor profile and click "Link Your Bank Account."

After you click "Link Your Bank Account," you'll need to fill in your personal information, routing number, etc.
In all, the entire sign-up process took me about 5 to 8 minutes before I was given access to my AcreTrader account – so this was a fairly fast sign-up process.
Once you're signed up, verified, and have set up your financial accounts, it's time to start browsing the available investment options.
Pro Tip:
Keep in mind that the available farmland inventory is typically limited (about 1 to 2 investments per week).
To start browsing farmland properties, go to your user dashboard and click on the tab that says "Funding."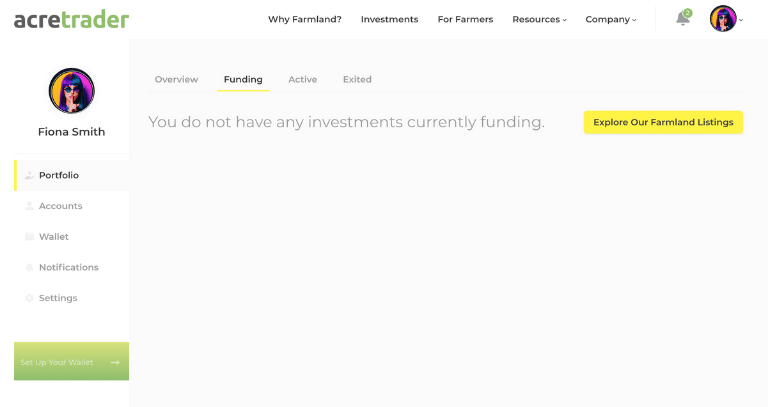 From here, click on the yellow button that says "Explore Our Farmland Listings."
You'll be given access to a list of AcreTrader's current offerings.
At the time I first wrote this article, I was unlucky because all of AcreTrader's offerings were already funded (and this happens more often than not), so I only had a "Coming Soon" token on my dashboard.

However, if you are lucky and find current and available listings, then you might see your screen fill up with tokens like these:

Each token offers a brief overview of a farm for investment.
Typically, the AcreTrader tokens include information about:
Gross cash yield
The location of the farm
The minimum investment 
Picture(s) of the farm itself
The crop(s) produced on the farm
The estimated annual return (dividends plus land appreciation)
With most deals, investors can access a recorded webinar, which does a deep dive on the farm 
If you are interested in a particular farm, all you have to do is click on the token itself, and you'll learn more information.
Take the Erie Farm, for example.
Below is its expanded card in detail: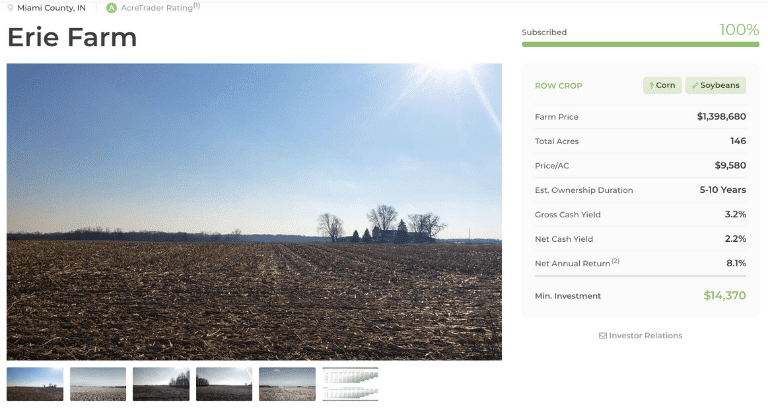 If you take a closer look at this overview card, you'll notice a couple of details:
Farm pictures
AcreTrader rating
Minimum required investment
The funding status of the farm (here, its fully funded) 
Also, you should notice the little white envelope below the "Min. Investment" number.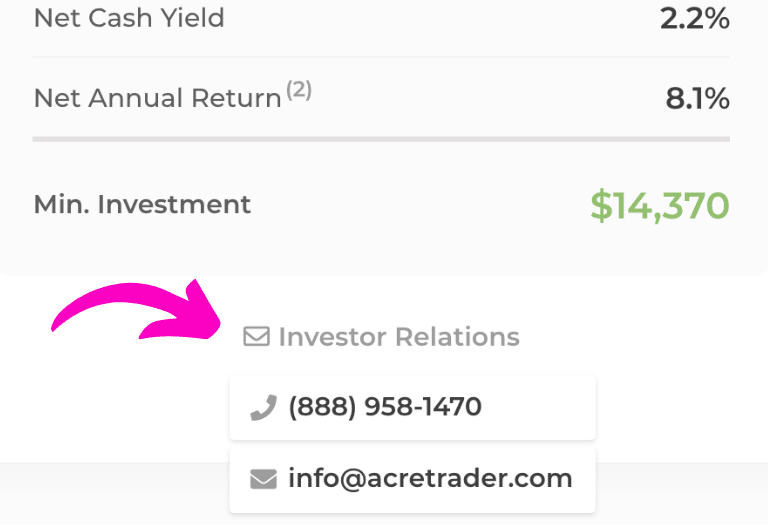 If you ever have difficulty investing or have additional questions about a particular farm, then this is where you can contact the Investor Relations team at AcreTrader to help you.
I want to direct your attention to the pictures, specifically the last picture (like for the Erie Farm).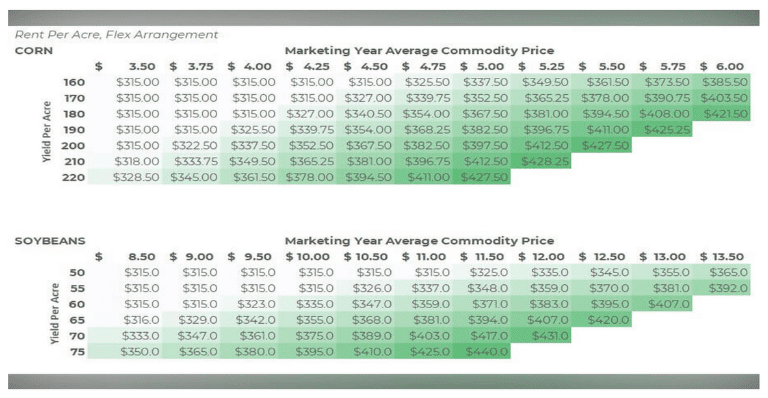 If you're very interested in the returns of specific crops per acre, then AcreTrader also offers you more insight into the average annual returns for each commodity, as shown in the screenshot above.
In addition to these details, you'll also notice the tabs at the bottom of the screenshot.
Here, you can select to go into further detail for each investment farm:
Maps
Rating
Overview
Financials
Documents 
Honestly, I've scrolled through a lot of farm offerings (future, current, and past) and only saw A-rated farms on AcreTrader's platform.

While this rating might be biased (since AcreTrader is the one who came up with the rating scale), I still think that it's good to add some sort of quantitative feature for each investment opportunity.
Let's take a look at the Overview Section.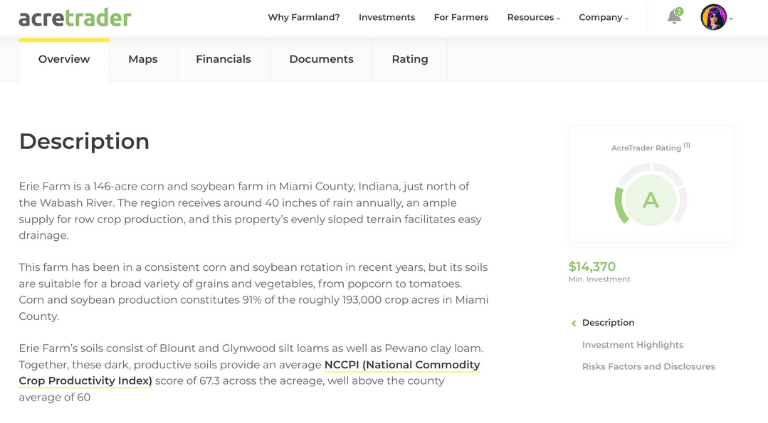 Under each farmland offering token, in the Overview section, you'll find information about:
The farmland itself
The farmland rating
Farmland investment highlights
Risk factors and other disclosures 
Personally, I'm a big fan of the Investment Highlights section.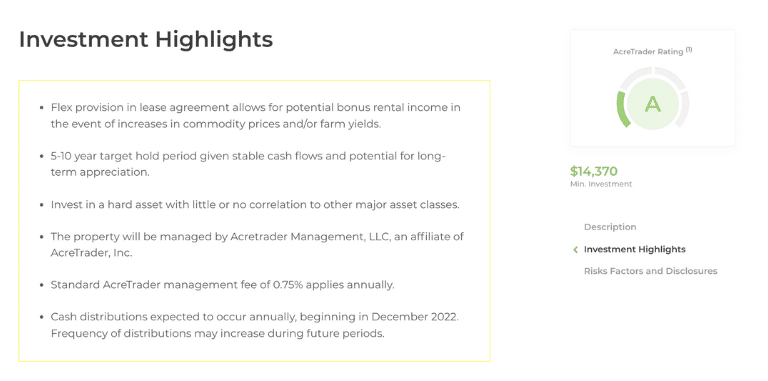 If you're looking for a big-picture pitch about a specific farm, then this is the section for you.
Let's take a look at the next tab, which is called "Maps."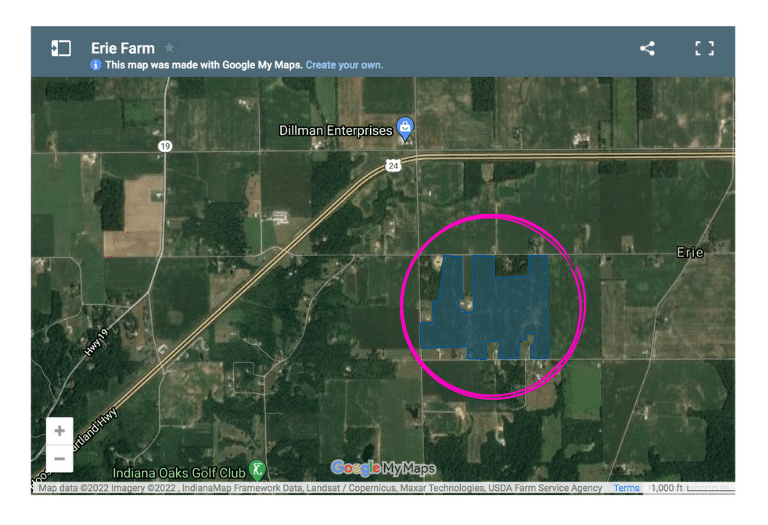 This is the map identifying the farmland property that you would be investing in.
The map itself is interactive as well, so you can zoom out, zoom in, etc., and see where your farm property is, relative to big cities.
Let's move to the next tab, "Financials."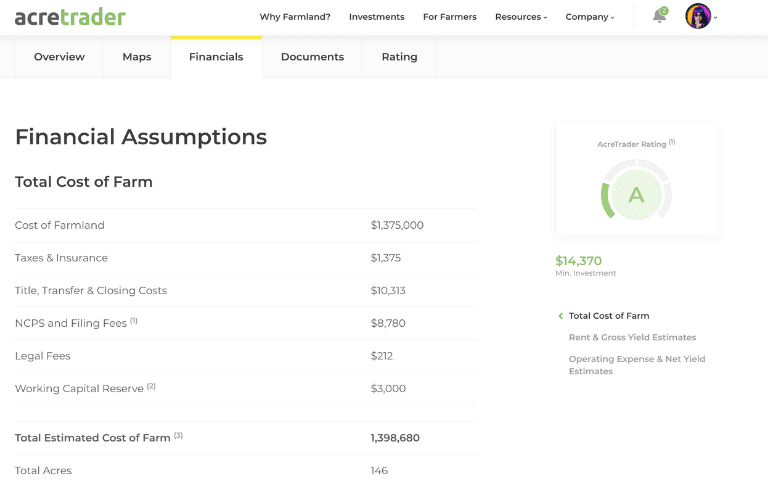 Under the financials tab, you'll notice several sections:
Total Cost of Farm
Rent and Gross Yields Estimates
Operating Expenses & Net Yield Estimates 
I would highly recommend you review the financials section with care so that you also know what type of farm (financially speaking) it is, that you are investing in.
Let's check out the next tab, titled "Documents."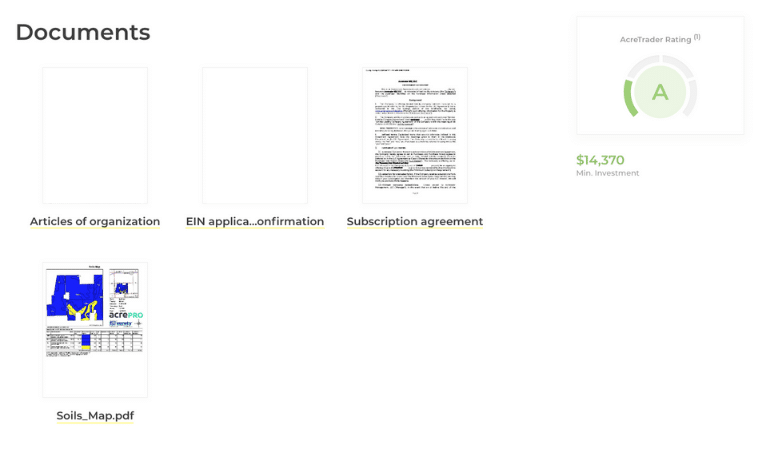 While this might not be the most interesting section, it's still important to review so that you have a better idea of what you're investing in.
Specifically, my first go-to documents would be the articles of organization and subscription agreement.
Articles of Organization Definition:
The articles of organization is just another word for a formal, legal document that officially establishes a limited liability company (aka LLC).
The articles of organization generally lays out each LLC member's:
Rights
Powers
Liabilities
Obligations
Responsibilities 
In AcreTrader's case, the actual document titled "Articles of Organization" is just a one-page sheet showing the official Secretary of State's signature, while the PDF document titled "Subscription Agreement" actually lays out the LLC agreement.
If you take a look at the Erie Farm articles of organization, you'll notice that the LLC is actually called "AcreTrader 188 LLC."
So, when you invest in the Erie Farm, you are actually buying shares in the AcreTrader 188 LLC (which also helps limit your own personal liability).
Make sure you check out the subscription agreement to understand the ins and outs of your purchase.
Pro Tip:
If you invest in a farm property, then consider saving each PDF document on your own desktop computer for future reference.
I should also note that you can access these documents post-investment through your AcreTrader dashboard.
If you want to learn more about the farm soil itself, then it might make sense to check out the "Soils_Map" document.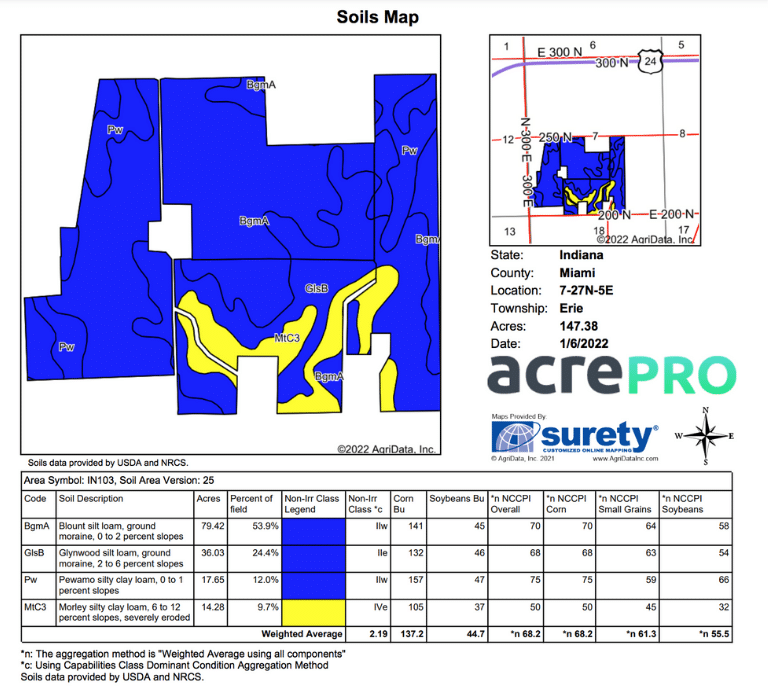 Honestly, this is gibberish for me, so I really don't know the meaning of this soils map.
But, I think that it's still good to have as a supporting document for your file.
Let's move to the last section, the "Rating" tab.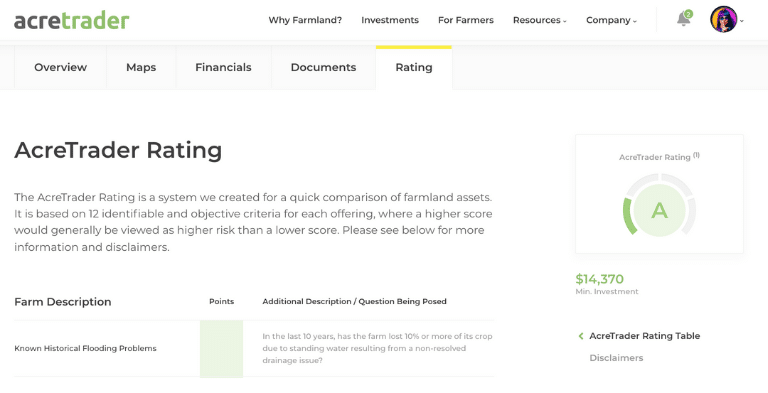 This last section explains why the Erie Farm (for example) received an A rating and not a lower rating.
The AcreTrader rating system evaluates some of the following features:
Flooding issues
Land sale activity
Loan to value ratio
Water access issues
Proximity of crop delivery points
Whether the farm has a current tenant 
If there are no flooding issues (as an example), then the Erie Farm would receive 0 points for that section.
The lower the score, the better.
Here you can see a screenshot of the Erie Farm's performance: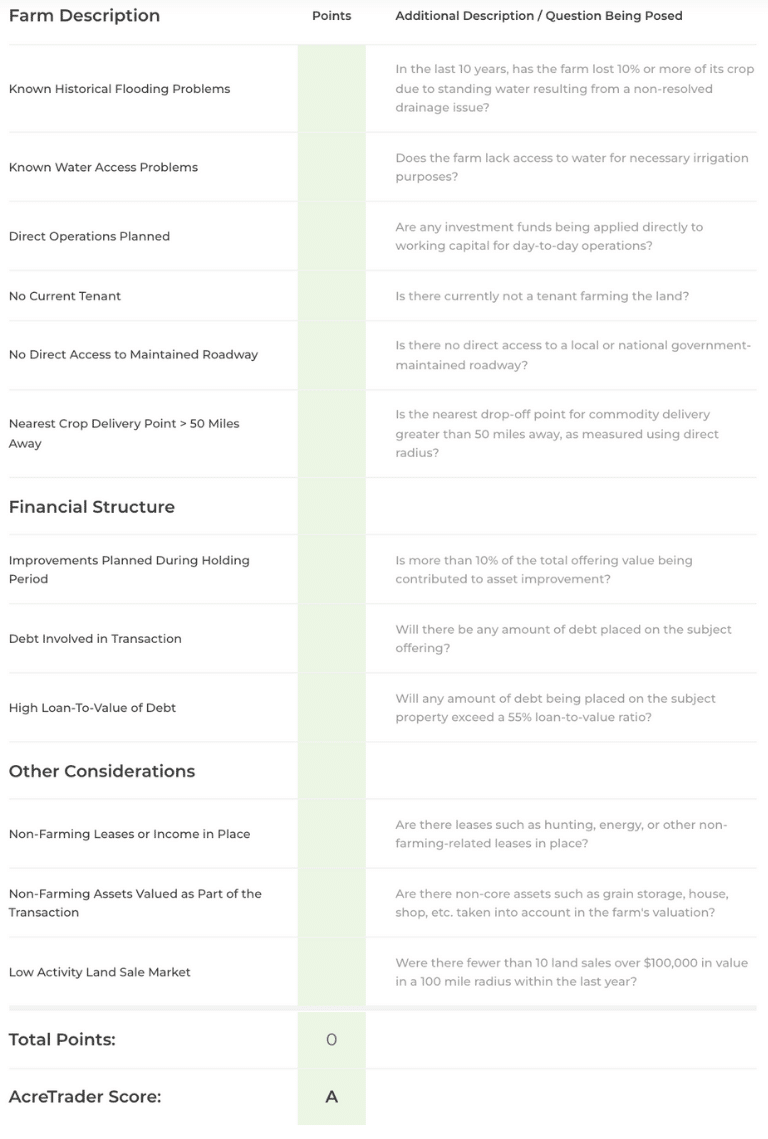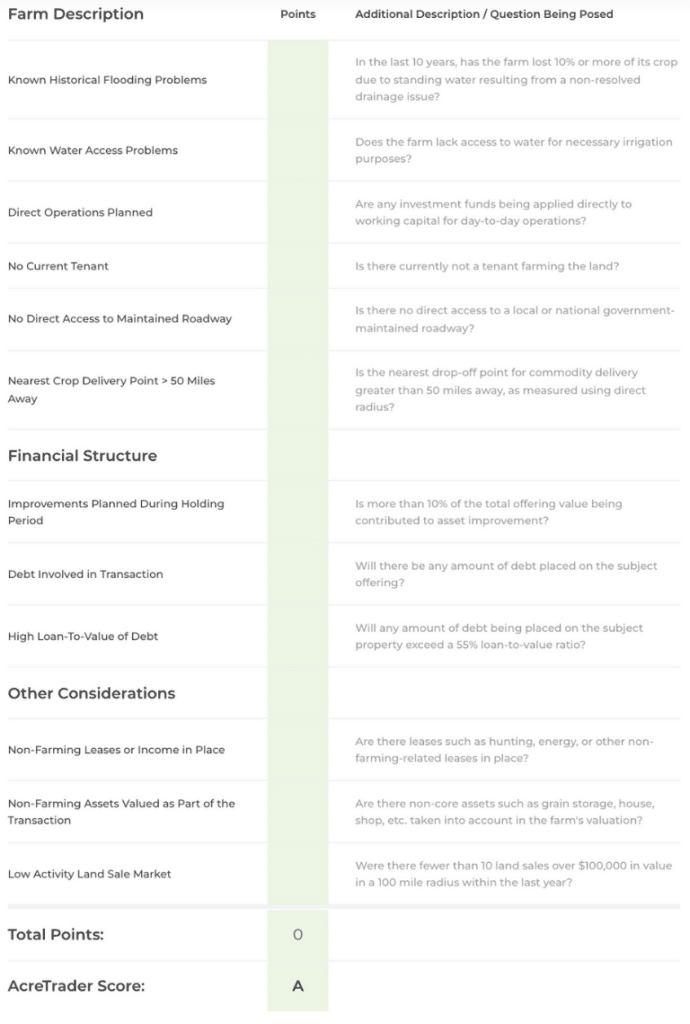 Not only do you have to go by the letter grade and the number on the ranking scale, but you can also go by the color of the ranking scale.
The bluer the color, the lower the ranking.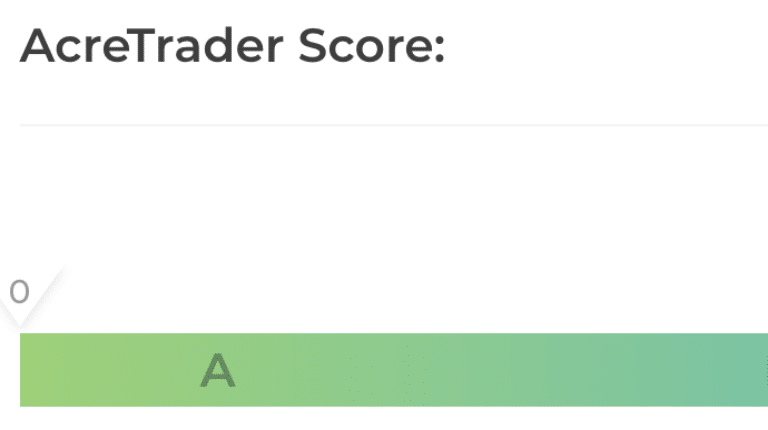 At this point, you should be set-up to start investing in farmland.
Pro Tip:
Remember to invest only as much as you are willing to lose. As with all investments, farmland can be risky and long-term.
Do your research before you commit yourself financially.
Is Your Money Safe with AcreTrader?

The biggest risk with AcreTrader, it seems, comes down to the farm operator.
If the farm operator fails to meet their obligations (specifically making enough money to pay rent to the investors), then you probably won't see the expected annual 3% to 5% return in distributions.
However, AcreTrader does make a point to thoroughly vet each and every farm operator (remember, less than 5% of deals make it past the vetting process).

Below are some additional risk factors that you should consider before investing in a farm:
Farm management
Selling the farm at a loss 
So what happens if AcreTrader files for bankruptcy?
The good news is that your invested money with the LLC won't be lost.
Why?
Think back to the LLC structure.
The LLC owns the farm itself, and you own a number of shares in the LLC.
Pro Tip:
Because you own shares in the LLC, which is a separate entity from AcreTrader, if AcreTrader files for bankruptcy, your investments won't be lost.
Keep in mind, however, that AcreTrader owns the entire platform… so in reality, no one really knows what can happen if AcreTrader does go under.
As with any investment platform, remember that you may lose your entire investment (worst case scenario).
Is AcreTrader Worth It?

The answer is not as straightforward as I wish it could be.
AcreTrader could be worth your time and money if you:
Are an accredited investor
Want to earn passive income
Don't have high-interest debt
Want to protect yourself against inflation
Don't mind having your money locked up for 5 to 10 years
Want to protect yourself against stock market volatility
If you relate to these points, then AcreTrader could very likely be one of the best investment platforms for you.
Especially if you're already invested in the stock market, then you may want to protect your money against stock market volatility.
Pro Tip:
Real estate is a hedge (aka protection) against inflation and stock market volatility.
Farmland can be a great method to protect your overall net worth against the ups and downs of the stock market, as illustrated by this correlation chart below.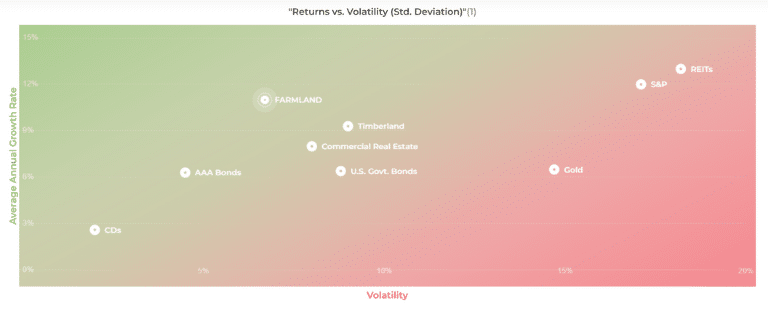 In this chart, you can see that farmland offers the highest returns, for much lower volatility than the stock market (S&P) or REITs (real estate investment trusts).
What does this chart mean for you?
You can take less risk and still have the potential to earn more with farmland than if you were to invest in other, lower-risk assets (like CDs, AAA bonds, etc.).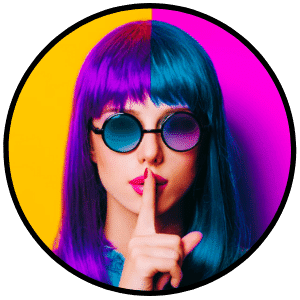 The Bottom Line:
If you want to earn passive income and invest in something that is independent of the stock market, then investing in farmland could be a good choice to preserve and build your wealth.
AcreTrader Alternatives

Not an accredited investor?
Not sure if investing in farmland is the right next step for you at this time?
No problem.
If you're really interested in rental real estate but don't qualify for AcreTrader because you're not an accredited investor, then check out Roofstock 👇
Roofstock is a rental real estate investment platform where you buy a rental home – with the tenants already inside the house.
Why is this a good thing?
The tenants are already pre-vetted
You don't have to put in the work to find new tenants
You start earning rental income the second you purchase the home
There are so many other investing platforms out there as well.
Below are other lucrative investment ideas:
Just remember to do your research – no matter the investment type – before you commit financially.
AcreTrader Review Verdict

Not many people can say they have an ownership stake in farmland.
In fact, investing in land is typically an activity left for the top 1%.
Not anymore.
Thanks to AcreTrader, as long as you are an accredited investor, you can invest in farmland across the country with minimums typically starting at $10,000 to $15,000.
Here's how you use AcreTrader:
Sign-up online 
Browse the available farmland options
Select the farmland you want to invest in
Buy shares in the farmland that you liked
Earn passive income and capital appreciation
Keep in mind that AcreTrader charges asset under management fees (between 0.75% to 1%) and the lockup period tends to be very long (up to 5 to 10 years).
Pro Tip:
While farmland investing is exciting and an alternative form to earn profits and passive income, you should not consider AcreTrader as a replacement for your retirement planning and other long-term investment goals.
I encourage you only to invest as much as you are comfortable losing since farmland investing can be risky, costly, and illiquid.
AcreTrader Review: The Bottom Line

AcreTrader makes it possible for many more people to invest in farmland.
Instead of buying the actual land and managing your farm daily, you (the investor) buy shares of the farmland, typically starting at $10,000 to $15,000 and let AcreTrader do the rest of the work.
While you can certainly make money investing with AcreTrader, it's important to recognize that there are risks involved when investing in farmland, some of which include:
High minimums 
Long lock-up periods 
Limited amount of farmland available 
Only available for accredited investors
Fees are higher than traditional index funds
As you can see, investing in farmland may not be for everyone.
If you feel like farmland investing isn't for you, then you may want to check out other alternative investments, instead.
Caution:
It's so critical that you are cautious with how much money you invest in AcreTrader – and I cannot stress enough to do your own, thorough research.
Think about your options today, because your bank accounts will thank me tomorrow.
What are your thoughts on AcreTrader? Let me know in the comments section below.