I've spent over 5 years in the corporate investment management world, working with clients with a net worth of up to $100 million.
Throughout my time working closely with these millionaires and deca-millionaires, I carefully took notes to discover the path these individuals took to become successful and to answer your question on "how to become a millionaire."
This is a compilation of 9 proven strategies that could help you become a millionaire.
Sneak Peek: Millionaire Planning Tools

Best Investment App 👇
Are you under the impression that becoming a millionaire is super hard and totally out of your reach?
Well, let me be the first to tell you – happily – that you're wrong.
In fact, there are over 1,700 new millionaires created every single day.

In today's world of entrepreneurship, almost anyone who is willing to put in the:
Time

Work

Patience

Dedication
…Will likely see results – over the long term. 
Now, are you thinking that the majority of millionaires became so wealthy because they inherited their money? 
That's wrong, too. 
In fact, 80% of millionaires are from the first generation.

In other words, they started from $0 and built their wealth from the ground-up – the old-fashioned way: Through hard work, grit, and determination. 
Now, let me ask you a question:
Are you doing everything possible now to ensure that your future is what you want it to be?
If you answered:
I'm not sure

I don't know

I don't think so
…Then you're reading the right article, because I'll share how you can change your life around and build the future dream you've always wanted.
How to Become a Millionaire

There are a few tricks to becoming a millionaire:
Become your own boss

Spend less than you earn

Don't take "no" for an answer
I'll discuss these points in depth below, but I did want to point out these factors to you first.
If you're not able to sacrifice a little today, then you shouldn't plan on building a successful future, because becoming a millionaire (unless you win the lottery or receive an inheritance) will take a lot of hard work, patience, and effort.
If you follow the strategies in this article, you'll have a real chance to become a millionaire.
1. Analyze Your Current Situation

Before you even think about your action plan to build your millionaire future, first you need to analyze your current situation. 
Below are a few things I'd recommend for you to analyze:
Debt

Assets

Income

Expenses

Net worth
Let's start by discussing your net worth. 
Net Worth Definition:
Your net worth = assets – liabilities. In other words, your net worth is equal to what you own (your assets) minus what you owe (your liabilities).
You'll want to work toward a positive net worth – but even if you have a net worth equal to $0, that's an awesome start.
The median net worth for Americans age 35 to 44 is $91,300.

Your net worth will typically increase as you age (that's because as you age, you likely increase your income).
When was the last time you checked your net worth?
If you've never checked your net worth before, that's totally OK – you can get started by downloading my free net worth template below.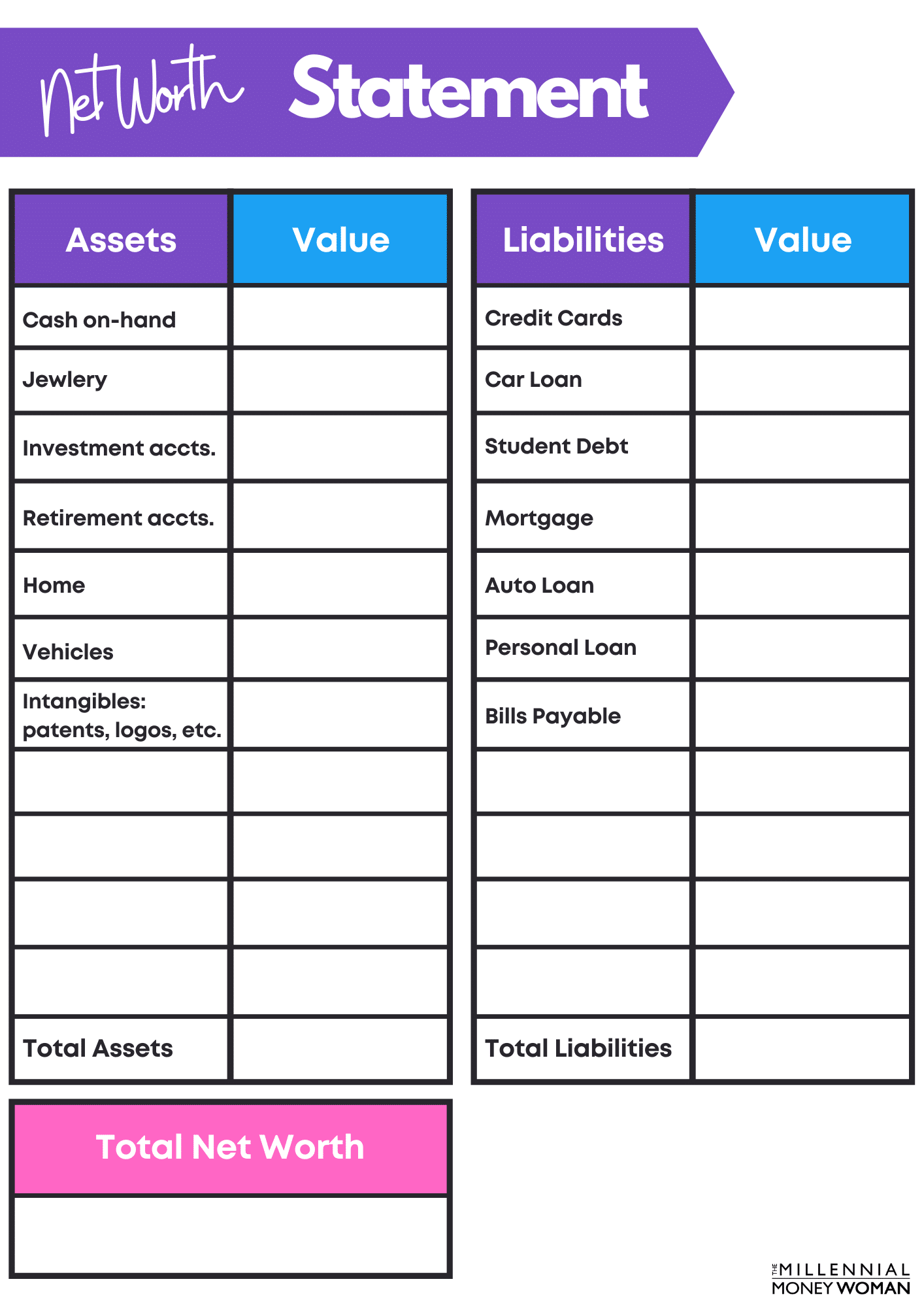 Sign up below to receive my free net worth template and my latest content updates.