Net Worth Statement Guide
If you want to…
Calculate your net worth

Obtain access to a free net worth template

Understand the definition of a net worth statement
…Then continue reading my complete guide on net worth statements!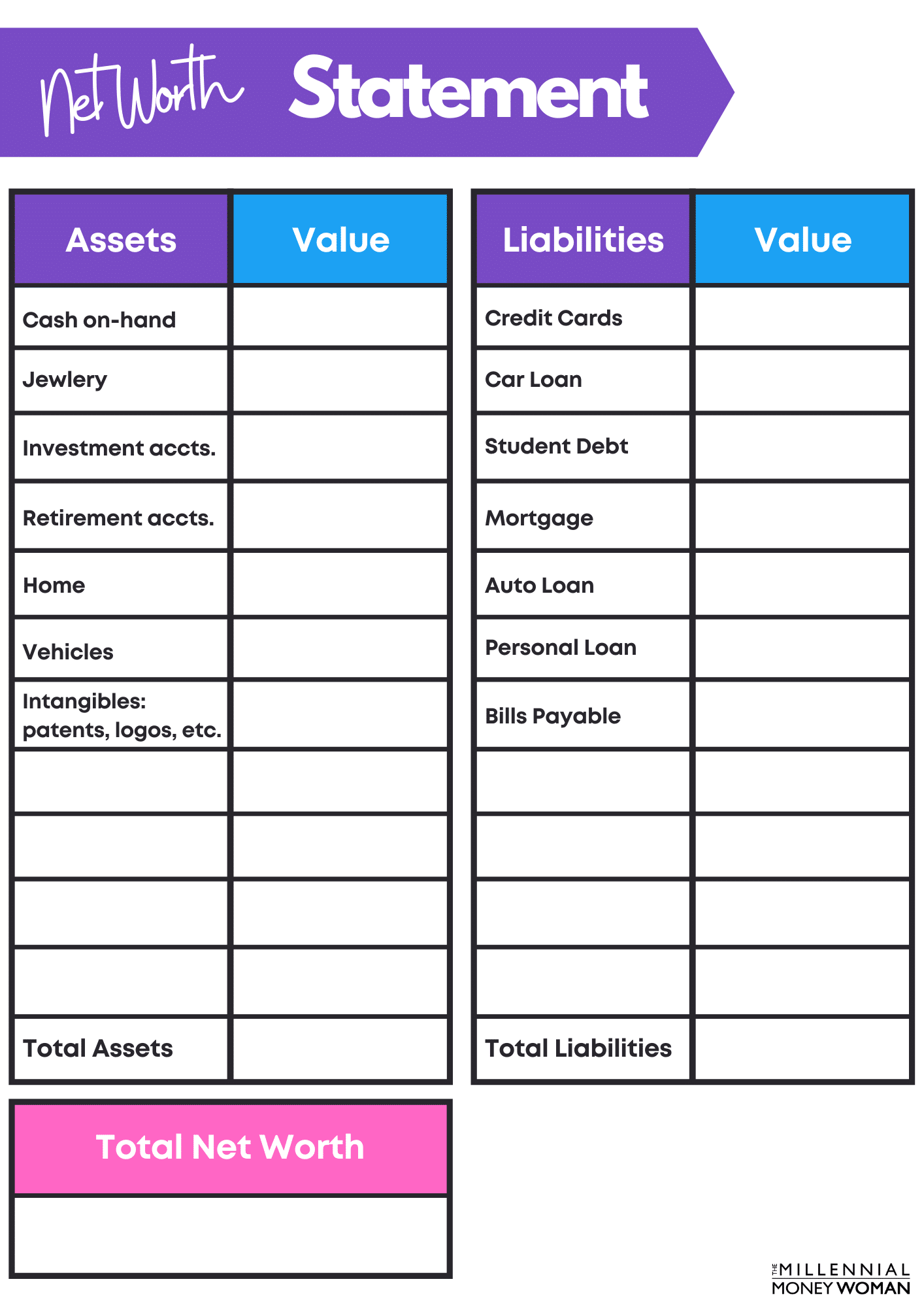 Sign up below to receive my free net worth template and my latest content updates.
What is a Net Worth Statement?

Many of us may ask: What is a net worth statement?
A net worth statement essentially gives you an idea of how much you are worth at any given point in time by subtracting whatever you owe (your debt) from what you own (your assets).
If you are looking to track your net worth and want to figure how much you have to build your net worth to accomplish your future retirement financial goals, I'd suggest looking into Personal Capital. 
Personal Capital is a software that helps you visually identify the following:
Where you are currently (financially speaking)
What your future financial goals are
What you have to do to get there
There are 3 ways your net worth could be summarized:
Net Worth

What it Means

You are on your way to riches!
You own more than you owe.

You are starting on ground 0.
You want to build a positive net worth moving forward.

You are in debt.
You owe more than you own.
I want to note a point: Falling in the negative net worth category is OK. In fact, it's pretty normal. Jumping from the negative net worth to the positive net worth is underrated, and should be celebrated in my opinion. 
So let's figure out how to notate a net worth in an actual formula. 
Net Worth Defined:
A net worth is a snapshot of your overall worth at a specific period in your life. Net worth = Assets – Liabilities
Below are the terms, above, defined:
Assets

 – Something you own.

Liabilities

 – Something you owe – a debt.
I've always been curious to see how my net worth at my current age compares to the rest of America. 
If you're like me, then I threw in a treat for you, below. 
Check out the median (middle) net worth by age group in America.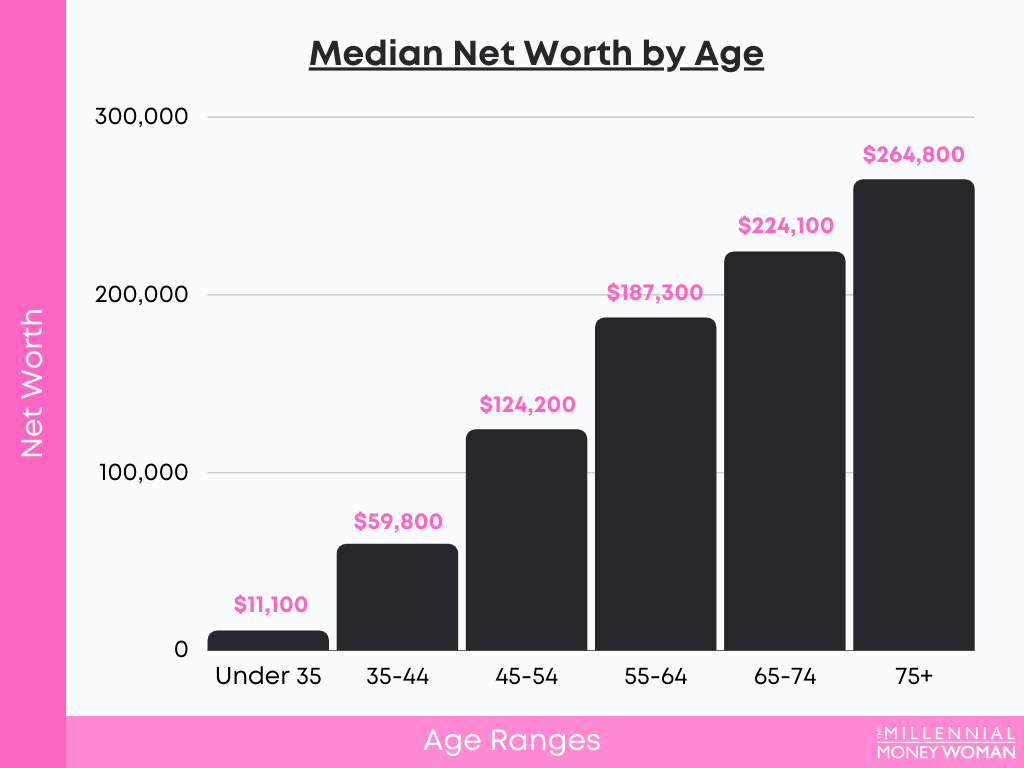 The median American net worth sits around $97,300.
As you can see, many people struggle to build a positive net worth for themselves – really at any age. 
Especially for today's millennials who have to deal with the stress of paying down student debt – building a positive net worth statement is not too easy and it takes time.
One of my favorite budgeting apps is Simplifi.
As the name Simplifi suggests:
It's an easy-to-use app
Developed by Quicken
Provides a consolidated snapshot of your current financial position
Considered to be the best budgeting app by the New York Times' Wirecutter
So once you do cross over from a negative net worth statement to a positive net worth statement, I truly do think you should give yourself time to celebrate and enjoy this milestone
Why Would you Prepare a Net Worth Statement?

Understanding and knowing your net worth is very important.
Why would you prepare a net worth statement?
Where your net worth is currently

What you need to do to get to where you want to be

Could be a massive wake-up call for you to get on track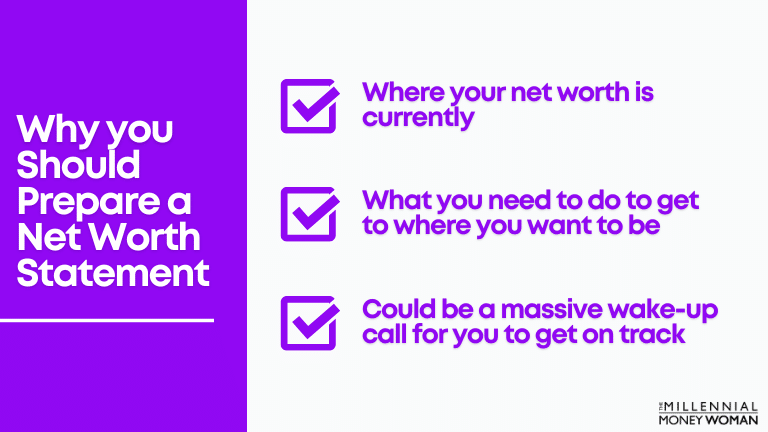 Honestly, the question should be: Why wouldn't you want to prepare a net worth statement?
Benefits of a net worth statement:
Helps you understand how much you owe

Helps you understand how much you own

Pinpoints areas where expenses are excessively high

Identifies opportunities for you to grow your net worth

Provides you the chance to develop a plan to pay down debt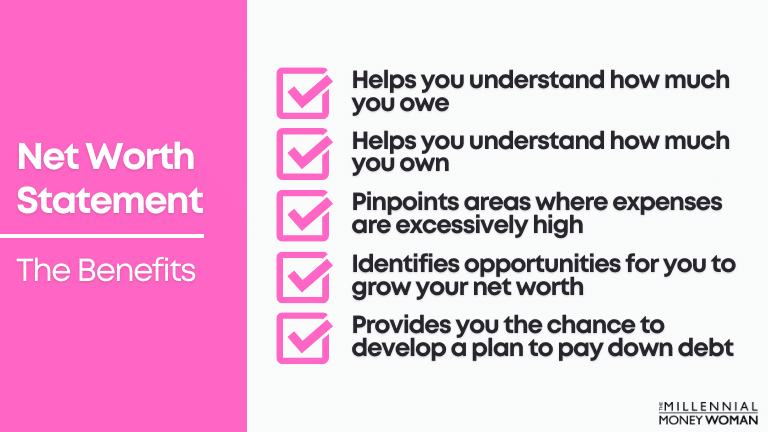 Knowing where you currently are, financially speaking, can force you to be more thoughtful about how you spend your money.
Pro Tip:
A fun exercise is to determine your net worth each year – perhaps every December for example. Track your net worth – and how it has changed over the years, and in a few decades, you'll be very proud to see how [hopefully] you've increased your personal net worth statement.
That exercise is a fantastic way to feel good about yourself – especially when you see the hard work that you've put into paying down debt and amassing more assets.
How to Prepare a Net Worth Statement [Step-by-Step Guide]

Keep in mind that we'll be looking into how we can prepare a personal net worth statement. 
However, business net worth statements are fairly similar in style and manner compared to a personal net worth statement.
Below are the 4 simple steps to creating an accurate net worth statement:
Add together your assets (what you own)

Add together your liabilities (what you still owe)

Subtract your liabilities from your assets

The answer to Step 3 is your net worth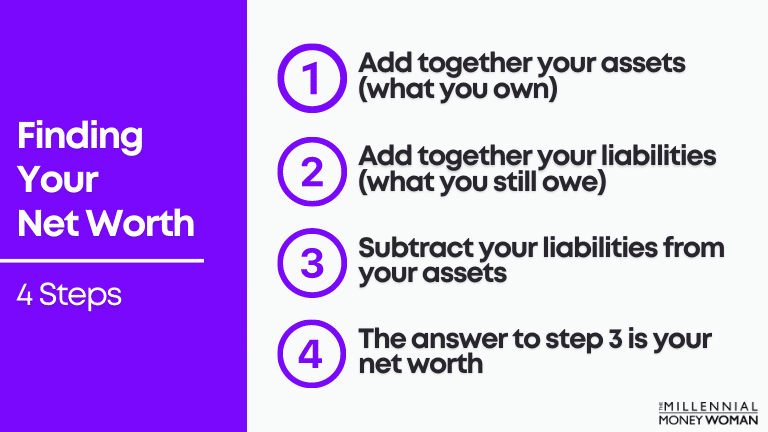 Now, keep in mind that finding your net worth is based on a proven formula.
How to Calculate your Net Worth

Net worth = Assets – Liabilities
Now, what if you are not sure what an asset or liability actually is. 
Let me provide some examples, below.
| Asset Example | Where you can Find the Asset's Value |
| --- | --- |
| | |
| | Monthly investment account statement |
| Retirement accounts (IRAs, Roth IRAs, 401(k)s, 403(b)s, etc.) | Monthly retirement account statement – if you have trouble finding this document, contact your HR representative |
| | Typically your home's equity is calculated using the following formula: Equity = Current Home Market Value – Outstanding Mortgage (which is found on your monthly mortgage statement) |
| | Similar to finding your home equity, find out how much your car is currently worth (using resources such as the Kelly Blue Book) and subtract what you owe (if anything), found on your monthly auto loan bill |
| Cash value in life insurance | You'll typically find the net cash value of a life insurance policy in your monthly insurance statement |
| HSA assets (health savings account) | You'll find this value in your monthly HSA statement |
| Art, jewelry, collectibles | Typically you would want an appraiser to help you find the current market value of these items |
| | Anything that is still owed to you (if you own a business for example) but you have not yet received payment is also considered an asset |
Now let's take a look at some examples of liabilities (what you owe) and where you can find the information to help you determine the amount of money that you owe.
| Liability Example | Where you can Find the Liability's Value |
| --- | --- |
| | This is what you owe on your home. You'll likely find your mortgage on your monthly statement |
| | You'll have to download the most recent monthly credit card statement (typically found online) to see your current balance that's owed |
| | The amount you owe on a car is typically noted in your monthly auto loan bill |
| | Any federal, private, subsidized or unsubsidized student loan is considered a debt. You'll find the value of this student loan on the latest monthly statement |
| | If you owe money and have not yet paid to what is typically a business, this is considered to be an "account payable." An example of an account payable could be an unpaid medical bill |
| Loans of life insurance policies | If you have taken out a loan on a life insurance policy (which I do not recommend), you'll find the information on your latest monthly life insurance statement |
| | If you still owe income taxes, consider this expense to be a liability. You'll likely find this amount by calling your accountant or CPA – or you would see this information in your latest tax return |
Make sure you carefully analyze your current debts so that you net worth statement is as accurate as possible.
Pro Tip:
Make sure you are honest with yourself as you evaluate your current financial situation.
It would be pretty bad if you try to skip over some debts or inflate what you currently own just to make your net worth statement look better.
Don't do it. You're going to regret that later.
Free Net Worth Statement Template
Sign up below to receive my free net worth statement template, my latest content updates and 10 financial tips to help you achieve millionaire status.
Net Worth Statement Example

If you've just downloaded my free net worth statement template but aren't quite sure on where to start – or really how to start, I've prepared an example net worth statement, below.
Actually, I've obtained the permission from one of my mentees to share her current net worth.
[Hint: She's super proud about her recent net worth statement accomplishment and asked me to share this to the world].
Pro Tip:
My mentee accomplished a major milestone: For the first time in her life, her net worth turned positive. Just like my mentee's accomplishment, you too should celebrate big milestones.
Before we take a look at her net worth, let's check out some of her statistics, so her net worth statement numbers make more sense:
Mentee

Information

Student debt - after graduation

$97,000 (private college)

Pay off all debt before 35
Own a home before 40
Start a family (hopefully)

Years tracking her net worth
Now that we've figured out my mentee's basic information, let's take a deep dive into her net worth.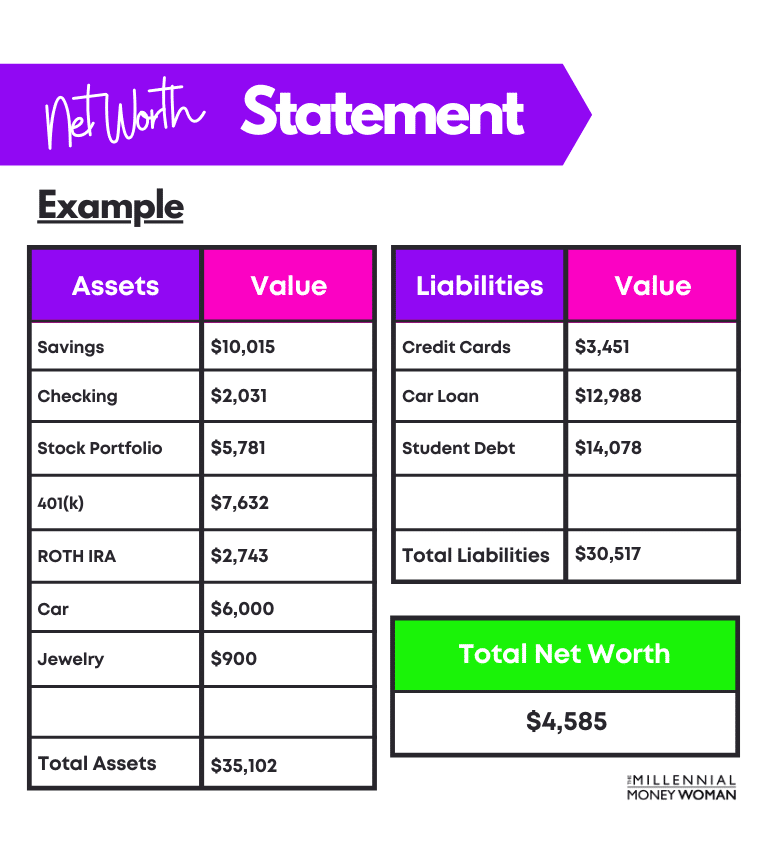 Although my mentee might not be a millionaire (yet) – she has worked long and hard to dig her way out of debt (at one point, she was saddled with more than $110,000 of debt).
This debt included:
Car debt

Credit card debt

Student loan debt
Thanks to tracking her net worth – and thanks to consistently sticking to her plan to pay down her outstanding debt balance – she achieved her goal: A positive net worth balance.
If she can do it, you can, too.
Remember, if you feel like you're suffering in debt, check out my new favorite website: LendingTree.
Lending Tree helps you:
Shop the marketplace for the best loans 

Estimate your estimated monthly debt payments
May have access to lower interest rates while shopping for loans 
Closing Thoughts: Net Worth Statement

Now you know the following:
How to calculate your net worth

The definition of a net worth statement

Where to find a free net worth statement template
Well, what are you waiting for?
If you haven't tried to construct your personal net worth statement yet, do it now.
It might take you some time if you are a newbie, but trust me, going through the process of finding the documents to piece together your net worth statement is actually pretty fun (believe it or not).
Why?
Because it will help you better understand:
Your current financial situation

How much debt (if any) you are in

How much much you are actually worth currently

What you have to do in order to get where you want
What if you are nervous and don't want to find out how much you are worth (ie – you don't want to find out that your net worth is -$100,000 – which is actually not too unusual)?