Have you ever wanted to invest in the stock market using a hands-off and automatic approach? 
With the dollar cost averaging strategy, you can.
If you're ready to learn about one of the easiest and most passive investing strategies, then keep reading.
(Bonus: In this article, I'll show you how you could become a millionaire by 49 if you apply the dollar cost averaging strategy). 
Sneak Peek: Top Investment Platforms
What is Dollar Cost Averaging?

If you've asked yourself, "can investing make you rich," then the answer is yes – depending on the investing strategy you implement.
One of the best investing strategies to build long-term wealth is the DCA dollar cost average strategy.
Dollar cost averaging is a simplified and automatic investing strategy where you (the investor) can systematically take advantage of market ups and downs.
Dollar Cost Averaging Definition:
Dollar cost averaging (aka DCA) is a recurring and automatic investment strategy where the investor selects the amount of money to be invested, the interval in which it should be invest, and the type of investment.
The keywords in this definition are:
You could do monthly or even daily dollar cost averaging – it just depends on your comfort level and the amount of money you can invest.
Pro Tip:
Dollar cost averaging is out-of-sight and out-of-mind, and you don't have to monitor the markets every minute.
Instead, you can do the things you have to do, like focus on your family and your job. 
Some examples of investment applications that can help you with your dollar cost averaging strategy include:
Acorns

 (for investors who are just starting out) 

M1 Finance

 

(for those investors who are focused on the long-term)

Coinbase (for investors who want to invest securely in cryptocurrency)
Pro Tip:
Think of dollar averaging just like your 401k or 403b plan: With every paycheck, you typically contribute a set amount of money to a pre-selected investment.
Investing in your workplace retirement plan is completely automatic and you typically don't have to think twice about your dollar cost averaging frequency or investments.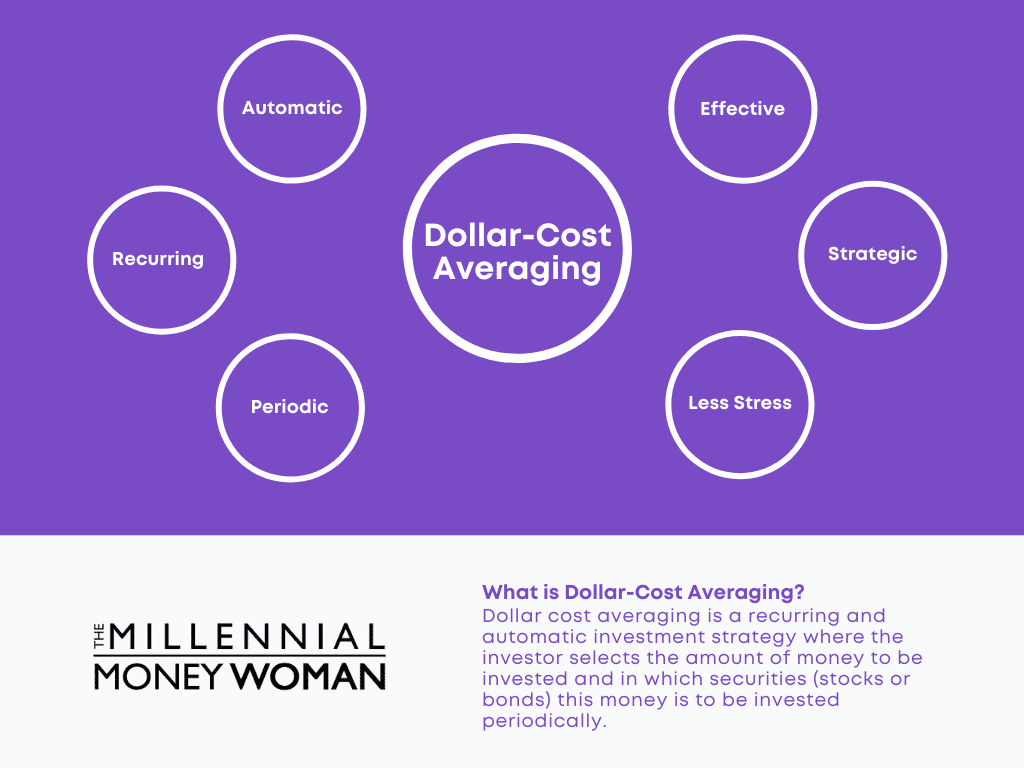 How Does Dollar Cost Averaging Work?

Especially when it comes to investing in the stock market, people are naturally driven by emotion – which is not always a good thing.
In fact, most people buy at the wrong time (when stock market prices are at all-time highs) and most people sell at the wrong time (when stock market prices are at all-time lows).
So, why is dollar cost averaging a good idea?
The DCA strategy takes out the human emotion by investing your money automatically in a pre-determined stock (or bond). 
Pro Tip:
Dollar cost averaging helps an investor spread their risk of investing in a volatile market by investing over a period of time.
Here's an example of how to calculate the dollar cost average strategy:
Dollar Cost Averaging Formula:
Cost per share = Total Amount Invested / Number of Shares Purchased
Let's take Amazon's stock to calculate a dollar cost averaging example.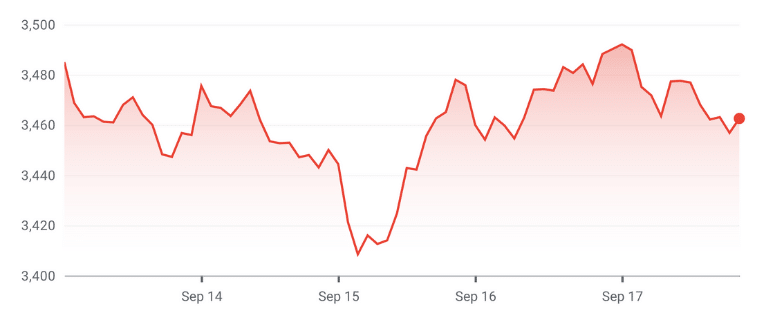 Let's say that you decide to invest $100 into the Amazon stock for 5 days straight, the second the market opens (which is 9:30 am EST).
Here's how the numbers would look: