Are you looking for an easy way to save more money? The Millennial Money Woman did some digging and found the 7 Best Money Saving Apps to help your wallet.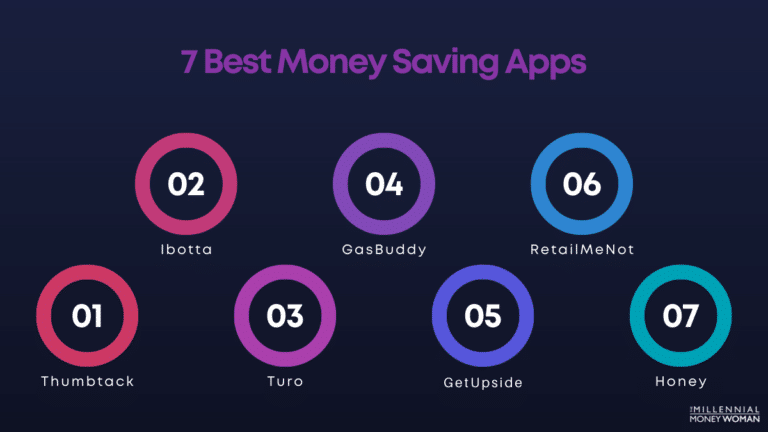 7 Best Money Saving Apps in 2020

I was recently in Miami with my husband visiting one of my dear friends, Gina.
Gina is more like a mother figure to me – she has incredible advice, truly listens to me, and has helped me through difficult personal situations in the past.
Gina is a superhuman: Although she may not have a 6-figure income stream, she somehow manages to save a very large amount of money every month.
Not only does she keep a very strict eye on her daily expenses, but she also always seems to find a new way to save money.
So my hubby and I were visiting her place. We were in the kitchen, helping Gina make some delicious, homemade, and ultra-healthy vegetarian pasta when we started digging into the financial conversation.
Gina had just mentioned she had downloaded a phone application that had revolutionized her life when it comes to grocery shopping (we're talking about Ibotta, which I will talk about more later).
She let us know that since she downloaded Ibotta, she's been able to splurge on some groceries (at which point she proudly presented a delicious slab of true Italian Parmigiano-Reggiano cheese).
Now I'm no expert cook, but I know that a slab of Parmesan cheese, depending on the weight, can cost upwards of $10. And I would not be spending that money.
However, being a cheese lover and now lusting after the Parmesan cheese, I asked Gina to give me the dirty details on her cheese purchase. If she was comfortable affording the typically expensive cheese, then I would try and follow in her footsteps as well.
It turns out, Gina was a tech-savvy phone app expert. Specifically, she walked me through some of her best money saving apps.
I was amazed that I wasn't familiar with these apps!
As I am sure you can imagine, our dinner table conversation revolved mainly around the money saving phone apps and not about gossip or family talk.
That's ok – I guess that's why I am running a personal finance website!
After having some much-needed sleep, I woke up the next day, put pen to paper and that's why you are reading this blog post about the best money saving apps.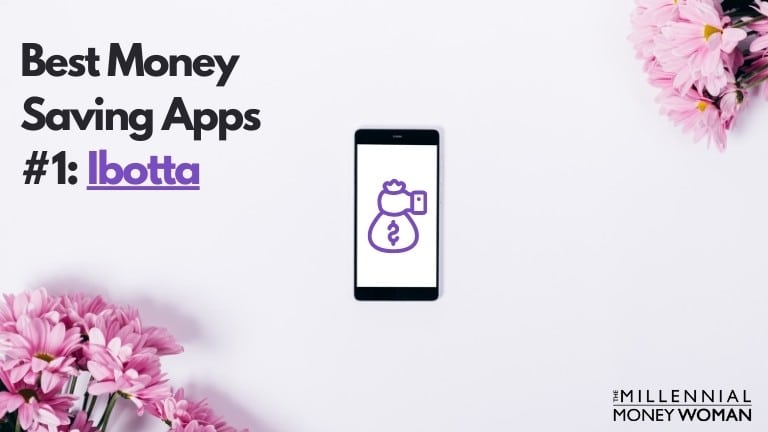 Ibotta

The first best money saving app I want to show you is called Ibotta. 
Personally, it's one of my top choices just because you can save money with your everyday purchases. 
The downside? 
It just takes a little bit of time as you research which items are on sale, how long they are still on sale for, and at which store location you can find them. 
However, if you decide to commit to online shopping – I'd say that's another (and easier) story.
Pro Tip: Make sure you buy the things you would regularly buy – only with the added benefit of Ibotta's cashback advantage. 
It is an easy trap for you to fall into and buy extra products just because they are on "sale" on Ibotta. 
Be careful and make sure you evaluate whether you need to purchase these things before spending the money (example: Gina's purchase of the Parmesan cheese slab… a "luxury" purchase – one that she would not normally have made)
Ibotta

Explanation

Earn Cash Back.
Save with in-app offers.

Use pay with Ibotta feature.
Redeem cash.
Submit receipts.

Groceries.
Clothing.
Pet supplies.
Etc.
In-depth Review

What it's about – Earn Cash Back & Save with In-App Offers.
How to use it – There are several different ways to use Ibotta. 
First, you can use Pay with Ibotta. 
This is where you directly pay for purchases using the Ibotta app and instantly receive cashback. 
All you do is submit your purchase total and provide your gift card code to directly pay from the Ibotta app – and you'll automatically earn cashback. 
Second, you can redeem your cash using Ibotta Loyalty Accounts. 
This is where you select your retailer where you'd like to redeem offers and link your existing Ibotta account (or your screen will prompt you to link a new account). 
Third, you can submit receipts after shopping. 
To get an idea of what offers are out there, you may want to first open the Ibotta app, scrolling to "Shop by Category," where you can browse through the various offers from partner retailers. 
Next, you'll want to determine the offers you want to redeem and actually go out and shop. 
Once you have a receipt in hand, tap the Redeem button at the bottom of the application, snapping a picture of your receipt and uploading and submitting the receipt. 
A quick tip: make sure a picture of the entire receipt is visible. 
Where to find it – Download the application on your smartphone.
What can you buy with it – Anything from groceries and clothing to pet supplies. Basically, your everyday purchases – either online or in-store.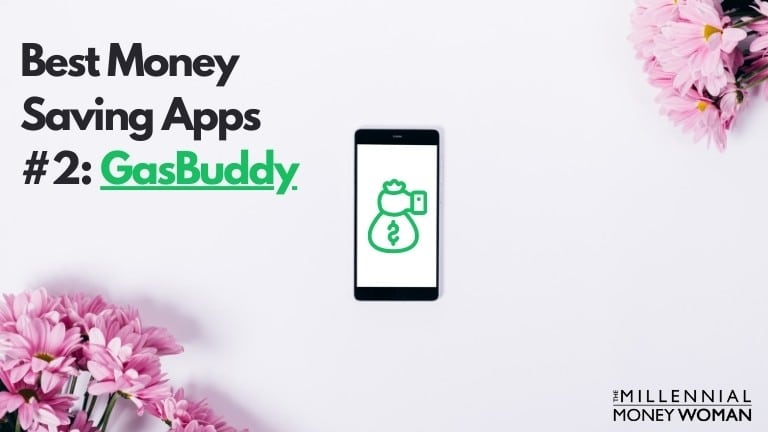 GasBuddy

Another personal favorite best money saving app of mine: GasBuddy.
Who here travels on the weekends or simply drives a car?
If you are like me and like comparing the cost of fuel at each of the gas stations, then I think it's time for you to check out GasBuddy. 
GasBuddy essentially helps you find the cheapest gas stations in your area. 
You don't have to upload and submit receipts using this app, rather, GasBuddy simply directs you to the cheapest gas station – that's it. 
I've once saved up to 30 cents per gallon because of Gas Buddy (and 30 cents can add up over the gallons). 
GasBuddy

Explanation

Cheapest Gas Station Locator.

Download the app.
Type in your location.
Compare gas station prices.
In-depth Review

What it's about – Cheapest Gas Station Locator.
How to use it – Simply download the application, type in your current location to compare gas station prices in your area. 
Gas Buddy also has trip cost calculators, outage trackers, fuel logbooks, etc. for you to make a fuel-efficient (and cost-effective) trip.
Where to find it – Download the application on your smartphone.
What can you buy with it – Fuel.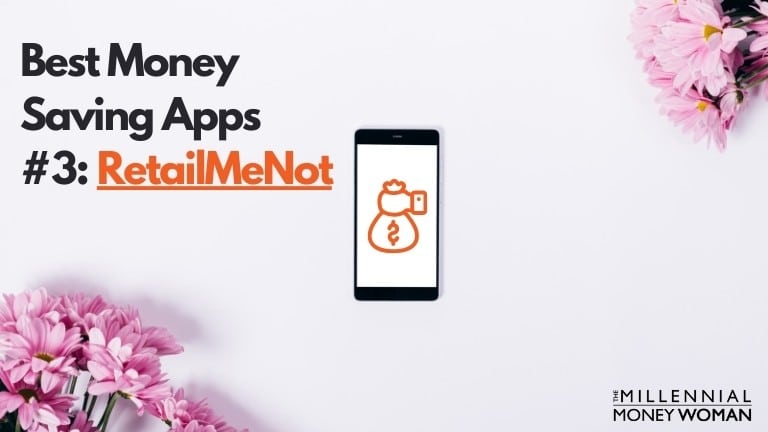 RetailMeNot

Who likes shopping?
I'm going to admit something to you… I love shopping. However, for the sake of my bank account, I don't shop very often (if at all). 
That's because I simply cannot stand the fact that I could regularly spend north of $500 on 5 or 6 good business outfits and never see the return on my investment (other than feeling good in my new business outfits). 
I love shopping but not enough to spend $500 per month on clothes (unlike some of my girlfriends – but to each their own).
In any case, when Gina showed me this app, RetailMeNot, I was pretty excited to see that there was a phone application that could offer me some of the "secret" or "under the radar" in-store deals that are not typically advertised. 
This is the app that will reveal what deals are going on with each of the retail stores. 
I tried using this app on a casual business outfit I wanted to purchase – and it worked like clockwork (and saved me $20 as well). 
If you like shopping – or if you need to purchase a new outfit for work, for example – I say give this app a go and see if you are able to save money, as I did.
RetailMeNot

Explanation

Cutting prices on anything related to retail costs.

Browse in-store coupons or deals.
Click the offer.
Copy the code.
Use the code at the checkout.

Clothing.
Food.
Supplies.
Anything retail-related.
In-depth Review

What it's about – Cutting prices in the form of coupons so you don't have to pay full price on anything related to retail costs.
How to use it – You can browse the RetailMeNot app on your phone for the various in-store coupons or deals you may not know about. 
Once you have searched for your favorite store and found a coupon, click the offer, copy the code and use that code either in the promo code section (when making online purchases) or give the promo code to your in-store retail representative.
Where to find it – Download the application on your smartphone.
What can you buy with it – Anything related to retail – From clothing to face cream.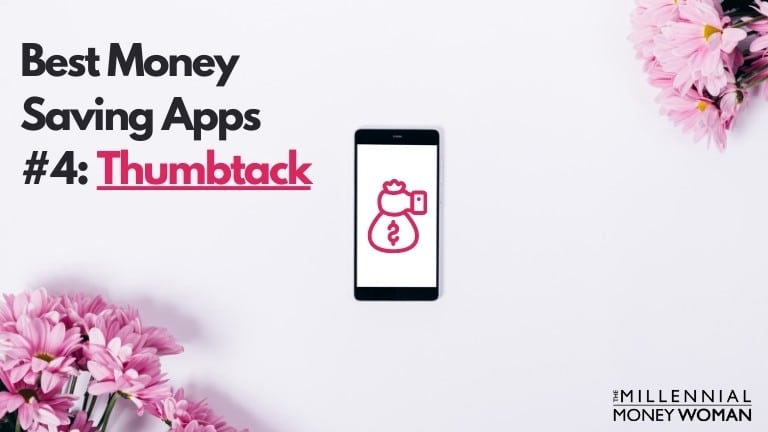 Thumbtack

I'll tell you a story when this money saving app came in handy for my husband and myself. 
We had just moved in together, and my husband started working on the air conditioner – which needed some tender, loving care. 
We had just been through a terrible thunderstorm (our French Bulldog slept through the entire thunder and lightning show) and noticed the house was no longer cooling down. 
That was a problem because it happened in the middle of the summer and our house had already heated up to 82 degrees Fahrenheit.
That's when we realized the lightning must have taken out a part of the air conditioning unit – or at least debilitated a portion of the unit for the time being. 
I was becoming a little nervous because I was not ready to spend a few thousand bucks to pay for a new air conditioning unit. No way. 
What did we do? 
We looked up an available handyman on Thumbtack who helped repair our unit for a reasonable price. 
I was so thankful that not only did I save money by hiring someone local with a good reputation but also because I wouldn't have had to spend north of a thousand dollars for a new unit (or possibly being ripped off by another handyman). 
Ultimately, I say go give this app a try if you need help around the house – or simply need to hire someone to help you with chores. 
Thumbtack

Explanation

Hire anyone for any type of job.

Search for a service.
Browse the offers.
Hire a pro.

Handyman.
Dog trainer.
Massage therapist.
Etc.
In-depth Review

What it's about – Looking to hire someone for any type of job? 
Thumbtack finds that person for you – for free.
How to use it – If you are ready to start on your next home project but need a helping hand, it may be time to use Thumbtack and type in the category you are looking for some help. 
If you are considering the "Home Maintenance" category, click on this category and you'll be able to receive free quotes (all on Thumbtack) from multiple businesses registered on Thumbtack. 
All that's left for you is to hire the pros. The quotes are often very competitive and cheap as well.  
Where to find it – Download the application on your smartphone.
What can you buy with it – Hire anyone you need – from a plumber to DJ for minimal price.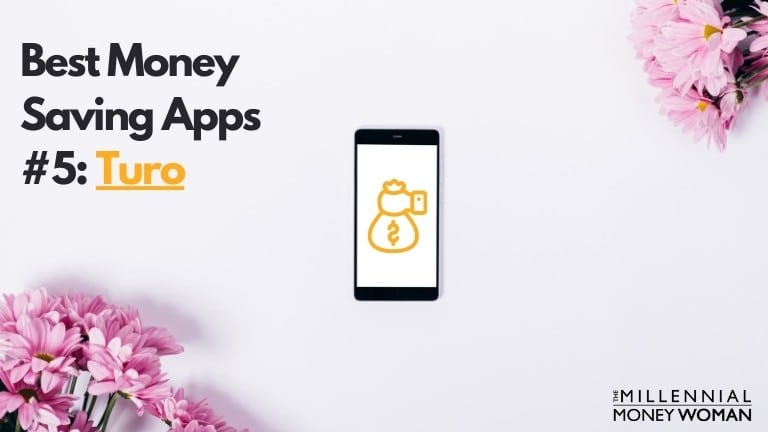 Turo

My husband and I used Turo for the first time when we visited my friend Gina in Miami. 
We needed a car to get around the Miami area (and we were not prepared to drop a few hundred dollars on an Uber or Lyft ride). 
We decided to utilize Turo – which was an easy way for us to book an affordable rental car ride.
Our experience was positive. 
Compared to a ride service like Uber or Lyft, we certainly saved money. 
However, compared to a regular airport service, we only saved a few dollars. 
We did save time though by not having to wait hours in a rental car line. 
My husband scheduled our trip and booked our Turo rental car within minutes – all from the luxury of our home. In that sense, yes, I would recommend at least trying Turo. 
Pro Tip: Because I am on the conservative side, I would caution you to purchase the insurance option with Turo. 
The last thing I'd want is to be in a car accident while on vacation with a Turo rented car – and no car insurance. 
Personally, I don't think it's worth the risk of not taking insurance. But ultimately, that's a personal choice. 
Turo

Explanation

Enter a location and date.
Find a car.
Book your trip.
Arrange pickup.
In-depth Review

What it's about – If you are looking to impress or simply need a rental car – for cheap – then Turo might be the app for you.
How to use it – You can literally skip the car rental line and instead book your rental car using Turo. 
Although from my personal experience, Turo has not always been cheaper than renting a car, it does offer a much larger range of available cars to rent – from vintage to luxury cars. 
All you have to do is to enter the location and date you'd like to rent your car, book your trip and arrange the car pick up with your car host. 
Where to find it – Download the application on your smartphone.
What can you buy with it – Rent any car, anywhere.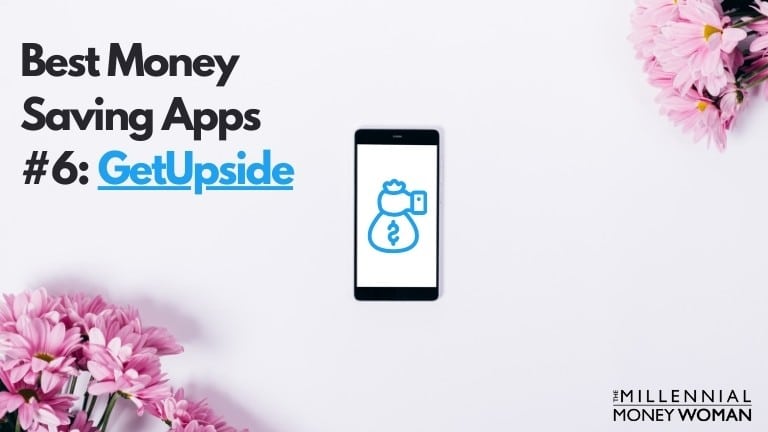 GetUpside

So Gina convinced me to try out this app as well. It's sort of a mix between GasBuddy and Ibotta – which is nice. 
GetUpside essentially gives you access to your favorite grocery stores, gas stations, and restaurants. 
Not only do you save money on fuel but you can also save money on your everyday purchases. 
The difference to Gas Buddy is that with this app, you have to upload and submit your receipts – similar to Ibotta. 
It's basically another app for you to gain access to coupons and in-store offers. 
To be very honest, it did take me some time to get used to the application – more time than with the other apps. 
I don't know if I was having an off-day when I downloaded the app and started browsing through it, or if it maybe just wasn't that user friendly for me, personally. 
I would still suggest for you to check it out and see if you like what it offers.
GetUpside

Explanation

Earn cashback on everyday services.

Type in your location.
Upload your receipt.
Recieve cashback.

Fuel.
Groceries.
Restaurant bills.
In-depth Review

What it's about – Earn cash with any participating gas station, grocery store, and restaurant.
How to use it – After downloading the app, it's time to type in your location if you are looking for a gas station. 
Find a partner gas station, fill up and either upload your receipt or click "check-in" using the phone app and see your cashback rewards roll into the app. 
If you are shopping for groceries, you can browse through the savings offers, shop in-store, upload your receipt and see your cash rolling back in the form of PayPal, a gift card, or a check.
Where to find it – Download the application on your smartphone.
What can you buy with it – Fuel, groceries, and food from restaurants.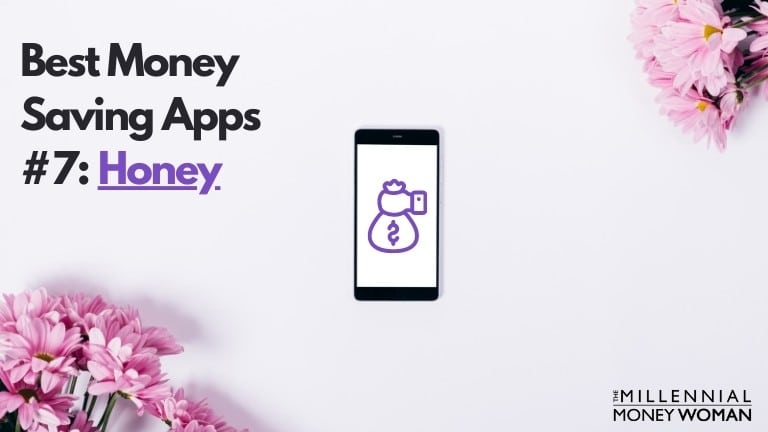 Honey

My husband and I are huge fans of this application – but here's our trick: We don't have Honey downloaded on our phone app. 
We downloaded Honey onto our computer as an extension into our browser (we use Chrome). 
Since COVID-19, we are fairly reluctant to go shopping in stores, so we have resorted to doing much online shopping. 
That's where Honey has come in handy. As my husband and I scroll through our online shopping cars, Honey applies in-store promo deals and other coupon items to the things we are considering purchasing. 
It's a pretty neat feature because we are able to see directly how much money we can save – we compare what our original expenses would have been to what our expenses with the Honey promo codes would be. 
The few times I have purchased items with Honey, I've saved about $25 to $35 dollars on my weekly grocery shopping checklist. 
Honestly, if you are an online shopper, I would likely say it's easier to download Honey as an extension into your computer online browser. 
Honey

Explanation

Coupons.
Promo codes.
Other deals.

Install app.
Start shopping.
Select deals.
In-depth Review

What it's about – Coupons, promo codes, other deals.
How to use it – Once you install the application either on your smartphone or on your computer as a part of your browser, it's time to start doing your regular shopping. 
If there are any deals or promos available on the products you are currently browsing, Honey will apply those deals and let you know in your browser screen. 
Where to find it – You can either download the application on your smartphone or download Honey as an extension to your computer browser (free).
What can you buy with it – Online purchases ranging from shoes to dog food to a new TV.
Closing Thoughts

Hopefully, you found as much value from these best money saving apps as I did when Gina first showed me.
Although you may not be incentivized to buy a 1 pound slab of Parmigiano-Reggiano cheese, you may be able to purchase another "luxury" grocery item that you would have normally not purchased without the help of these best money saving apps. 
Honestly, I was never a big fan of downloading phone apps in an effort to save money. 
However, Gina convinced me to at least try them out and see what I thought. 
And to be candid – I was surprised at how easy these apps were to use and how easy it was for me to save money. 
Here's my take: It's worth a try if you are seriously considering saving money and are willing to put in the time to research these best money saving apps. 
Always remember that there is no such thing as a free lunch. 
So although you will likely save money with these suggested apps in the long run, you'll have to sacrifice one or several items including:
Your time – Downloading the apps, researching the functionality of the apps, etc.
Your information – You may have to input your email, your phone number, etc. to start using the application.
In the end, it's a personal choice. 
I say check out some of these money saving apps that interest you – and consider giving them a test trial. 
Your bank accounts will thank me later!
Which best money saving apps have you used and recommend?