Valentine's Day on a Budget
Valentine's Day is just around the corner and I've been dropping some serious hints for my husband.
My husband is my best friend and I love him dearly.
But when it comes to dropping hints, you need to be as subtle as a hand grenade!
So, this past weekend, I decided to sit down at my small table outside, and type up a list of things that I would LOVE to do during our future Valentine's Days together.
But… shockingly, did you know that…

When I read this statistic, I knew that Valentine's Day was not necessarily healthy for our budget. 
So, I decided to revamp my Valentine's Day wish list to include the following: 
Fun ways to celebrate 

Easy ways to celebrate

Cost-efficient ways to celebrate
And most importantly, my Valentine's Day wish list kept our budget in check!
Remember that you can still enjoy your Valentine's Day on a budget.
What truly matters who you are spending Valentine's Day with.
Best Budgeting Tools

Budgeting is a millionaire planning tool.
Before we even get into the fancy Valentine's Day date night ideas, I think it's important to remind you of why you're even reading this blog post: To stay in line with your budget.
Keep in mind that your Valentine's Day expenses fall under the discretionary expense category.
Discretionary Expense Defined:
Discretionary expenses are typically those expenses that aren't necessary to maintain your basic standard of living. Discretionary expenses are wants or wishes – they are not needs.
My typical rule of thumb is spending less than 20% of your after-tax (ie net) monthly income on discretionary expenses. 
Check out my budgeting rules of thumb below:
| The Type of Expense | Budgeting Rule of Thumb |
| --- | --- |
| | < 28% of gross monthly income |
| Total consumer / discretionary debt | < 20% of net monthly income |
| Total monthly debt payments | < 36% of gross monthly income |
| | > 10% of gross monthly income |
Although these are simply "rules of thumb" and will never add up to 100% entirely, I would suggest keeping your discretionary expenses as low as possible to build wealth.
Now, for those of you who are looking for some of the best budgeting apps out there, to not just keep you in line with your Valentine's Day spending but also with your other spending habits, I have 2 recommendations:
My first recommendation if you're just starting out with your budgeting journey is to check out Simplifi.
Simplifi, as the name implies, is a budgeting app that is so simple and easy to operate. It does cost $3.99 a month to use, yet I'd say it provides one of the best overviews of your cash flows that I've seen.
Simplifi really shines in the following 2 areas:
Budgeting

Ease of use

Goal-setting

Spending tracking

Extremely customizable
Now, I realize that not everyone is in the mood to spend $3.99 a month to track their expenses, where they could be receiving similar help for free. 
So, if you are more experienced with your financial picture and want to find a budgeting app that offers free services, then check out Personal Capital.
Personal Capital offers a great (and free) budgeting tool that you can use to monitor your income and expense picture. 
Personal Capital, in my opinion, is an app for the more experienced individual because it also offers you:
Net worth overview

Savings planner tools

Retirement planner tools

Investment management platform (if you have $100,000 or more)
As you can see, Personal Capital is a little more complex than Simplifi but offers excellent services for free (unless you use the investment management service).
And finally, if you want to stay on track with your budget and want a DIY budget template, then check out my free budgeting template, below.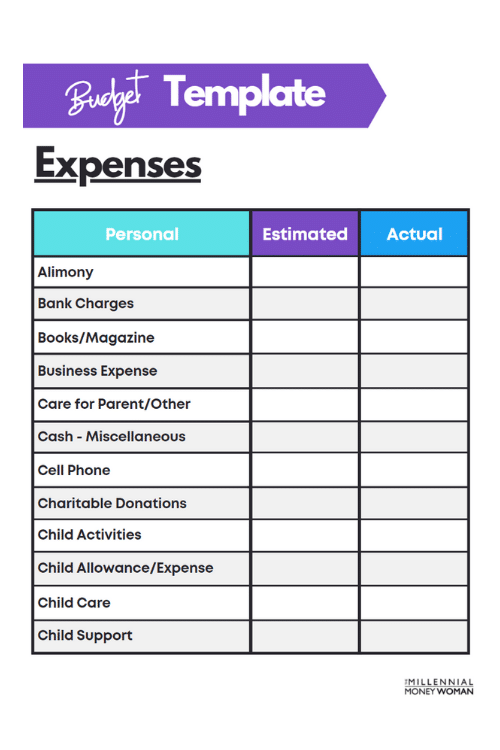 Sign up below to receive my free budgeting templates and my latest content updates to help you achieve millionaire status.
Now that we've reviewed some of those budgeting basics – it may be a little dry but trust me, budgeting is a millionaire planning tool – let's jump into how you can make your Valentine's Day awesome while still staying on budget.
Valentine's Day with No Money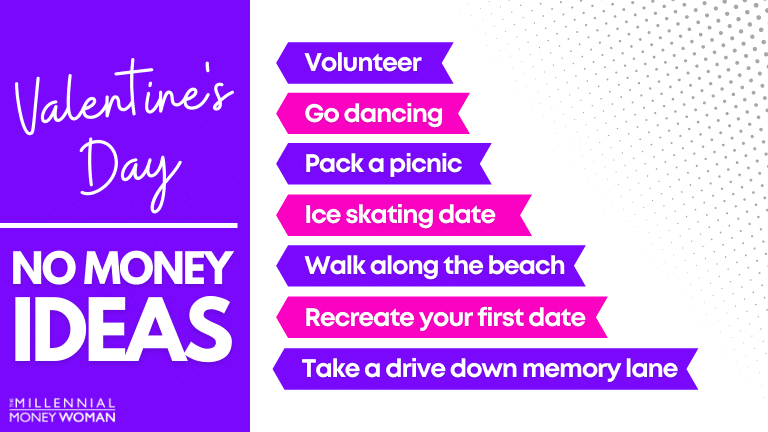 1. Take a Drive Down Memory Lane (Literally!)

One of the sweetest ways to enjoy yourself and your partner is to take a trip down memory lane – literally!
My husband and I did this for our anniversary a few months ago, and it was just wonderful – it seemed like our first few moments together replayed themselves right before our eyes. 
So, here's what you can do for Valentine's Day with your significant other:
Go at night

Listen to your favorite soundtrack

Take some popcorn, cookies or other food with you
All you have to do is relax and relive your first date(s) together.
That always brings a warm and fuzzy feeling to my heart.
2. Pack a Picnic

Believe it or not, I think my husband and I are going to do this for this year's (2021) Valentine's Day – packing a picnic and eating it on the beach while watching the sunset.
Since we live in the greater Miami area, in Florida, we have the luxury of eating outdoors in February (although it can be a bit chilly at night). 
Make sure to pack some of the following:
Trash bags

Picnic blanket

Some sweet treats

Napkins (lots of them!)

Camera to take pictures

Thermos can with a warm drink

Thick blankets for you and your partner
The first time my husband and I went on a picnic, we forgot to bring one of the most important things – the picnic blanket – and sand went everywhere (we ate at the beach). 
That's a mistake we won't be making twice!
3. Massages, Manis, and Pedis

This is one of those Valentine's Day date ideas that I've been trying to hint at. Hard.
I'm not really sure if my husband has picked up on this yet, but trust me, I'll keep trying harder. 
By massages, manis, and pedis I mean this:
Instead of going to the beauty salon and spending mucho dinero

Have your significant other be the masseuse and the nail specialist all in one
Ok, granted, I'm not sure about the nail part… unless your partner is super precious. 
But the massage part?
I'd take that any time of day.
And the best part is that you won't be spending north of $100 for massages, manicures and pedicures.
4. Volunteer

Guys & Gals – volunteering may sound cheesy at first but volunteering can be so much fun and a wonderful bonding experience with your partner.
Plus, many benefits come with volunteering.
Check out some of the volunteering pros below:
Fun

Fulfilling

Makes you happy

Bonding experience

Improves your confidence

Improves your social skills

You are making a positive impact

Connects you with like-minded people
My husband and I have volunteered before at a soup kitchen (not for Valentine's Day) and I honestly don't ever remember us feeling unhappy for volunteering together. 
It was only ever a positive experience. 
Check out some ways you, too, can volunteer with your significant other for Valentine's Day below:
Volunteer Opportunity

Description

Find the right volunteering opportunity for you, based on your:

- Interests
- Volunteer type
- Location

Find the right volunteering opportunity for you, based on your:

- Local community

- International preference

Find the right volunteering opportunity for you, based on your location in the United States

Fight against animal cruelty
Sometimes giving your time through volunteering instead of giving your money can mean so much more.
Enjoy!
5. Ice Skating Date Night

Who has ever dreamed of going ice skating on a date night? 
Ice skating is a blast and comes with several benefits:
Fun

Exercise

Bonding 

Romantic
Now, ice skating for your Valentine's Day date may not be the best idea if:
One partner is highly experienced and the other is highly inexperienced 
However, you could always turn this into a positive and turn it into a bonding and learning session where the experienced partner can help the inexperienced partner. 
If you do want to go on an ice skating date night, then make sure you:
Confirm that ice skating is in line with your budget

Determine whether tickets should be reserved

Don't ice skate to impress the other person

Bring your own ice skates or rent them

Select your ice skating rink in advance

Brush up on basic skills

Bring warm clothes
Ice skating would be a perfect opportunity to fall in love all over again with your partner – and this is something I hope my husband and I can do too – in Florida!
6. Go Dancing

I absolutely love dancing and I think it's a great way to celebrate Valentine's Day with your significant other. 
Dancing can be:
Fun 

Cost-efficient

A step outside of your comfort zone
Believe it or not, my husband is actually a great dancer!
Sadly, when I try to coax him to dance with me in public, he refuses vehemently.
So in my case, my husband and I will be:
Dancing at home

Our French Bulldog will be our audience
Keep in mind that there are so many different dances out there.
The most common (and arguably most graceful) genre of dance is ballroom.
Some forms of ballroom dancing include:
Waltz

Tango

Bolero

Swing

Rumba

Quickstep
Even if you both are not familiar with these dance types, you could always go to your local dance studio for Valentine's Day and see if you can take up a beginner's course.
It's such a blast. 
Time to get comfortable being uncomfortable.
7. Check out your local Planetarium

This is something that I've been wanting to do for a while – checking out our local planetarium.
Planetarium Defined:
A planetarium typically is a building that is dedicated to educating the local community in the solar system, astronomy and space science in general.
The only drawback that I've noticed recently is that due to COVID most planetariums are closed, so you may have to come up with your own planetarium:
Take your date outdoors and go stargazing

Bring a warm blanket, a candle and a small picnic
I know this idea could be seen as a little "nerdy," but then again, it's a fun (and cost-efficient) way to spend your Valentine's Day.
8. Recreate your First Date

I would LOVE to do this with my husband – recreating our first date. 
This might not be as cost-efficient as my other Valentine's Day date ideas, especially if your first date was in a restaurant or movie theater, but hear me out. 
For our first date, my husband and I:
Met at an outdoor restaurant by the ocean

Talked until we closed down the restaurant 

Strolled together under the moonlit stars and sky
Our first date was the epitome of perfect. 
Now, keep in mind that if you plan on using your credit card to recreate your first date, don't forget to use a top cash-back savings program like Dosh.
Dosh automatically deposits your cash back into your bank accounts after your purchases from partner retailers or brands. There is virtually no work required for you other than signing up to the platform.
9. Hit the Cardio

This idea came from my husband – not so much me. 
For those of you who are not aware, my husband is a sports nut.
He loves anything to do with:
Yoga

Weights

Running

Walking

Jumping

Meditation
…you get the point. 
So, while I was on my quest to save money, have fun and stay safe with COVID for this year's Valentine's Day, I was thinking why not do some workout together?
Now, I'm not going to be all sports-nutty on Valentine's Day, but I would imagine an ideal cardio together would be something like the following:
Take a brisk walk together (preferably the sandy ocean shores)

Roll out the yoga mats and do some moves during sunset

Practice meditation after our workout is done
Now that would be a fun, no-cost, bonding experience!
Affordable Valentine's Day Ideas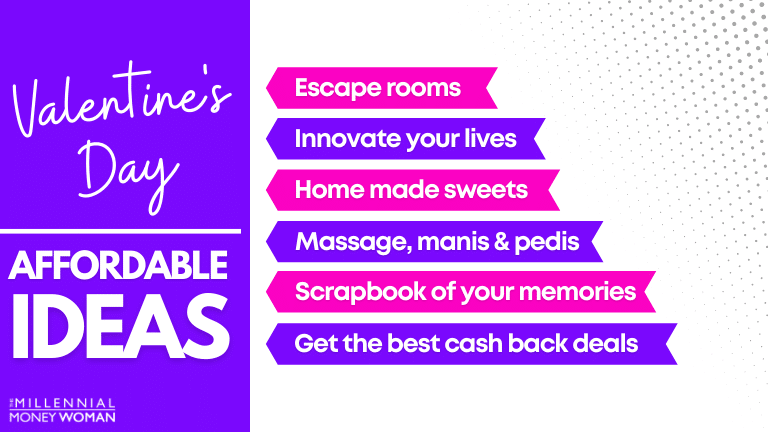 10. Get the Best Cash Back Deals

I'm guilty of it too… I buy things for my husband because I know he likes them and I know they will make him happy. 
Seeing him happy makes me happy. 
Yes, I'm not a 100% frugalist. 
I splurge smartly. 
Now, one of the ways that I splurge smartly is by using some of the best cash back deals there are – including using the app known as Slide.
Slide
Earn 4% cash back instantly – every day
Slide is one of the fastest and most efficient ways for you to earn 4% of your cash back every day, all day (hopefully not all day, though). 
Here's why Slide is a great way to enjoy your Valentine's Day while still staying on budget:
You receive unlimited 4% cash back on all purchases made at the 150+ partner stores with Slide 

The partner stores are located in around 100,000 U.S. stores

You can earn the 4% cash back either online or in-store
Just as you're about to checkout of your restaurant or store, here's what you do:
Open your Slide app

Select the place you're about to checkout from

Type-in the total payment amount

Enter your code from Slide online or have the cashier scan your code in-store

Start earning 4% cashback instantaneously 
Now, total disclosure, Slide is an awesome way to save money – but not the only way. I've also been a fan favorite of Honey as well as Ibotta (more on that below).
11. Homemade Valentine's Day Sweets

If you and your partner have a sweet tooth – especially for Valentine's Day – why not team up together and bake some cool treats?
My husband and I have done this a few times (we baked a chocolate chip cake) and it was SUCH a fun time.
Here's how we divided the responsibility:
| Husband's Responsibility | My Responsibility |
| --- | --- |
| Analyzing the list of ingredients | Preparing husband for his responsibility |
| Calculating how much of each ingredient we need | Preparing the kitchen for our cooking endeavor |
| Preparing the ingredients for me to use | Mixing the ingredients together |
| Communicating when to use which ingredient | |
Below are some Valentine's Day ideas you can bake with your significant other:
Strawberry smoothie

M&M Cookie bar

Cupcakes

Cookies

Cake
My mouth is watering just by reading the many different things you and your partner can bake together!
Keep in mind, baking homemade Valentine's Day sweets is a fantastic way to:
Bond

Have fun

Stay on budget

Eat delicious treats
Now go and enjoy!
12. Scrapbook of your Memories

You know, I absolutely love scrapbooking as a Valentine's Day idea – it's certainly on a budget but more so, it's probably one of the most beautiful and loving things you can do for you and your partner. 
Be warned: If you want to make the perfect scrapbook, you will have to plan in advance.
Here are some things you can do for your scrapbook:
Save any ticket stubs or wrist bands from events

Use a "road map" as your background

Save anything from your experiences

Cut out your photos together

Write personal messages

Add stickers
As to what you put into your scrapbook, that's totally up to you. 
Below are some sections I'd put into the scrapbook:
Funny Photos

Your music playlist

Then versus today pictures

Letters to open at a future date

List of reasons why I love you pictures

Magazine clips of what your future will look like 

Pictures of your sweetest text messages to each other
Keep in mind that scrapbooking will take some pre-planning and time.
But this is a gift that anyone would love to receive (and make!) while still being conscientious of your budget.
13. Innovate your Lives

Hear me out on this one: My husband and I are true entrepreneurs and we LOVE leveling up with every opportunity. 
If you and your significant other also want to:
Learn something new

Level up in life

Have fun

Bond
…Then why not treat yourselves to learning how to innovate your lives for Valentine's Day? 
My husband and I have taken some of the courses offered through Mindvalley before, and we love the things you can learn there.
Mindvalley teaches you all the things you wish you learned in school.
For example, you can learn how to:
Think bolder 

Be more positive

Achieve your goals

Make a larger impact

Improve productivity
I think Mind Valley really works if you and your partner are looking to craft a better and more successful life for both of you. 
Why not use Valentine's Day as an excuse to build the life you want and begin transforming your worlds together?
14. Escape Rooms!

Do you know what I absolutely LOVE? 
Escape Rooms!
My husband formerly served in the military, so he loves figuring out tactical drills on how to get out of a time-sensitive, pressure-filled situation.
For those of you who aren't familiar with Escape Rooms, let's check out the definition.
Escape Rooms Defined:
An escape room is essentially a mystery puzzle in which team players (with teams starting as small as 2 players) work and communicate together to solve the clues in a certain amount of time (typically 1 hour) to escape the locked room.
I would LOVE to go to an Escape Room, but my husband and I are planning to stay away from them for now, due to COVID. Perhaps an idea for the future.
Escape Rooms have many benefits, including:
Fun

Bonding

Team skills

Analytical skills

Creates awesome memories

Improved communication skills

Increases your level of satisfaction
Honestly, Escape Rooms are a blast and I love being "placed" into a different world where I can be the detective (I love mystery stories).
15. Coupon

Sometimes, you just can't help yourself and want to buy your partner something for Valentine's Day. 
That's perfectly OK. 
If you are considering buying something for your significant other, I'd suggest checking out money saving options to stay on budget for your Valentine's Day. 
And to be honest, I absolutely HATE:
Clipping coupons

Actively searching for coupons

Browsing through paper magazines for coupons 
So, below is my next best couponing option for you: Honey.
Honey is an app that you download on your computer (which works with Chrome). You continue browsing online for cool gifts and every time there is a:
Deal

Promo code

Current discount
… Honey notifies you with a pop-up on your screen so that you can save money. 
Plus – it's free. 
Now, if you prefer to be a bit more hands-on and purchase things either in store or online, then I'd suggest