It's the holiday season.
Although the holidays are a time for cheer, happiness and family – it also often means a time for spending (a lot) on holiday gifts and presents you give to people ranging from your partner to the local barista downtown. 
It's not just you or me who have trouble staying on budget with holiday spending.
Check out this graph below, detailing the recent holiday spending behavior of this consumer-driven society: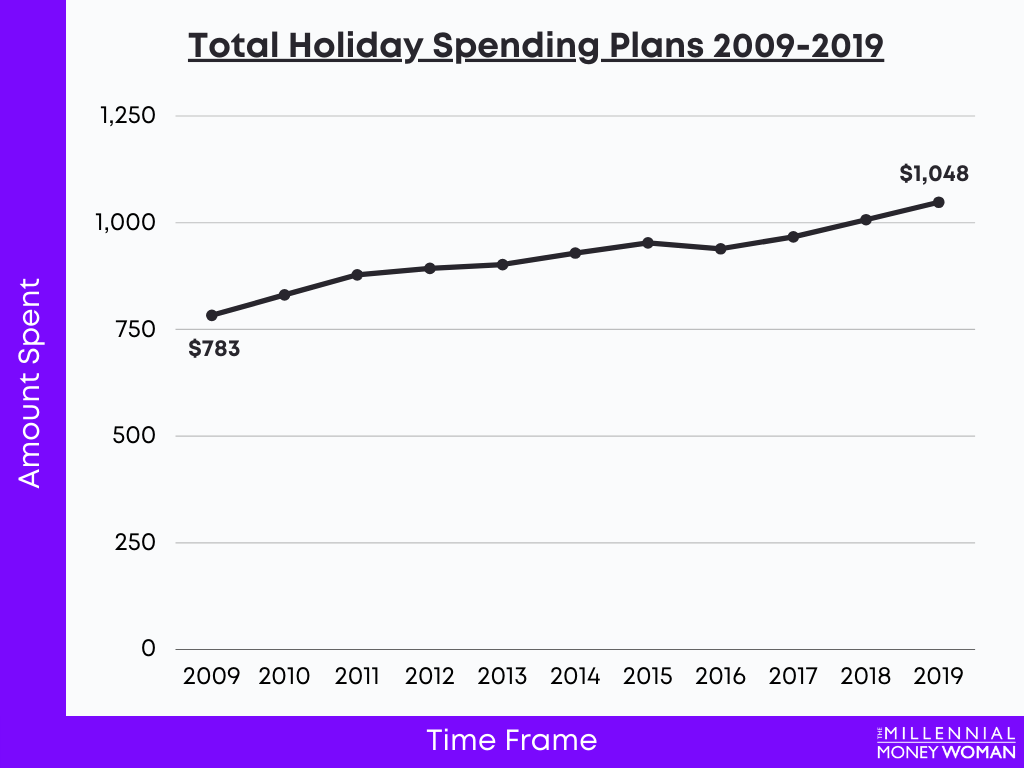 Yikes. 
This holiday, my husband and I decided to cap our gifts to each other at $25. 
Although we want to give each other the world, we know we have to be cognizant of our spending to accomplish our future financial goals. 

On a median household income of just over $63,000 – that's about 1.66% of annual income just spent on the holidays. 
Don't be a statistic.
Budgeting is the easiest way to avoid overspending.
7 Best Holiday Budgeting Tips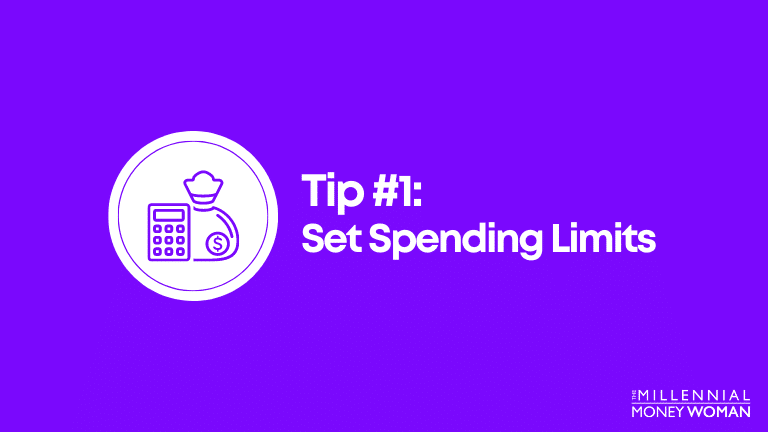 Tip #1: Set Spending Limits

No, you're not Scrooge when you think about holiday budgeting. 
In fact, you're the smart holiday shopper when you think about holiday budgeting.
Instead of running into the stores without a shopping list, with holiday budgeting you are:
Considerate

Financially aware

One step closer to financial freedom
If you have not yet started budgeting, please do yourself a favor and start today.
Holiday budgeting is likely the best holiday present you can give yourself.
You will have complete control over your finances if you follow your budget. 
In other words, the chances of overspending on holiday gifts will drop significantly all because of holiday budgeting.
How much should you spend on your holiday gifts?
This is a tricky situation because what it comes down to is your disposable income (how much money you have left after investing, paying your bills, etc.). 
Below are some general guidelines for holiday budgeting and holiday gift spending:
| Relationship | Max Spending |
| --- | --- |
| | |
| | |
| | |
| | |
| | |
Before you go head-over-heels on a spending spree, make sure to either start and stick to your budget.
If you're looking for an app to track your budget, then consider checking out You Need A Budget.
You can download YNAB and have a free 34-day trial to see if you like the app.
YNAB claims that its app is so effective that first-time YNABers save about $600 in the first 2 months and over $6,000 in the first year of using the app.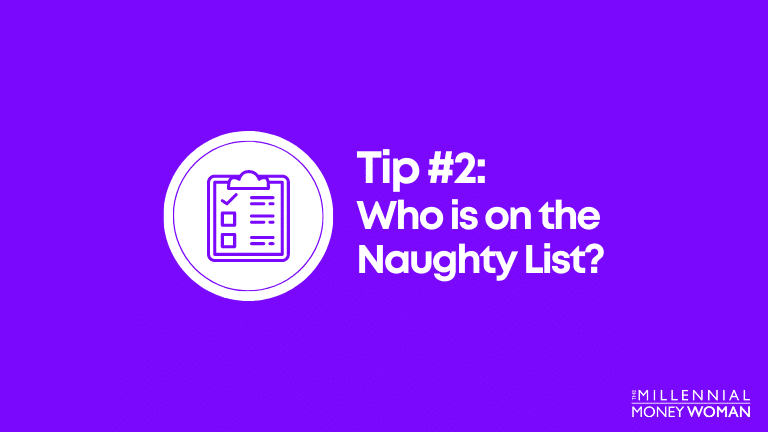 Tip #2: Who is on the Naughty List?

I love this step of the holiday budgeting process!
It's where you actually get to weed-out those who aren't necessarily close to you. 
Here's a trick I learned from my best friend: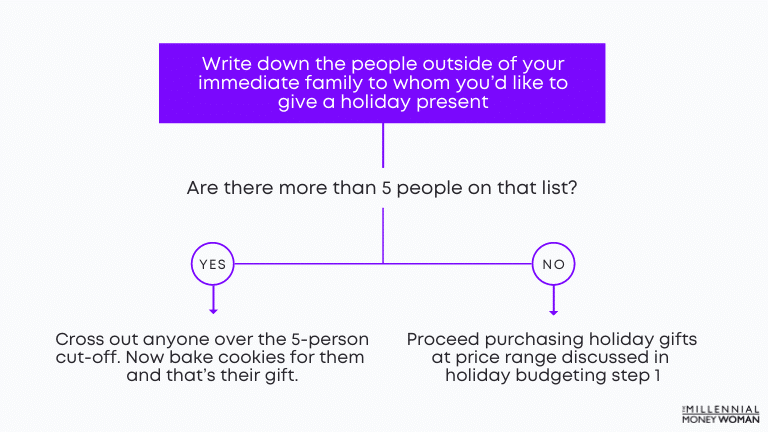 You still show the people that are close to you that you love them and care for them.
But instead of purchasing them material items, bake them cookies for example!
Moral of the Story:
You don't always have to resort to purchasing material goods for people during the holidays. You can still stick to your holiday budgeting practices and find home-made presents to show your love for your friends.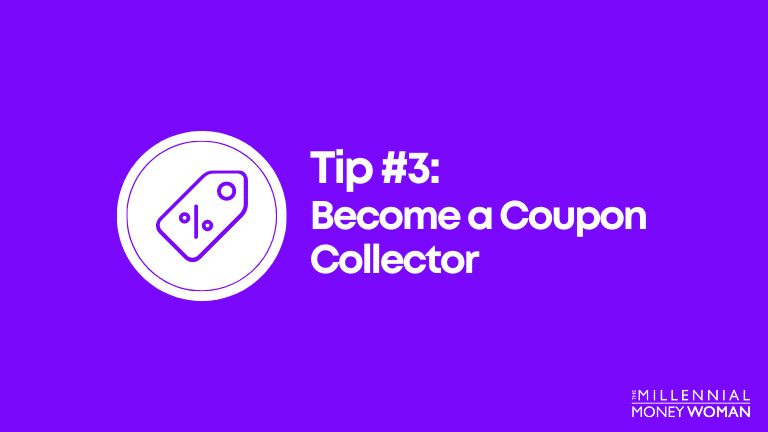 Tip #3: Become a Coupon Collector

It's so funny, because as I was writing this section I was thinking about the money saving app called "Honey," and I said the name "honey" out loud. 
My husband, who was sitting next to me and working on his laptop, looked up from his work and said "yes, honey?"
I was startled because I wasn't expecting him to answer, but figured out why he did, since both of us called each other honey. 
Ok, ok, moving on to the real reason I'm writing about couponing: The application called Honey.
Honey is one of the easiest and most effective online couponing tools there is:
Honey searches the internet for the top prices

It's installed directly through your Google Chrome browser

While you shop online, Honey finds the best deals, promo codes and savings
The reason why I decided to write about honey instead of actual coupon clipping is because who has time for clipping coupons in today's world?
I sure don't.
And I hate coupon clipping.
So Honey is my next best option.
Moral of the Story:
There are always ways to save money when you are holiday budgeting. You just have to look for them. Honey is an application you can download on your computer and it helps point out 10,000's of promos, coupons, etc.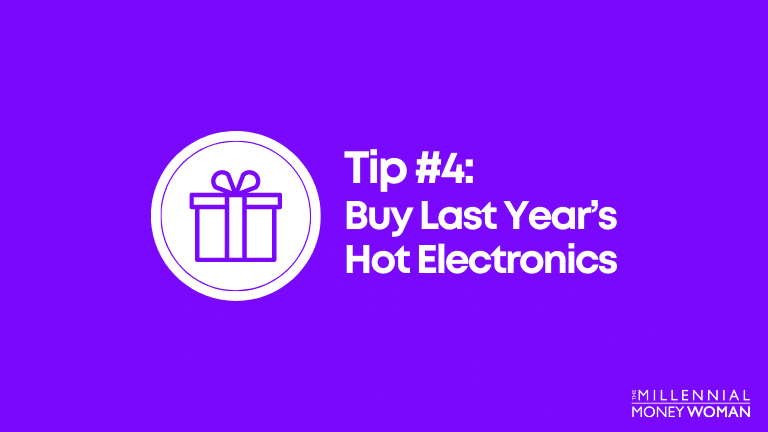 Tip #4: Buy Last Year's Hot Electronics

One of the best tips I've ever received was purchasing last year's hot electronics as this year's gifts. 
You're doing yourself a favor:
You're sticking to your holiday budgeting plans
But at the same time, you're doing your family or friends a favor:
You're giving them a cool semi-new electronic gadget
Let me give you an example of what I gave my husband last year:
He was raving about the latest headphones from Samsung (apparently noise canceling) and he just really, really had to have these. 
Although I didn't get him the latest headphones, I did buy him the ones from the previous year (and he didn't even notice!). Win for Fiona!
There was 1 mobile app that helped me save a bit of money during my holiday spending – and helped me with my holiday budgeting: Slide.
Slide helps you save 4% cash back instantly; every day that you go shopping.
Slide:
Offers unlimited 4% cashback 

You can withdraw your cash anytime 

No restrictions on how much you can earn

No need to scan receipts or any extra steps to earn the cash back

Slide partners with over 150 companies including Panera, Ebay, Chiptole
You connect your credit card (or apple pay card) with Slide and at the check-out, simply present the Slide barcode or serial number. 
That's how you start earning your 4% cash back.
Moral of the Story:
If you are serious about gifting a pricey electronic item to your spouse or another close family member or friend, your holiday budgeting will be better off if you purchase the electronics from last year.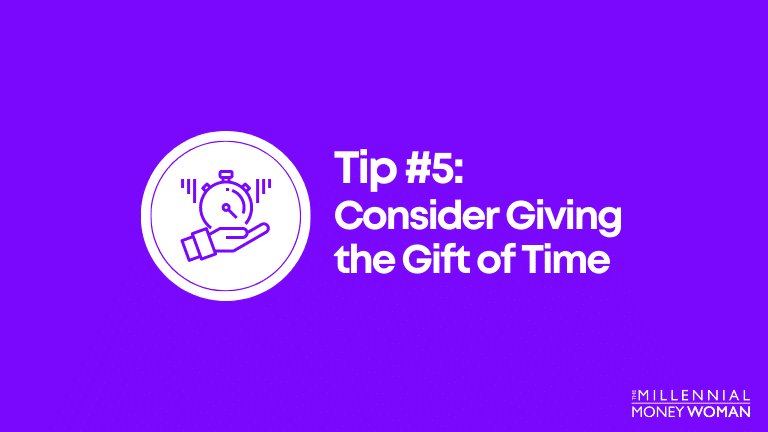 Tip #5: Consider Giving the Gift of Time 

Have you ever volunteered before? 
If you have, then you might be familiar with the phrase that charities often pitch:
You can give the gift of:
Let's take a look at what they mean by giving the gift of your time.
Here is what I've done over the past 2 years: 
If I'm struggling with my holiday budgeting, I'm sure my friends are too. 
That's when I suggested for our closest friends to go out into the community and serve as a volunteer group for the local Soup Kitchen.
Volunteering at the Soup Kitchen was a total hit!
Not only did we save money – but we actually made a positive impact in our local community. 
Talk about a great way to give the gift of time during the holidays.
Below are some examples of charities that may need your gift of time this holiday season:
| Charity | Charitable Case |
| --- | --- |
| | Organizes visits to nursing homes with people who may not have families to visit them during the holidays |
| | You either sponsor or make a blanket yourself for a less fortunate child this winter season |
| | Volunteer to help the animals in need or make your home a permanent home for one of these animals |
| | Volunteer to cook meals at a local Ronald McDonald house for the benefit of children in nearby hospitals |
| | Pair up with your local soup kitchen to help cook and prepare meals for those in need |
There are so many ways to give during the holiday season. 
You just have to open your eyes and look.
Moral of the Story:
Sometimes giving the gift of time is more precious than giving a physical gift. There are so many organizations you can sign-up to volunteer for. Even better: Instead of gifting presents to your friends, organize a volunteer party.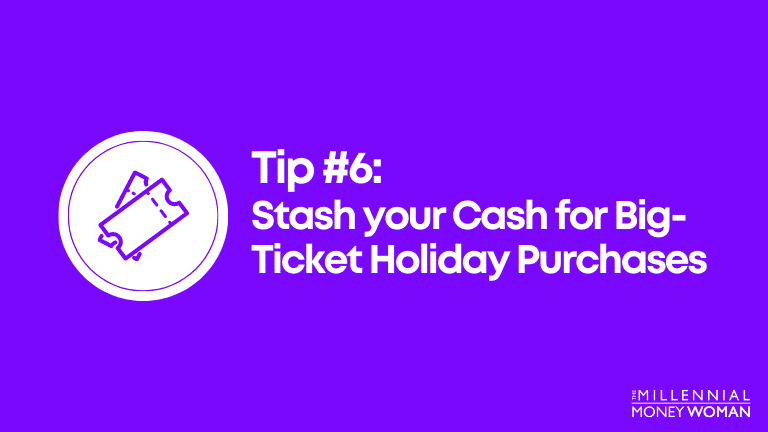 Tip #6: Stash your Cash for Big-Ticket Holiday Purchases 

Here's a step that has helped a lot of my young professional friends who were planning on big-ticket holiday purchases: stash your cash.
In fact, I had a good friend of mine who was saving up for a trip to Costa Rica for her family, back in 2018.
She was going to buy the tickets for the holidays and leave for Costa Rica in April of 2019.
Let's see how she approached this big ticket purchase:
| Event | Description |
| --- | --- |
| First Thought about 2018 Holiday Present | |
| Cost of 2018 Holiday Present | |
| Type of 2018 Holiday Present | 8-day cruise to Costa Rica |
| When Saving for 2018 Holiday Present Began | |
| | |
| Number of Months Saved for | 9 (March through November) |
| | |
| Total Amount of Interest Earned | |
| | |
Instead of making 1 large payment using her credit card in December, my friend saved up the cash throughout the 2018 year to make that payment in December.
Moreover, she used a high-yield savings account so she could earn a little more interest on her stashed cash (back then, she could get a savings account with a 1.5% interest rate). 
So, if you're looking to find a high yield savings account with a competitive interest rate for today's economic environment I suggest considering CIT Bank.
CIT Bank has no monthly fees and it's super easy to use.
Moral of the Story:
If you know ahead of time that you'll need a substantial amount of cash to make some big-ticket holiday purchases (ie – a vacation, a car, etc.) I suggest you save as early as you can in a high yield savings account.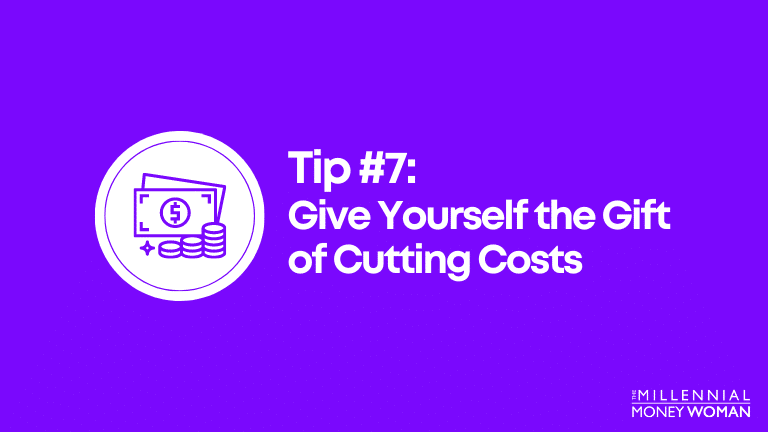 Tip #7: Give Yourself the Gift of Cutting Costs

We often forget to give ourselves something during the crazy holiday time. 
And since we're on the topic of holiday budgeting, I figured that we should explore some apps that could help you cut down on some of your draining costs.
To keep your budget and monthly expenses in line, consider checking out Truebill.
If Truebill sees an opportunity for you to cut your monthly, recurring bills, then it's ready to slash those expenses for you. You don't have to move a finger.
Moral of the Story:
Don't forget to give yourself a treat during the holiday season as well. Since we're discussing holiday budgeting, consider slashing some of those pesky monthly expenses by using some of these apps that can help you save $100's during the year. Your gift to yourself won't just last for the holidays. It will carry forward.
Holiday Budgeting: The Bottom Line

Going into the holidays can certainly be a rough time – if you have not done your holiday budgeting.
However, by:
Following a budget

Buying last year's hot electronics

Considering giving the gift of time 

Giving yourself the gift of cutting costs

Saving in advance for big-ticket purchases
You're much more likely to:
Bring joy to your friends and family

Still stay on track to pursuing financial freedom
Stop worrying about what everyone else thinks.
In the years before this 2020 holiday, my husband and I have always been generous with our gift-giving.
However, since we started working on making our millionaire dream a reality, we have decided to cut back on holiday spending.
Sure, it was uncomfortable at first, but we realized one thing:
In other words, whether we stick to our budget and pursue our millionaire dream – that was all up to us. 
Our friends won't help us.
Achieving financial freedom was solely in our hands. 
And that's when we realized that although we felt a little guilty about setting spending limits, in the long run, our bank accounts would thank us a million times over for sticking to our spending goals. 
Which holiday budgeting tips are you going to use?