The 3 most essential basic estate planning documents every millennial should have.
3 Basic Estate Planning Documents Every Millennial Should Have


My husband and I were listening to some music the other day, reminiscing about the old times. 
After a long workday, my husband had set up some cheese platters and red wine for us to relax and calm down after a pretty hectic day. 
We listened to some music in the background while talking and laughing. 
All of a sudden, Prince and a few of his older songs started playing. For the record, my husband is a pretty big Prince fan – me not so much. 
However, as we were listening to Prince's songs, I remembered that the singer had passed away a few years ago. 
More than that, the singer had passed away without a Will – which could have helped designate his intended beneficiaries to his multi-million dollar estate. 
I started brainstorming with my husband as to why Prince may have neglected to draft estate planning documents like a Will. 
Furthermore, we also wondered why no one had advised him to draft such documents!
At that point in the conversation, it hit me: 
Why do not more professional millennials speak about estate planning documents? Why do we avoid that subject?
And I realized that one reason why we may be avoiding the importance of estate planning matters (myself included) could be because it's a morbid topic! Why? 
Because we're talking about what to do at your death, and honestly death might not always take the top spot for dinner topics. 
Nevertheless, talking about what you want to happen to your wealth (however big or small) after you pass away, should be discussed. 
Sadly, we don't know when we will pass away, so it's important to prepare for the worst (and of course hope for the best). 
To all you blog readers – I apologize in advance – this might be a macabre topic we'll discuss today, but it's most certainly an important one. 
Lastly, I think it's also important to discuss what you want to happen to YOU if you become incapacitated. 
In other words: who is going to take care of you? 
Who is going to carry out some of the health-related wishes you had intended but now can't communicate because you are incapacitated? 
Chances are, if you don't have a legal document signed by a notary and by a few witnesses (the number of witnesses could depend on the state/country you reside in), the doctors won't listen to even family members as it relates to your health. 
Again, we are dissecting worst-case scenarios here, and it's important to talk about these subjects, so I apologize in advance if the topic becomes a little morbid.
Recommended reading: Can you inherit debt from your parents? 
A Worst-Case Scenario:
Let's say you have a stroke and you're bed-bound: unable to speak, walk, eat, etc. 
The only thing keeping you alive is the doctors and various tubes helping you survive. 
Before you had the stroke, you always knew that you would never want to be kept alive using "artificial means" such as feeding tubes from the hospital. 
However, you can't convey your wishes to the doctors at the hospital, because you are unable to speak. 
Perhaps you have a significant other or a best friend who knows you very well and knows that you do not want to be kept alive by these means. 
Even if your significant other communicates these wishes to your doctor, the doctor will legally not be able to follow these wishes without legal documents signed by a notary and other witnesses. 
One of the reasons why doctors are not always able to follow-through with the wishes of significant others without seeing the legally signed documents is because the doctors are bound by what is called the Hippocratic Oath. 
Essentially what this means, is they are morally, ethically and legally bound to do what is in the best interest of the patient.
If the patient is incapacitated without legal documents, that means that the doctors are obligated to keep the patient alive, even if it means through artificial means. 
I already know that I will not be kept alive artificially. 
I saw my grandfather succumb to a stroke and he was bed-bound for 7 plus years. 
Unfortunately, he and my grandmother did not have their estate planning documents in order, so the doctors had to keep my grandfather alive for 7+ years until he passed away. 
He was in pain, he could not talk, he could not feed himself – it was such a sad sight to see. 
And even worse, I could see in my grandmother's eyes how much it hurt her to see her husband suffer daily. 
That's never happening to me or my husband – and sadly we won't know if or when a stroke (just as an example) will hit. 
So in my opinion, it's better to be safe and prepared than sorry.  
Below are 3 estate planning documents that I would highly recommend for any millennial to obtain. 
Pro Tip: If you are seriously considering to follow through with this recommendation and obtain these 3 estate planning documents, I, highly, recommend for you to NOT use online websites such as LegalZOOM. 
Make the investment and work with a local estate planning attorney to draft up your estate planning documents.
These estate planning attorneys may charge a few hundred dollars to have these basic documents updated, but trust me: it's absolutely worth the time and money.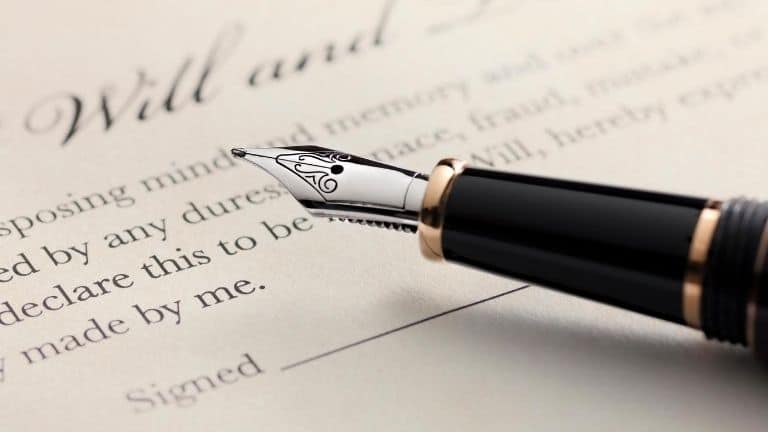 Simple Will (testamentary)

One of the first estate planning documents I recommend for any millennial to obtain is your regular, simple Will. 
I'm sure many of you have already heard of this estate planning document. 
A Will is nothing more than a piece of paper that describes what you want to happen to your money, savings accounts, home, etc. upon your passing. 
The reason why you see "testamentary" in parenthesis is to make sure you know I'm talking about a Will that will take effect upon your death. 
(There is such a thing called a Living Will, which we will discuss in the next point).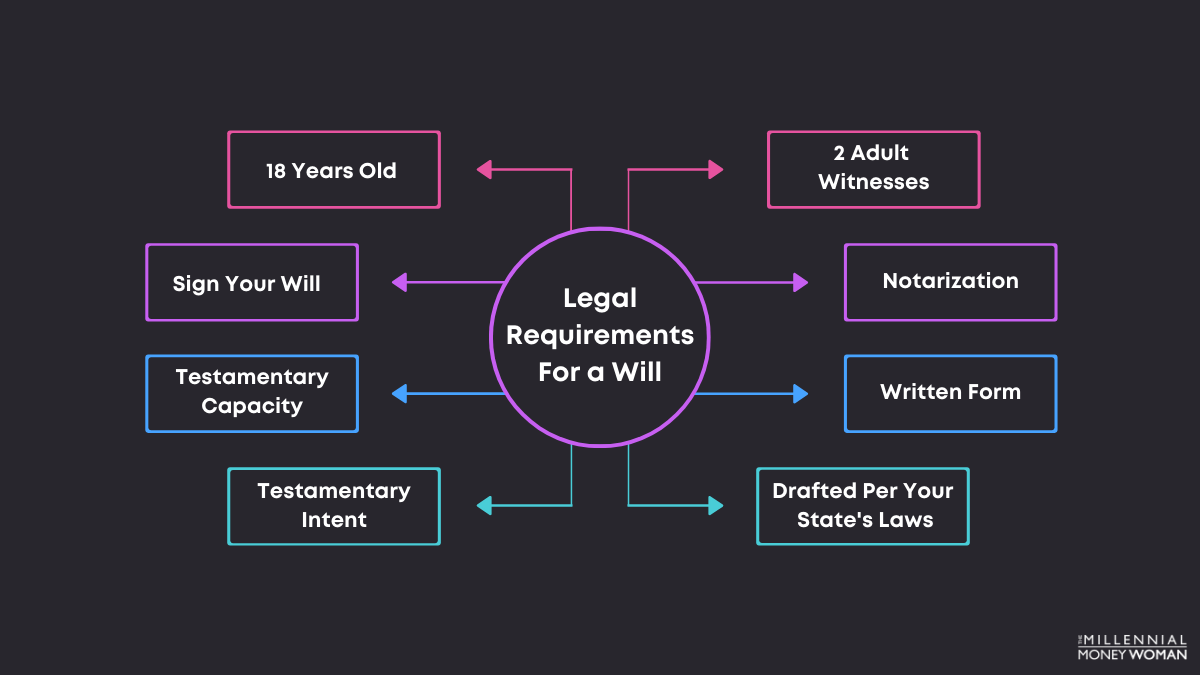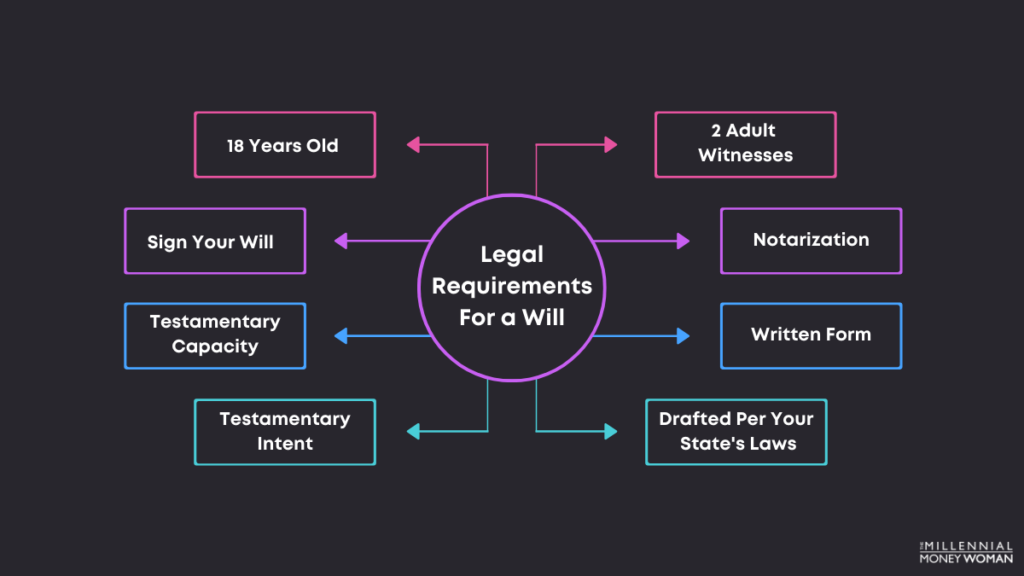 Legal Requirements for a Will


You must be at least 18

You must sign your Will

You must be in a "testamentary capacity" – what this means is you need to be of "sound mind" to draft up your Will (i.e. – you're not in a delirium)

You must have "testamentary intent" – what this means is you need to expressly state that you intend to write a Will. In other words, as your estate planning attorneys draft your Will, words similar to "this is my last will and testament" will likely be included in the document

You must have at minimum 2 adult witnesses signing your Will (often these witnesses should not be family-related, so they do not have any interest in your Will)

Notarization is not always required – only in the case of a self-proving affidavit, which is essentially is a self-sworn statement attesting to the validity of the Will

Your Will can be either in written form (also known as a Holographic Will), Oral Will, and a Video Will – however, for all intents and purposes, I would recommend having a written Will drafted up by your estate planning attorneys

Make sure your Will is drafted per your state's laws (in other words, if your residency is in Florida, make sure your Will is drafted per the FL state rules)
 Pro Tip: Remember that Wills are simple. They are easy to generate and generally don't cost a lot of money. 
There ARE some downsides to Wills, however. 
Specifically, as you grow your net worth and your estate becomes more complex. 
(In other words, you have kids, you want to set up a Trust, you are in a second marriage, you have multiple businesses, etc.) 
A will is likely NOT the best choice as an estate planning tool (but then again, it's better than nothing). 
There are better and more specific estate planning documents out there for those of us who have more complex situations.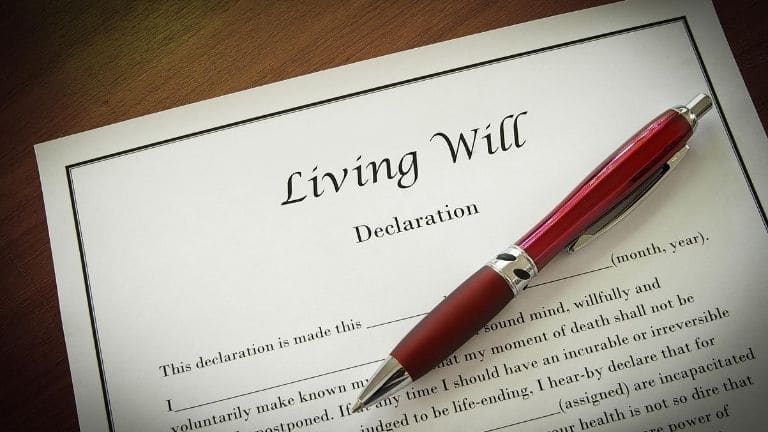 Living Will
A living Will is a document that states your wishes on how you would like to be cared for, medically speaking. 
As the name suggests, this Will is a document that sets forth your medical wishes during your lifetime.
Specifically when you are incapacitated and unable to care for yourself.
A living Will helps you specify the following medical decisions on paper:

Cardiopulmonary resuscitation aka CPR – In other words, do you want to be resuscitated if your heart stops beating?


Mechanical ventilation – in other words, if you are unable to breathe yourself, do you want a machine to help you breathe? If yes, for how long?


Tube feeding – if you are unable to consume food/water yourself, do you want to be held alive via tube feeding?


The comfort of care – you have the choice of deciding the amount (if any) of pain medication, where you wish to pass (at home? in a hospital?), avoid invasive treatments?



Organ/body donations – decide whether you wish to donate your body or organs after passing. 
If you are considering drafting a living Will for yourself and/or your partner, it's important to consider your values. In other words: 
what is important to you? 
How do you see yourself being cared for, in the event of an incapacitating event? 
Of course, thinking grueling thoughts like these are never fun. 
But in my opinion, it's better safe than to be sorry. 
So, think about these things now so don't have to worry about them in the future. 
As it relates to the legal requirements for a Living Will, typically these requisites vary on a state level. 
That's why I highly, recommend you meet with your local attorney and discuss your thoughts and considerations so that your estate planning attorney can draft documents in accordance to your state's laws and your wishes.
Health Care Surrogate

Similar to a Living Will, a Health Care Surrogate (also sometimes known as a Health Care Proxy OR a Durable Power of Attorney for Health Care):
Is a document where you appoint someone you trust and someone who knows you and your values to carry out medical decisions on your behalf if you are unable to communicate these wishes to your doctors and medical staff.
A living Will, on contrast, does allow you to appoint someone as well.
However, a Living Will more so provides specifics as to the type(s) of medical treatments you would or would not want if you are not able to communicate your preferences to the medical staff. 
The Health Care Surrogate is very broad in comparison to a Living Will. 
Rather than specifying individual treatments, a Health Care Surrogate essentially puts the power in the hands of someone you trust will make the same decisions you would make if you were able to communicate them.
Below are a few things you should take into consideration when selecting your health care surrogate:
Someone you trust


Possibly a family member

Someone who will act in YOUR best interest (i.e. – they are impartial)
I would HIGHLY suggest for you to set aside some time to speak to your designated health care surrogate to discuss your wishes about medical care. 
They must understand you and your values so that they can carry out your wishes on your behalf.
Closing Thoughts

Even though it's never fun to speak about death or incapacitation, it's a necessary evil. 
The earlier you start thinking about how you would like to be taken care of during trying times, the better off you will be. 
And the best-case scenario? You'll never have to use these documents (minus your Will). 
However, drafting documents like the 3 mentioned above certainly provides peace of mind and can help save headaches and a tremendous amount of stress if you ever do face a dire medical situation and are unable to make medical decisions by yourself.
Do it for you and do it for your family.
Trust me, your family will thank you – I've been through it myself and I've seen firsthand how improper estate planning can leave a family in distress and anxiety. 
Happy estate planning.
Have you already drafted your estate planning documents? If so, what would you recommend to other readers?
Related: What is term life insurance and how does it work?
Related: HSA plan: Should I invest in my HSA?
Related: How to title your assets: Bank accounts (POD)