If you are in a relationship and things are becoming pretty serious, you may have felt that "The Talk" is edging closer with you and your partner. 
And by "The Talk" I mean the first time you and your partner chat about finances. 
That sounds scary, doesn't it?
Do you know why I recommend having this talk? 
Another shocking fact?
Those couples that do talk openly about money say their marriage is great!
That's right – not only is The Millennial Money Woman a personal finance blog, but it's also a therapy blog (in some ways!). 
How to Talk to Your Partner About Money

Ready to get started? Here are the 5 best tips for talking to your partner about money!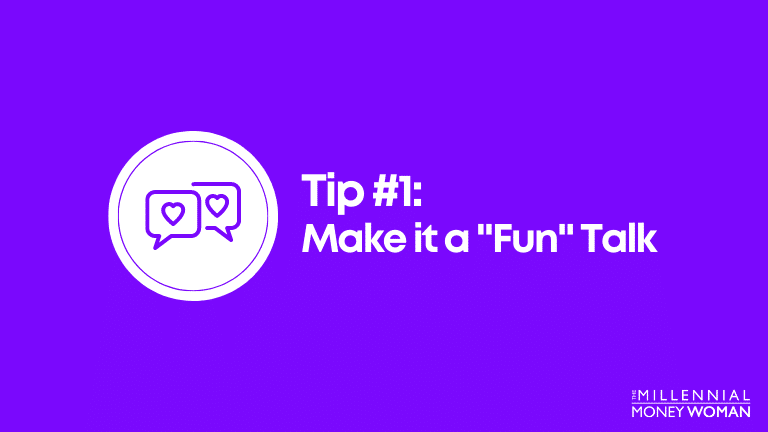 Tip #1: Make it a Fun "Talk"

Most couples already shiver at the mere thought of talking about their financial picture to their partner. 
To be honest, the finance talk certainly is intimidating and scary. 
What's the likelihood that you have fully divulged your financial picture to someone other than your financial advisor (assuming you have already hired one) or your banker/loan officer? 
The chances are pretty slim.
As I approached "the talk" with my now-husband, I was nervous. 
And I didn't want him to judge me either or think of me as a failure just because I was still amassing my future wealth. 
But you know what I thought to myself just before our conversation? 
If he does love me, then he won't judge me for my financial picture; instead, he will talk openly about his thoughts and feelings about my financial picture, his financial picture, and both of our finances combined.
And you know what?
We ended up understanding each other on a much deeper level than before the conversation, which just made me fall in love with my husband even more.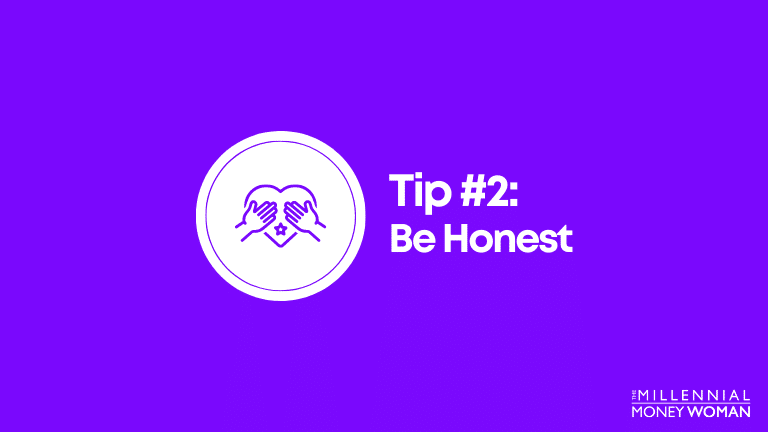 Tip #2: Be Honest

You heard me. 
Don't lie to your partner when you start talking about finances.
You know this – honesty is the foundation and major building block to any successful relationship.
You need to be honest with your partner about everything – and yes, that also includes your financial picture.
Ok, so let's say you're embarrassed to talk about your financial picture because you have amassed a lot of debt – be it consumer debt (credit card debt) or student loan debt.
Tell them that you carry X amount of debt (even if it's over $100,000 – tell them!). 
Be upfront about it.
Here's the secret though if you're carrying a large amount of debt: After disclosing the amount of debt you carry – the next step is for you to tell your partner how you plan to get out of debt.
Not only will this show your partner that you acknowledge you carry the debt and that you are responsible for your current financial picture but that you are smart enough to consider your future because you have already crafted a plan to pay off your current debt obligations.
The biggest takeaway here is, to be honest right away.
Moral of the Story:
It's no good to hide your financial picture from your partner because if you are serious with them, they will find out at some point or another – and it's always better for them to find out initially and from YOU – not another, third-party source.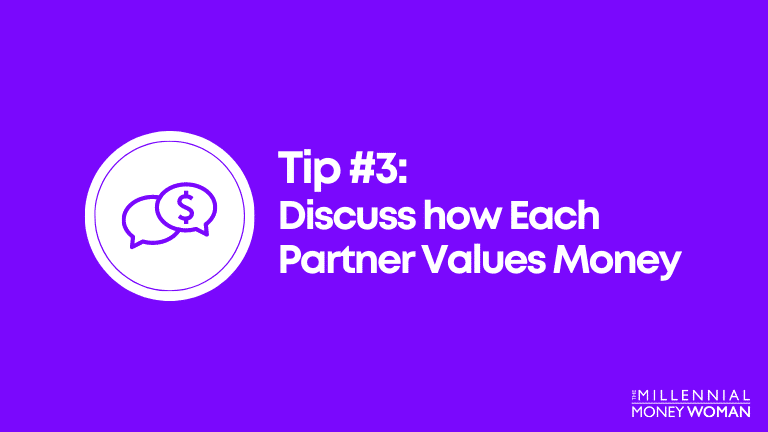 Tip #3: Discuss how Each Partner Values Money

Have you realized that some people value money differently than others? 
A lot of this could stem from the way one was brought up during childhood.
For example, one of my best friends grew up in a very, very wealthy household (a top 1% household).
And when she had $100 in her bank account, she couldn't tell the value of the $100 because she was so used to having access to all the money that she wanted. 
To her, it was just another handbag that cost $200.
To her spouse, that was 10 hours of his life (earning $20 per hour).
Do you see how these two people viewed $200 very differently? 
Can you imagine that this divergence in views caused many arguments? You bet it did.
That's why it's so important for you and your partner to discuss the value of money in each others' eyes:
Some view money as a way to survive during retirement

Others consider money to help them live their best life in the present
Remember, a serious relationship is about compromise so even if you both have differing views on money, this is the chance for you both to decide how to best compromise as it relates to spending, saving, and investing money.
Moral of the Story:
Everyone views money differently and before you commit to a serious and long term relationship, it's probably in your best interest to catch a glimpse of how your spouse views money to better understand them – and ultimately better understand the relationship you two are in.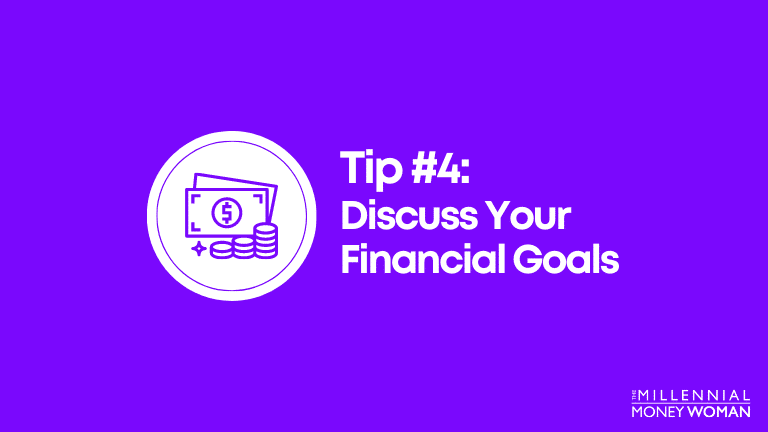 Tip #4: Discuss Your Financial Goals

Remember, even if you carry a substantial amount of debt, it's more important to develop a plan of action and how to pay down that debt.
But remember, a relationship is two-sided, so it is also important to hear out your partner's current and future financial goals. 
Figure out what your partner wants to accomplish, financially speaking, in the next year, next 5 years and next 10 years.
Or do they foresee themselves to be joining the FIRE movement and retiring at age 50 (so they would be saving every last penny they are earning in the present day to go toward their retirement goal)?
Keep in mind, this step might not be accomplished in a single "talk." 
You and your partner will likely have to talk several times to hash out a plan of action. 
Sometimes, it might also be helpful to hire a third party to help both of you on your financial journey – a sort of intermediary. 
Moral of the Story:
Figure out how you and your partner view money, your current and future financial goals – and then figure out a road map on how to accomplish both of your goals – or figure out a way to split the difference so that both of you can achieve your future financial dreams.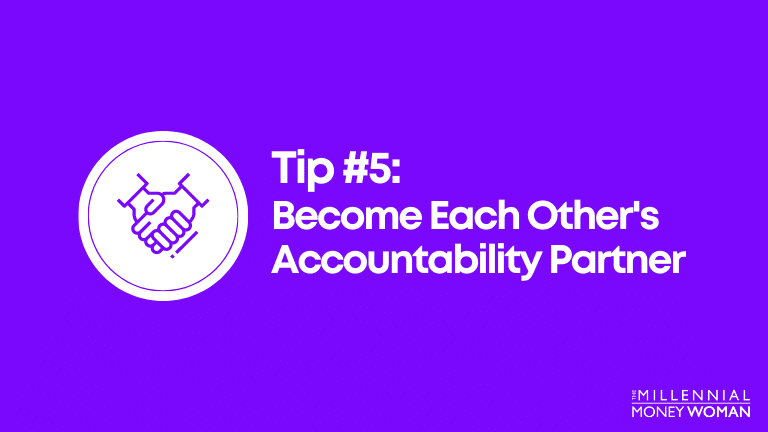 Tip #5: Become Each Other's Accountability Partner

This is probably one of the major advantages of having a partner and discussing your financial goals with them: make them your accountability partner.
Accountability Partner Defined:
An accountability partner is an individual who will talk to you consistently (it could be bi-weekly, monthly, or even daily – it depends on what both of you agree) and ask you to update them on your financial progress.
Your accountability partner will come to you with the question of "how much have you saved this month?" Or "how much did you spend this month."
If you spent too much on a certain item, your accountability partner could ask you "what caused you to spend more in this category?"
If you feel like having your significant other be your accountability partner is too exhausting and perhaps is not the right role, then check out Personal Capital.
Personal Capital is a smart way to track and manage your financial life and much more.
Moral of the Story:
The goal of an accountability partner is never to place blame on you – remember, you both have entered into a mutual relationship, and blame really shouldn't be placed on the other by way of an accountability partner.
Closing Thoughts

Have "The Talk" and have it now. 
Make it fun – there is no need to have the financial chat with your significant other be scary or daunting. 
Go out to a lounge (with somewhat private seating areas to discuss your financial matters) or make date night for both you to eat in and chat about your finances over wine and cheese.
Your significant other (and your nerves) will thank you. 
Also, be honest. Don't lie about your financial picture. 
Be upfront and figure out a game plan… together. 
When you're in a relationship, it's no longer "I" – it's "we" – so you and your partner need to develop a plan of attack together to achieve both of your financial goals.
Good luck and happy date night!
Have you had a money discussion in your relationship? Let me know in the comments below!
Related: Financial Turnoffs Men Find in Women