You've worked hard, saved hard, and invested your money. Now what? Learn more about building a solid 6-step asset protection plan to guard your wealth.
Asset protection places legal limitations on creditors/debtors from accessing your wealth
Asset protection strategies can take many different forms, depending on your situation
Titling a jointly held marital bank account as tenants by the entirety is likely one of the fastest methods to protect assets from creditor claims
Consult an estate planning attorney for more serious asset protection matters
Asset Protection: Building a Solid Plan

I first heard my financial planner bring up the idea that my husband and I need to build a solid asset protection plan back when we were freshly married and were considering building this side hustle business. 
When I heard that my husband needed to build an asset protection plan, I thought my financial planner was a little out of his mind – because although my husband and I are not poor, we're not that wealthy to require offshore asset protection planning.
Well, folks, I was wrong. 
Just because my husband and I didn't have a multi-million-dollar estate (yet), didn't mean we shouldn't build an asset protection plan. 
I learned a valuable lesson that day with my financial planner: Anyone, anywhere should plan for asset protection. 
Although the term asset protection is often associated with strategies such as multi-million dollar offshore trusts, every individual needs some form of asset protection planning. 
I learned a lot from our meeting with my financial planner. 
As my husband and I sat with my planner, I took some notes so that I can pass along the knowledge to you.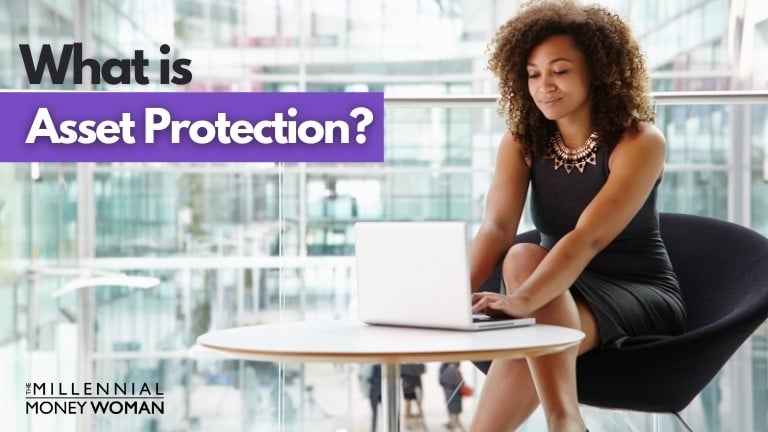 What is Asset Protection?

Asset protection preserves one's wealth from creditor claims. 
Specifically, asset protection strategies help you preserve your wealth by placing legal limitations on creditors' access to your wealth. 
Asset protection strategies are legal practices that essentially help put a chain and padlock around your wealth and assets. 
In short, if you are afraid of being sued – for whatever reason – it's time to build a solid asset protection plan so potential creditors won't have the luxury of tapping into your wealth.
When Should I Start my Asset Protection Strategy?

Today is the best day to start with your asset protection plan.
If you are worried about being sued by someone, for whatever reason that may be, and you are just now considering beginning an asset protection plan – you're probably too late. 
Start when you're NOT worried about being sued. 
Start your research and the conversation with an attorney now.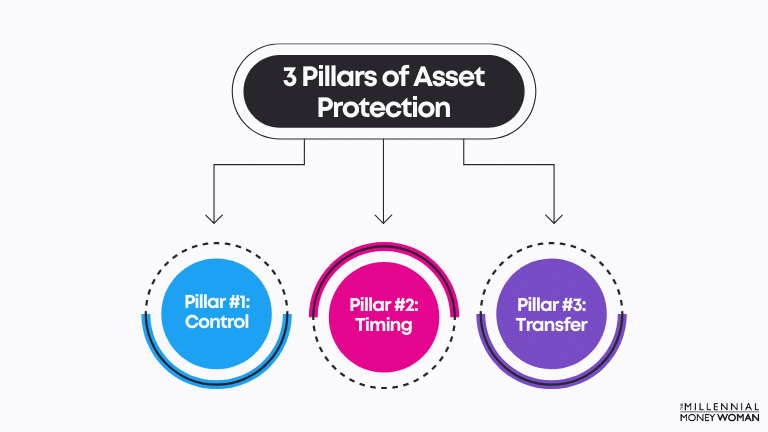 3 Pillars of Asset Protection

Before we examine the strategies to build a solid and fool-proof asset protection plan, I think it's important to understand the 3 pillars to a proper asset protection plan. 
Chances are, your asset protection plan needs to be in place if you are being scrutinized for any of the following court cases:
Bankruptcy

Creditor

Divorce

Injury 
The 3 pillars include:
Pillar #1: Control

It's a pretty simple concept: The more control you want over an asset, the more likely you could lose that asset.
Let's consider this: If you don't want your creditors to hold an asset such as a vacation house, then it might be in your best interest to gift that asset to a trusted person in your family. 
Another way you could relinquish control from the house – and with that protecting this asset from your creditors – is by placing the asset into a QPRT, a qualified personal residence trust. 
A QPRT is irrevocable, which means you (the grantor) completely loses control of the asset, and thus, your creditors also lose their ability to take this asset.
Moral of the Story:
If you want more asset protection, you'll have to give up more control over certain assets.
Pillar #2: Timing

This goes back to my earlier point – when should you start your asset protection plan. 
Truth be told, there is no better time than today to start laying the groundwork for your asset protection plan.
Why?
They are called "fraudulent conveyance laws."
In other words, this is when the courts find you to have transferred your assets in an unfair (or even illegal) manner to avoid bankruptcy or other creditors from accessing those assets. 
If you are found to have intentionally "discarded" assets through an asset protection scheme in an effort to avoid creditor claims – that's considered actual fraud. 
The courts will look back 1 year from the date of the filing of the bankruptcy (or other creditor petition) to determine whether you have committed actual fraud.
Moral of the Story:
Start your asset protection plan when the waters are still calm. If you hear creditors knocking on your door – chances are, it's already too late.
Pillar #3: Transfer

The last pillar of an asset protection strategy is transfer. 
In other words, how would you want to transfer your assets in an effort to preserve and protect your wealth?
The answer here is not that simple because there are many different methods to go about transferring assets. 
You could simply gift them to your children or close friends. 
You could also establish an irrevocable trust or a qualified personal residence trust (as we discussed earlier). 
The more complex your manner of asset transfer, the more administrative rules you (and likely an attorney) will have to follow – and the more cost the transfer method will be to you.
Moral of the Story:
If your financial situation is more complex, likely your transfer strategy will be more complex as well. This would be a great time to consult an estate planning attorney.
6 Ways to Develop a Fool-Proof Asset Protection Plan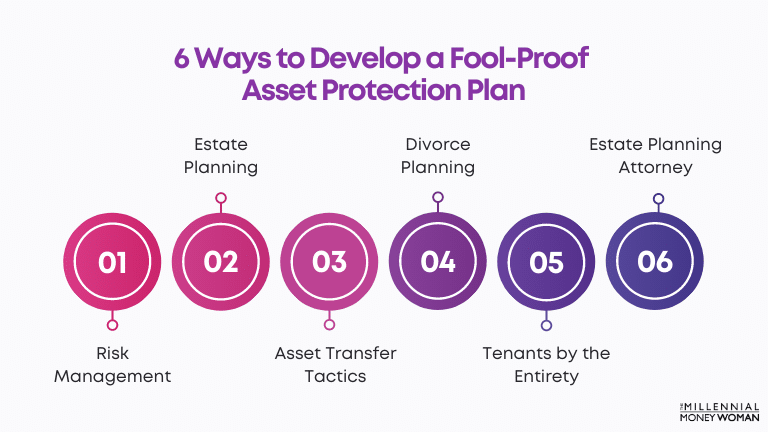 Developing a solid and fool-proof asset protection plan is not a "one answer fits all" type of strategy. 
In fact, an asset protection plan should be entirely customized, based on your specific financial and personal situation.
Complex financial situations typically require more complex asset protection strategies.
Developing and implementing the right asset protection plan also does not simply encompass just 1 tactic. 
Typically, that means forming and molding various asset protection strategies together to develop 1 customized solution for you.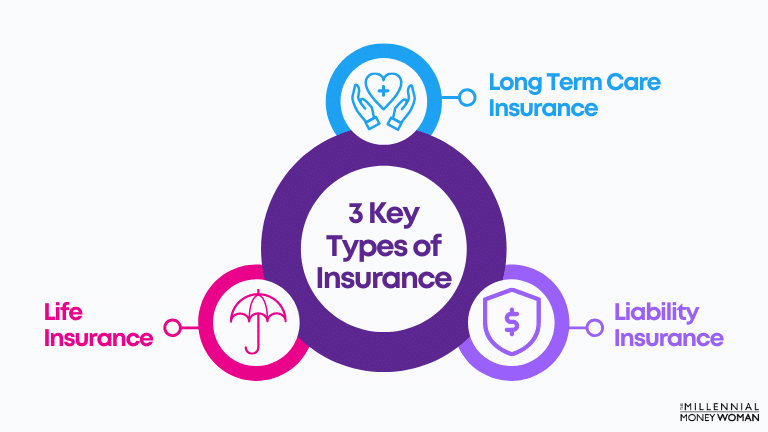 1. Risk Management (aka Insurance)

Insurance – also known in the industry as risk management – is likely one of the fastest, easiest (and possibly cheapest) ways for asset protection. 
There are many different types of uses for insurance – so you have to understand what your insurance is supposed to protect. 
Insurance uses include:
Health Insurance

Life insurance

Liability insurance

Disability insurance

Long term care insurance

Errors and omissions insurance

Malpractice insurance
And the list goes on. 
As you can see – insurance is a pretty complex topic, and something that should not be taken lightly. 
I'm not going to go over every type of insurance listed here (or else this blog post would likely be 20,000 words long) – but I will briefly review 3 key types of insurance that I do feel are important for asset protection purposes. 
In short, liability insurance is a way for you to protect your assets against creditor claims regarding injury or damage to property. 
Liability insurance coverage can range north of $5 million (and still be relatively affordable – costing about $1,000 per year for about $5 million of umbrella liability coverage).
Long term care insurance covers a portion of the cost of medical care if you have a chronic condition, disability, or disorder. 
Long term care insurance can also help cover a portion of nursing home costs. 
If you obtain life insurance, that's an easy way to pass on a death benefit free of tax to your beneficiaries. 
Life insurance is likely one of the easiest and cheapest ways (if you obtain life insurance at an early enough age) to preserve your wealth and assets.
A life insurance death benefit – in most cases – is not something your creditors can claim. 
Your creditors (or the IRS) are also unable to claim the life insurance death benefit distribution to your beneficiaries.
Moral of the Story:
Insurance is an easy and cheap strategy to protect your assets. Likely 3 of the most effective insurance products you can use for asset protection purposes include: liability insurance, long term care insurance and life insurance.
2. Estate Planning

Too many people shy away from talking about death. 
Yes, it's a morbid subject – but it's something that you should not take lightly.
There are some questions you should start asking yourself as it relates to your own health and wealth. 
Some questions could include:
What happens to you if you become mentally incapacitated (ie – you have Alzheimer's)? 

What happens to your assets and family wealth if you cannot make decisions on your own? 

Who takes control of your family's wealth?
Proper estate planning should happen far before you believe something would happen either to your wealth or your health. 
This is where you should hire an estate planning attorney. 
Even if you are a millennial (and trust me, I know from personal experience that talking about death is not a happy hour topic) you should start discussing drafting at least the basic estate planning documents to build a solid asset protection plan. 
Some basic estate planning documents you should consider drafting include:
Durable power of attorney

Revocable trust

Will

Health Care Surrogate
Moral of the Story:
Work with an estate planning attorney to determine how to best draft these documents in accordance with your state's laws and the federal laws. Make sure you hold a thorough discussion to decide who your beneficiaries will be – and who will take control over your personal and financial affairs should you no longer be able to do so.
3. Asset Transfer Tactics 

The more complex your estate and financial matters, the more likely you'll have to resort to more complex asset transfer and asset protection strategies. 
Some of the more complex transfer and asset protection strategies include:
Irrevocable grantor trusts

Domestic asset protection trusts

Offshore asset protection trusts

Family Limited Partnerships
Moral of the Story:
If you believe you fall into this complex category – stop reading and start calling an attorney for more help.
4. Divorce Planning

No one enjoys discussing a potential divorce – especially with their spouse. 
Trust me – my husband jokingly called me Debbie (as in Debbie Downer) after I brought up the topic of divorce and how we should go about this possible obstacle. 
However, as with all things, it's important to bring up divorce planning now – while the waters are calm – before it's too late. 
Hopefully, you'll be just wasting your time (and possibly money) and never need to worry about divorce planning. 
However, should you go through a divorce down the road – you will be SO thankful you had this conversation.
Trust me.
Divorce planning may not just mean planning for your potential divorce. 
It could also mean planning in the case of your child's divorce.
1 item is a keystone in this case:
Prenuptial agreements can help set the grounds in the case of a nasty divorce. 
They will save you money, time and stress. 
Prenups can:
Provide asset protection for children from your first marriage 

Protect a family business 

Protect your estate plan from a potential unwanted spousal claim at your death
Moral of the Story:
Although it's never a fun conversation – you should seriously consider a prenuptial agreement to protect the assets you bring into a marriage. Prenups will help save you money, time and stress.
5. Tenants by the Entirety

Here's a little known trick: If you hold any property jointly with your spouse, you can title that property in the form of tenants by the entirety. 
Tenants by the entirety is an easy and often free strategy for asset protection. 
There are some rules though that you must follow to title your property as tenants by the entirety:
Property must be held jointly

You must be married

If one spouse passes away, the other spouse automatically receives ownership of that property

You may not qualify for tenants by the entirety titling if you live in the wrong state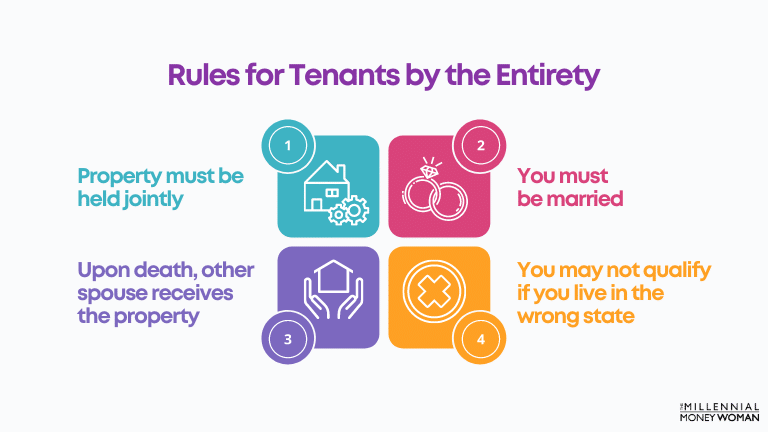 Below is a list of states that allow joint asset titling for real estate in the form of tenancy by the entirety:
Alaska

Illinois

Indiana

Kentucky

Michigan

New York

North Carolina

Oregon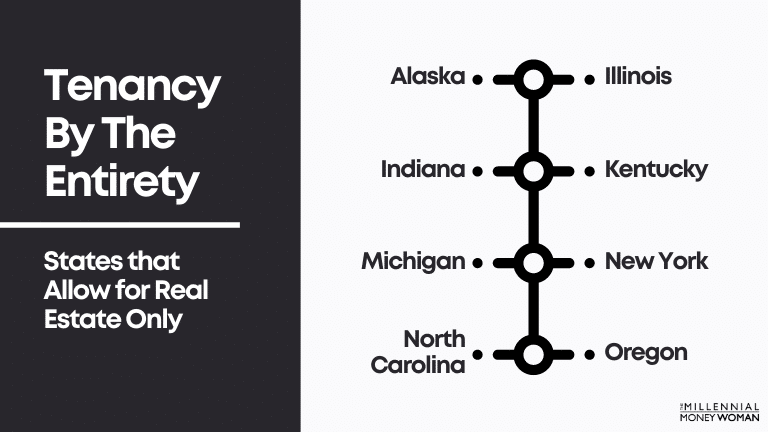 There are also other states that allow tenancy by the entirety titling for any type of property. 
These are listed below:
Alaska

Arkansas

Delaware

District of Columbia

Florida

Hawaii

Illinois

Indiana

Kentucky

Maryland

Massachusetts

Michigan

Mississippi

Missouri

New Jersey

New York

North Carolina

Ohio

Oklahoma

Oregon

Pennsylvania

Rhode Island

Tennessee

Vermont

Virginia

Wyoming
Why can most creditors not claim assets titled as tenants by the entirety?
In short, tenancy by the entirety states that both spouses share a claim to the entire piece of property. 
How does this translate to asset protection? 
The fact that both spouses have a claim to the whole of the property means that creditors who have a lien on only 1 spouse cannot take the assets titled by tenants by the entirety – because both spouses technically own the asset. 
The only time a creditor can claim an asset titled as tenancy by the entirety is when the creditor has a lien on BOTH spouses (but that's typically rare).
Moral of the Story:
The combined ownership status that a tenancy by the entirety title provides means that a creditor will not be able to put forth a claim on the assets if the claim is against only 1 spouse. Only if the creditor puts forth a claim against the 2 spouses will the creditor have a higher chance to obtain the asset titled by joint tenancy by the entirety.
6. Consult an Estate Planning Attorney

Consulting an estate planning attorney is a key part to optimizing your asset protection strategy. 
I can share from personal experience that although I have a financial planner working on our financial goals, our financial planner referred us to an estate planning attorney.
Estate planning attorneys bring valuable insight as it relates to structuring a proper asset protection plan while adhering to your state and federal laws.
Pro Tip:
Keep in mind that state laws vary. That means if you move from 1 state to another, you should consult with an estate planning attorney from your new state of residence to make sure your previously drafted asset protection (and estate planning) documents are drafted correctly – and in accordance with your new state's laws.
Closing Thoughts

In the end, asset protection is an essential need for anyone. 
Especially if you live in America, which is a very litigious society, one of the first things on your mind should be building a solid asset protection strategy.
It's better to start planning in the present – when you need your asset protection plan the least – than to leave everything to luck and chance. 
Worst case scenario, one day you'll have someone sue you and you'll wish you had your asset protection plan in place. 
Start your asset protection strategy today – and your bank accounts will thank me later!
What asset protection strategies have you put in place for your financial plan?